Self-pour steps up to the plate in stadiums
At this point, you've probably heard about the benefits of self-pour technology in bars and restaurants, therefore, you can see why self-pour beverage walls in stadiums are bound to attract fans while boosting beverage sales for owners.
Self-pour technology is the future of modern and efficient beverage dispensing. The PourMyBeer system does not only significantly increase the number of customers that can be served at the same time, but also brings more traffic as the customers can rely on the beverage of their choice in the timely fashion without having to lose any minute of their favorite game, show or a concert. 
Below you can read about the main reasons why you should invest in a self-pour beverage station at your stadium. Fans will love it, and you'll reap the benefits!
A key element of the self-pour tap system for stadiums is the increased efficiency, which leads to reduced wait times for your visitors. Whether it is a self-serve beverage mobile unit or a fixed self-pour wall that dispenses beer, wine, cocktails and soft drinks, this revolutionary system is undoubtedly going to help reduce wait time in the concessions area.
Sports-goers or concert attendees will no longer need to miss any important moment just to get themselves a cold beverage or another round. They can simply serve themselves whenever is convenient for them.
One of the worst parts of going to a sports or music event is waiting in a long line for a simple order. This can all be eliminated by the PourMyBeer system, which makes it possible for multiple customers to help themselves simultaneously when they want another drink. 
The convenience of self-pour technology in stadiums is unbeatable for sports fans. Oftentimes, patrons are limited to one or two beers at a time and will have to constantly get up and wait in line if they want another beverage. This can get tiring and of course, cause them to miss parts of the game or show. With a self-serve system, spectators can get two drinks at once so they do not have to get up again when they finish their first beer, and if they have gone through both, the process of getting another is simple, and quick. It just takes checking in with a self-pour ambassador, or an employee to reactivate their RFID card, and they are ready to go! 
PourMyBeer Tip: Have multiple self-pour ambassadors to show patrons how to use the wall and also to reload their RFID cards. You will want to make that process as simple and fast as possible so that customers do not need to wait in lines to get their cards reauthorized once when they hit the legal limit (this depends on your country and state). 
Long lines at sporting games or musical shows are often what keeps patrons from ordering beverages at the food and drink areas. By implementing a self-pour system within your stadium, lines for food become shorter, and more bearable to wait in since those that simply want a beverage will not need to be waiting in the same line. Especially in the midst of the Covid-19 pandemic, is it necessary to avoid crowds, and PourMyBeer technology allows for just that. A self-pour beverage wall allows multiple people to access taps at the same time, freeing up space within the stadium, and reducing crowding. 
With reduced wait times and increased convenience for event-goers, self-pour tech will allow stadiums to sell more beverages, benefitting the stadium owners and their partners. Since patrons are no longer being deterred from visiting the concession stand due to long lines, even more beverages will be sold than before.
The opportunity to pour by the ounce will also attract visitors as they can decide how much they want to pour and decide whether they like a particular beverage before pouring a whole glass. When every ounce is accounted for, each pour will be consistent and kept track of.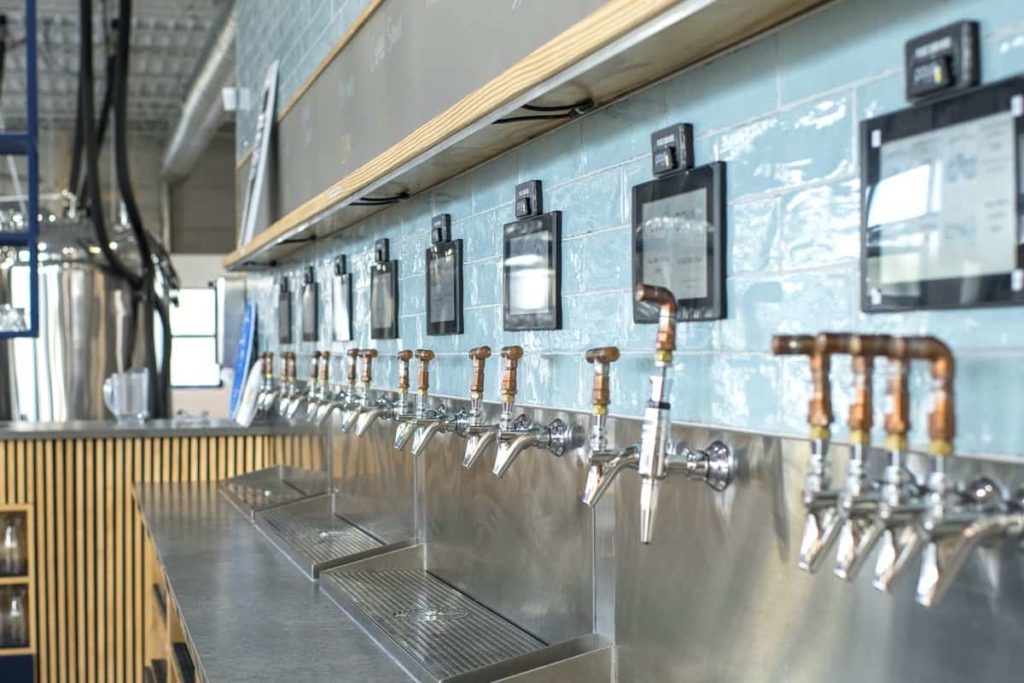 Whatever sport or team, fans all over the globe cherish their memories at the games they attend. Self-pour technology is definitely something that can make your stadium stand out amongst the rest and give the visitors an extra reason to want to return. It adds an element of novelty and is sure to leave a lasting impression on sports fans or any event attendee. You can even offer a branded growler for fans to use at future games and to further boost your sales. Many fans would love to keep this branded glassware as a souvenir as numerous visitors buy merchandise at stadiums to remember their time watching their favorite team or to commemorate their visit to a new city, so why not add a branded growler to the mix? It's both a novelty and practical!
With a self-pour beverage station, there will be significantly fewer cans and beer bottles being thrown out, which makes it much easier for your operations and managing inventory. Typically when ordering a beer, cider or seltzer at a sporting event, the beverage is served in its original can or bottle. A self-pour beverage wall eliminates the wide use of these disposables, which more often than not, aren't properly recycled and end up in landfills. This concept appeals to those with an environmentally-friendly mindset, especially when given the option to use reusable cups or growlers they can fill up time after time. 
No more inconsistent pours or spillages being unaccounted for. PourMyBeer's technology keeps track of every ounce poured, therefore eliminating nearly all waste. This is especially because patrons can choose how much they want to drink or sample. They have the ability to pour however many ounces they want before deciding which beer they like before committing to a full glass. This will save stadium owners money since their product isn't being wasted if a customer doesn't like it. Also, patrons will no longer have to commit to a $12 beer if they end up not liking it. It is a win-win situation for both sides! 
If you have any questions about the benefits of self-pour technology or setting up a beverage wall or unit in your stadium, you can contact us at cheers@pourmybeer.com or (312) 416-9989.