The PourMyBeer self-contained mobile kegerator is the perfect addition to an underutilized part of your venue, and a great way to create an additional stream of revenue using self-pour technology. PourMyBeer's mobile unit is also a perfect solution for establishments that want to have the freedom to move their self-pour system around as needed throughout the year.
It can also be a great addition to an existing integrated beverage wall, as it helps to broaden the variety of beverages offered to your customers and give them even more power to choose.
PourMyBeer mobile units are currently being utilized in several types of establishments, such as office spaces, hotel and casino lobbies, and military bases. More recently, they have been becoming more common at special events as well.
With 3 screens and 6 taps put into a compactly designed kegerator, you now have the ability to offer beer, wine, cold-brew or a signature cocktail to any space within your property. Each unit has lockable wheels on the base, giving you the freedom to position the unit anywhere around your property based on your current needs.
For the customers, using the PourMyBeer mobile beer wall is as easy as ever. First, they use an RFID card to either pre-pay or set up a tab to pay later. This PourMyBeer card activates the taps, allowing the customer to pour themselves, paying per ounce poured. By default, the PourMyBeer system limits guests to accessing 2 servings at a time. Once they reach that limit, your staff can reactivate the card for an additional 2 servings.
The 72" kegerator is fully self-contained with space inside for up to 6 kegs of all standard sizes plus the gas connectors required for proper dispensing. With regards to power, you will need a 110-V wall outlet or an extension cord nearby.
✅ Ability to setup limits to prevent overconsumption
✅ 72" kegerator is compact and easy to move
✅ Contains enough space for 6 individual kegs & gas required for proper dispensing
✅Saves significant funds on labor costs
✅ Get 100% from kegs
✅ Less opportunity cost: customers face no wait times and purchase more frequently
✅ Customers serve themselves, minimizing wait times, resulting in a higher frequency of purchasing
✅ Get extensive smart reporting on sales
✅ No infrastructure required, just move the unit based on your needs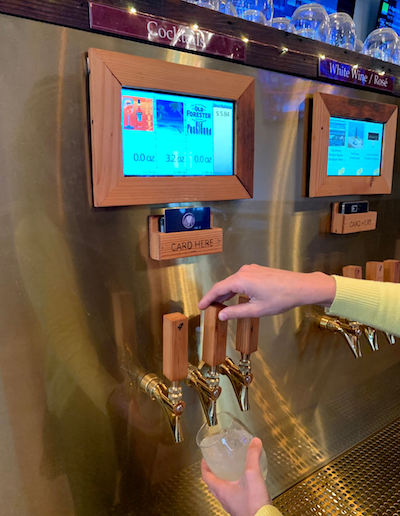 PourMyBeer TIP: Mobility matters: position the mobile unit where the party is!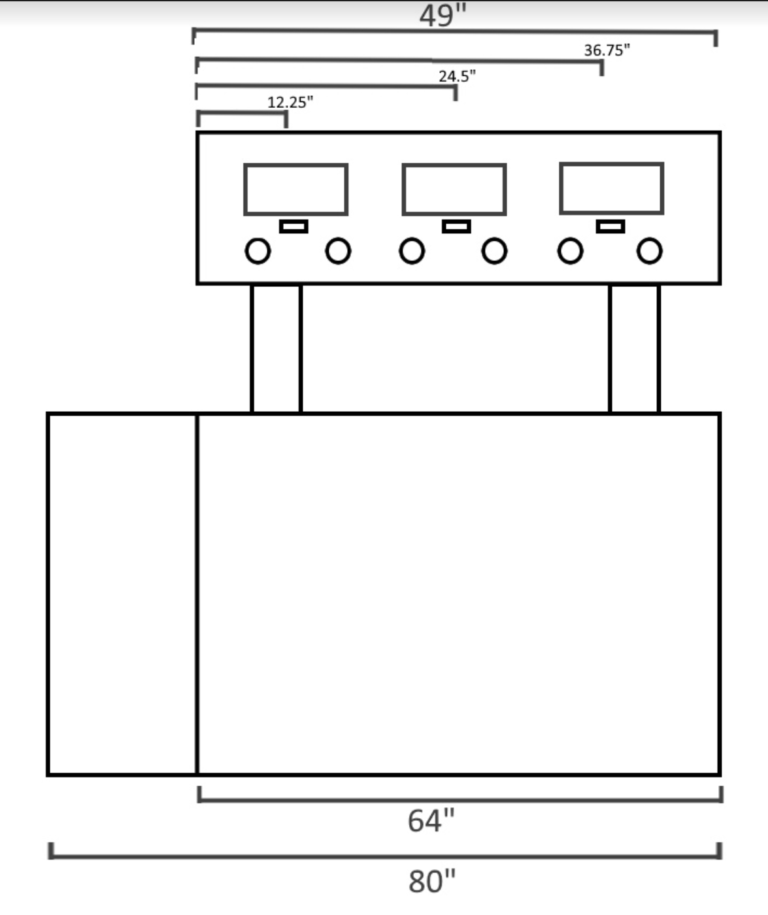 6 taps with 3 screens
72" width, 24" depth, 55" height to the top of the tower
Stainless steel or matte black finish
Comes with CO2 gas regulator and 6x "D"
What is not provided: the CO2 gas and the actual beer!
Height – 36"

Length – 72"

Width – 24"
Gas requirements: You will need to provide your own CO2 to connect to the regulator
Draft tech is required to service and clean the mobile unit once a month like a regular system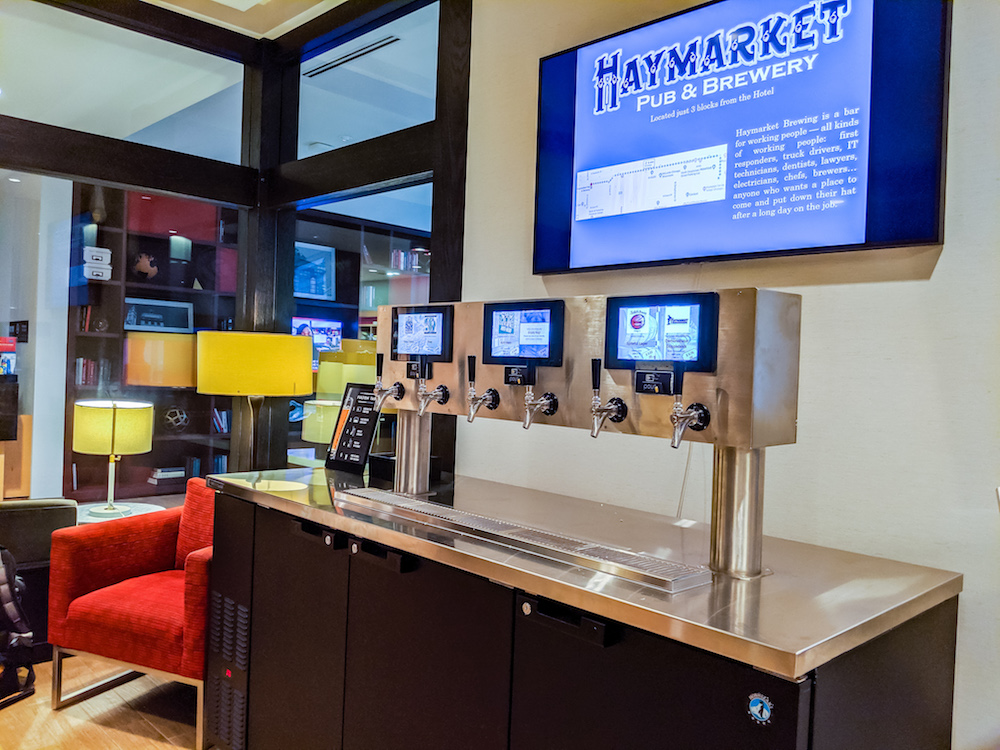 Power requirements:
20V, 1 phase, 60 Hz
Full load amps – 5.7
Dedicated 15 amp circuit
Networking requirements:
CAT5 / ethernet wire from the kegerator to the POS hardware
Need extra line if you want another check-in area
✅ 6 to 8 week lead time required from time of deposit
✅ Ships in 3 boxes 
1.Kegerator from GlasTender
2.Column
3.PourMyBeer check-in equipment 
✅ After you receive your order , PourMyBeer technician will come onsite to assemble, test, and train your staff.
Installer's time is included in the quote

The travel costs will be charged on the final bill
You will need to arrange for your local draft tech to be onsite when we install your kegerator, so we can train them on the system. For more information, simply fill out the form below and we will be in touch soon.
Ready to Join the Self-pour Revolution and Increase Your Beverage Sales?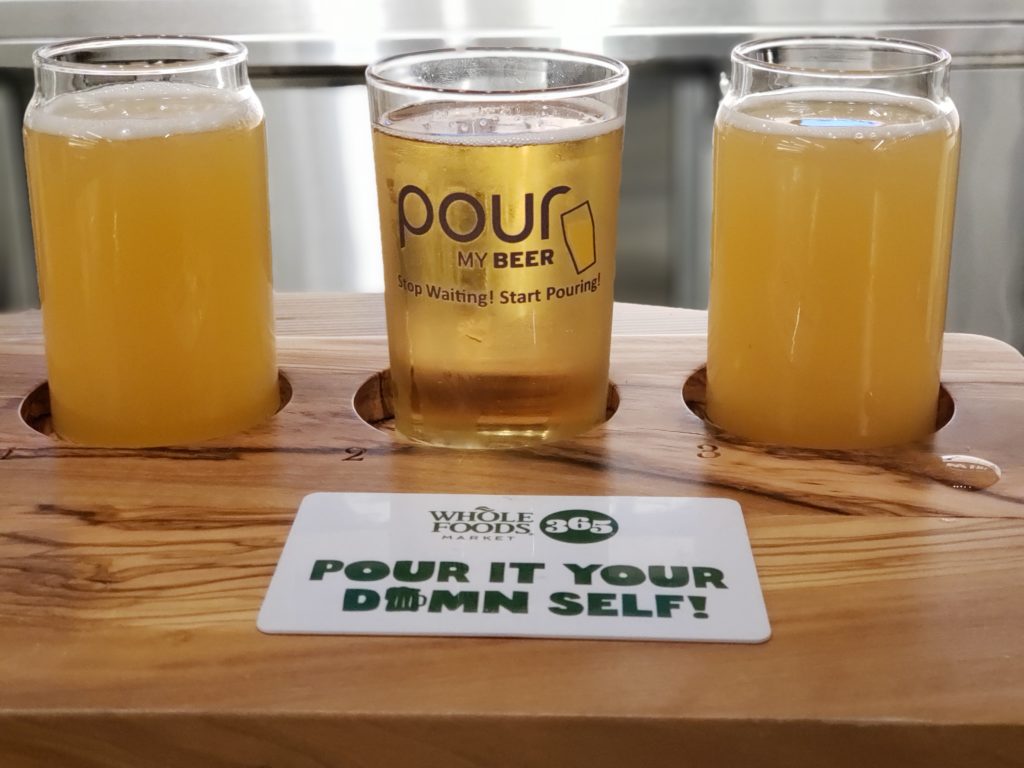 [contact-form-7 id="4769" title="Get your zero pressure, hassle free-quote right now" html_id="game-changer_footer"]