How it Works for Customers
FEATURES THAT BENEFIT OPERATORS
PourMyBeer technology comes with many features! These features will increase your efficiency and leave your operations running smooth. If you have any questions regarding PourMyBeer tech's features, contact us here!
Real time keg levels & text alerts
Our real-time keg level feature allows operators to see all their keg levels graphically displayed in their management dashboard and also get alerts when kegs are low. This helps them and their team to quickly react and ensure that the guests can continue having self-pour fun!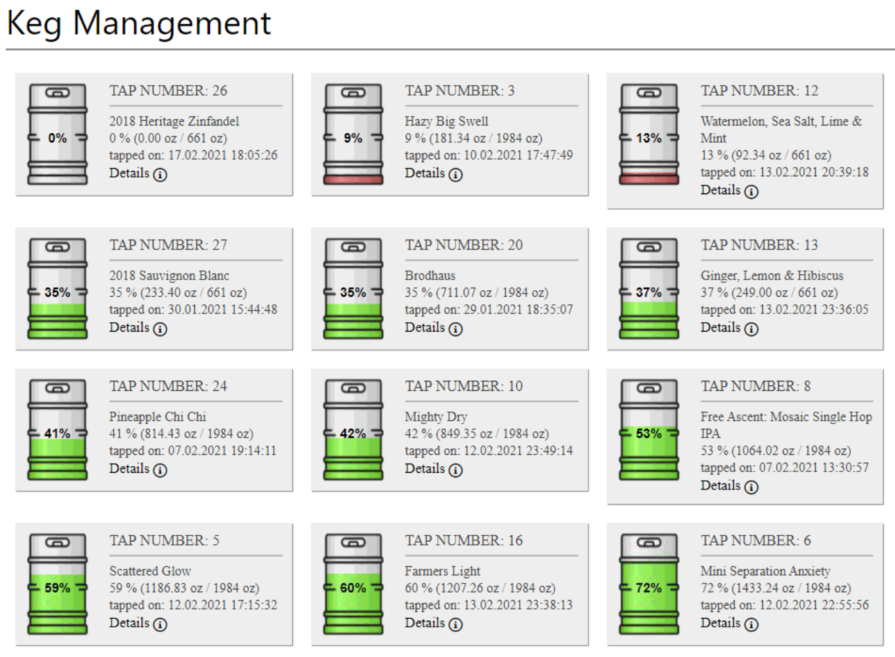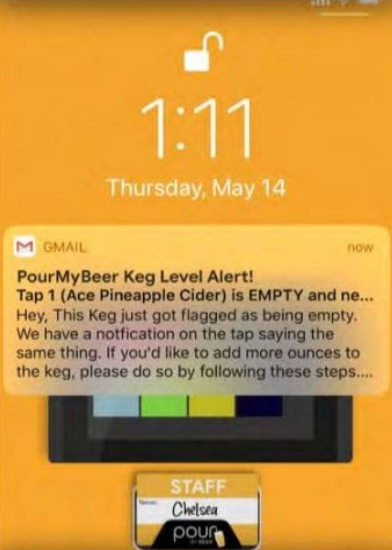 The Happy Hour feature offers self-pour establishments the ability to trigger specials based on date & time, days of the week, or keg events like keg level or age. Schedule as many recurring or one-time Happy Hours specials as you like to easily plan your whole week of specials with just a few clicks.
You can configure two different Happy Hour discount tier options per product with either a flat rate or percentage-based discount. You can filter special discounts by product type (i.e. Beer, Wine, Cocktail, etc.) or by specific product/PLUs.
Promote your Happy Hour specials on screen with our standard default image or customize by uploading your own image for any special. You can display a single Happy Hour image across all tap screens with one click or choose specific images for different screens. You can add as many images as you like to your Happy Hour image library.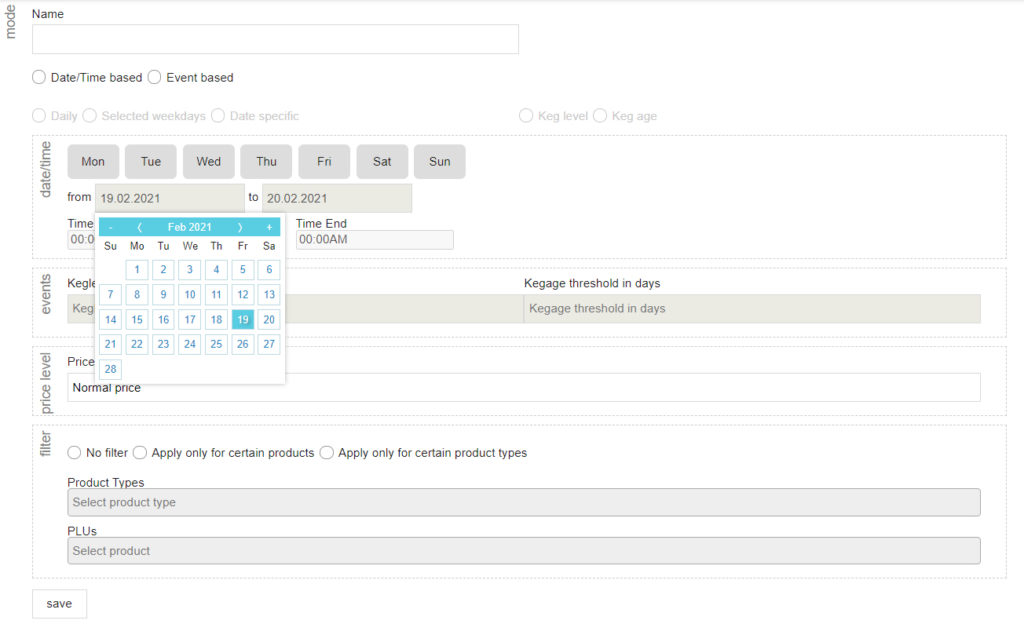 Our reporting suite offers useful insights into your top beverages by servings, volume, and dollars and easy visibility of staff card usages and cleaning reports.
PMB offers a convenient driver's license scanning feature for easy on-screen age validation when creating beverage cards and collecting valuable anonymous consumer behavior data like age, gender, and zip code.
What Others Say About Working With Us?
"The addition of self-pour technology saved our business. Our location had a VERY short window to capture sales each evening. The neighborhood where we operate is very family-oriented and therefore parents had a limited time to enjoy a restaurant experience. Our guests can now enter and have their first beverage in their hands within a couple of minutes. With time to have a second cocktail versus one and done, our sales have increased dramatically just due to this one aspect although there are many additional benefits to the addition of the PourMyBeer self-tap system."
"PourMyBeer enabled us to open a taproom with world class cutting edge technology to bring a new way to enjoy beer, wine, cider, kombucha, sake, coffee or any liquid to Chicagoans. Couldn't be a better company to work with!"
Owner's Experience With PourMyBeer
After hearing from our awesome PourMyBeer family members, we have found some highlight benefits that they have seen from having our tech! PourMyBeer fam members recognize that managing operating costs is key. Self-serve tech has lowered the need for excess staff, which has greatly reduced their costs while keeping operations running efficiently.
Also, self-pour establishments no longer need a bulky bar and hundreds of bottles, so operators have found that they need a much smaller inventory but actually see a higher return because guests tend to sample many drinks from the wall, all while paying by the ounce. 
While operators love the increase in operational efficiency, their customers love the safe and fun experience self-pour brings. Their love of your self-serve beverage wall will make them raving fans of your establishment, increasing positive word of mouth, and creating repeat and loyal customers, which as a result will drive up sales even more!
Because self-pour technology is highly visible, guests can see the sanitization efforts the establishment is taking. Our operators know the importance of existing foot traffic, and carry-out and delivery doesn't drive alcohol sales, which we all know will lead to profitability. Our operators have seen sky-high beverage sales because of consumers' ability to sample when visiting on-site. They tend to test out many options before settling on their favorite, and they even feel safe doing it during this time because of the display of safety measures. A lot of our operators offer growlers or crowlers, so if a guest does choose to dine off-premise, beverage sales will still increase.
Want to get a better understanding of what is behind the self-pour revolution? In our 6 case studies, you can get some ideas of how much self-pour increases beverage profits while decreasing product waste and how it helps our PourMyBeer family members tap into the profits! 
Why Did I Switch From My Previous Self-pour Tech Provider?
We pride ourselves on being the only company on the market that has never been replaced by another self-pour technology provider. Watch more videos on some of our latest retrofits of other self-pour tech here.