Sip & Learn in the Boston Seaport District
Download the recording of our workshop below to learn from an experienced hotel operator!
By watching our Sip & Learn Workshop at Hampton Inn & Homewood Suites Boston Seaport District, you will learn how some hotels are progressively stepping into the future with technology-driven beverage service. Self-pour beverage stations in hotel lobbies are a masterful idea to combat the ongoing staffing crisis and help simplify your operations (by lowering costs!).
Download the workshop recording by filling out the form!
to learn how they hit their roi in 3 months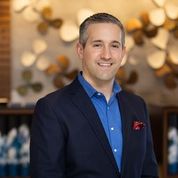 Charlie has vast experience in the hospitality industry, but it was not until 2020 that he joined the Hilton team. His knowledge in hotels, plus two years of managing a 6-tap self-pour station from PourMyBeer, makes him a knowledgeable advisor on integrating PourMyBeer self-pour beverage stations into a viable revenue stream for hotels and other establishments with underutilized space. 
Sales to expect when implementing a self-pour station
Deciding factors to consider when choosing station size
How to launch self-pour & ensure a positive response
How to troubleshoot potential problems when opening
How to utilize portion mode/legal limit
Benefits of self-pour wall vs. traditional bar service
Ways to market your self-pour station
Where will this event take place?
This event will be hosted at Hampton Inn & Homewood Suites Boston Seaport District located at 670 Summer St, Boston, MA 02210.
What time will the event start?
The Sip & Learn will begin at 3 PM EST and run until 5 PM. We ask that you arrive 30 minutes early to get settled and grab a drink before we start!
What is the cost of the event?
The event costs $49 to attend, which includes food and drinks during the event. After filling out the registration form, you will be redirected to a payment link.
Do you provide recommendations for accommodations?
You can stay at Hampton Inn & Homewood Suites Boston Seaport District, or find another hotel downtown!
Will you host a Happy Hour before the Sip & Learn?
Yes! Join us for Happy Hour on Tuesday, December 6th, at Craft Food Hall Lexington for drinks from 6 - 8 PM (this is not included in the price of your ticket).
When should I fly in and out for the Sip & Learn?
We recommend flying in either on December 6th, or early on December 7th so you don't miss a second of the event! You can fly out on December 8th.
Special Thanks to Our Event Sponsor!
Thank you to our partners at GoTab Restaurant Commerce Platform for sponsoring our Sip & Learn Workshop! GoTab is the restaurant commerce platform designed to optimize experiences AND efficiencies. They are the only platform that puts the guest at the center of the experience. When faced with the obstacles of staffing shortages and high food costs, GoTab rises to the challenge with efficient, streamlined experiences for staff and guests. 
Share this workshop recording with your friends in the industry!