Personalize Your Beverage Program With Self-Pour
Feature a PourMyBeer self-pour beverage system in your club to improve member experience and retention.
Reduce Labor Costs & Improve Efficiency
Enhance Member Experience
Bring in a New Revenue Stream
Stand out from the crowd with a unique, high-tech self-pour beverage program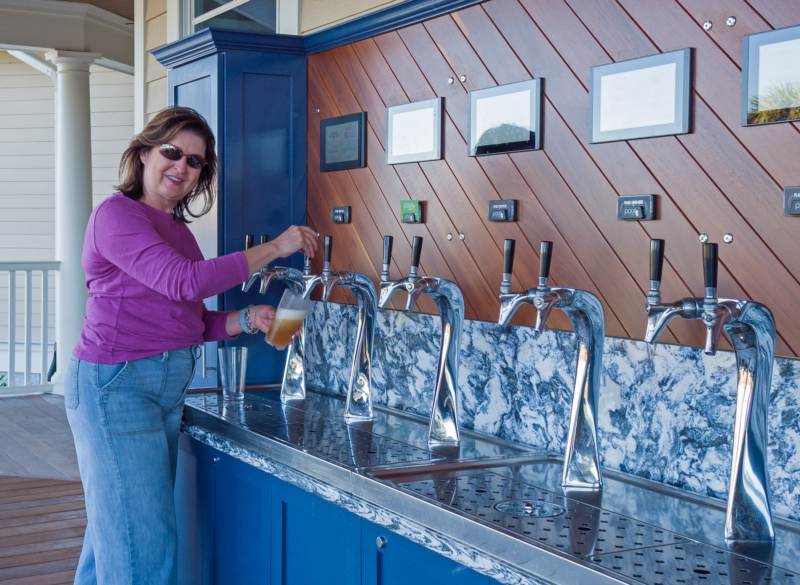 PourMyBeer's system provides a revolutionary way for golf courses and country clubs to serve guests beer, wine, cocktails, and more. With our RFID-enabled cards and self-serve dispensing solutions, your members can pour their own drinks while your staff focuses on providing exceptional customer service. Our self-pour wall tap system provides valuable data and analytics on customer preferences and consumption patterns so you can make informed decisions on what drinks to stock and how to better serve your members. Additionally, our system will help you reduce waste and increase revenue by allowing you to offer a wider variety of drinks and better track inventory. With our various liquid-agnostic beverage dispensing solutions, you will keep a close eye on your inventory, ensuring that you're never overstocked or running low on your most popular beverages.
Beverage Dispensing Solutions to Meet Your Club's Needs
Optimize your space by 10% while capturing the attention of your members with a traditional self-pour beverage wall customized for your club.
Co-developed in partnership with Micro Matic, the leading global supplier of beverage dispensing solutions, our 4-tap, 6-tap, or 8-tap stations require zero construction, integrate with the major Point-of-Sale systems, and fit into any space.
Turbocharge your efficiency and profits with our staff-facing cocktail machine that can make any cocktail in less than 10 seconds.
Bring the self-pour fun to any part of your club with our trailer! This option is great to use during events, concerts, banquets, and more, as a way to efficiently serve guests during peak times.
Achieve Profitability in 6 Months!
Hear from the Chief Operating Officer and General Manager of Seabrook Island Club to learn how adding a 12-tap fixed wall and an 8-tap self-pour station increased member satisfaction and alleviated labor challenges.
Key Benefits of Choosing PourMyBeer
Alleviate Staffing Challenges
Operate an efficient beverage program without taking on additional staff.
Enhanced Guest Satisfaction & Retention
Provide a more interactive, social, and personalized experience.
Increase beverage sales since guests can serve themselves easily and quickly.
Multiple clubs are seeing enhanced guest satisfaction and increased sales with self-pour.
Simplify Inventory & Reduce Waste
Access valuable data and analytics on customer preferences and consumption patterns.
System designed for easy maintenance so you can keep your beverage program running smoothly.
These companies experience the benefits of our self-pour technology.
The Club has several bars for Member enjoyment, but building the PourMyBeer wall allowed us to add one more with minimal labor cost.
Mitchell Laskowitz
Chief Operating Officer and General Manager, Seabrook Island Club
Schedule a demo today to learn how to enhance your member experience and improve your bottom line with a PourMyBeer self-serve beverage system.
Get in touch with us today to set up a free consultation.