Have a lobby or area with high foot traffic?
Our self-pour stations are a great way to add an entirely new revenue stream to your business! Here's an example:
✅  1,000 guests per week x 40% that will use the system = 400 
✅  Avg. ticket $21 x 400 = $8,400/ week x 4 weeks = $33,600 
✅  Your cost of goods on beer/ wine/ cocktails is typically in the 28% range, so $24,192 in profit per month or $290,304 per year! 
With three different size options, our self-contained self-pour station will fit into all businesses! It is the perfect addition to an empty area in your establishment and a great way to create an additional stream of revenue. PourMyBeer's self-pour stations are also the perfect solution for establishments that want the freedom to move their self-pour system around as needed throughout the year. It can also be a great addition to an existing integrated beverage wall, as it helps to broaden the variety of beverages offered to your customers and give them even more power to choose. This unit can be wheeled into any event space and offer guests the experience of being their own bartender.
We're proud to offer the best self-pour stations on the market. These units are made exclusively for PourMyBeer by Micro Matic, the world's leading supplier of beverage dispense equipment. Engineered to provide high performance and reliability with a proprietary design, these self-pour stations incorporate liquid cooling of the tower that ensures a perfect pour at the perfect temperature every time.
Below you will find everything from self-pour technology benefits to the logistics of installing a self-pour station!
PourMyBeer self-pour stations are currently in several types of establishments, such as office spaces, hotel and casino lobbies, and military bases. More recently, they have become more common at special events. For guests, using the PourMyBeer self-pour station is as easy as ever. First, they use an RFID card to pre-pay or set up a tab to pay later. This pour card activates the taps, allowing the customer to pour themselves, paying per ounce poured. By default, the PourMyBeer system limits guests to 2 servings at a time. Once they reach that limit, your staff can reactivate the card for an additional 2 servings. Check out our 6-tap self-pour station at Top Golf in Topeka, KS, below!
PourMyBeer TIP: Mobility matters: position your self-pour station where the party is!
Have Questions or want to learn more about Pourmybeer? CLick below!
You can now offer beer, wine, cold-brew, or signature cocktails to any space within your property. Each unit has lockable wheels on the base, giving you the freedom to position it anywhere around your property based on your current needs. The only things not provided are the Co2 gas and the actual beer. 
Find the unit measurements for the 3 sizes below. With three different lengths, they are sure to fit into your business.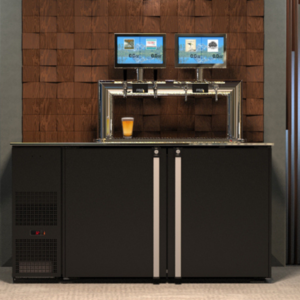 Height – 58 inches
Length – 60 inches
Width – 29 inches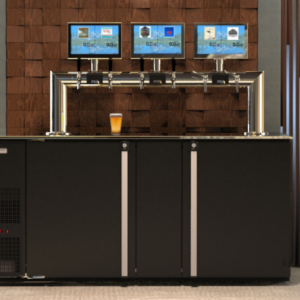 Height – 58 inches
Length – 70 inches
Width – 29 inches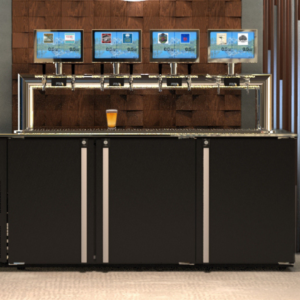 Height – 58 inches
Length – 80 inches
Width – 29 inches
6 taps with 3 screens

80″ wide

29″ depth length

55″ height (with wheels) to the top of the tower

Stainless steel or matte black finish

CO2 gas regulator and 6x "D" snake couplers
Height – 36"

Length – 72"

Width – 24"
The self-pour station is fully self-contained, with space inside for kegs of all standard sizes plus the gas connectors required for proper dispensing. You will need a 110-V wall outlet or an extension cord nearby for power.
You will need to provide the Co2 to connect to the regulator. Your draft tech is required to service and clean the self-pour station once a month like a regular system.
You will need a 20V, 1 phase, 60 Hz, full load amps – 5.7, and a dedicated 15 amp circuit.
You will need a CAT5 / ethernet wire from the self-pour station to the POS hardware and an extra line if you want another check-in area.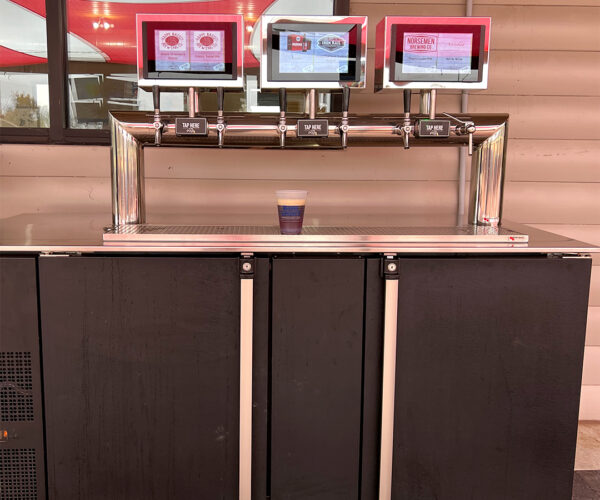 You must arrange for your local draft tech to be onsite when we install your self-pour station so we can train them on the system.
Contact Us To Get A Quote Or More Information!
For more information, fill out the form below, and we will be in touch soon.