Self-pour stations help hotels, country clubs, golf courses, driving ranges and other venues across the world reduce labor costs and eliminate staffing challenges! Since guests serve themselves, the staff can focus their efforts elsewhere, increasing the overall level of customer service.
What are the differences between these two beverage dispense methods?
For any establishment that serves drinks, there are several considerations owners must consider to keep operations efficient and profitable while maintaining a positive customer experience.
How often do customers buy drinks, and in which size? Are patrons able to get beverages of their choice in a timely fashion? How much wastage is there? Is the amount of staff optimized for both peak hours and slow times? You must carefully consider these factors to run your business in a way that increases both profit and efficiency.
In addition, there is a very high level of competition, and anyone in the hospitality industry must consider their customers' needs carefully. Preferences are ever-changing, and the demands of the restaurant and beverage industries are different than they used to be. Customers demand efficiency and speed for their experiences much more than they ever used to. With many emerging technologies to fit those needs, restaurants, bars, and other drink-serving establishments have to put in a lot of effort to keep up with the industry.
This trend towards efficiency and convenience is especially driven by the younger generations, led by millennials, who rely on this kind of service efficiency regularly. In addition, customers in this generation like to support businesses that are environmentally friendly, locally focused, and ideally unique.
This is where PourMyBeer's drink system technology comes into play. With the restaurant industry being the most labor-intensive, adding self-pour technology resolves several of these issues at once, offering a lowered carbon footprint, convenience, and speed to customers. Self-pour technology allows customers to go from door to pour in under 30 seconds, while operators can save on labor costs.
So how do the self-pour and staff-pour service structures differ? How are they the same? Let's look at what staff-pour vs. self-pour looks like in practice and how they compare.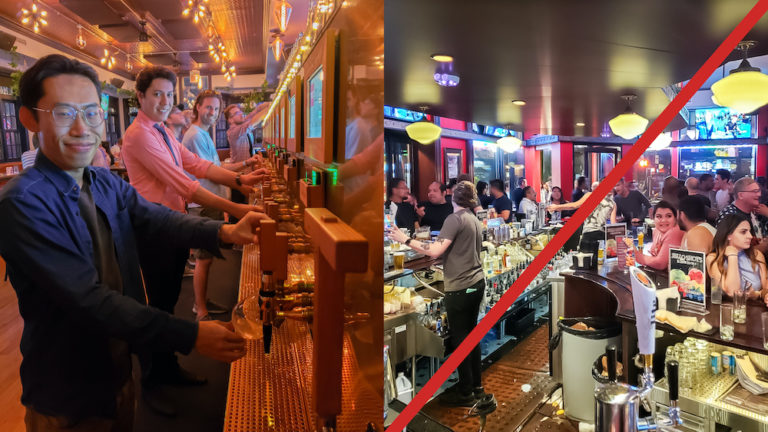 Staff-pour is what you imagine when you think of a traditional bar or drink experience. Customers order drinks from their table and wait for a bartender to make them and then for their waiter to serve them. Most bars, restaurants, and other businesses in the industry use this method of beverage dispense.
The problem? The time spent waiting can be long, especially during peak times. And in the case of a bar, when the establishment is busy, it can be almost impossible to get ahold of a bartender or waiter in the first place, which can lead to lost sales. Challenges also extend to the owners' side as things like wastage, free samples, and staffing/overhead costs are significant hurdles.
And this is precisely where self-pour comes into play.
Malcolm Yards, our PourMyBeer family member located in Minneapolis, MN, is taking advantage of the benefits self-pour brings. Malcolm Yards is home to a 32-tap self-pour beverage wall and a 48-tap traditional bar. Download the case study below to learn which setup (traditional or self-pour) brings in most of their total alcohol revenue, where most of their pours come from, and how much staff is needed to operate each.
4x more efficient than any other method of dispense
Increase overall net profits by 45% or more
Restaurants and bars lose 23% of inventory to waste. Self-pour waste is less than 3%
With a self-serve bar, you increase usable space by 10%
Reduce staff by 20% to help during labor crisis
Simply put, self-pour is a technology allowing patrons to pour their beverages by the ounce. With self-pour beverage walls, customers use an RFID card or a wristband linked to their payment method to pour beverages of their choice and pay by the ounce.
Self-pour is an emerging technology and represents a major revolution for drink service. Thanks to its simple and flexible model, there are many benefits over traditional beverage dispensing.
And on the vendor side, you're better able to serve customers their desired drinks with more ease and speed, meaning that no customers will be left waiting, and their overall satisfaction with your service is likely to improve at the same time.
With places like Tapster, the concept of self-pour becomes fully integrated with the brand itself, so that when people think about Tapster, they think about the unique self-pour experience they always have there.
Download Self-Pour Operations "Do's" and "Dont's" below to study later
Curious to learn what sets self-pour establishments up for success? As a leader in self-pour technology, PourMyBeer has helped over 500 businesses across 30 countries bring self-pour fun to their communities and neighborhoods. Based on our experience opening so many different establishments of various types, we have created some basic "Do's" and "Dont's" when opening up a self-pour business. Fill out the form below to download our guide. Cheers!