What do millennials want?
The generation known as "Millennials" has received intense scrutiny from media and marketers over the past decade. As this group has come of age and become an economic force of its own, industries have scrambled to understand their mindsets and consumer habits. It's led to a slew of speculation on what Millennials want, why you should give it to them, and rapid-fire guessing about which industry they will kill next.
Luckily for restaurant owners, millennials have to eat just like the rest of us — but they prefer to do it a little bit differently.
It's not hard to tailor your restaurant and service to Millennials, but making the savviest updates does require some insight into who Millennials are and what trends they're setting. With the right knowledge in hand, you can learn how to attract Millennials to your restaurant and turn them into loyal customers.
It's important first to understand who Millennials are – breaking news – not everyone below 30 is considered a "millennial!"
Who Are Millennials, and Why Should I Care?
"Millennials" is the term for the group of people born between about 1980 and 2000. There is some wiggle room in this definition, and it has been updated a few times. The Pew Research Center recently realized it was time to tighten up the definition to find a cutoff between millennials and the next generation. The window narrowed to anyone born between 1981 and 1996.
Their coming-of-age experiences at the turn of the millennium have defined millennials. They grew up immersed in a period of rapidly evolving technology and are the first digitally native generation. Your average millennial has vague memories of ancient technology like dialup, corded landlines, and floppy disks but is also comfortable adopting new tech as it rolls out. Millennials were also at a crucial developmental stage during the recession of 2008, which has heavily influenced their attitudes and habits regarding spending and saving.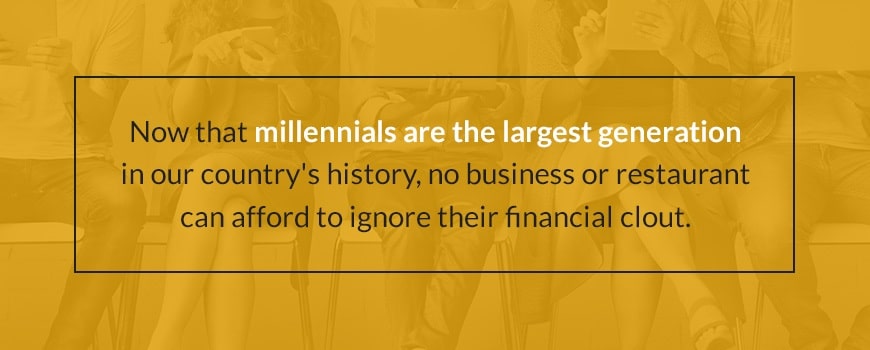 In the early 2000s, you would have been hard-pressed to find a headline that said anything positive about millennials. The media portrayed them as a strange new generation with new ideas, and many industries failed to take their unique preferences seriously. Now that millennials are the largest generation in our country's history, no business or restaurant can afford to ignore their financial clout. A study by global law firm CMS revealed this generation spends 13% of their total income on eating out, and almost 60% of them eat out at least once a week.
Unless your business model is for a specific age group, you should include efforts to attract millennials in your marketing strategy.
What About Those Born in the Late 1990s and Early 2000s?
Members of Generation Z were born roughly from 1996 to 2010. They've never known anything but the digital age and are even more deeply involved with technology than their millennial predecessors. In a world overrun with constant content feeds where every online interaction can be an advertisement, their search for truth defines the Generation Z cohort. Like millennials, they value authenticity while embracing digitization.
Gen Z is much more culturally aligned with millennials than millennials are to baby boomers, so catering to millennial customers often means drawing in members of Generation Z as well. As of 2016, Gen Z'ers were spending more than a fifth of their limited income on food.
While Gen Z doesn't yet have the financial clout millennials do, taking their preferences into account is a smart way to future-proof your business.
Lasting Food Trends For Millennials and Gen Z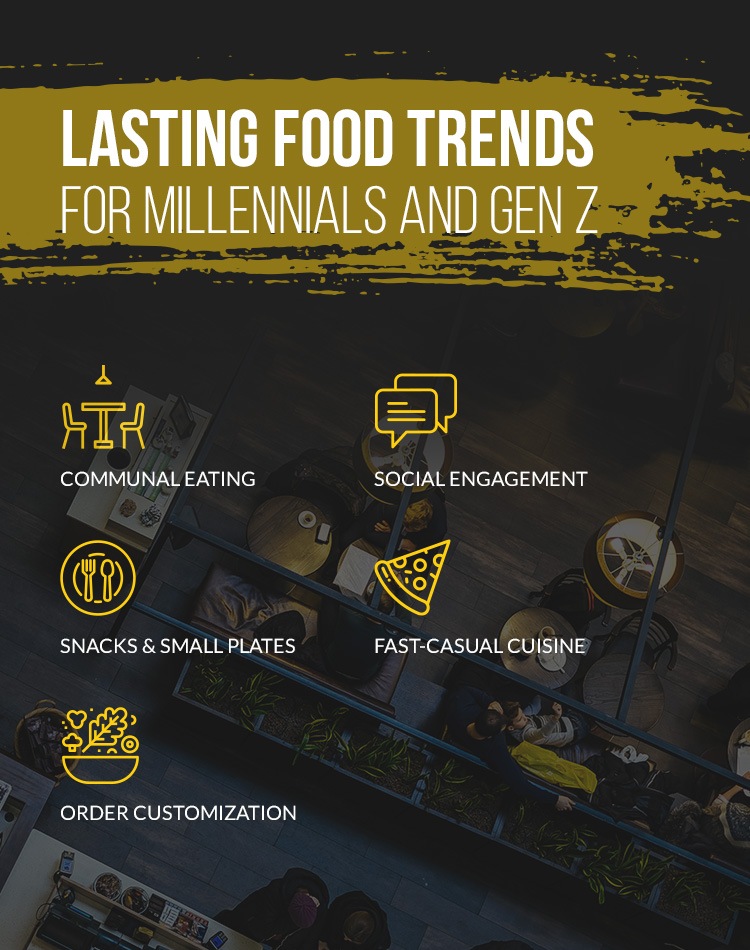 Picking up on the latest trends is a good way for a restaurant to stay ahead of the game, not every trend is a keeper. Here are five trends regarding millennials and restaurants that show no sign of dying down.
Communal eating: Millennials and Generation Z are more likely to view eating out as a shared event and want to dine in large groups. Whether they're meeting new people or out with a bunch of old friends, these demographics view eating out as a celebration to share.
Snacks and small plates: Along with a preference for communal eating comes a desire for more options in portion size. Millennials and Generation Z like to mix, match, and share, so a menu full of single entrée sizes won't draw their interest.
Order customization: Millennials and Generation Z aren't into one-size-fits-all ordering. With an increase in the number of apps that offer custom ordering options, restaurants have to provide more pathways for customization. After all, even Taco Bell lets you build unique orders through their app.
Social engagement: Almost three-quarters of millennials are more likely to be loyal to a business that engages with feedback on social media. If your restaurant has no social media presence, you're missing out on a valuable marketing tool that keeps millennials and Generation Z coming back.
Fast-casual cuisine: Generation Z isn't interested in elaborate, expensive dining experiences. They prefer fast-casual and limited-service restaurants over regular full-service restaurants. These consumers want to get in and out with no wait and no hassle.
Overall, both millennials and Generation Z want to feel more connected to their dining experiences and expect a measure of interactivity from restaurants. Their quest for authenticity leads them to seek out new experiences and genuine connections to food and beverages, as well as the environments in which they can enjoy them.
8 Ways Restaurants Can Capture Millennials and Generation Z
So, how can restaurants capture and hold the attention of these somewhat elusive age groups? We've got eight tips to help you update your image and draw in millennials and Generation Z customers.
1. Introduce Unique Food and Drinks
Above all, millennials and Generation Z are looking for a novel experience. Part of the demise of big chains has to do with a lack of unique menu offerings. You can go pretty much anywhere and get an order of wings and a beer. The appeal of a restaurant that does nothing but that has declined quickly.
The previously cited CMS study on millennials shows that 53% of the demographic considers "a new experience" to be a crucial element in choosing somewhere to eat. Furthermore, 52% of them say unique food is a factor as well. If your restaurant can offer a dish or drink customers won't find elsewhere, you're more likely to attract millennials and members of Generation Z to your establishment. Whether you focus on unusual flavor pairings or fare unique to the region, having at least one signature item can be your claim to fame among these two demographics.
2. Offer Different Portion Sizes
Communal dining is huge, so do not have a menu only consisting of single-size entrees. Offer several appetizer options. These customers want to try and share more than one dish each, and offering smaller portion sizes in a mix-and-match format allows them to do just that.
Offering small plates also appeals to price-conscious millennials and Generation Z members without too much cash on hand. Smaller portions with correspondingly more affordable price tags give these consumers a chance to enjoy more new experiences in one sitting, thereby increasing the value your establishment can provide.
Millennials, Gen Z, and their search for transparency from brands have driven up the popularity of local sourcing. These consumers want to know where their food came from and have more of a connection to the farms that supply it. A study by YPulse reveals 68% of millennials prefer local sourcing of ingredients. Additionally, 66% of them don't mind shelling out a little more for food that comes from local growers and producers.

Local sourcing also ties into the health-conscious desires of people 18 to 34. Of this age group, 67% say they love to order healthy options when eating out. Highlighting locally sourced ingredients in delicious, healthy options offers your restaurant a double advantage.
One way to harness millennials and Gen Z's love of novel experiences is to add an event calendar to your repertoire. Old standbys like live music and trivia night make excellent cornerstones for an activity schedule and help your restaurant build up a roster of regulars.
Consider a few outside-the-box activities to keep people engaged. Unique events like sponsoring a dog adoption night or featuring local visual artists set your restaurant apart and provide plenty of Instagram-worthy moments for millennials and Generation Z to share. For further inspiration on events, check out our article on Events to Increase Foot Traffic at your establishment.
5. Step up Your Social Media Presence
In 2017, 90% of businesses were using social media for marketing — and for good reason. Social media platforms like Facebook and Instagram allow restaurants to engage with their customer base and build loyalty for free. Millennials spend six to seven hours a week checking in on social media, and 44% of Generation Z check their feeds at least once every hour. If your restaurant has no social media presence, you're leaving a crucial marketing tool off the table.

You probably knew millennials love to snap photos of their food, but you probably thought of it as an irritating quirk rather than a marketing point to pursue. An astonishing 69% of millennials take a photo or video of their food before they chow down, and many of those end up on Instagram. If you're not giving your younger customers an "Instagrammable" experience, they're likely to go elsewhere in search of a more aesthetically appealing experience.
You don't have to go for an all-out remodel to make your restaurant more social media-worthy. Upgrades could be as simple as choosing a new selfie-friendly light bulb or painting a chalkboard accent wall for customers to write and draw on. Anything that makes your setting stand out from the crowd is more likely to get you free social media advertising.
7. Practice Social Responsibility
Corporate responsibility is a big selling point for both younger generations. Both groups expect the businesses they patronize to demonstrate some commitment to local communities and the world at large, and restaurants are not exempt. A full 87% of Americans will choose to buy a product because the company was active on an issue they cared about, and millennials, in particular, are more likely to research a company's contributions.
It's not hard for a restaurant to show some good citizenship, and it can go a long way to build a loyal customer base. Your restaurant can donate time, space, or money to cement your status as an active member of the community. Sponsoring food drives, starting a composting program, or contributing to local initiatives is a good way to position your establishment as a valuable part of the community.
8. Increase Self-Serve Opportunities
Millennials and members of Generation Z love any opportunity to skip unnecessary human interactions. They're used to leveraging their thorough knowledge of the internet to take care of basic customer service needs, and that extends to ordering food. Offering customers the ability to order via tablet or app helps satisfy their craving for a unique experience while making it easier to build customizations into the menu. It's much easier for a millennial or Generation Z member to look at mix-and-match items on a screen than for a server to explain the options. It also saves servers time and decreases the chance for human error.
Self-serve concepts are making deep waves when it comes to drinks. Younger generations don't have the patience for old-school bartending. They don't want to wait for a bartender to serve up beers in between complicated cocktails, and self-serve tap walls offer them the ability to get instant gratification when it comes to draft beer. With a self-serve system, your customers can pour themselves the beer they want, when they want — no yelling over crowds or excessive wait times required.
Become a Millennial Magnet With PourMyBeer
Millennials and Generation Z want the newest tech, and they want it to work correctly every time. The PourMyBeer self-serve wall tap system gives them the cutting-edge functionality they want, with the reliability you need for peace of mind. When we created our self-pour tech, we focused on creating a wall tap system that customers love. Our operators and their customers love that our tech does not come with any operational hassle.
The PourMyBeer system has room for up to four taps per screen and runs on hardware built to last. There's no need for Wi-Fi, no need to worry about random OS updates thanks to our proprietary Linux system, and A/C power allows us to put our valves and flow meters up to 50 feet away from the tap wall.
Oh, and one perk no other system can beat: There's no foam.
Implementing a new technology like a self-serve tap wall can feel daunting, so we designed our system to be as intuitive and reliable as possible. To make things even easier, we developed it with POS and other third-party integrations in mind. The PourMyBeer system allows you to check your sales and activity at a glance, check your reports from anywhere and manage your tap wall with ease.
If you're ready to invest in a technology millennials and Generation Z can't resist, contact us for a quote. Whether you're poised to make an immediate decision, or you're just curious about what we have to offer, we're happy to discuss how our features can help turn your restaurant into a millennial hotspot.