Between preparing extensive paperwork and combing through all the applicable alcohol laws in your area, obtaining a liquor license for your business can feel like an uphill battle. But don't get discouraged. With this complete guide to acquiring a liquor license, you'll have all the essential information to boost your chances of success and start selling drinks as soon as possible.
To make the process of getting your business a liquor license even easier, we've broken it all down according to the unique regulations in each state. What do you need for a liquor license? Explore everything you need to know about selling alcoholic beverages lawfully.
What Is a Liquor License
In the simplest terms, a liquor license is a legal authorization to serve alcohol. Most states consider it a privilege and have the right to control how they are awarded. A licensing system allows the government to control how alcohol is served. Any restaurant or store that wishes to sell alcohol must first obtain a liquor license or permit. Each state has its own rules to govern how alcohol can be served, and liquor licenses allow them to enforce those rules by asking bars, restaurants and liquor stores to follow regulations.
Obtaining a liquor license can be challenging, as you need to gather various permits and information during the application process. Additionally, many states limit the number of available liquor licenses to regulate alcohol sales and consumption.
How Can You Get a Liquor License?
To get a liquor license, you'll usually follow five steps:
Contact your state alcoholic beverage control (ABC) boards to confirm the availability of the licenses and permits you'll need for your business.
Prepare and submit your application alongside any forms, documents or other information required by your state. Pay the processing fee.
Your state ABC board will process your application. Approval can take up to six months.
When you get approved, you'll pay the license fee. This cost can range from around $50 to $450,000, depending on your state.
Once you have a liquor license, you will have to renew it every one to three years.
If you live in a state with limited liquor licenses, there is another avenue. Businesses with liquor licenses can sell them. To find out if any other companies are looking to sell their licenses, check with your state's ABC board for an updated list of inactive licenses. If you find any available to buy, you can apply through your ABC board. You can also purchase another restaurant with a liquor license and fill out a transfer application.
Types of Liquor Licenses
The type of liquor license you need depends on the type of business you run and what kind of alcohol you want to serve. On-premise licenses, also called on-sale licenses or on-licenses, are for most bars and restaurants that serve alcohol for consumption on their property. Liquor or grocery stores selling alcohol need off-premise licenses or off-licenses to sell alcohol for carryout.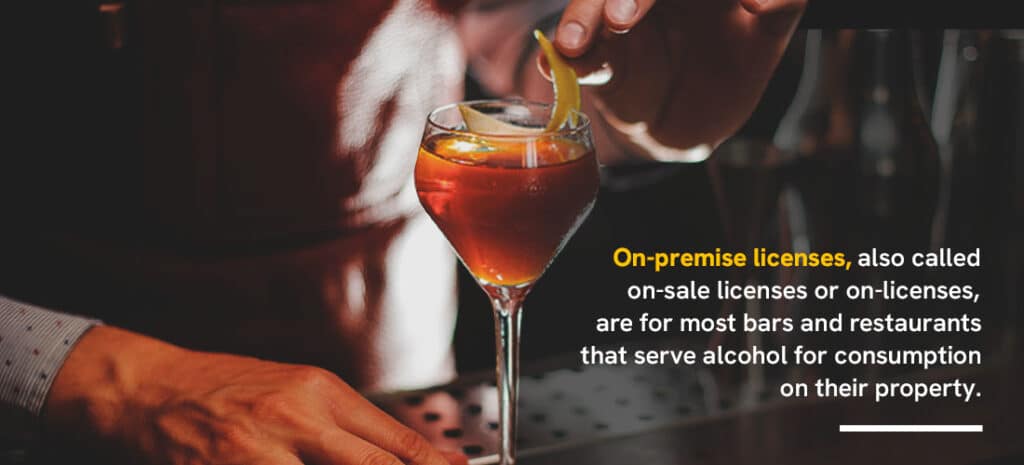 For a restaurant or bar, there are many kinds of on-licenses you might need. Again, these types can vary by state, but here are some of the most basic types:
Restaurant license: Often called an "all liquor license," this license allows restaurants to sell beer, wine or hard liquor. While there's no limit on the kinds of alcohol you can serve, you cannot use a restaurant license if you strictly or mostly serve alcohol. To have a restaurant license, your earnings from alcohol consumption must stay under a certain percentage of your overall revenue, which varies by state.
Beer and wine license: If you don't need to serve hard alcohol or spirits at your establishment, you can opt for a beer and wine license. Some permits for beer and wine also include hard cider and are often less expensive than full-service licenses.
Tavern license: If more of your sales come from alcohol, you can get a tavern license. Most bars making 50% or more of their revenue from alcohol will need a tavern license. You might see a tavern license called a "limited-service restaurant license."
There are also some specialty permits you may need outside of the three basic permit types. These specialty licenses vary by state, and some states don't require them. Here are some of the specialty permits you might qualify for:
Brewpub licenses: Food service establishments that make alcohol need a brewpub license. Wineries and distilleries are classified separately. If you have one of these permits, you might have to observe a rule that you cannot brew and serve at the same time.
Club licenses: Club licenses are for members-only clubs, such as country clubs. Some private organizations may only serve beer and wine, while others can serve hard liquor as well.
Hotel licenses: Hotels with bars or restaurants that serve alcohol must obtain a specific hotel liquor license.
We've outlined 10 permits and licenses you may need to open a bar or taproom. We also created a checklist with that information to make it simple for you.
What Are the Criteria for a Liquor License?
When applying for a liquor license, the more information and paperwork you can provide, the better. The following are some of the important things you should prepare as part of your application:
Age: Business owners looking to obtain a liquor license must be 21 years old or older. It's important to note that most states have strict rules about wait staff and require anyone serving alcohol to be at least 18 years old.
Employer Identification Number: You must have your employer identification number (EIN) from the IRS.
Local zoning permit: Your business must have a zoning permit from the municipality you operate in to ensure you can lawfully serve alcohol there. Some states don't allow you to serve alcohol too close to a school zone.
Code Compliance Certificate: You'll need your Code Compliance Certificate from your local municipality.
Building permit: You should obtain your building permit from your local zoning commission.
Signage permit: You'll get this from your local zoning commission.
Business license: Having your company's business license from the local chamber of commerce or small business commission is essential.
Sales tax permit: Businesses will need to have their state tax permit from the state's tax agency.
Alcohol tax permit: Along with your sales tax permit, you can apply for an alcohol tax permit from your state's tax agency.
Certificate of incorporation: Your secretary of state will issue a certification of incorporation, which indicates that the state recognizes your business.
Partnership agreement: If you have a partner agreement from your secretary of state, you should also have this document prepared when applying for a liquor license.
Food handler's permit: Another important document to have ready is your food handler's permit, also known as a food handler's card or certificate, from your state and county, if applicable.
Building title: Prepare your building title for your liquor license application. It can be a copy of the original.
Health permit: You'll also need your business's health permit from your state's department of health.
In addition to this paperwork, you can set your business up for success by providing a few other details, such as:
Photos of the outside of your building.
Your current or proposed food menu.
Floor plan of your bar or restaurant's interior.
Company constitution.
Details proving your age and outlining your business experience.
How Much Does a Liquor License Cost?
Two main costs come with a liquor license. The first is the application or processing fee, which is usually several hundred dollars. The second is the cost of the license itself, which can range from $300 to nearly $450,000, depending on your location. Finally, you'll pay a renewal fee, which can be anywhere up to the cost of the permit itself. You may also have to pay penalty fees if you are late to renew or be subject to other surcharges. These costs depend on the state.
Risks of Losing Your License
Obtaining your liquor license can be challenging, so you want to do everything you can to hold onto it. Take a look at some factors that could put you at risk of losing your license for failing to abide by regulations and laws.
1. Selling Alcohol to Underaged Persons
It's illegal to sell drinks to anyone under 21, and you should also be able to catch underaged individuals trying to sneak into your bar and enjoy a drink. This means you must have a reliable method for checking U.S. driver's licenses, passports, green cards and state-issued and military ID cards.
2. Providing Unsanctioned Drinks
Since your license specifies which beverages you're allowed to sell, any beverages that fall outside what's permitted will be grounds for losing your permit. Some restaurants and bars can offer the full spectrum of drinks, including beer, wine and spirits, while others can only provide beer or wine.
3. Committing Location and Schedule Violations
Outdoor patios and dining areas on sidewalks can be wonderful additions that allow your guests to enjoy drinks outdoors during warmer months — if your license allows. You must also follow strict times when you can and cannot sell alcohol. Some licenses prevent sales after midnight, and many confine establishments to sell from Monday to Saturday.
4. Selling to Visibly Intoxicated People
It's your job to foster a safe environment for everyone to enjoy. While most of your patrons may drink responsibly, there are bound to be some who drink a little too much. When this happens, it's your responsibility to stop serving drinks to them and do your best to get them home safe, whether you call one of their friends or hail a cab or Uber.
You can also establish maximum drink amounts within a certain time frame and regularly offer food and water between rounds. If a customer leaves your bar while highly intoxicated and gets into an accident, you could be liable.
5. Allowing Staff to Drink on the Job
Permitting your staff to drink while working may violate your license. Drinking on the job can also lead to your bartenders serving those they shouldn't, increasing your liability if someone leaves your premises and gets into an accident. This requirement largely depends on your state, as it is allowed in some areas.
6. Having Improper Documentation
Maintaining the correct documentation is essential to keeping your liquor license. Try to stay as organized as possible, keeping track of invoices, order sheets, employee contracts and insurance papers. Most importantly, keep your invoices and order sheets after every delivery from your vendors and store them in a place that is easily accessible.
How Do State Liquor Licenses Vary?
Many things factor into liquor license laws, which differ by state. Here are a few examples that illustrate how different the costs and rules are in different corners of the United States:
Alabama
To obtain a liquor license in Alabama, you'll need to contact and arrange an appointment with the Alabama Alcoholic Beverage Control (ABC) licensing division office for your county. Before your appointment date, complete the pre-application packet and application checklist, which details all the documents you must bring to the appointment, including:
Pre-application form
Limited liability company (LLC) or corporation paperwork
Identification documents
Property details such as a lease or deed
State and federal tax information
Approval from your local governing authority
Liquor liability insurance certification
Alabama designates the following liquor license types:
Lounge retail liquor
Restaurant
Club liquor
Retail beer or table wine
Wholesale beer and table wine
Warehouse
Special events
Special retail
Manufacturer
Importer
Brewpub
International motor speedway
Nonprofit tax-exempt
Off-site tasting permit
Retail tobacco sales
Depending on the type of license you need, the cost of Alabama liquor licenses ranges from $100 to $1,000. Remember to process your annual renewal from June 1 to July 31 because all liquor licenses automatically expire on September 30 each year.
Alaska
Getting a license in Alaska is a lengthy affair. Applicants for a new or transfer liquor license should plan for a three to six-month process, involving approval from the ABC board, local government and other state agencies, according to the state's Alcohol and Marijuana Control Office (AMCO).
Keep in mind that submitting your application by the published board deadline does not guarantee it will be presented at the next scheduled board meeting. The board receives a high volume of applications, so carefully follow all instructions to ensure your submission is deemed complete for consideration.
To start the application procedure, prepare and submit the documents outlined in the New or Transfer Liquor License Application Checklist, including a notarized and signed publisher's affidavit, background check documents, proof of right to use the premises, and entity documents. Additional documentation and permits may be required for specific license types like restaurants, dispensaries, and recreational sites.
Within 60 days before application submission to AMCO, you must publish and publicly post the application in an advertising format. Applicants must also use an approved agency to obtain fingerprints and submit them with their application, along with a processing fee.
Once the ABC board receives the following, they will contact the necessary authorities to approve your application:
Liquor license application
Application-specified documents and identification
Posting affidavit
Proof of advertising
Fingerprint cards
Processing and application fees
Alaska licensing cost ranges from $50 to $2,500, due for renewal every two years.
Arizona
If your Arizona business wants to obtain a liquor license, you'll have to go through the Arizona Department of Liquor Licenses and Control. When you apply, make sure that your entire application is filled out thoroughly. If it's not, your application won't be processed, and you won't be able to get a license. In general, the processing time ranges anywhere from 75 to 105 days — so be sure to leave plenty of time when you submit your application.
Depending on which county, city or town your business is in, you might also need to complete and fulfill other requirements. Also, do keep in mind though that if your business is anywhere within 300 feet of either a church or school, the state will not be able to issue your business a liquor license.
Once you've completed the application, there are a few other steps you'll have to follow, including:
Completing the questionnaire.
Completing the Arizona Statement of Citizenship or Alien Status for State Public Benefits.
Submitting your fingerprint card.
Submitting your records is required for the audit form.
The fees for liquor licenses in Arizona can vary. For example, for a person-to-person transfer, the fee is $100.
Arkansas
The Arkansas Department of Finance and Administration's Alcohol Beverage Control Division office regulates liquor licenses in the state. Arkansas's permit and liquor license application process is quite simple. A smaller commission has the final say over applicant approval.
Determine which liquor license category you fall under since the state has several designations based on the business type. A restaurant owner has different requirements from someone opening a dance club. There are six different liquor license types you can apply for:
Retail beer
Combination of beer and wine
On-premises wine
Small farm wine, retail
Hotel, motel or restaurant mixed drink
Private club
In addition to the liquor license, applicants must fill out an entertainment form and complete an ABC educational seminar and a criminal background check. You'll need to mail the liquor license application and documentation of the entertainment, educational and criminal forms to the Arkansas ABC office along with license fees.
The cost of an Arkansas liquor license ranges from $100 to $3,000, due at the time of application submission.
California
In California, a.k.a. Wine Country, USA, permits are some of the most expensive. California sets quotas for liquor licenses, which drives up the price. For an on-sale restaurant permit, the application fee is $6,570. However, since California limits the number of licenses in the state, to get a new license, an applicant will have to pay for a priority application, which is $17,335. After that, the annual fee for an "on-sale general" restaurant permit is $1,355 for a high-density population, as of September 2023. The renewal fee costs less in areas with fewer people.
If your Golden State restaurant has more than one room that houses a bar counter, you must acquire a duplicate license. You can't buy an on-sale license for a business near churches or hospitals or within 600 feet of schools or public playgrounds. You will have to prove that your business will not disturb residents to operate within 100 feet of a home. Since California has a liquor license quota, you must file for a transfer to acquire a liquor license from another business.
Colorado
In Colorado, those who either need to apply for a new liquor license or want to transfer an existing license need to complete the Colorado Liquor Retail License Application.
The application process usually involves a few steps:
Figure out what type of liquor license you need. You'll have to choose from various classes, including a Tavern, Fermented Malt Beverage License and Brew Pub license. There are also special permits ranging from Bed and Breakfast permits to Art Gallery Liquor permits.
Obtain your Zone User Permit. This permit allows either the applicant or owner to use the building or land for their requested purpose.
Gather the required documents. You'll need a couple of documents, including a City Tax license, a floor plan drawing and a Tax Check Authorization, Waiver and Request to Release Information.
Pay your state and city fees. Usually, each fee starts at around $1,000.
Schedule your public hearing. You can only complete this step once the other requirements have been met.
Have your building inspected. A few different inspections will have to take place, including one by the Denver Fire Department and another by the Department of Public Health and Environment.
Lastly, take your signed card to the Department of Excise and Licenses office. Here, you'll receive your license.
Connecticut
Before seeking a Connecticut liquor license or filling out your liquor permit, you'll want to get your building location settled. The State of Connecticut puts great stock in not just the liquor license applicant, but also where the liquor will be sold. In fact, the liquor permit form expressly asks for images of the building to ensure it's in proper functioning condition.
After filling out the application in its entirety, your request will be posted throughout the city or town where you plan to operate. Any resident can make an objection to your liquor license application, which could stall the process.
If the application passes, you and anyone else on your application will still need to pass a comprehensive background check. The background check will be used in conjunction with the application to determine if you receive a "yes" or "no" answer. All past convictions will be considered, including minor vehicle-related infractions like speeding and parking tickets.
Because the Connecticut liquor license application process tends to be fairly extensive, it should be undertaken methodically and well in advance of the establishment opening. Some applicants favor seeking legal assistance to put together their applications because of the documentation necessary. However, this step is not necessary.
Delaware
Delaware allows its Office of the Delaware Alcoholic Beverage Control Commissioner (OABCC) to handle all the processing of liquor licenses for the state. Liquor licensing fees in Delaware tend to be fairly easy to understand. However, you should remember that they will need to be paid again every two years when the license is re-upped.
The liquor license application process in Delaware breaks down the way you plan to handle your liquor purchase and distribution to the public. Therefore, it's important to have a laid-out business plan in mind before applying for a license. Knowing ahead of time that you want to sell liquor at special gatherings, for instance, will be beneficial. Plan to spend some time with the online and paper documents to ensure you've correctly filled out all the information required to meet the standards for OABCC approval.
Time frames to receive an answer for a liquor license request in Delaware may be up to two months.
Florida
Getting a liquor license in Florida can be a costly endeavor depending on what type of alcohol you intend to serve. The state's liquor laws are governed by the Division of Alcoholic Beverages and Tobacco (ABT), a subsidiary of the state Department of Business and Professional Regulation. The Sunshine State dispenses some liquor licenses by quota, while others have no number restriction.
If you want to sell only beer or beer and wine, you can apply for a consumption-on-premise (COP) license — a 1COP for beer and a 2COP for beer and wine. There are no restrictions on these licenses, and they can be used in bars, restaurants or convenience stores. The cost for them is anywhere between $56 and $392 depending on whether you choose to sell wine and what the county population is.
If you're a restaurant owner and want to serve liquor, you can take a shot and apply for a Full Restaurant/SRX License. This special restaurant exception license can be applied for directly at the ABT and will be granted if you meet certain criteria related to the number of seats in and square footage of your restaurant. Your restaurant's revenue must consist of at least 51% of food sales to qualify. These 4COP to 8COP licenses cost anywhere from $624 to $1,820 depending on the county population.
If you're a bar owner and wish to sell liquor in any volume, you must purchase a quota license from a license holder. You can also choose to enter the quota license lottery drawing. Because these licenses are scarce, their price becomes artificially inflated. Even though they're the same license as the SRX, they can cost as much as $50,000 and upwards of $750,000 depending on location.
Georgia
In the process of obtaining a Georgia State Liquor License, you'll have to work through applications at all levels of government: local, state and federal. It sounds like a tall order, but in reality, the process will make it much easier for you to organize your paperwork accordingly, as each authority will more or less ask for the same thing. In Georgia, the state Department of Revenue is responsible for issuing alcohol licenses.
Beginning at the local level involves a few steps and investigations into your business interests before the municipal government approves your license. One of the keys is understanding what municipality your establishment is in — there are 159 counties in Georgia, which is more than every other state besides Texas. These counties are responsible for assigning liquor licenses, and the cost will be the most expensive at this level — anywhere from $3,500 to upwards of $9,000 in Atlanta.
To apply for a state license to sell liquor in Georgia, you must first determine which of the four types of licenses you need: manufacturers, wholesale distributors, retailers or special events. The fine government of Georgia has created a straightforward schedule of fees for such requests, so if you're looking to get a state liquor license in Georgia for, say, a brewery, it will cost $1,000, plus the $100 investigation/background check fee.
After getting your Georgia State Liquor License, you'll need a Federal Basic Permit. Luckily, applying for this permit is free.
Hawaii
The process to acquire a liquor license in Hawaii is highly regulated and may take three months or longer to complete. The application procedure varies depending on which of the four Hawaiian counties you reside in — Honolulu, Hawaii, Kauai or Maui. Each county has a required checklist for documentation, notarization, permits, identification documents, criminal background review, premises information and application fees. Be sure to follow the specific rules set forth by your county liquor control board.
With its wide range of tourist and entertainment attractions, Hawaii offers different liquor licenses distinguished by classification, kind and category:
Classification: These vary by description and permitted activities. Classification examples include a restaurant, manufacturer, retail, club, cruise, cabaret, hotel, brewpub and hotel.
Kind: The specific kind of alcohol served needs to be defined — liquor, beer, wine or a combination.
Category: For restaurant, cabaret and dispenser classifications, a category defines the type of activities allowed at the premises by the licensee, like music and dancing.
Here are the steps you'll take during the licensing process:
Application submission
Application review and proposed licensed premise
Investigation and compliance
Preliminary hearing
Public hearing
Licensing conditions
License Issued
The cost of a liquor license depends on its kind and class, ranging from $150 to $1,200. Licenses in Hawaii need to be renewed annually.
Idaho
In 1959, on the heels of the Prohibition era, Idaho instituted a quota system for liquor-by-the-drink licenses. This means the number of licenses allowed in each city is based on population and is controlled — and limited — by the state. This quota remains in practice today, making it notably more difficult to obtain a liquor license in Idaho than in most other states.
By law, every incorporated city can have two liquor licenses. A city can increase that number only as its population grows, with the state allowing one additional license for every 1,500 residents. As you can imagine, the demand for licenses outweighs the number allowed by the state based on the quota requirements. There are waiting lists for liquor licenses in more than 70 cities across the state, some of which date back decades.
The growing demand in Idaho has paved the way for a growing secondary market. If the waiting list is too long in your desired area, business owners are permitted to lease or buy a license from someone who obtained one from the state at least two years prior — but the prices can be steep. A secondary-market license can go for more than $100,000 in Boise, compared to the state's law-regulated fee of $750.
To apply for a new license, you must submit your:
Completed application
Background check
Financial check
Fingerprint cards
Property lease agreement or proof of ownership
Health department inspection
Accompanying documentation
Application fees
You submit these items to the Alcohol Beverage Control Bureau of the Alcohol Beverage Control division of the Idaho State Police.
Annual license renewal is required.
Illinois
To get an Illinois state liquor license, you'll first need to get a license from the municipality where your establishment is located. Each municipality's process for getting a liquor license involves different qualifications and costs. Once you get your local license, you'll have completed the first step in the process for a state one.
The Illinois Liquor Control Commission (ILCC), which governs the state's liquor laws, offers a variety of permits, including those for regular Retailers, Special Use, Craft Distilleries and more. The ILCC imposes strict qualifying criteria for obtaining a liquor license. You must provide ownership information, your sales tax history, your Federal Employer Identification Number (FEIN) and your local liquor license, sales tax number or Illinois Business Tax (IBT) number. You also must provide the ILCC with proof of insurance if you allow on-premises consumption.
There are no liquor license quotas in Illinois, so it costs $750 to obtain a Retailer permit, which is good for most bars and restaurants. For other permits, like a Specialty Retailer permit, costs can vary. Brewpubs are charged $1,500, while winemaker retailers and caterer retailers are $500.
Getting your business license is the biggest hurdle in the path to serving alcohol at your establishment. However, Illinois requires individuals serving alcohol to undergo Beverage Alcohol Sellers and Servers Education and Training (BASSET). To obtain a BASSET permit, you must submit a copy of your training curriculum, results of tests, a copy of course completion and your IBT and FEIN numbers.
Getting a BASSET permit is $350 annually and will allow you to train your own servers. However, servers can obtain individual BASSET permits that allow them to legally serve alcohol for three years.
Iowa
In Iowa, the Alcoholic Beverages Division or ABD, governs the issuance and renewal of all Class "A" through "D" liquor licenses.
To get a liquor license in the state, you must follow through with numerous measures. One is proving your "good moral character" by having no felony convictions for five consecutive years, being a U.S. citizen, being a resident of the state and not having any connection with a revoked liquor license in the prior two years. The application process also requires applicants to be able to show they are in good standing financially and reputationally.
If you're planning on selling liquor at an establishment in Iowa, you'll need to show that you own the premises and that the building meets all local, state and related requirements. For instance, seating must be available for at least 25 people at any given time.
When applying for a liquor license from the ABD in Iowa, you may want to consider adding sub-license or special privilege requests. Sub-licenses can include Class "A" brewpub permits, the ability to sell liquor in outdoor venues and permission to sell liquor in a place that also has living quarters. Privileges involve things like selling liquor on Sundays or being able to sell liquor as part of a catering business.
Kansas
Applying for a liquor license in Kansas is a fairly fast process. The state tends to respond to applications within a 30-day window, which means you'll find out quickly if you can move forward with your goal of selling liquor.
To obtain a Kansas liquor license, you need to be a U.S. citizen, be a resident of the state, have a Federal Employer Identification Number (FEIN) and hold an active tax clearance certificate. You also must register with the state's Department of Revenue before sending in your liquor license application documents and payments.
Kansas liquor license applications contain numerous licensing options and their related fees. You may need to do some investigations beforehand to understand which situations cover your needs.
On the application, you'll notice that you'll have to name a "process agent." The process agent must reside in the state and also be a U.S. citizen. The process agent will act as a legal representative. If any courts need to serve papers to you, they'll go through your process agent.
Kansas offers some online collateral to help you train and educate your team on expectations related to holding the license. These add-ons, including handbooks, can be useful reference pieces.
Kentucky
There are a few upshots and challenges to getting a liquor license in Kentucky. On the positive side, Kentucky has taken the application process completely online. This means you don't have to worry about printing anything, which could help streamline the process and make it easier to keep track of documents.
Additionally, you'll submit all payments through an encrypted portal. This offers maximum convenience and no worries about obtaining, writing or sending checks.
The downsides to obtaining a liquor license in Kentucky tend to pertain to quotas. A limited number of liquor licenses is available, and both a state and local liquor license may be necessary for some municipalities. The state's ABC site provides a way to search for license availability.
Who can apply for a liquor license in Kentucky? Applicants must meet the following general criteria or their applications will be denied and returned:
Be at least 21 years old.
Be a U.S. citizen or naturalized citizen.
Be a resident of the state for at least 12 months.
Have a clear felony record for at least five years.
Have a clear substance or alcohol-related misdemeanor record for at least two years.
Expect to wait up to 60 days to hear whether your Kentucky liquor license has been approved.
Louisiana
Trying to figure out how to skip the application step in Louisiana in order to get a liquor license? You can streamline the process of getting approved to sell alcohol by purchasing an establishment that already holds an active liquor license. As long as you notify the state's Office of Tobacco and Alcohol (OTA) no later than five days after closing on the establishment, you'll operate the same type of business as the previous owner, and you submit a new business application no later than 15 days after closing, the permit will transfer to your hands.
Of course, you might not be able to buy a business with a permit. In that case, you'll need to fill out at least one application with the OTA. Applications are available for bars, restaurants and microbrewing-related locations. If you're unsure which application you'll need, read through the full description of each type of establishment on the OTA's site.
Generally speaking, permits are approved or denied within about five weeks of receipt. To make the process easy for reviewers, double-check your application before sending it in. The application requires documentation attachments, including Schedule As and Schedule Fs, lease agreements, fingerprint cards and proper IDs.
You'll need to run an ad in an acceptable publication announcing your intent to apply for a liquor-selling permit prior to submitting your application. Make sure you factor in this extra step.
Maine
You'll be working with the Maine Bureau of Alcoholic Beverages and Lottery Operations to submit an application to obtain and sell liquor in the state. Fortunately, Maine's website is one of the more intuitive and offers a fairly simple process to help you gather information and get your application started.
On-premises liquor licenses in Maine are approved on the local level, not by the state. You may need to run an ad in an acceptable publication in advance of a hearing if a hearing is necessary, pending your approval. Not all municipalities or cities require a hearing, but yours may.
You can expect to undergo a background investigation as part of your liquor license application. In addition, your premises will go through a thorough inspection process.
The Maine application itself is quite lengthy. Before you can even apply, you'll need a health license, shellfish license, dance license, victualer's license and a variety of other permits and identifying documentation. If you're not a U.S. citizen, you'll have to file as a business entity, which will take time to set up if you're not already doing business under the name of a corporation.
Fees for liquor licenses in Maine vary depending on the license Class you're seeking.
Maryland
In Maryland, there are three ways you can obtain a liquor license — either by expansion, applying to have a license transferred or applying to get a new license.
Regardless of how you decide to obtain the license, state law requires that you post a notice on your property explaining that you are either transferring ownership, expanding, transferring the location or obtaining a new license. This notice must remain up for 10 days.
You'll also need to advertise the change in the local newspapers so that the community is aware of what you are doing.
When you apply, be sure that you fill out the entire application packet thoroughly. The fee to apply, which also includes your hearing fee, is $600.
In addition to the application, you'll have to complete a few more steps before you are granted your license. This process will include submitting documents such as a floor plan diagram, financial forms, certificate of incorporation and proof of payment from zoning.
Keeping a checklist on hand can be helpful to ensure you've submitted everything in the right order and in a timely fashion. If at any time you need to make changes to your information, such as your name or phone number, you'll have to file a substitute application.
The city of Baltimore also offers several other types of permits depending on the type of establishment you own and what you want to serve in it. For example, your business can apply for a Pub Tour Promoter's Permit or a Wine Corkage Permit. For short-term events, the state also offers a One Day License.
Massachusetts
In Massachusetts, the liquor license application process is regulated by the Alcoholic Beverages Control Commission (ABCC) of the Commonwealth of Massachusetts. The steps are pretty straightforward:
Submit your application on the Commonwealth of Massachusetts Alcoholic Beverage Commission's website. You'll have to choose from either the "On-Premises License Forms" or "Off-Premises License Forms" and then download the application. When you submit your application, try to be as detailed as possible. If you are missing answers or some of the questions are not answered fully, there is a chance the licensing division will return the application. You will be able to fill it out electronically, but be sure to print it out once you are done.
Pay your fee of $200 to the ABCC. When you submit your fee, you'll also have to include the application and the supporting documents.
Notify the residences and properties around you that you are applying for a liquor license. This process includes publishing an advertisement as well as notifying any churches, hospitals or schools that are within a 500-foot radius of your property. You'll have to include information like the name of your business and its address when you send out your notices.
When you are filling out your application, you'll also have to keep in mind that any proposed managers will need to fill out their contact information as well. Also, when you are applying for a retail transaction specifically, you'll need to submit it to the municipality where you will be serving alcohol.
Michigan
In Michigan, there are quota requirements based on how many liquor licenses can be issued in cities, townships or incorporated villages. The state tends to only issue one liquor license per 3,000 people. Occasionally, though, they might waive this requirement under certain conditions.
When you apply, the documents that you'll need will depend on what type of liquor license you are applying for. For a New Class C, Tavern, B-Hotel or A-Hotel License, you'll need a Livescan Fingerprint Background Request, property documents, inspection, license/permit fees and a Local Government Unit Approval Form. Be sure to also check out which specific forms and requirements you'll have to fulfill based on whether your business is a corporation or a limited liability business.
After you've submitted your documents, the Commission will then review your application as well as other factors ranging from your financial information to any arrest records you might have. They can then decide to either approve or deny your request for a liquor license. If they approve it, they will send your license request to Licensing. The Renewal Unit will then issue all of your license documents.
If the Commission denies your request, you will have the opportunity to appeal that decision.
If you are approved for the license, your business must comply with certain requirements. There are legal time restrictions dictating when you can sell and serve alcohol in Michigan. For example, the legal hours on Monday through Sunday are 7:00 a.m. to 2:00 a.m.
Minnesota
If you wish to sell alcohol in Minnesota, you'll need to obtain an on-site or off-site liquor license depending on your business activities. Retailers should apply for an off-sale license. On-site licenses are required for businesses like restaurants, hotels, sports facilities, entertainment venues and clubs, which allow purchase and consumption on the premises.
To start the application process, you must first contact your local government to gain approval. License applications need a sheriff or local police signature and county-issued licenses need a county attorney signature.
To apply for a liquor license, refer to your specific city or county and complete the required application forms based on your license type. Here are some of the license types available:
Municipal License: For a municipal liquor store to sell tobacco, beer, liquor and food for consumption on the premises, allowed in a city with a population lower than 10,000.
Wine License: For a restaurant with 25 or more seats, allowing for the sale of wine that is lower than 24% alcohol.
Combination License: For on-site and retail consumption.
Your state application requires your business and building information, business tax identification and the nature of activities and food provided on the premises. Submit applications to the Alcohol and Gambling Enforcement Division of the Minnesota Department of Public Safety. After a review process, the licensing bureau may require a public hearing.
Licensing fees vary by size and location of the establishment and must be renewed annually.
Mississippi
To obtain a liquor license in the state of Mississippi, you must first give public notice of your intent to pursue a license by advertising in two consecutive issues in a newspaper circulated in the city or town of your business location.
To apply for licensure, complete the permit issued by the State of Mississippi Department of Revenue and return it to the Alcoholic Beverage Control Division. Applicants must include the following with their application:
Ownership information
Financial statements
Lease or deed information for the premises
Detailed floor plan of the facility and grounds
A menu, if applying as an on-premises retailer or caterer
Copy of a completed Department of the Treasury Alcohol and Tobacco Tax and Trade Bureau (TTB) Report of Wine Premises Operations form
Department of Revenue registration and sales tax number
Fingerprint cards and applicable processing fees
Retailers, caterers and owners of hotels, restaurants and clubs must submit additional information designated by category type.
Depending on the type of permit you seek, licensing fees can range from $45 to $9,025. Submit your completed application, accompanying paperwork and fees to the Mississippi ABC.
Missouri
Missouri requires that all restaurants, bars, hotels and package stores have a valid liquor license to sell alcoholic beverages on the premises. Overall, the entire application process is fairly straightforward.
Keep in mind, though, that if your business is within 300 feet of a school or church, you most likely won't be able to obtain the license to sell alcohol. You'll have to start by obtaining the approval and written consent from the majority of either the school or church board members. Local issues like a neighborhood vote or city council decision can make it extremely difficult to obtain approval in some areas.
Before you apply, make sure you know which liquor license you need. You'll need to be sure to fill out the right application and check that your business meets the basic qualifications. Four of the most common types of liquor licenses in Missouri are as follows:
By-the-Drink
Package
Wholesaler
Manufacturer
After you've determined the type of license you need, you need to figure out which Missouri district your business is in. This step is important because there are different applications, questions and fees in each district.
Next, be sure to reach out to the agent in your district so you can start filling out the application forms. Once you have filled them out, you can send in your fee. The fee will vary depending on which district your business is in. If the Missouri Division of Alcohol and Tobacco Control reviews your application and finds that it and your business meet its requirements and standards, then you will be issued your Missouri liquor license.
Next, be sure to reach out to the agent in your district so you can start filling out the application forms. Once you have filled them out, you can send in your fee. The fee will vary depending on which district your business is in. If the Missouri Division of Alcohol and Tobacco Control reviews your application and finds that it and your business meet its requirements and standards, then you will be issued your Missouri liquor license.
Montana
Montana regulates alcohol sales by different categories — distributors, producers and retailers. Before you apply, determine which liquor license category you fall into based on your business needs:
Beer and wine wholesaler, distributor and importer licenses: For businesses that import or distribute beer and wine to licensed Montana retailers.
Beer connoisseur license: For an individual Montanan who seeks the ability to legally receive beer shipments from out-of-state breweries for their own consumption.
Brewery, winery and distillery licenses: For businesses licensed to manufacture, import, store and distribute alcoholic beverages.
Special permits are required for nonprofit organizations to sell wine or beer during a function where alcohol is normally not permitted, like fundraisers, rodeos and fairs.
To apply for a new alcoholic beverage license, complete Montana's alcoholic beverage authorization and other forms required by the Department of Revenue. Fingerprint cards are required with submission. Expect to pay a license fee between $400 and $800, plus an application processing fee of $400.
The Montana Department of Revenue Liquor Division uses a competitive bidding process for businesses and individuals to bid on the opportunity to apply for an available license. To bid, you must meet all licensing requirements, provide a letter of credit from a financial institution and include a $100 fee plus any possible payment processing fees. The minimum bid is set at 75% of the market value of the license compared to similar business licenses in your area.
Nebraska
To apply for a liquor license in Nebraska, you'll need to contact the state's Liquor Control Commission (NLCC) for application materials. Complete the provided application and return it to the NLCC, whose staff will forward it to your county for review.
Applications for retail, brewpub, farm winery or microdistillery liquor license types vary. Submissions require personal identification forms, fingerprint forms, limited liability verification and operating permits. There is a $400 nonrefundable application processing fee, plus additional costs depending on the license type. Applications can take up to 60 days to be processed.
The County Board of Commissioners will set a public hearing date to consider your license application. The following submissions must be prepared and submitted to the County Board:
A list of the names and addresses of all property owners located within 500 feet of your establishment. An abstractor registered under the Nebraska Abstractors Act will need to prepare and certify the list.
A notarized sworn affidavit proving you gave written notice to each of those property owners written notice about the date, time and location of the board hearing. Provide this notice to the property owners no less than 10 business days in advance of the hearing.
Proof you posted a written notice on the premises to be licensed advising the public of the application and public hearing date. This notice must be posted no fewer than 10 business days in advance of the hearing.
Nevada
Getting a liquor license in Nevada can be an expensive prospect. Unlike some states, Nevada places an origination fee on every license application. For example, origination fees may go as high as, or higher than, $40,000 for restaurants in Las Vegas that want to sell liquor on the premises. Similarly, Vegas taverns face a $75,000 origination fee. The origination fee does not include ongoing fees.
The Nevada liquor license application itself is fairly straightforward. Some items to note before starting the form include:
You'll want to have all the owners' and responsible parties' names and information on hand before starting the application. Be aware of the percentage each person owns in the establishment.
If you haven't secured federal permits, if necessary, you'll need to do it before you can hand in your application.
You are required to disclose any alcohol-related state or federal violations that any of the responsible parties named on your application have experienced. You have the opportunity to explain the situation in more detail.
Be aware that in Nevada, a liquor license will be handled on a very local level. Although you'll send your application, including Business Registration paperwork, to the state, you'll also need to cover your bases and get it to the correct local governing entity.
New Hampshire
New Hampshire has gone digital in terms of filing for the right to sell liquor in the state. Online licensing forms enable you to have a more secure, streamlined application process. Plus, you won't have to print copies of your documents.
You can expect to undergo multiple stages when it comes to applying for your license. The first step is submitting a request for an application. The request doesn't ask for an extensive amount of information, although you'll need to list everyone involved in the business.
After you submit your application request, you'll be working with the Liquor Commission Division of Enforcement to complete the remaining steps. Expect an Inspector to come to your premises to make a thorough walkthrough of the building. This site inspection is a necessary part of the process to get approved to sell liquor in the state.
One of the last steps in getting a liquor license in New Hampshire involves contacting the Licensing Help Desk at the Commission and arranging a phone or in-person meeting. Later, you'll hear whether or not you've been given the green light, and you'll need to pay fees accordingly to keep your license active.
New Jersey
In New Jersey, the Division of Alcoholic Beverage Control (ABC) issues licenses for purchasing and selling alcoholic beverages. There are three different types of licenses — retail, wholesale and manufacturing.
For both the retail and distribution liquor licenses, the state restricts how many can be issued based on the municipality's population. If the population falls within the acceptable range, the municipality will then host an auction and give the license to the highest bidder. The municipality might also just accept applications for the license.
Transfers are typically the most common way that people in New Jersey obtain their liquor licenses. Whether it is a "place-to-place" or "person-to-person" trade, it must be approved by the local issuing authority. Once you've received your transferred license, there are a few things you need to do:
File a retail license application.
Publish two legal notices of intent to transfer the license.
Provide the issuing authority with written consent.
There are a few costs associated with obtaining a liquor license in New Jersey. First, you will need to pay for the price of the actual license when you purchase it or get it from an auction. There is also a $200 filing fee as well as a municipality fee. The municipality fee is 10% of the annual license fee if it is obtained from an auction. For both place-to-place or person-to-person transfers, the fee is 20%. There might also occasionally be a few local listing fees.
New Mexico
As a quota state, New Mexico has a limited number of liquor dispenser licenses available. Businesses that need a dispenser license are bars, nightclubs and any restaurant or store that intends to serve beer, wine and spirits. This last category includes restaurants, gift shops, grocery stores and package liquor stores.
Liquor licenses are purchased, sold, transferred to a new location or leased with prior approval from the Alcoholic Beverage Control Division. Due to the limited number of available licenses and the steps required to obtain one, the New Mexico Regulation and Licensing Department recommends you employ a liquor license attorney or broker in your area to help you legally lease or purchase an available license.
When you find an available license, complete the liquor license application and submit the required supplemental information — including fingerprint cards, tax clearance, proof of tenancy and detailed floor plan with photos — along with a $200 application fee to the New Mexico Alcohol and Gaming Division.
New York
Getting a New York State Liquor License can be an expensive process despite New York not being a quota state. The New York State Liquor Authority (SLA) categorizes liquor licenses into four groups:
On-premises licenses for businesses like bars, restaurants and hotels
Off-premises licenses for locations such as liquor stores and convenience stores
Manufacturing licenses, used for wineries, distilleries and breweries
Wholesale licenses for importers and wholesalers
If you're a bar owner seeking an on-premises license, it will run you anywhere from $1,700 to $4,300 depending on which county you're located in, plus the $200 filing fee. All on-premises license establishments are required to sell food at all hours of operation.
Before you begin filling out the appropriate paperwork for any SLA license, you must first give public notice about your intent, publishing an advertisement once a week for two consecutive weeks. This has to be done within 10 days of you filing an application for your license, and you must provide proof of the published notices to the SLA. Make sure you keep a copy for your records.
Before you do that, you should make yourself aware of the restrictions on who can be licensed. If you were ever convicted of a crime that is considered a felony in the state of New York, you are automatically ineligible to obtain a state liquor license. On the flip side of that coin, you aren't eligible to obtain a liquor license if you're a police officer.
Once you're certain you're eligible to receive a liquor license, some items you'll need when applying — in addition to the completed application — include fees, proof of citizenship, photos of the premises, a photo ID for principal proprietors, copies of the receipt, menus and more. Because this process involves a lot of paperwork, it's often advised that you seek the aid of an attorney. Doing so can help streamline the process and better your chances of obtaining the license.
North Carolina
If you're looking at getting a North Carolina State Liquor License, you'll need approval from the state's Alcoholic Beverage Control Commission. North Carolina is not a quota state, but liquor licenses can be acquired only from the ABC, not through a transfer or sale from another license holder. That makes the cost of these permits relatively low and simple to obtain.
There are many different permit types — about 70 — but they can be broken down into two categories: commercial and retail. These permits cover everything from on-premises consumption of various alcohols to special permits, culinary use and even distillation of alcohol fuel.
Before you get the chance to be approved through the application process, you'll need to get the okay from the local government to have a license at your establishment. This is called the Local Government Opinion. The governing body of the city or county where your establishment is located will make recommendations to the state ABC about your suitability to operate such an establishment or about the location for the permit.
You'll need to submit a signed, notarized Local Government Opinion form and proof of compliance with local inspection, safety and zoning ordinances — among a slew of other forms — to the ABC. Other forms you'll need to submit to obtain a retail liquor license include the Federal Employee Identification Number (FEIN), ownership documents, recycling forms and proof of alcohol seller-server training.
The cost of the permits depends on what type of alcohol you want to serve at your establishment. The ABC breaks them down into malt beverages, fortified wine, unfortified wine and mixed beverages. If you're a restaurant and you want to be able to serve the span of alcohol on your premises, for instance, you'll need a permit for each. Every permit is $400 except the mixed beverage permit, which will cost $1,000. On-premises permits typically do not need to be renewed.
North Dakota
If you intend to engage in the retail sale of alcoholic beverages in the state of North Dakota, you'll need to submit a license application and related documents to the Attorney General. Be sure to complete the required application forms at least six weeks before you plan to sell or distribute alcoholic beverages.
To apply for a new state retail alcoholic beverage license, submit the following documentation to the Attorney General's Office for review and approval:
A completed State Retail Alcoholic Beverage License application form and its license fee
Personal information form for you and any owner, manager, officer, director, shareholder, member, governor or partner
A detailed floor plan of the licensed building, room or area
Beer and liquor licenses issued from the county, city, township or tribal authority
Health inspection and fire safety inspection reports
Purchase, rent or lease agreement of the premises or proof of ownership
Documentation of your business
North Dakota retail alcoholic beverage licenses must be renewed on or before December 31 every year by remitting the renewal application form and fee.
Ohio
Ohio State Liquor Licenses are available only by quota and transfer, making them difficult to obtain. The governing body for these permits is the state's Department of Commerce — specifically its Division of Liquor Control. Their application process is plainly laid out. The application asks for information like the name of the establishment, the names of principal owners, the type of ownership and similar details. The application fee is $100 to process, and if there happens to be a liquor license available in the area where you applied, you can submit the cost of the license with the application to expedite the process.
Ohio has many types of liquor licenses for manufacturers, special events, on-premises consumption and more. They categorize by permits for beer, beer and wine and spirituous liquors. If you're seeking a D1-class permit to serve beer at your restaurant, for instance, the cost will be $376. If you're seeking a D5-class permit to serve beer, wine and liquor, the cost will be $2,344.
When you're applying for new permits, the Commerce Department will send notice to the local government and allow public institutions within 500 feet of the establishment to object to the granting of the permit. If any of these institutions object, there will be a hearing to determine whether a permit should be granted.
Another way for you to obtain a permit is by transfer, which can get tricky — you can't just buy a permit and transfer it from another owner. When you transfer a liquor license in Ohio, you must also be buying the business' assets, such as inventory, tables and chairs. In essence, you must be buying the entire establishment to legally obtain the liquor license.
Oklahoma
In Oklahoma, the Alcoholic Beverage Laws Enforcement Commission (ABLE) oversees the liquor license application process. Start the process to obtain a liquor license by activating an account through the ABLE online portal. Applications can be submitted in three ways: online, by mail or in person. Visit your closest ABLE district office to fill out an in-person application in Oklahoma City, Tulsa, McAlester or Santa Fe.
You must fulfill these steps to obtain a liquor license in the state of Oklahoma:
Contact ABLE and submit your application for a liquor license.
Obtain a Certificate of Compliance for an Alcoholic Beverage License.
Gather and submit your ABLE Commission license, general application, photo identification and payment.
Licensing fees must be renewed annually and vary by business type and activity, from as low as $55 for a special event to as high as $3,125 for a distiller.
Oregon
Any business in Oregon that either imports, manufacturers or distributes alcohol require a liquor license. There are two main categories of liquor licenses. The first category, which is the annual license, is for any business or person who plans to consistently manufacture, import, distribute or sell alcoholic beverages. The second category, which is the temporary or special event license, is for a business or person who just plans to sell or serve alcoholic beverages at a special event.
Before you apply for your liquor license in Oregon, figure out which type of license you'll need. Then, figure out the location where the business is located and fill out the corresponding application paperwork.
Additional steps can vary depending on where your business is located and which license you are applying for. For example, some applicants will be required to post a public notice so that the local community is aware of their intentions.
If your application is denied, you'll be able to contest the decision. If it's approved you'll receive your new license from the Oregon Liquor Control Commission (OLCC).
Pennsylvania
If you're interested in getting a Pennsylvania State Liquor License, you'll have to go through the Pennsylvania Liquor Control Board (PLCB). Founded shortly after the repeal of the Prohibition, the Keystone state's liquor authority was initially created to make getting alcohol inconvenient and expensive.
Pennsylvania is a state that limits liquor licenses through statutory quota, making licenses expensive. The state has more than 70 classifications for liquor licenses, but they can be broken down into the categories of retail dispensers, retail liquor licensees, distributors and manufacturers.
The most common type of license is the retail license. The PLCB has recently started auctioning off restaurant licenses. To put the cost in perspective, the very minimum bid for each license is $25,000. Each of these bids must be accompanied by a bid surety of at least 5% of the total bid amount to avoid underfunded bids. Because Pennsylvania has recently opened the liquor license market to larger grocery store chains, the cost of licenses has skyrocketed to as much as $400,000 or more.
The PLCB also charges licensing fees not more than $700. Some of these funds are then returned to the municipalities from which they were paid to aid local needs.
The PLCB institutes a rigorous investigation policy, which it will use to determine whether or not your establishment can be licensed. To have your application considered, you and your principal proprietors must submit to the investigations and provide standard documents such as a lease or deed, a health license and photo IDs. The four ways you may obtain a Pennsylvania State Liquor License are through:
New license issuance
Approval of a person-to-person transfer
Approval of a place-to-place transfer
Approval of a double transfer — that is, person to person and place to place
Rhode Island
In Rhode Island, you can apply for a liquor license online through the State of Rhode Island ELicensing portal. The Department of Business Regulation (DBR) handles the licensing process.
Rhode Island offers three types of liquor licenses:
Wholesalers
Manufacturers: Distilleries, breweries, brewpubs, wineries
Retail Licenses, Limited Types: Caterers, transportation
If you're a wholesaler or manufacturer, fire and zoning compliance is required for your application. Contact the local government in your town or city to obtain the required documents.
Once the application is approved, DBR will begin the advertisement process for the applicant. An ad is legally required to run in the local paper, published or distributed in the city or town where the business is located, for two weeks. An abutter notice will be sent to owners of properties within 200 feet of your premises as notification of your licensure.
License approval is decided at a hearing with the DBR after a review of your application. The standard liquor license fee is $500.
South Carolina
In South Carolina, the South Carolina Department of Revenue is in charge of regulating and issuing liquor licenses. Any bar, restaurant or liquor store needs to apply and obtain one before they are legally allowed to sell alcohol to customers.
In general, you can expect to pay anywhere from $5 to $2,000 to obtain your liquor license. You'll also have to pay a filing fee, which ranges from $200-$300 dollars. Once you obtain your license, it will be valid for two years. During that time, you can legally serve liquor, wine and beer to your customers.
Before you start your application, make sure you know exactly which liquor license you need to apply for. Each one has specific requirements and steps that you will need to follow.
For example, to apply for a Liquor by the Drink license for a restaurant and hotel or motel, you'll have to be at least 21 years old. There are also United States citizenship requirements as well as state citizenship requirements to keep in mind.
Additionally, you'll want to make sure that your business is in compliance with both local business license requirements as well as zoning laws. Before you apply, you also want to ensure that you don't have any outstanding tax liabilities. The South Carolina Department of Revenue will not be able to issue your business a Liquor by the Drink license if you do.
You'll also have to place an ad in your local newspapers so that your community is aware that your business is in the process of obtaining a liquor license. This step needs to be done within 30 days after you submit your application.
A business can also apply for the 120 Day Temporary license. In order to apply for this license, you will have to complete an ABL-901 application as well as pay a fee. Make sure to also attach key documents such as the bill of sale, Grade A Health rating and probate document.
Also, keep in mind that it usually takes the South Carolina Department of Revenue around six to eight weeks to process a liquor license application. Be sure to factor that time frame in when you apply.
South Dakota
The South Dakota Department of Revenue provides instructions for how to get a liquor license by license type for applicants. If you're selling spirits, beer or wine to consume, you'll need to purchase a liquor retailer license. First, contact your local county auditor to check the availability of licenses and determine the cost and local process to obtain a license.
To obtain a liquor license in South Dakota, determine which license type best describes your business or activities. Here are some of the options:
Brand Label Registration: Alcoholic beverage products need to be filed and approved by the United States Department of the Treasury, Alcohol and Tobacco Tax and Trade Bureau by completing their Product Registration Online form. Per state laws for liquor licenses, each product or brand label offered for sale in South Dakota must also submit the Alcoholic Beverage Brand-Label Registration Application to register with the state before offering their products for sale or consumption.
Carriers Alcohol Licensing: Any person or business who transports people for a fee — like airlines, tour buses or limousine services — and wishes to provide or sell alcohol is required to hold a carrier license.
Direct Wine Shipping: This license permits a winery located outside or within the state to ship wine to South Dakota customers. Wineries must have a direct shipper license and sales tax license.
If you're a manufacturer or retailer, other licensing requirements are necessary. Distillers, cider manufacturers, microbreweries, wine manufacturers, wholesalers and similar businesses need to complete a manufacturer liquor license. License fees range from $500 to $2,500 depending on manufacturer type.
Tennessee
For a state like Tennessee, the unofficial home of moonshine, the cost of a liquor license is much lower. This disparity is because the state doesn't have a set liquor license quota. So, an "all liquor" license, which the state classifies as a Liquor By the Drink License, for a restaurant that seats 50 people costs $650. You can pay up to $1,200, depending on how many people your restaurant seats. For a limited-service restaurant, you'll pay different fees depending on the percentage of your sales that come from alcohol.
The state of Tennessee doesn't charge an application fee for restaurants, but they do charge a $300 application fee for retailer licenses. In Tennessee, you are free to offer happy hour specials but must provide seating for at least 40 people at your restaurant to keep a liquor license. You can't sell drinks for less than their cost at any time — i.e. no free drink specials — and cannot serve multiple drinks to one customer after 10 p.m.
Utah
In Utah, any public business where alcohol is consumed and sold on the premises must be state-licensed. To apply, you must pass a criminal background check, which includes fingerprinting and qualify to hold a Utah Department of Alcoholic Beverage Control (DABC) license.
The state divides alcoholic beverages into separate categories — liquor and beer.
Liquor: Wine, flavored malt beverages, distilled spirits, wine and heavy beer containing more than 5% alcohol by volume (ABV) are considered liquor. Liquor must be sold in state-authorized stores or agencies. The state sets the prices. If you serve alcohol for on-premises consumption, you'll need both state and local licensing.
Beer: Brewed beer or light beer that contains 5% or less ABV can be sold by distributors to permit holders and retail licensees. Beer can be consumed at a bar or restaurant as long as the business has both state and local licensing.
Complete an on- or off-premises retail license, manufacturing and distribution license, special use permit or temporary event permit depending on your business or activity. All retail licenses must meet criminal history, employee training and proximity requirements regarding churches, schools, playgrounds and libraries.
The Alcoholic Beverage Control Commission is a part-time governing board that meets once a month to issue special use permits and licenses. Be sure to submit your application by the 10th to increase the likelihood it will be processed that month. Once the board receives your application, they will notify you of a date to meet with the commission.
Application fees are between $75 and $500. Liquor licensing starts at $175 and can cost as high as $10,000 for select types.
Vermont
Vermont, which has the most craft beer breweries per capita in the USA, also doesn't have a liquor license quota. So, the costs for a restaurant liquor license are relatively low. The state divides liquor licenses into First Class, Second Class and Third Class licenses. First Class licenses are for beer and wine permits, Second Class licenses are for retailers and Third Class licenses are for "all liquor" licenses.
Restaurants with a First Class license currently pay a $115 license fee to their city government and another $115 to the Department of Liquor Control. You can pay for a Third Class license for either half a year or a full year, depending on your months of operation. You'll pay $550 for a half-year license and $1,095 for a full-year license to the DLC. To hold a liquor license in any class, you're required to complete an educational seminar at least once every two years. In Vermont, you may only serve alcohol between the hours of 8 a.m. and 2 a.m.
Virginia
Virginia State liquor licenses are, compared to those of Pennsylvania, much easier and cheaper to obtain.
To get a Virginia state liquor license, you need to submit an application to the Virginia Alcoholic Beverage Control Authority (ABC). The application will ask you some standard questions like the name of the owner, the name of the business, the business' address and more. These applications are classified by Banquet, Retail, Industry and Permits and then further subsections. They're then broken down by the type of alcohol served: beer/beer and wine/beer, wine and mixed beverages.
When you're applying for a Retail Liquor License, the ABC will require you to publish a notice for 10 consecutive days in a conspicuous spot on the establishment and publish a notice twice in the local newspaper. The ABC will also conduct a background check on all applicants and visit with residents near the establishment to make sure there are no objections.
The cost of getting a liquor license in Virginia varies. A beer, wine and mixed beverage on-premises license for a restaurant that has seating for one to 100 people will cost $560, while one for 151 or more seats will cost $1,430. The cost of background checks in your application — $15 for each person — and the $195 application fee will be tacked onto that for your grand total cost.
Washington
In Washington, any business that either sells, imports, distributes or manufactures alcohol needs a liquor license. If you are applying for either a retail liquor license or a non-retail liquor license, be sure to submit your application 90 days before you plan on opening so there is enough time for it to be processed.
You can find your application on the Washington State Department of Revenue (DOR) Business Licensing Service website. In addition to the Business License Application, you will also have to fill out and submit the Liquor and Cannabis Board Addendum (either retail or non-retail).
Once you've filled those out, you will also have to complete an Alcohol Dealer Registration. Depending on where your business is located, you might need to complete a few other federal, state and local licenses as well. You'll be able to submit your completed application in person, by mail or online. Be sure to pay the fee. Just keep in mind that $75 of that fee will be non-refundable.
After that, the Washington State Liquor and Cannabis Board (WSLCB) will let any nearby schools or churches know about your liquor license application. There are a few other steps, including requesting a final inspection, that you'll have to complete. The WSLCB will then either approve or deny your application.
If you are denied for failing to meet the basic requirements or because of an objection from a nearby public institution, you'll have two choices — request an administrative hearing or wait and reapply in one year.
West Virginia
The West Virginia Alcohol Beverage Control Administration, or WVABCA, has authority over all liquor licenses given in the state. You can apply for an on-premise, or Class "A" license, or an off-premise or Class "B" license. In some cases, getting approval for both classes may be wise depending on your business operations model.
To make sure you have everything you need before starting your liquor license application in West Virginia, gather documentation and supplementary information, including:
A floor plan of your establishment.
Authorization of active health permit.
Copies of any menus if you serve food at a private wine restaurant or club.
Proof of U.S. naturalization if you were not born in the U.S. but became a citizen later.
The good news is that if you want to sell liquor, beer and wine, you can submit just one application in West Virginia. This reduces the need for duplicative paperwork and cuts down on the timeframe to get up and running.
Be aware that you'll need to get a couple of bonds set up to apply for on-premises liquor licenses — an alcohol beverage control bond and a non-intoxicating beer bond.
Wisconsin
In order to obtain a liquor license for your business in Wisconsin, you'll have to follow strict requirements. In Wisconsin, cities, villages and towns issue liquor licenses to local restaurants, bars, stores and nightclubs.
Businesses will have to choose the type of license they'll be applying for. The available licenses can vary throughout the state, but you can expect to be able to choose from the following:
Class "A" Licenses: A class "A" license is designed for when you want your business to be able to sell fermented malt drinks such as beer, cider beverages and liquor and wine, which can then be consumed off the property.
Class "B" Licenses: Unlike a class "A" license, a class "B" license allows others to both purchase and consume alcoholic drinks on your business's premises. Depending on the type of drink, though, you'll have to keep a few different rules in mind. For example, liquor and wine can be consumed on the premises — but if the customer wants to take wine off of your business's premises, it needs to be in a sealed wine bottle.
Class "C" License: With a class "C" license, customers can purchase and consume wine on your business's premises. If they want to take any drinks off property, it can only be a single bottle of wine, which was ordered with a meal. The bottle must also be resealed.
To apply for each license, the applicant needs to be at least 21 years old. There are also state residency requirements that need to be met along with the completion of a responsible beverage server training course.
Regardless of which liquor license you apply for, you will most likely need to meet some criminal record requirements as well. It's important to be as thorough as possible and avoid license violations so your business is not penalized.
Wyoming
Wyoming liquor licenses are available and issued at the local level by the county, city or town. You can apply for the following licenses through the Wyoming Liquor Division (WLD)'s online Eliquor portal:
Limited Club License: For social, veterans and golf clubs, fraternal organizations and similar groups. This license allows clubs to sell alcohol to their members and guests.
Restaurant License: For service bar dispensing of alcohol to patrons in dining areas of full-service restaurants. Alcohol sales must be lower than 40% of gross sales.
Bar and Grill License: For the on-premises consumption of alcoholic beverages at a bar or lounge. The business is required to have a full-service restaurant and has the same restrictions as the restaurant license.
Resort License: For resorts that sell alcohol on the premises. A resort needs to have more than 100 hotel rooms, at least a 100-seat convention facility, and be valued at $1 million or more.
The WLD requires anyone serving alcohol to fulfill a training course every three years and pass a written exam. Bars and restaurants can apply for a license by completing the New or Transfer Liquor License Application. Submit required supplemental documentation with your application — financial statements, a drawing of the establishment and proof of ownership or lease agreement.
The Wyoming State Liquor Association (WSLA) represents retailers and wholesalers in the state regarding alcohol. While the state controls wine and spirits purchases for bars and restaurants, beer is allowed to be purchased by private distributors.
Depending on the license type, fees vary between $100 to $3,000 and are due for annual renewal.
What Other Permits Do You Need to Start a Restaurant or Bar?
If you started looking into your required documentation for a liquor license application, you already know you'll need a whole slew of permits. Most are other permits you need to run a bar or eatery anyway. Here are some of the most common ones you'll need:
Business license: A business license issued by your state tax agency gives you the right to operate a business in your state.
Food service license: Your restaurant or bar that serves food will need a food service license, called a ServSafe verification, to show you meet industry standards on food prep.
Food handler's permit: In addition to a food service license, you'll need to get a food handler's permit from your state's Department of Health.
How PourMyBeer Can Help
Do liquor laws and license rules make your head spin? PourMyBeer makes it easy to comply with regulations for serving alcohol through one simple solution: tech-operated pouring. Let your staff focus on ID'ing customers and stopping them from overindulging while PourMyBeer dispensers serve up perfectly portioned glasses.
Our machines can be programmed so that beer, wine and cocktails pour out to precisely the standard volume required by your state and our automated system can keep track of how much customers consume better than a human can.
The best part: customers experience the novelty of swiping a secure RFID card and serving themselves drinks on demand. No need to flag down a server — just pour and enjoy. PourMyBeer lets you offer a wall of unique beverage taps with a smaller footprint than traditional drafts.
Sound exciting? Learn more about our product, get your questions answered or contact us to learn more about how PourMyBeer can make your alcohol service a breeze.