Transform the Way You Serve Guests Beverages
Transform the Way You Serve Guests Beverages
Offer a PourMyBeer self-pour beverage system in your hotel's lobby to enhance the guest experience and increase serving efficiency.
Operate a successful, stress-free beverage program while maximizing profitability!
Reduce Labor Costs & Improve Efficiency
Manage your self-pour system without taking on additional staff.
Increase Guest Satisfaction & Loyalty
Keep your guests on-premises longer with an easy-to-use commercial tap system in the lobby!
Easy Activation with Card-Based System
Front desk staff can efficiently check guests in and activate pour cards to allow them to start pouring.
Give Your Guests an Easy Way to Access Beverages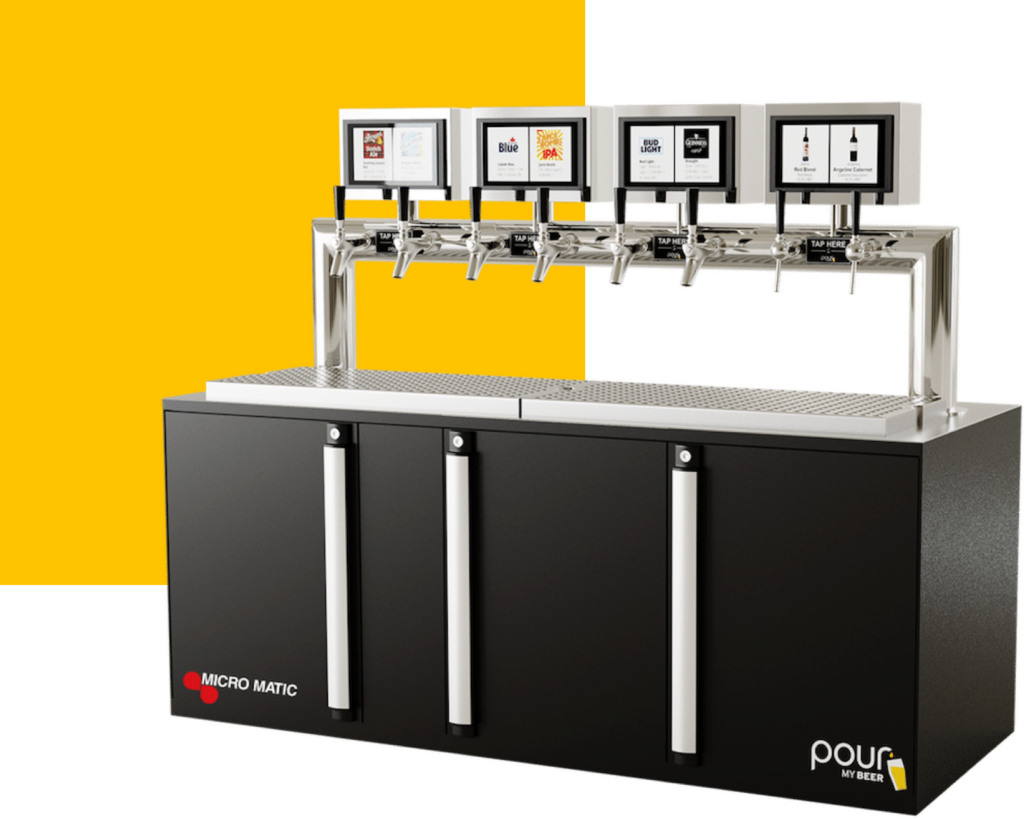 Offer a reliable, efficient beverage program 24/7/365 without taking on additional staff.

As the leading provider of self-serve beverage technology in the US, we offer a turn-key solution to enhance guest satisfaction while reducing labor challenges. PourMyBeer, in partnership with Micro Matic, the world's leading supplier of beverage dispensing solutions, offers hotels a reliable and innovative solution for their beverage program. Our self-serve stations have been designed to provide top-notch quality and ensure an exceptional experience for guests. With PourMyBeer, hotels can operate a successful and stress-free beverage program while maximizing profitability.
Alleviate Staffing Challenges
Operate an efficient beverage program without taking on additional staff.
Achieve Profitability in 12 Months
Improve profitability by keeping guests on-premises longer.
Enhanced Guest Experience
Increase guest satisfaction and loyalty by providing a reliable beverage program.
Efficient Check-In Process
Easy activation by front desk staff with a card-based beverage system.
Trusted By Top Hotel Brands
Multiple hotels are now seeing increased revenue from having self-pour in the lobby.
Reliable Beverage Service 24/7/365
Provide a reliable and successful beverage program with world-class engineering.
Achieve Profitability Within 12 Months!
Hear from the General Manager of Hampton Inn & Homewood Suites Boston Seaport to learn how our 6-tap self-pour benefits their guests.
These companies experience the benefits of our self-pour technology.
The PourMyBeer self-pour station is a great offering for hotel guests! We've seen success with increased guest satisfaction and our return on investment, which we've seen in about 3 months. We're expanding and adding a fixed wall setup with more beer offerings.
Charlie York
General Manager, Hampton Inn & Homewood Suites Boston Seaport
Upgrade your hotel's beverage program
and join the ranks of industry leaders with PourMyBeer.
Get in touch with us today to set up a free consultation.