You're gearing up to open your bar, restaurant, or taproom, but you've got a few logistical hoops to jump through first. Most businesses need various permits, and a bar or restaurant is no exception. The variety of licenses to open a taproom will also come with fees, but all the requirements and costs will depend on your location.
We know it can be a bit tricky to know what licenses you need to open a bar, but with our help, you'll be sipping cocktails and pouring pints in no time. We've outlined 10 permits and licenses you may need to open a bar or taproom, and we have also created a checklist for those to make it simple for you.
Opening up a bar or taproom should be an exciting adventure, so let's make sure you have all the information you need. Get one step closer to realizing your dream with the guide below.
Get Your Permits & Licenses Checklist Below!
All businesses need a business license to open and operate. Put this at the top of your list of permits when opening a restaurant or bar. Because you're planning on opening a bar or taproom that sells alcohol, you'll have to obtain licensing through the Alcohol and Tobacco Tax and Trade Bureau (TTB). You need to apply for a license with the TTB before you start operating, so this is essential.

As a business that will sell alcohol, you need federal and state licensing. Your license with the TTB is a federal business license. Develop a business plan, and have a location in mind before applying. You'll also need to have a tax identification number or employer identification number and tax information to apply for your permit.
Every state handles its business licensing differently. Remember to note specific renewal and expiration dates for your state, as they vary from location to location. You'll also want to research any state-specific fees or requirements.
How Much Does a Business License Cost?
While there's no fee to apply for and maintain a TTB-regulated business, your state and local licenses may differ. Check out the video below to hear from the owners of Beer Wall On Penn discuss the rules and regulations for permits and licenses in the state of Pennsylvania.
2. Certificate of Occupancy
Your bar or taproom will need to have a location before you seek a Certificate of Occupancy, also called a "C of O." Once you have a building, you can begin the process to obtain the certificate.
What Is a Certificate of Occupancy?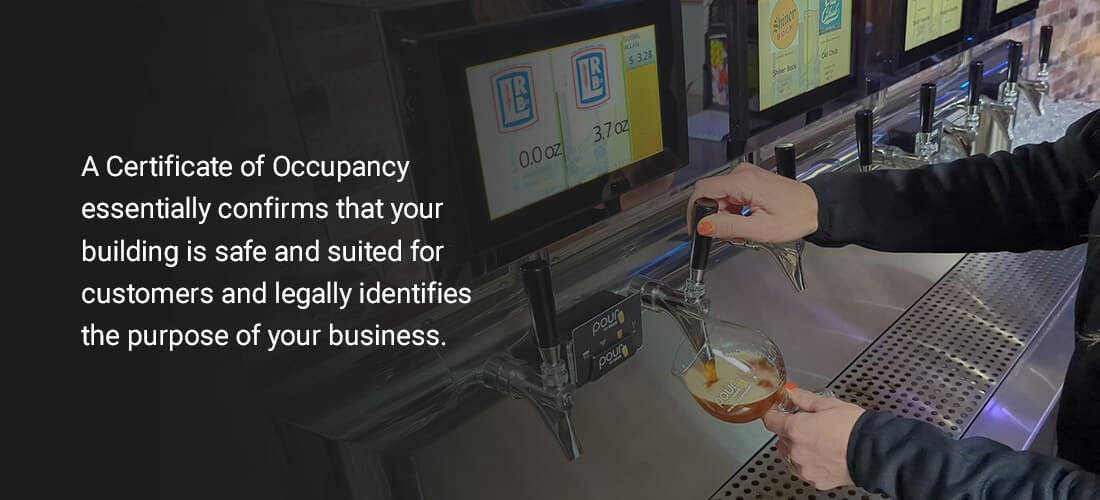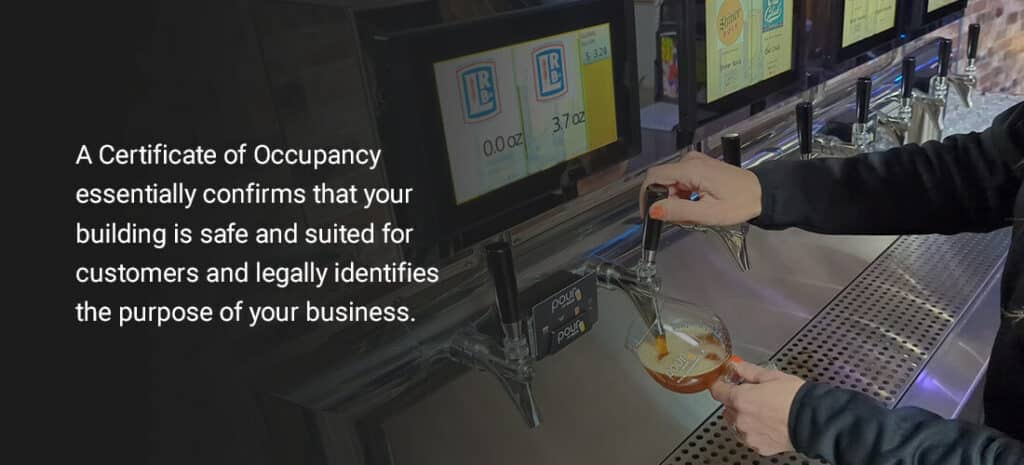 A Certificate of Occupancy essentially confirms that your building is safe and suited for customers and legally identifies the purpose of your business. Classifications include retail, industrial, mixed-use and others to specify what your business building is for. Ensure your building is up to code before applying for a C of O because it will be checked.
Certificate of Occupancy Application Process
It's newly constructed.
The property is changing from one use to another.
It's going through a change of ownership.
It's undergoing major construction.
You'll have to apply for a C of O before beginning any construction. Check with your local city or county for the application process, as it varies from place to place.
Inspection of the Restaurant or Taproom
Your local government will send a professional inspector to visit your restaurant or taproom after you apply for a C of O. The inspector will check various aspects of your building to ensure it's safe, operational and functional for customers. The inspection will likely include a look at:
Plumbing
Electrical
Fire safety
General building qualities
If your building does not pass inspection, the inspector should give you a list of requirements to meet. Your local government will set a deadline for you to meet those requirements, and you'll have to get another inspection for your building. Once you pass, you'll receive your C of O.
How Much Does a Certificate of Occupancy Cost?
The cost of your C of O depends on the location of your business. Check with your local agency for exact pricing, but in general, they can have fees for:
Application
Inspection
Issuance
Your cost may be based on your building's square footage or other factors, so be sure to check with your city or county agency for specifics.
You will need a liquor license since you're opening a bar or taproom. The Alcohol Beverage Control Boards (ABC boards) oversee the sale of alcohol, and so every business that produces or sells alcoholic beverages needs to apply for a liquor license.
For a bar, restaurant or taproom, you'll need what's known as an on-premise license, on-sale license, or on-license, which means you're selling alcohol to be consumed on your property. There are also specific licenses under those categories that you should consider, like:
Restaurant license: If you want to sell beer, wine, and spirits at your restaurant, you will need this license. You cannot use a restaurant liquor license if you mostly sell alcohol, so your alcohol revenue must stay under a certain percentage of your total revenue, which your state determines.
Tavern license: If you make more of your revenue from alcohol sales and want to sell beer, wine, and spirits, you'll want this license. Depending on your location, it may also be known as a limited-service restaurant license.
Beer and wine license: Typically less expensive than a full-service liquor license, the beer and wine license is for bars and taprooms that will not sell hard liquor.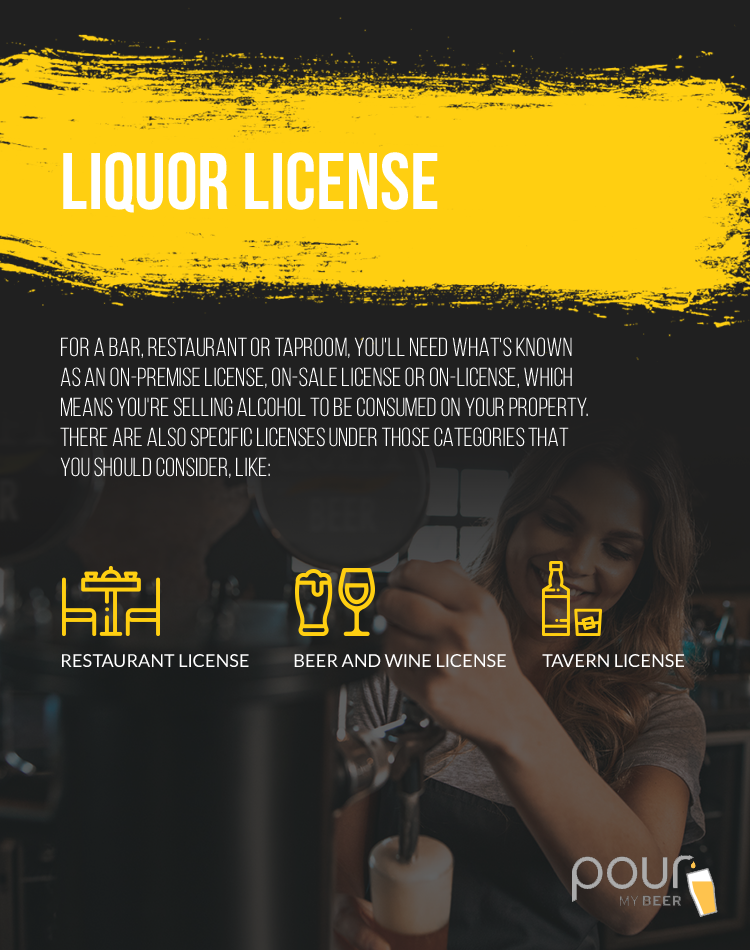 How Do I Get a Liquor License?
Now comes the task of getting your liquor license. Follow these steps to obtain this necessary permit:
Know which license you require
Contact your state's ABC board
Confirm which liquor license you need and its availability
Submit your application with any additional documents and required processing fees
Wait for approval, which may take up to six months
Pay the license fee, which varies by state
Know how often you need to renew your liquor license
Because states issue liquor licenses, you'll have to do some research to find out how to get a liquor license in your state. Each state has various restrictions, such as:
Where you can serve alcohol
When you can serve alcohol
The containers you use to serve alcohol
Who you can serve alcohol to
Who can serve the alcohol in your bar or taproom
How much you can charge for alcohol
How much alcohol you can serve one person at a time
Whether you can offer specials during happy hour
When it comes to opening a bar or taproom, one of the essential permits you'll need is a liquor license. Let's take a look at some of the common types of liquor licenses you may encounter:
Class C liquor license: The Class C liquor license is often sought after by restaurants and bars. It permits the sale of beer, wine, and spirits for on-premises consumption. This license allows you to create a vibrant atmosphere where customers can enjoy a wide range of alcoholic beverages.
Beer and wine license: If you plan to focus on serving beer and wine rather than spirits, a beer and wine license might be the right fit for your establishment. This license allows you to sell and serve beer and wine for on-premises consumption, catering to customers who prefer these options.
Special event license: If you're planning to host a special event, such as a festival or temporary gathering where alcohol will be served, you'll need a special event license. This license grants you the ability to sell and serve alcoholic beverages for a specific event and duration.
Distillery license: For those looking to produce and sell their own spirits, a distillery license is necessary. This license allows you to distill and sell your own unique spirits on the premises, providing an exclusive experience for your customers.
Brewpub license: If you're interested in brewing your own beer and serving it directly to customers, a brewpub license is worth considering. This license combines the privileges of a brewery and a restaurant, allowing you to produce and serve your craft beer.
It's important to note that the specific types of liquor licenses may vary by state, so it's crucial to research and understand the regulations and requirements in your particular location. Consulting with local authorities or an attorney specializing in liquor licenses can help you navigate the process smoothly.
How Much Is a Liquor License?
Because states issue liquor licenses, there is no one set fee. In general, you'll have to pay a processing fee, which can cost several hundreds of dollars. You'll then have to pay the license fee, which can cost between $300 to $450,000, and the renewal fee may cost the same. Be sure to pay renewal fees on time, or you may get hit with late fees.
What You Need to Know About ABC Regulations


To fit with the legalities and regulations of any state's ABC, PourMyBeer's systems come with certain safety settings built-in, making our self-serve alcohol legal in most places. These settings include:
Age verification scanners: Before anyone can start serving their own drinks, they must present their driver's license or other valid ID. The PourMyBeer system will scan the ID to verify that they are legally allowed to pour at the tap.
Associated RFID cards or key fobs: Once a patron has their ID scanned, they're assigned a security device — a radio frequency identification (RFID) scanner in the form of a card or key fob, depending on your preference. This scanner provides them with a unique signature they can use to add more pours to their tab and keep track of everything they've drunk so far.
Purchase by the ounce: One of the great benefits of offering such a large selection of taps is that patrons can sample a range of options within the span of an evening out. In many states, providing free samples is illegal, limiting your patrons to buying larger servings than they may want. However, PourMyBeer can charge by the ounce, so users can try a larger variety of brews before hitting their consumption limit.
Consumption limits: Since there are no bartenders to cut off intoxicated individuals with this new way of drinking, the job falls to our system to ensure people don't overdo it. Once your patron's RFID scanner reaches a certain amount of beer, wine or liquor sales, they will have to speak with management to reset their allotment before they can purchase another drink.
"Last Call" shut-offs: When your bar is nearing closing time, the last call feature will send people on their way. After this point, the RFID scanners will become inactive, preventing people from getting more alcohol on that night or passing the scanner onto an unauthorized person at a later date.
These features allow you to leave your patrons to enjoy their time in your establishment while you focus on other tasks that keep your business running. PourMyBeer's systems cater to the curious drinker — the one who wants to experience everything your brewery, event, or other location has to offer. By carefully tracking consumption and charging drinks by the ounce, our systems also discourage overindulgence, ensuring everyone has an excellent night they'll remember for a long time.
If you plan on buying wholesale supplies and ingredients for your bar or taproom, you should get a resale permit. This is a certificate you can present as you make purchases for your bar, restaurant or taproom.
A resale permit lets you avoid sales taxes on wholesale purchases for your bar or taproom's inventory. Instead, your customers would pay the sales tax. You'll report on the sales taxes you collect, then pay them to your state. The sales tax rate depends on your state, so be sure to do your research.
The revenue or tax department of your state will provide the specific details for your resale permit. Some states offer the form and instructions online. You'll need to fill out your information and make sure you meet the requirements for your state.
How Much Does a Resale Permit Cost?
Resale permits are among the least expensive permits for a new restaurant. In certain states, the certificate is free, but be sure to check the price of resale permits where you will run your business. With your resale permit, you may need a seller's license. This depends on your state and could incur security deposit costs.
With a bar, restaurant or taproom, you're serving consumable goods to your customers. You want to make sure everything is safe and up to code, and your city or county wants the same, which means you'll need a food service license.
What Is a Food Service License?
Your local health department wants to make sure you're meeting health and safety requirements. Foodservice codes vary by state, so be sure to familiarize yourself with yours and note that you may also have localized agencies and codes to follow.
License Application and Renewal Process
Your state health department will have the information you need to apply for a food service license either online or in-person. You'll likely have to supply the owner's details, the name of the bar or restaurant, and the address. Once you apply, an inspector will visit to ensure your restaurant follows the appropriate regulations.
You may have to renew your food services license based on the requirements in your state. In general, if something changes about your business, you may need to renew. That can include:
A change in ownership
A change in your physical location
A change of the license type you hold
A new establishment
A health inspector will also make regular visits to renew your food service license. If you fail to meet the required standards, you risk losing your food service license.
How Much Does a Food Service License Cost?

The location of your establishment, the number of people you employ, the size of your business, and more can impact how much your food services license costs. In general, the cost ranges from $100 to $1,000.
The food service license isn't the end of your food serving permits. You also need to get a food handler's permit, which works as an employee health permit.
How Is This Different From a Food Service License?
A food handler permit is for your employees, while a food service license is for your building. It's one thing to have a clean and up-to-code building, but it's another to make sure you and your employees know how to work in that space.
A food handler license is essential because it is a legal requirement and helps protect your customers. Going through the training or education for a food handler permit will teach you and your employees about:
Proper sanitation
Food handling
Food prep
Food storage
Food Handler Training and Card
Your state or local health department will issue a food handler card if you or your employees pass the required test. Health departments offer manuals and other resources to study before you take your test. You can also find courses online that will provide training before taking your test, which can help ensure you understand the health and safety requirements of working in a bar or restaurant. Once you study, you can take the test and if you pass, you can apply for the food handler license.
When you pass and apply, you'll get a card that identifies you as the holder of a food handler license. It usually has your name and photo, but note that it does not classify as a form of ID.
Food Handler Training and Card
Food safety is no laughing matter when it comes to running a restaurant or bar. That's why it's crucial to ensure your staff has the proper training and certification to handle food safely. This is where the food handler's permit comes in.
Obtaining a food handler's permit typically involves completing a food handler training program. This program covers essential topics like proper food handling, storage, preparation, and hygiene practices. Think of it as a crash course in keeping your food safe and your customers happy.
The training itself can take various forms, ranging from in-person classes to online modules. Many jurisdictions offer approved training courses you can access conveniently. It's essential to check your local health department or regulatory agency for specific requirements and approved training providers in your area.
Once your staff completes the training, they'll receive a food handler's card or certificate. This card acts as proof that they've successfully completed the training and are knowledgeable about food safety best practices. Displaying these cards in your establishment demonstrates your commitment to maintaining high standards of food safety and hygiene.
The food handler's permit isn't a one-time deal. It typically requires renewal after a designated period to ensure your staff stays updated with the latest food safety protocols and regulations. So, keep track of expiration dates and make sure your team stays current.
Investing in food handler training and ensuring your staff holds a valid food handler's card is a small step that can make a big difference in maintaining the safety and reputation of your establishment. Get your team trained, certified, and ready to serve up delicious and safe meals to your customers.
How Much Does a Food Handler Permit Cost?
The cost of your card depends on the location of your business. You may have to pay for the application, the cost of the test, and your card. There may be a retest fee if you need to retake the test, so be sure to study!
You'll likely have a renewal fee, so be sure to pay attention to how long your food handler card lasts. If you choose to take an online course rather than studying manuals on your own, you'll have additional fees.
A sign is essential for just about every business. It invites new customers in and shows them where to find you, as long as you use a bright and bold sign. But before you order a neon-lit sign as big as your building, you need to know what you can have outside of your bar and how to get a signage permit.
Know the State and Local Requirements
Signage permit requirements vary throughout different cities and states. If you rent your building and have a landlord or are in a shopping center, you may have additional requirements to consider. In general, your area could have requirements for:
The size of your sign
The location of your sign
Lighting used in your sign
How you display your sign
Certain signs may not need permits, such as smaller ones or ones painted onto an exterior wall, but check with local requirements before putting up any signage rather than assuming.

Submitting an Application
If you're looking to use a variety of signs for your business, like billboards or banners and wall, pole, or ground signs, you may need a permit for each sign based on the location of your bar or restaurant. When you apply, you may have to supply:
Your building's zoning certification
Permission from your property owner or landlord
Concepts of the sign you want to put up
Other relevant licenses and permits
How Much Does a Sign Cost?
Sign permits are generally less expensive than other licenses — from $50 to $250 and above — but that is often per sign, so keep that in mind if you want more than one. You'll also, of course, have to pay for the design, fabrication and installation of your sign, which is a separate cost from your signage permit.
Music sets the tone for your bar, restaurant, or taproom. It fills a room with the right ambiance, so you're likely looking for the perfect audio setup for your new business. But before you start blasting music, don't forget about music licensing.
Because songs are copyrighted, you must pay a licensing fee to play them in your business. A music license pays the musicians for the music you'd like to play in your establishment.
Without a license, you could face federal penalties and owe damages that range between $750 and $30,000 — so be sure to have the proper music license.
Applying to Performing Rights Organizations (PROs)
Performing Rights Organizations (PROs) are the go-between for songwriters and bars or other businesses. The PROs help protect the intellectual property of musicians. They make it more convenient for you and other business owners to get proper licensing.
When you apply to a PRO, you get a blanket license that gives you the right to use all the music under that organization and pay the fees that cover the royalties. Some PROs include:
Broadcast Music Inc. (BMI)
Authors and Publishers (ASCAP)
Society of European Stage Authors and Composers (SESAC)
If you want to play music covered by a PRO, you need to seek and pay for licensing from that organization.
How Much Does a Music License Cost?
The cost of your music licensing will vary based on plenty of factors, including which PRO you choose. The cost could change based on whether you:
Play live or recorded music
Use audio or audio and visual media
Offer music every night or only on certain nights
9. Live Performance or Entertainment License
Want to host fun live events once you open? There are licenses for taprooms that allow you to do just that. While you don't have to put a live performance or entertainment license on your checklist immediately, they're good to know about if you plan on hosting events in the future.
How Is This Different From a Music License?
A live performance or entertainment license comes from the licensing authority in your state rather than a national organization. Your music license will cover the rights to songs in live performances, so you still need one, but you need an additional permit to host a live event for your patrons.
Your city or local government should have an application for a live entertainment license online. Some applications require additional documents, such as:
A Certificate of Occupancy
An inspection certificate
A business certificate
Your liquor license
The cost of your license may depend on the maximum capacity of your bar and whether you need a one-time event permit or an annual license fee. Your local government may also decide to hold a hearing before granting you a permit for your live event, which could incur extra fees.
10. Seller's Permit or Sales Tax License
A seller's permit is an essential license for any business. You'll likely need this permit when you apply for a resale permit, so be sure to have it on hand.
What Is a Seller's Permit?
Your state may call this business permit a seller's permit or a sales tax license. Either way, it helps your state identify your business for tax purposes. Since you're selling goods as a business, you'll have to pay taxes, and registering with your state helps them track your business.
Seller's Permit Application Process
Register your business with your state's government to get your seller's permit or sales tax license. Your state may have a unique name for this form — in Pennsylvania, for example, it's known as PA-100 — so double-check that you're getting the correct form for your state.
How Much Does a Seller's Permit Cost?
While it doesn't cost anything to get a seller's permit, you may have to provide a security deposit. If your business closes and you still have unpaid taxes, they will take from the deposit. When you apply for a seller's permit, your state will tell you how much to provide as a security deposit.
Work With PourMyBeer to Kickstart Your Bar or Taproom
That brings our comprehensive guide on permits and licenses to an end. With so many regulations and restaurant permits to consider, you want to make operating your new business a bit easier. That is where PourMyBeer comes into place.
Our self-pour technology not only significantly simplifies operations and reduces its costs for the operators, but it is also for customers to get their own perfect portions of beer, wine and cocktails, which can be programmed to pour at your state's required drink volume.
With one less thing to worry about — thanks to the knowledge gained from our guide on how to apply for a bar license and understanding the different types of liquor licenses — you can easily manage your new bar, restaurant or taproom, and your customers are sure to love the unique experience of stepping up to the tap themselves.
Learn more about the fast and easy-to-use system or find the answers to questions you may have about how PourMyBeer can help your new bar or restaurant. Want to learn even more? Contact us at PourMyBeer — we'd be happy to help! Cheers to a successful and thriving business.