Our best-in-class technology starts with our superior screens. Here's the magic:
The Smartest System on the Market
The most intelligently engineered system on the market, offering the highest level of functionality, ease of use, and reliability.
Fixing Shortcomings of Other
Self-Pour Products
Designed to fix the shortcomings of all other self-pour products on the market.
PourMyBeer Outperforms Competitors
Every major operator who conducted a formal Request For Proposal screening process selected PourMyBeer over the others. See a full comparison.
Don't let being short on wall space limit how many taps you have – with PourMyBeer, you can have as many as 4 taps per screen, saving on wall space and enabling the grouping of beverages by screen.
The Most POS Integrations
Rather than try to reinvent the wheel and create our own POS or marketing apps, PourMyBeer recognized early on that it's best to have an open system that's as agnostic as possible so that it can integrate with all of your critical restaurant operations systems. Rather than try to build our own POS, we built an open API that enables us to easily integrate with other systems.
Untappd for Business is the perfect tool to get your establishment in the eyes of your target market. If you want to get more beer drinkers through your doors, Untappd for Business is what you need. Untappd users will find your venue based on the beers you are serving, upcoming events, your city/state, or by who else is drinking and checking in to your establishment. Consumers use Untappd to discover new spots/find specific drinks, so having your establishment on the app is a fantastic way to get newcomers through your doors and make loyal customers out of existing ones.

Easy Tap-to-Activate Technology
PourMyBeer's technology is custom-made in-house, which means no one else offers our revolutionary tap-to-activate tablets. This reliable, user-friendly technology is designed to work 24/7 and ensure your customers enjoy the self-pour tap room experience you provide. Outperform every competitor with technical benefits such as:
When tablets are battery-powered, they run the risk of swelling. This can cause cracked screens or internal damage quickly, meaning you have to spend more money on replacements. Our industrial-grade tablets are built to last longer without the added risk of batteries.
Working with and without Wi-Fi
Wi-Fi connectivity on our tablets lets you stay up to date to the minute on information such as keg levels and profits. Sometimes, though, your Wi-Fi may go out. If this happens during the busiest part of your day, you may not be able to fix it right away. Even when that happens, PourMyBeer's equipment will continue functioning so that you don't lose out on a single sale.
Linux-based operating system
We built our technology from the ground up and made sure that every feature would work for the modern distributor. We also regularly update our system to maintain the best security and accessibility for you and your patrons. However, we know your schedule can be unpredictable, so you'll be free to update your systems on your own time.
Around-the-Clock Customer Care
When you work in an industry that doesn't run during normal business hours, getting immediate support for your systems can be challenging. PourMyBeer boasts 24/7 customer care service so that you can get back to work quickly after experiencing issues. Even though we serve over 500 customers worldwide with our self-pour systems, our support staff sees less than 10 calls per week, showcasing our commitment to reliable and user-friendly technology.

Still, our staff is always available to provide ongoing assistance for any questions, confusion or errors you may encounter. As long as you use our system, our project managers will be waiting on the other end of the phone to assist you. Our remote workers are located all around the country, so there's someone nearby to understand and meet your needs.

Even before you commit to our system, our contact page is always open. We want to hear your concerns and hesitations about our products so that we can alleviate them and put you on the fast track to better sales and increased efficiency.
The Most Reliable System On The Market
Full 3-Year Replacement Warranty
PourMyBeer offers a full 3-year replacement warranty. We are confident in the reliability of our technology that we were the first provider on the market to offer this to customers, making PourMyBeer the true market leader. We want to do all we can to support our PourMyBeer family members!
Other companies utilize tablets running Android or iOS that are subject to random iOS updates that can happen at any time – like when you have a packed house wanting to use the tap wall! Our screens run on our own proprietary operating system, which is linux-based and highly stable. We have complete control over updates to the screens and schedule a time with you when you're offline and not open for business.
A clean, closed-loop network that's hardwired with ethernet instead of depending on Wi-Fi. Not being dependent on Wi-Fi is very important because you don't have to worry about your whole self-pour system going down and losing money if the internet stops working! We engineered our system in 2015 to be hard-wired and reliable in every possible way, including not relying on Wi-Fi.
Mini-edge network with built-in redundancies and fail-safes
Our screens aren't just consumer-grade tablets. They're purpose-built, industrial-grade screens that control and calculate right at the beer tap systems and send that information back to the server. If the server or any component goes down, no problem. The system still functions. Once again, PourMyBeer is the only system on the market with this kind of intelligent design that gives you incredible reliability.
Our system runs on A/C power instead of D/C power like other self-pour tech providers' systems do. This might not seem like much at first, but it's a big deal.

A/C power carries through long runs of wiring. D/C doesn't. So we can put our valves and flow meters as far as 50 feet away, while other self-pour tech providers can't put their flow meters more than 3 feet away from the tap, which limits your tap wall and draft system design flexibility.
Minimal number of connection points
Our system is so streamlined and simple that it has less than half the number of connections that the products of other self-pour tech providers do. Fewer connection points mean fewer potential failure points. Nuff said.
Owner's Experience With a Self-Pour System
After hearing from our awesome PourMyBeer family members, we have found some highlight benefits that they have seen from having our tech! PourMyBeer fam members recognize that managing operating costs is key. Self-serve technology has lowered the need for excess staff, which has greatly reduced operational costs while keeping their businesses running efficiently. They no longer need a bulky bar and hundreds of bottles, so establishments have found that they need a much smaller inventory while seeing a higher return since guests tend to sample many drinks from the wall, all while paying by the ounce. Check out one of our family member's, The Crab House, experience with self-pour below!
They projected to lose $256,000 by year's end.
Implement a 40 tap PourMyBeer self-pour system.
Ended up profiting $250,999, a $516,000 swing!
Request Access to Case Studies
What Operators Say about PourMyBeer?
On our busiest nights with 200+ customers, we can serve customers efficiently with only 3 staff members. We've seen as many as 16 people pouring at the wall at once!
Chris McCarrick
Owner of CraftWorx Taproom
We retrofitted all three of our taprooms to PourMyBeer and had an amazing experience with their entire team. We have had the system for almost 4 months and have minimal issues with the technology and hardware and the small issues we did have were fixed instantly.
Rich Moyer
Owner of Hoppin' Brands
60% of our total alcohol revenue comes from our self-pour tap wall, staffed by 1 employee, while only 40% of alcohol revenue comes from our traditional bar, in which we have 4 employees staffed.
Jim Wright
Director of Operations at Stanley Beer Hall
We're extremely impressed with PourMyBeer. Josh, the CEO, assured us that we wouldn't be disappointed and promised to support us and our franchisees. We've had great success partnering with them. Great company with impeccable service!
Samantha Rincione
Owner of Crave Hot Dogs & BBQ
Best self-pour company out there and we've tried them all! Equipment is high quality, customer service is excellent, and the overall experience has been amazing! Well done Josh and Team. You guys are doing it the RIGHT way!
Byron Hetherton
Co-Owner of The Commons
Nobody has ever replaced us with the other self-pour technology provider.
Features That Benefits Operators
PourMyBeer technology comes with many features! These features will increase your efficiency and leave your operations running smooth. If you have any questions regarding PourMyBeer's tech features, contact us!
Real Time Keg Levels & Text Alerts
Our real-time keg level feature allows operators to see all their keg levels graphically displayed in their management dashboard and get alerts when kegs are low. This helps them and their team quickly react and ensures that the guests can continue having self-pour fun!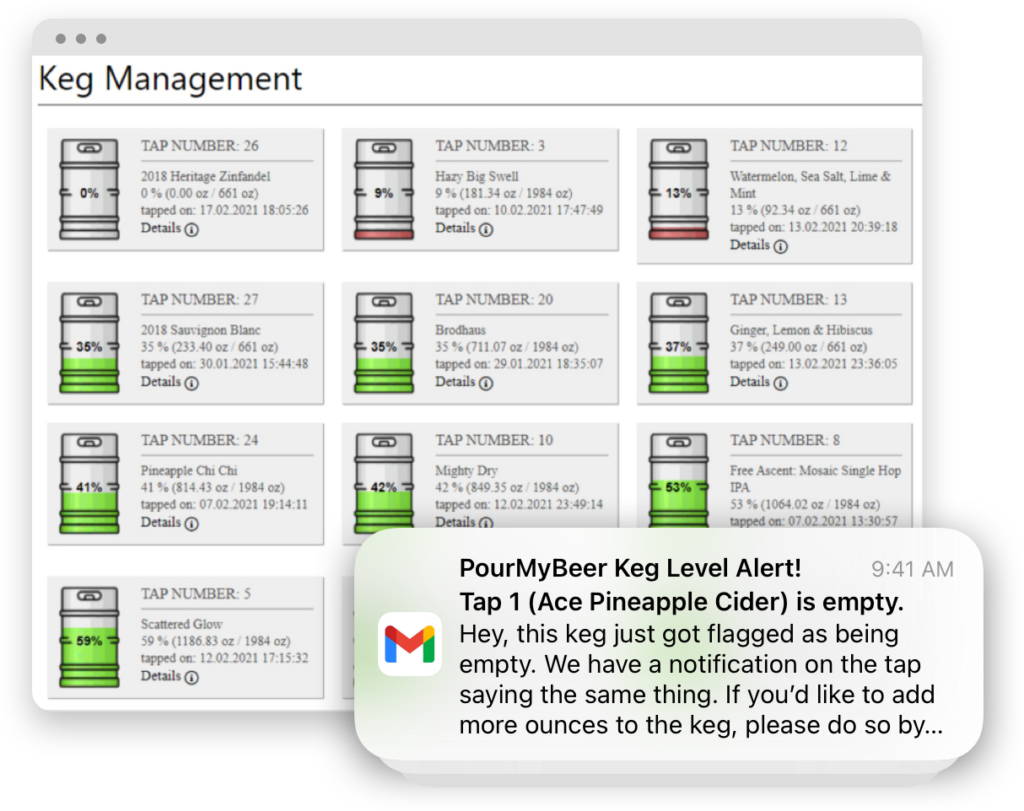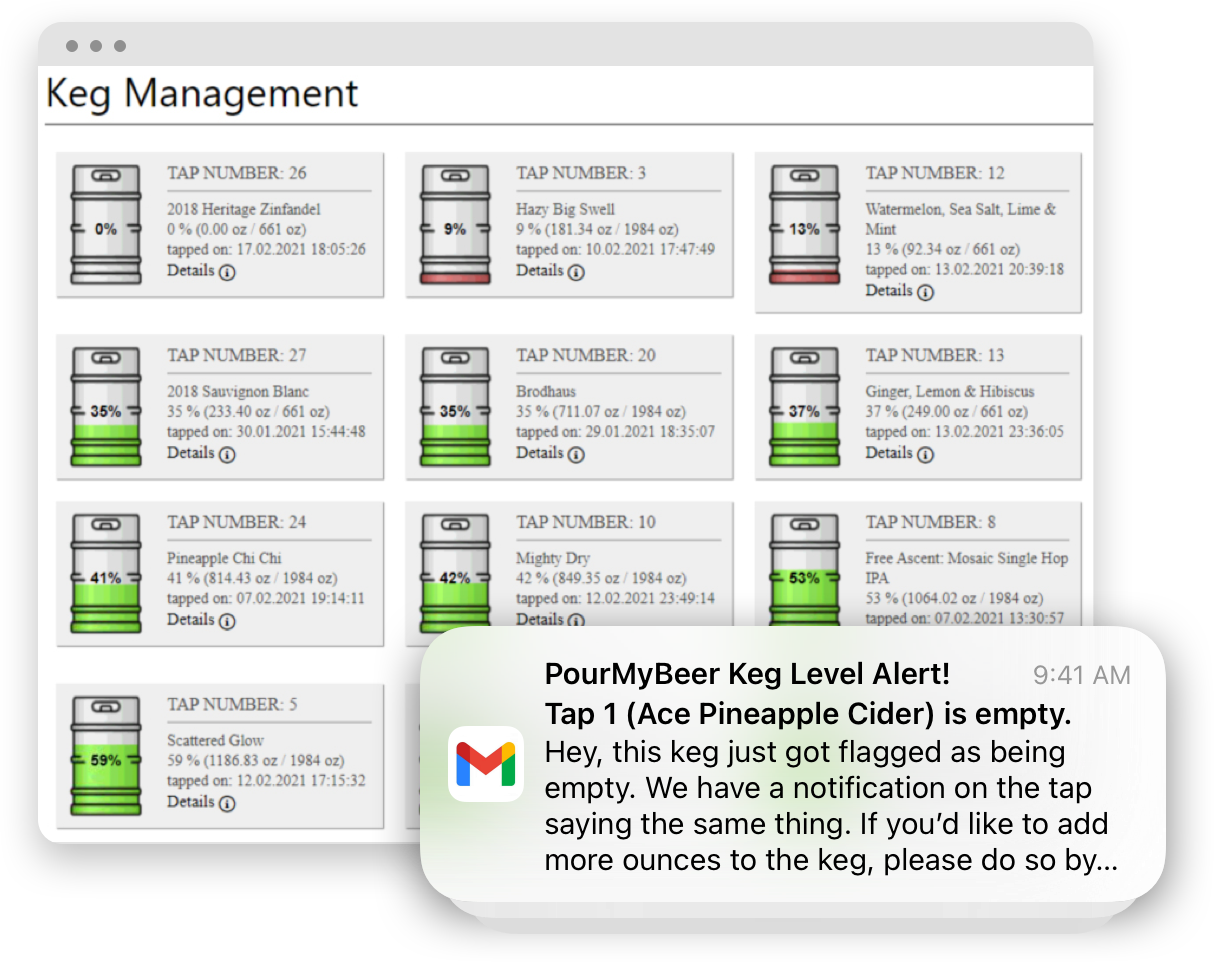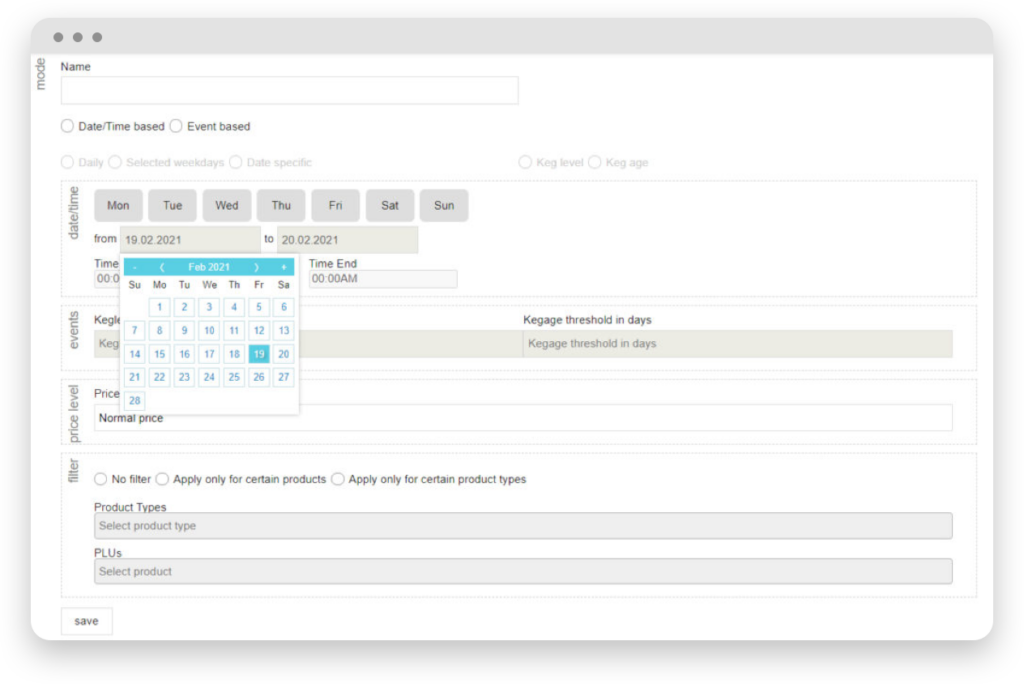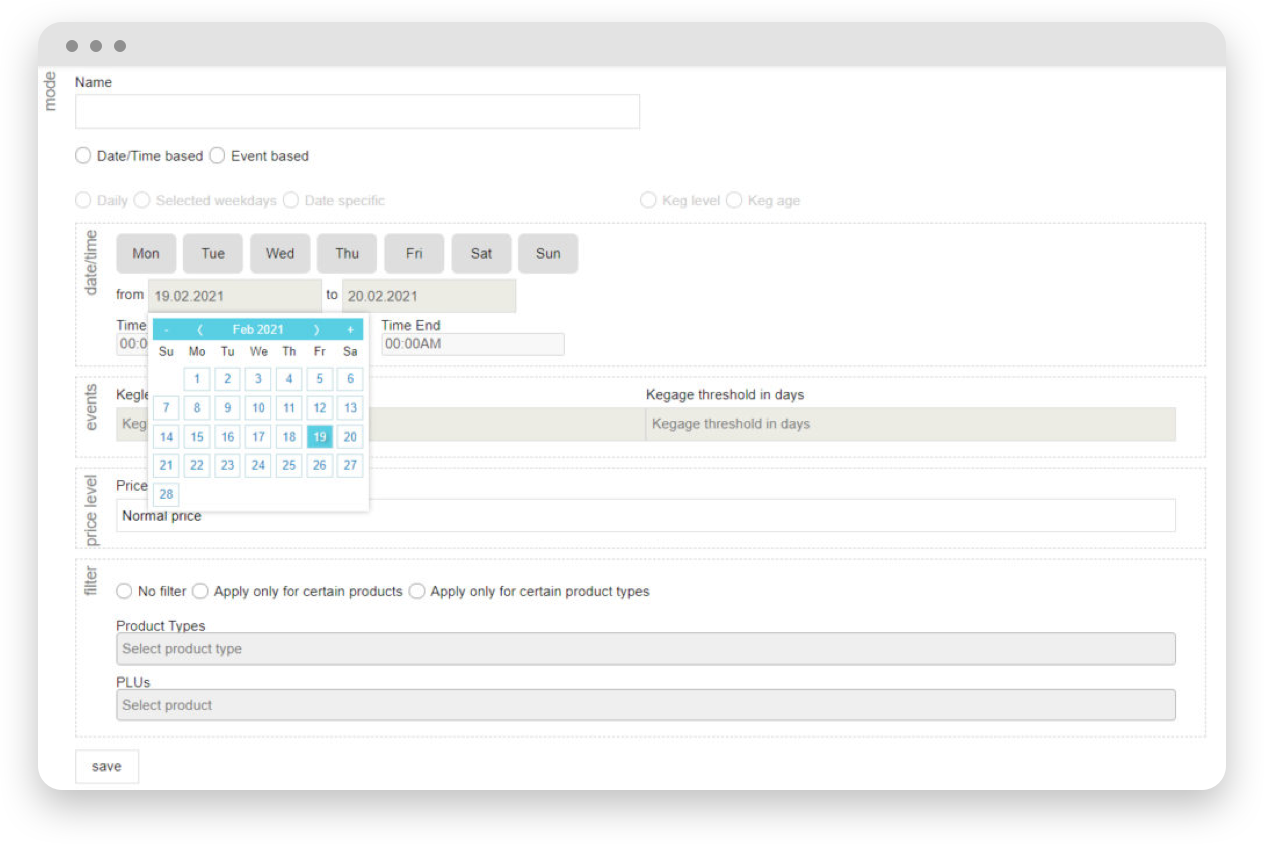 The Happy Hour feature offers self-pour establishments the ability to trigger specials based on date & time, days of the week, or keg events like keg level or age. Schedule as many recurring or one-time Happy Hours specials as you like to easily plan your whole week of specials with just a few clicks.

You can configure two different Happy Hour discount tier options per product with either a flat rate or percentage-based discount. You can filter special discounts by product type (i.e. Beer, Wine, Cocktail, etc.) or by specific product/PLUs.

Promote your Happy Hour specials on screen with our standard default image or customize by uploading your own image for any special. You can display a single Happy Hour image across all tap screens with one click or choose specific images for different screens. You can add as many images as you like to your Happy Hour image library.
Transform your beverage program with PourMyBeer's cutting-edge reporting system, designed to take your data-driven decision-making to new heights. Our comprehensive and real-time reporting solutions provide you with actionable insights to drive revenue and unlock your business' potential. Dive into customer behavior data, identify trends, and tailor your offerings to match customer demands with our easy-to-use dashboard.

With seamless integrations with leading POS systems, managing data has never been easier, reducing errors and improving efficiency. Our dedicated customer support team is always ready to assist you, leveraging our data-driven expertise to identify growth opportunities and enhance operations. Say goodbye to guesswork and hello to exceptional analytics with PourMyBeer.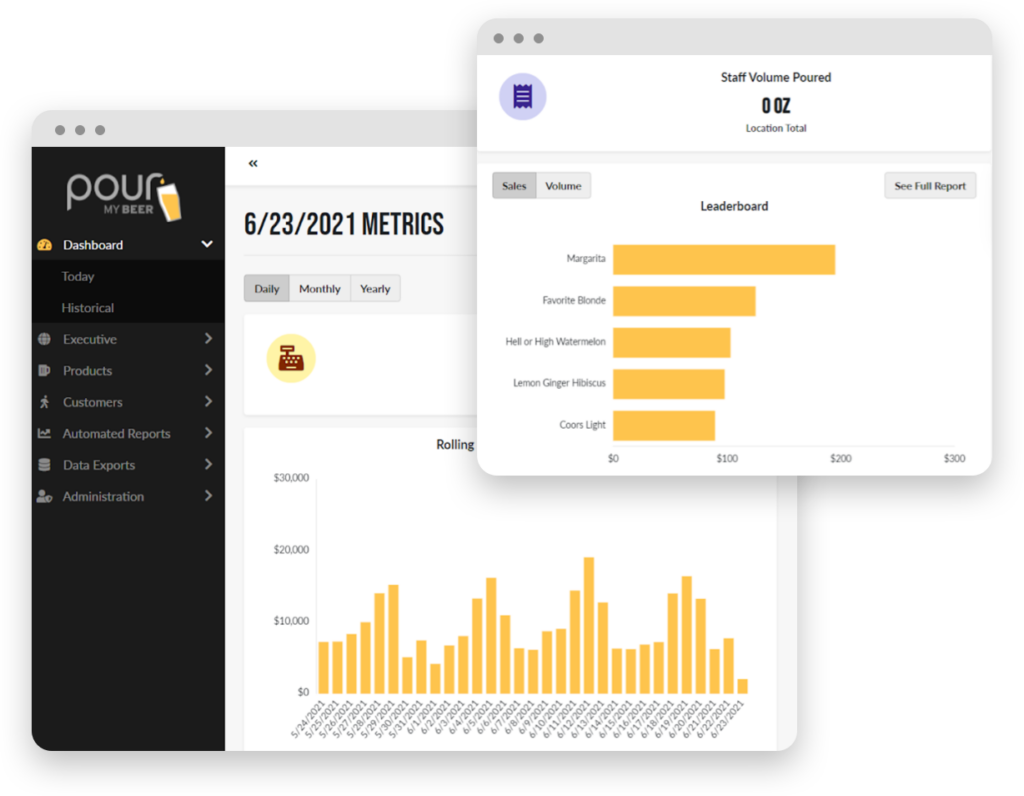 Driver's License Scanning
PourMyBeer offers a convenient driver's license scanning feature for easy on-screen age validation when creating beverage cards and collecting valuable anonymous consumer behavior data like age, gender, and zip code.
Guest's Experience With a Self-Pour System
Self-pour technology is a great way to enhance the customer's experience. In fact, they can pour as much as their heart desires. While many do not believe this is true, there is less room for error with self-pour technology. Customers pour as much or as little as they want, allowing them to try a variety of drinks. No waste. No free samples. At a traditional bar, guests end up paying for an entire drink even if they do not like it, while beverage walls allow customers to taste test until they find their favorite! A free sip will never be given out again, and customers can pour their own flights. This saves time and money for your establishment!
Ready to Tap into The Profits?