How Untappd Can Take Your Beverage
Sales
to the Next Level
A little over a decade ago, the idea of craft beer was absent in the U.S. market. As recently as 2012, the duopoly of Anheuser-Busch InBev and MillerCoors accounted for over
90% of the entire U.S. beer market
. However, between 2008 and 2021, the number of breweries in the United States skyrocketed. Now, craft beer commands an almost
24% market share
of the overall beer market. This craft beer boom represented a remarkable shift in the industry structure, but more importantly, how people were consuming beer. Suddenly, drinking beer has become less about the alcoholic content and more about the experience itself.
With thousands of creative beers in the U.S. market, people are compelled to explore the new rather than stick with the old. This is most true of American millennials, who now
spend more on craft beer
than on their monthly cell and utility bills.
Millennials appear to be relatively uninterested in big beer brands like Budweiser and Pabst Blue Ribbon but willing to spend extra money for craft beers. We can attribute the mentioned shift away from alcoholic content to millennial consumers. More than anyone else, they want new experiences. The craft beer industry added precisely that experiential aspect, making each beer more alluring and desirable to try.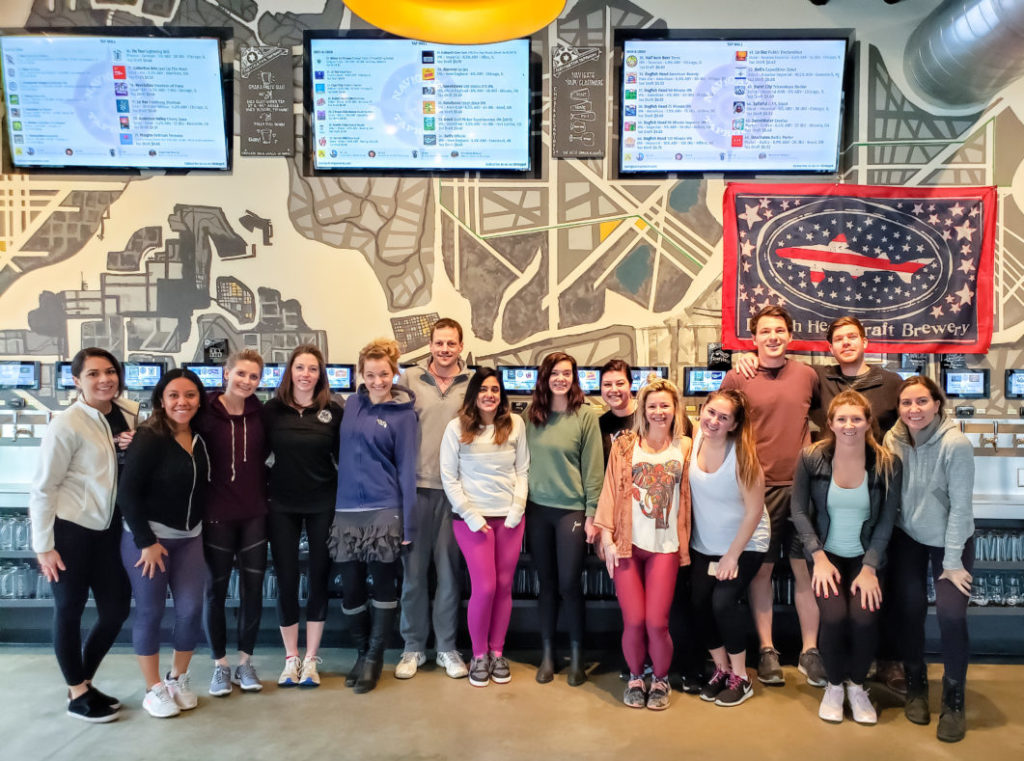 Today, there are thousands of different beers in the craft market with unique flavor profiles and personalities. It comes as no surprise that the craft beer trend is booming. But after trying so many new beers, how do people keep track of what they like and don't like? That's where Untappd comes in. This app capitalizes on the growing craft beer industry and the clear link between it and millennial tastes. This generation uses technology heavily, especially when it comes to social media. Untappd bridges this gap perfectly by allowing users to keep track of every beer they taste in an appealing, social way.
So what does that have to do with us? Well, think about the nature of self-pour. Its presence in bars, restaurants, and taprooms represents an opportunity for patrons to satisfy their craft beer curiosity with ease and speed, allowing them to have fun in the process. So we thought, why not combine the two ideas? That's why, in 2018, PourMyBeer partnered with Untappd.
Our self-tap technology and screens, combined with Untappd's product database, yield a service model guaranteed to make your beverage sales skyrocket. Over 200 of our PourMyBeer locations utilize our integration with Untappd for Business, so we know that it's a powerful tool for boosting any venue's beverage sales. With that said, even if your venue does not include self-pour, Untappd is still a great tool for increasing your foot traffic, thus boosting your beverage sales.
"Every time we put a new beer on the screen, it blasts it out to 30,000 Untappd users here in Chicago and lets them know that we have a new beer on tap, and they come in just to taste. They use the check-in feature to tell the Untappd community what beers they have tried, so it has been a fantastic driver for sales."
Let's take a step back for a moment and explain the difference between Untappd and Untappd for Business.
Simply put, Untappd is the world's largest platform for beer drinkers with 2,941,749 beers in the database. The app came into existence in 2010 as a diary for beer enthusiasts. Users could keep track of what beers they were drinking, what they liked, and which beers they were going to steer clear of down the line. Today, it is the largest beer database in existence, with over 9,300,000 users. Users on the app connect with other beer lovers to find trending beers, information on beers or track down a location with their favorite brew. In this database, you can search and find practically any beer imaginable.
While Untappd is a beer lover's favorite journal to keep up with, Untappd for Business is a great resource for bars and restaurants. The massive database gives operators an inside look at popular beer styles to make better beer buying decisions. The application provides tools to improve marketing, publish digital or print menus, and improve in-house efficiencies.
Let's deep dive into Untappd for Consumers and how their love for the platform can increase foot traffic and beverage sales.
Guests interact with the interface in many ways. They begin by creating a personal profile, after which they can rate individual beers based on how much they like them (on a scale of 1 to 5 stars) and add their personal tasting notes. User ratings for each beer aggregate into a composite rating and become publicly visible for each beer in the database. Users can share their profile within their network, which gives Untappd a fun social media-like aspect for friends and family who enjoy sharing their new beer experiences.
The most common feature for guests is check-ins. Check-ins allow users to say what they are drinking, where they are drinking it, and rate it. For businesses, you must get your guests to check-in to your venue. Most Untappd users LOVE checking in and will not need the extra boost to share the brew they are sipping on. If you are looking for a little extra push to ensure they check-in, participating in Untappd's Local Badge Program will help your venue stand out, reward loyalty, and entice new guests to visit and share their favorite beer on your taps.
Another interface feature users love is receiving badges. Besides the local badge program, there are many more badges users go on a hunt for. There are venue badges, beer badges, and unique badges, like "I Believe in IPA!" unlocked when a consumer checks in an IPA. Each badge has different levels, so users become invested in the hunt.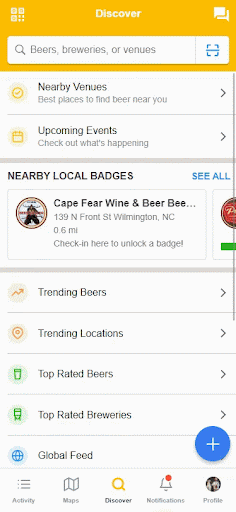 Untappd for Business (UTFB) is the perfect tool to get your establishment in the eyes of your target market. If you want to get more beer drinkers through your doors, Untappd for Business is what you need. Untappd users will find your venue based on the beers you are serving, upcoming events, your city/state, or by who else is drinking and checking in to your establishment. Consumers use Untappd to discover new spots/ find specific drinks, so having your establishment on the app is a fantastic way to get newcomers through your doors and make loyal customers out of existing ones.
Untappd for Business Perks
Patrons can explore beers, bars/restaurants, and events in the area thanks to Untappd, meaning your venue can get visibility in front of new audiences. Customers can subscribe to your venue to get notifications every time you change your beer menu. They can also subscribe to specific beers. If that beer is on your menu, those in a 20-mile radius who subscribed will receive a notification, increasing foot traffic.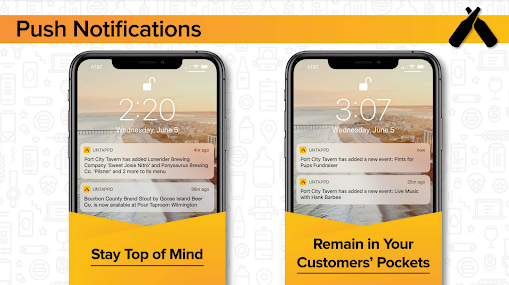 Targeting the Right People
Your establishment gets more exposure with the right audience (passionate beer drinkers) as Untappd brings more visibility to your beer list. Because of this, it is also important to monitor user ratings for beers, as maintaining a collection of highly rated beers on self-tap will attract Untappd users looking to try the latest and greatest.
Once your venue is verified, Untappd can become an asset in helping with branding efforts. They can assist your marketing team by giving your logo, tagline, etc., higher exposure. Becoming a verified venue increases visibility by making you more discoverable on the app. The blue checkmark next to your name pushes your venue to the top of their search list. You can also publish your store hours, whether you are pet/kid-friendly, and if you have wine/cocktails on tap to give patrons the information they need when deciding where to go.
The data & analytics offered by the platform can help you make more strategic decisions based on customer preferences. Untappd for Business offers insights into beers people in your area have subscribed to. Incorporating these fan favorites will put you ahead of your competition and create happy and loyal customers. They will be pleasantly surprised to see you are always on top of the latest and trendiest brews.
Here are some of the analytics the application offers businesses:
See the stats of the users in the area around your venue. Untappd will show you the number of unique users in your area, as well as how many check-ins. You can set custom boundaries, like a 20-mile radius around your restaurant within the last 30 days.

See which beers are the most popular at your venue. This can help you determine the beers you want to keep buying from suppliers and the ones you may want to phase out. Keep highly rated beers on your self-pour taps, as we mentioned above.

The number of menu views and the platforms guests are viewing them on in a given time frame.

How often guests are checking in to your establishment each day of the week.

A demographic breakdown of your Untappd customers based on age and gender.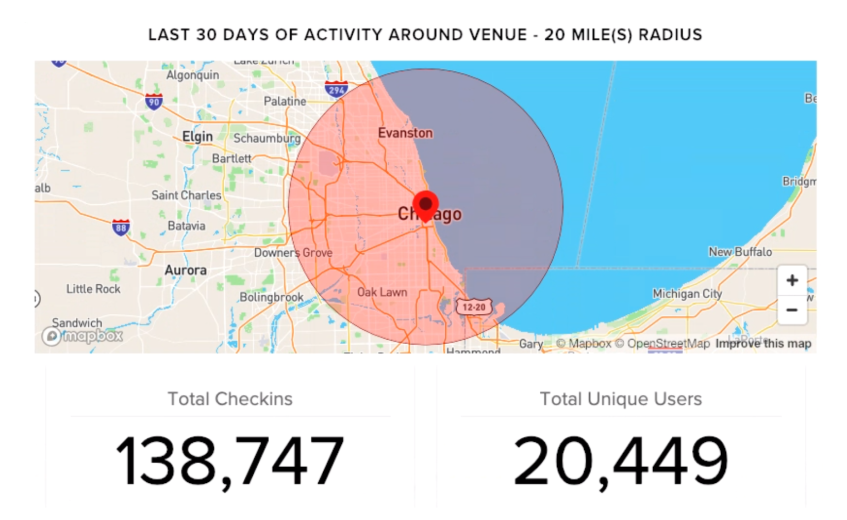 If you want to see how some of these analytics look on-screen and get a better understanding of them, Untappd has a business page to help you understand them here.
Connecting With Social Platforms
Once you set up your Untappd for Business account, you can connect it to your establishment's social accounts. You will embed your Untappd link to Facebook and Twitter, and this menu will update in real-time on all platforms. You can also 1-click post a new beer on tap to your Twitter or Facebook feed.
Untappd makes updating your menu much more efficient. The QR code feature is a safe, easy, and convenient way for customers to view your offerings. If you update your menu through the UTFB account, you will never have to reprint your QR codes. They update in real-time to reflect the changes. The digital menus are completely customizable. You can change the color scheme, add a background image, add your logo, or use other pictures to highlight non-beer offerings. While Untappd for consumers only allows them to rate beers, with Untappd for Business, you can add wine, seltzers, and cocktails to your menu.
Deepening Relationships with Customers
The platform presents an opportunity for deepening relationships with your customers by engaging with their check-ins. You can also use this tool to see what the Untappd community has to say about your offerings and adjust as necessary.
At any establishment with self-pour, Untappd significantly enhances the user experience for self-pour patrons. With our integration, information about each beer you serve is displayed directly on its corresponding screen, with statistics like ABV and IBU. On larger screens above your tap wall, you can display a live feed of Untappd users' most recent pours at the beverage wall.
Besides adding a social element to the beer wall and allowing multiple channels to update at once from one source (your beer wall, your website menu, and your Facebook menu), Untappd allows you to directly add and subtract beers from your list of offerings at your tap wall. You can then link your PourMyBeer screens with that list to display whichever beer is on tap there. These features will save you time and allow you to pull product info directly from the Untappd database to the PourMyBeer screen. While Untappd provides all of the necessary information, you can custom edit the information on that list, including the following:
Beer name

Price

Tasting notes

Image(s)

And other information about the product
Check out this tutorial on How to update your Untappd Menu with PourMyBeer.
Both companies are all about the beer, so it just makes sense! Since the PourMyBeer system and the Untappd application work seamlessly together, Untappd offers $100 off their annual subscription to PourMyBeer family members. If you are interested in Untappd for Business, here is a link that allows you to put time on Untappd's calendar to speak with a sales rep.
If you need to add a product to the Untappd database that is not listed, you can add a custom item. Get in touch with your Untappd rep or reach out to our support team at (312) 416-9989, and we will be happy to help.
To learn more on taking your beverage sales to the next level, watch our previous webinar where we spoke with 2 Untappd experts!