Restauranteurs face a range of challenges, from inflation to increased customer demand. With inflation rates skyrocketing and labor becoming more difficult to find and maintain, restauranteurs must adapt by switching approaches. For instance, restaurants might adjust menu prices to accommodate higher food costs, or they could use automated solutions to address a lack of workers.
Wine on tap is another way to address these challenges and provide a unique offering for customers. This distribution method pours wine directly from a keg instead of opening individual bottles. Any setting can use wine-on-tap systems, though the most common venue types are bars, fast-casual restaurants, nightclubs, and casual dining venues. Adding a wine-on-tap system to your restaurant can lower costs, reduce your environmental impact, and provide other significant benefits.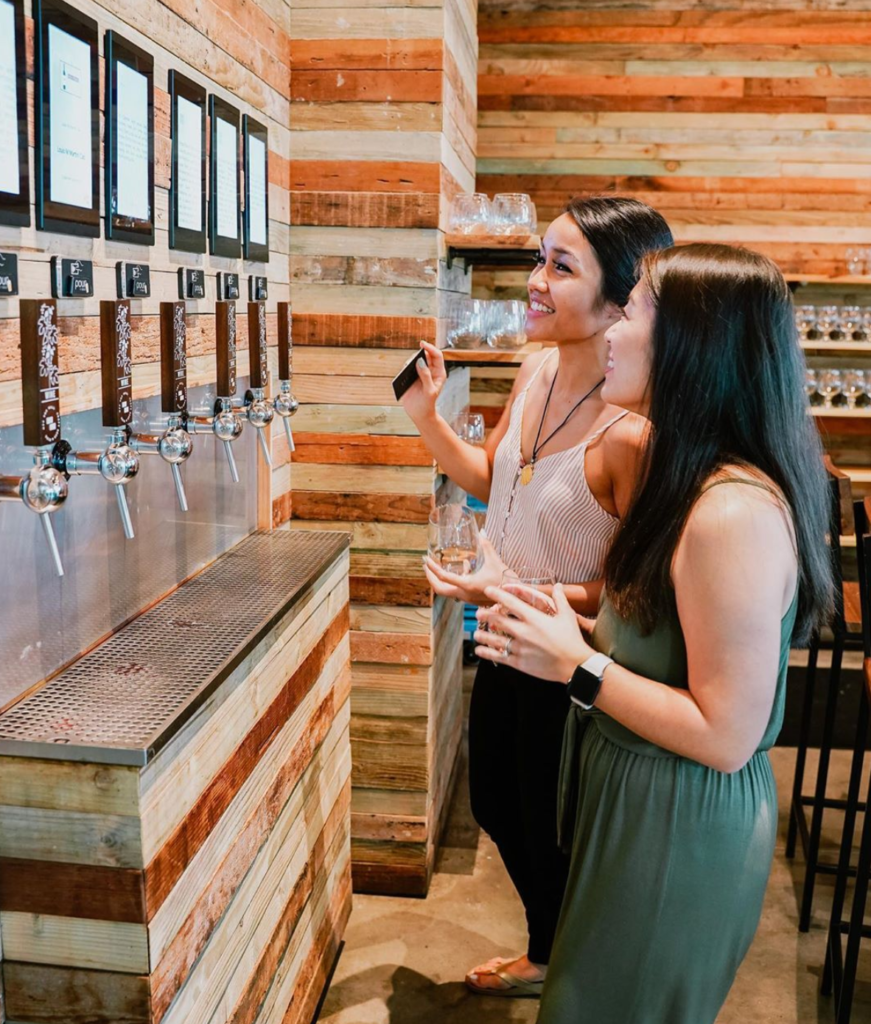 How Do Self-Pour Wine Taps Work?
Self-pour wine taps work similarly to beer on tap. You can serve any kegged beverages via self-pour taps, and wine is no exception. They work in a straightforward way — when the customer or server pulls the tap handle, gas pressure pushes the wine out of the keg and through a glycol-cooled tube into the tap. It's easy to pour wine correctly with self-pour taps. Self-pour systems prompt customers to use an RFID card linked to their payment method to dispense their wine and pay for each ounce they drink.
Why Use Self-Pour Wine Taps?
Wine tap dispensers can bring significant benefits to your restaurant's sustainability levels, revenue-cost structure, service efficiency, and environmental impact. Many customers appreciate beer on tap and enjoy wine on tap offerings, too.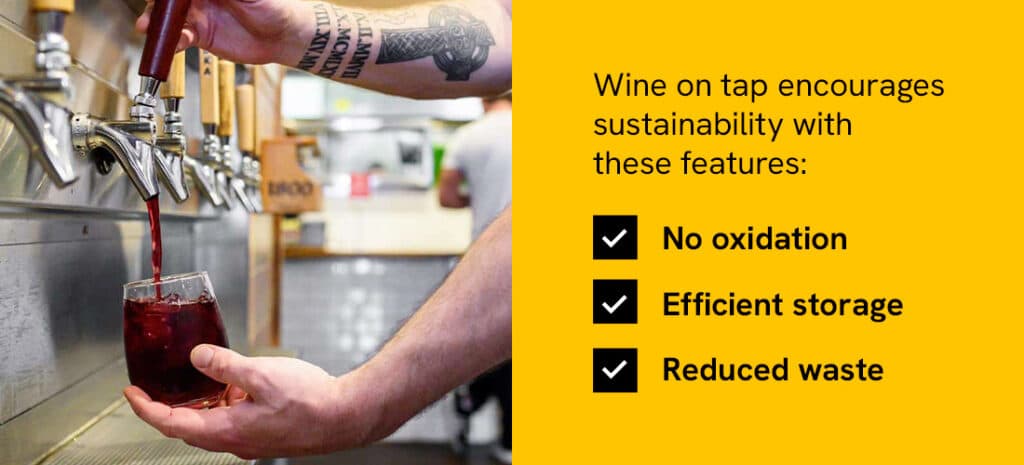 It is important to consider a wine bottle's social and environmental impact. Like any other human activity, viticulture has an impact on nature. Unfortunately, the massive use of industrial biocides in vineyards harms the environment by reducing the soil's ability to isolate greenhouse gasses.
In response, many wine producers are slowly adopting eco-friendly sustainable viticulture practices, and many even seek certifications for these practices. These sustainable vineyard and winery practices reduce energy consumption, assist healthy soil levels, and preserve nearby ecosystems.
Restaurants can continue with these sustainable efforts by altering how they serve wine. Nearly 80% of US consumers value a sustainable lifestyle, making green approaches essential for business success.
Serving wine from bottles can cause overpouring, spoilage, bottle waste, and storage problems. By switching to wine on tap methods, you limit these issues and shift to a more sustainable approach. Wine on tap encourages sustainability with these features:
No oxidation: Once you open a bottle of wine, it oxidizes, degrading the flavor and aroma. An opened bottle of wine might lose its quality before enough orders finish it. In contrast, kegged wine is pressurized, preventing passive oxidation in the keg. As it gets dispensed, a blend of nitrogen and CO2 pushes the wine from the keg into the glass. The process cools the beverage and keeps oxidation from occurring each time the tap opens. Kegged wines are well-insulated, remaining fresh for three months after tapped.
Efficient storage: Instead of tracking hundreds of bottles, you only have to manage a few kegs. The lower inventory makes it easier to maintain the right temperature for wines in kegs. A standard keg has a capacity of 5.16 gallons, which is about 26 bottles of wine or 132 glasses. The storage space for one keg is a fraction of the space for 26 bottles, letting you use less space for the same quantity of wine.
Reduced waste: Over a year, a single keg can eliminate the need for thousands of wine bottles, drastically reducing glass and cork waste. Also, the large amounts of packaging material you would usually need to throw away when buying bottles in bulk will no longer be an issue. You can build a more environmentally friendly service structure and can even benefit your business's public image by positioning yourself as eco-friendly.
Speed is an integral component for restaurants, giving them the power to gain or lose customers. Your waitpersons and bartenders may spend valuable time opening bottles, serving patrons, and recorking bottles. Kegged wine simplifies your bar's operations and speeds up your process.
Serving out of kegs significantly reduces the number of operational tasks between a customer's order and wine servings. With a keg set up, servers can instantaneously pour from the keg rather than finding, opening, and disposing of bottles. Fewer tasks give your restaurant or bar staff more room to breathe so they can focus on providing more attentive service to customers. More present and careful staff can encourage customers to stay longer or visit more frequently.
Having wine on tap will drastically increase your service speed without compromising quality. No matter which wine a customer wants, your staff can pour a fresh glass immediately without searching for too long or worrying about ruining a rare or expensive wine. Plus, you can serve your wine in a variety of ways, tending to your customers' every want and need.
While it may seem trivial, getting drinks to the customer quicker will do a world of good for your business. This improvement will increase the chances of patrons repeatedly returning, ultimately increasing brand loyalty and sales.
The key to taking advantage of wine on tap is ensuring you train your staff well. Even with an effective back-of-house system, your service depends on the quality of individuals communicating and caring for your customers. So, when installing your wine kegs, ensure your servers understand how these products work and what they need to do to provide outstanding customer service.
Better sustainability can significantly decrease your operating costs. The increased versatility and service efficiency achieved by selling via tap can increase your revenue potential, boosting your profit margin from both ends.
Wine on tap increases profitability by increasing wine options. Customers gain more versatility for wine purchases because they don't have to buy entire bottles. Many customers express an interest in tasting wine at their own pace and budget, such as avid wine taster and owner of Wanderlust Wine Co., Sammy Lam. Wine on tap is a perfect solution to this dilemma.
That increased sense of freedom for the customer is likely to inspire some experimentation with various wines on tap, and quicker service may reduce hesitation to having more than one glass in a night, which translates to more frequent purchases and a higher revenue stream.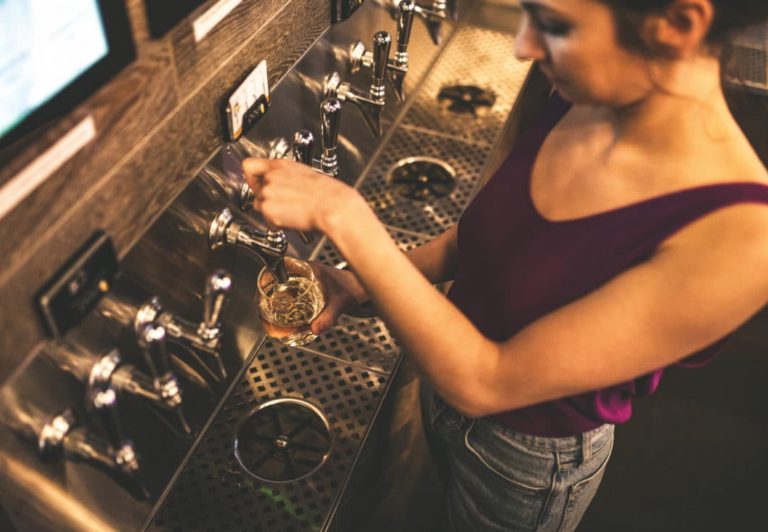 4. Reduced Operating Costs
By serving wine on tap, you eliminate a significant number of your operating costs and reduce your costs for materials.
Wine on tap reduces operating costs by:
Opportunities for discounts: Buying wine in kegs vs. bottles often yields a discounted pour cost per ounce, meaning you're spending less to gain the same volume of inventory.
Lower refrigeration costs: The costs of cooling hundreds of bottles at once are reduced to a fraction. Kegs maintain cool temperatures efficiently and for an extended time.
Increased freshness: With traditional bottle service, wines are frequently opened and spoiled before guests can place orders to empty the bottle. This means that your establishment is incurring significant opportunity costs from that wasted wine simply because it couldn't be kept fresh. As mentioned, kegged wine is protected from passive oxidation and can stay fresh for months tapped. When using reusable steel kegs, tapped wine stays fresh for as long as three months, and if untapped, it stays fresh for up to 12 months.
Reduced labor costs: Tapped wine's easy access allows your typical server to increase their efficiency. This means that your overall staffing needs will be reduced, decreasing your expenditure on wages.
Is Wine on Tap Right For You?
We mentioned earlier that the most common types of establishments offering wine on tap are bars or fast-casual restaurants. It is not limited to those alone, but certain factors are more conducive to making it work best.
These are examples of how wine on tap affects different settings:
New restaurants: If you're a new restaurant still in the process of being set up, integrating wine on tap can become a seamless part of that process. If you decide to move forward with it, you might find that your restaurant naturally begins to build its personality around this unique and distinctive feature.
Restaurants or bars that offer flights: A particular selection, or flight, of wine, can be attractive to customers looking to experiment. Serving them on tap is a great way to increase the speed and efficiency of offering them. Without worrying about spoilage, restaurants can increase the number of flights offered and market them more to customers. For restaurants known for their flights, it can represent a solid return on investment for the expenditure on tap technology.
Self-our taprooms: If you have an existing taproom, adding wine to a primary beer or cider-heavy set of offerings is a great idea to serve the needs of a broader market. Now, patrons who are more interested in wine will have purchasing options. There are also wine-focused taprooms, like the example in this video.
How to Execute Wine on Tap
Many of the same benefits of serving beer on self-pour taps can easily apply to wine. Here are some things to consider when offering wine via self-pour taps.
1. Where to Get Wines in Keg
A wide range of premium wines are currently available in a keg. These wines come from around the world and in different styles and price points. For instance, here is a list of wine brands available for kegs.
With the many options available, you can create a wine program that's reflective of your business's mission and model. You can find a list of kegs available in your area by contacting your local wine distributor. If you don't already have a distributor who sells wine in steel kegs, you can find one here.
Your distributor will deliver fresh kegs and pick up the empty ones. There's no need to clean the empty kegs or coordinate their return logistics.
2. Purchasing Wine in Bulk
Acquiring wine to fill kegs requires that you buy it in bulk, but thankfully that doesn't mean buying several separate bottles. Several companies partner with wineries to generate enough wine to be packaged in large quantities at once. The kegs are usually transported overseas in large bag-in-box containers that carry up to 1000 liters of wine. These containers are cooled and preserved, so they do not suffer any quality issues when they get to your keg. An example of a company that does this is The Artisan's Cellar.
Any equipment you use in wine service needs to get cleaned, and the keg is absolutely no exception. Any unwanted bacteria or foreign agents can contaminate and degrade the taste of your kegged wine. Most kegs have an access hatch on top, which, when opened, can be scrubbed and washed with an appropriate cleaning agent. The best methods may differ based on what your keg is made of, so talk to your keg provider about this in more detail.
4. Filling the Keg With Wine
Before filling the keg, consider the aging processes for certain wines, as different wines may be optimally served after certain aging periods. Once you've ensured a wine has aged appropriately, you'll need to siphon from the transport container into your keg. This will be done using the same access hatch as before.
5. Eliminating Excess Oxygen
You'll need to quite literally "push out" the air that's in the keg with the wine because it will start to oxidize and degrade your wine if not done. This process is done by connecting a gas disconnect to your keg and siphoning out any oxygen that may still be in the keg.
We recommend completing this process multiple times, as will your keg provider, in all likelihood. Listen to make sure there is no hissing as the siphon occurs to ensure your keg is fully de-oxidized.
Once your keg is ready to go, make sure you keep it at the right temperature, depending on the type of wine it contains.
Return on Investment (ROI) of a Self-Pour Wine System
Your return on investment will vary significantly based on your establishment type and the amount of wine you sell over a given period. The installation will depend on which company you work with and can range from high four to low five-figure amounts. But for a wine-heavy restaurant expecting to sell a few hundred bottles each month, the additional revenue gained from the decreased spoilage of a tap system should net you a 100% return on investment in between 6 – 12 months.
Naturally, that figure can vary quite a bit depending on the size and overall traffic of your establishment but, regardless of those factors, the extra revenue gained from the comparatively non-existent wine spoilage will add up quite quickly. To get a better idea of what to expect, check out the wine-on-tap ROI calculators below. They account for your acquisition cost for wine, your selling price and quantity per glass, and your expected quantity sold per month to calculate a reasonably accurate estimate of your return on investment after installation.
You can use these wine on tap ROI calculators:
Serving Guidance for Self-Serve Wine
You can either pour wine for customers or allow them to use self-serve stations. For customers, self-pour wine makes sampling quick and easy, arguably more so than with staff pouring. Tasting by the ounce is attractive to customers because they can avoid spending significant amounts of money on wines they don't like.
Another serving option is sampling. Even beyond saving money, sampling is just plain fun. For you as a vendor, it means you are capturing revenue more precisely relative to volume, as payment is measured by ounce. This is particularly helpful for wine, as it can be difficult to standardize drink volume for staff serving wine. A self-pour wine bar eliminates free samples, which are surprisingly costly to bars and restaurants that offer them.
Improve Your Customer Experience With Wine on Tap
Wine on tap improves profitability, reduces environmental impact and upgrades the user experience. Wait times are eliminated, and there's no need to buy a full glass or bottle of wine to figure out a drink preference. This enables patrons to buy wine more freely and thus more frequently and significantly reduces your need for staffing and overhead. After all, you don't need to be their server if they can serve themselves and have fun.
To learn more or get started with a wine on tap system, don't hesitate to reach out to PourMyBeer. Our self-pour solutions can benefit your setting in many ways. Learn more by contacting us today.