Conceptualizing and developing your bar or restaurant's menu requires thoughtful consideration, money, and effort. Not only does your menu need to embody your establishment's brand, but it needs to appeal to your target demographic too.
On top of that, you must consider how often you will analyze and update your menu items. By analyzing your menu items, you can see which items are profitable and vice versa. This knowledge allows you to make necessary adjustments to your menu as needed. So, while creating your initial menu may seem daunting, it is not permanent and can change with your customer's wants/desires!
In this guide, you will learn everything you need to know to create a killer restaurant/bar menu. From dish selection and the design of the menu to developing custom menus for patrons, you'll gain insight into some awesome restaurant/bar menu ideas.
When it comes to creating your bar or restaurant menu, serving the classics is always a good start. Not everyone wants to try something new, and some may be picky eaters. By offering these classic menu items, you can reach a broader market. Even with ever-evolving guest expectations and food trends, one thing remains the same: best bar food menu items. Below are some of the most popular bar foods:
Pizza

Burgers

French fries

Onion rings

Hot dogs

Steak and cheese eggrolls
Nachos

Wings

Mozzarella sticks

Spinach and artichoke dip

Soft pretzels

Loaded potato skins
These classic bar foods often create the highest profit margins because you can make these food staples cheaply. You can usually buy these foods in bulk for lower prices, and when it comes to making these delicious dishes, it is fast and doesn't require much labor. This way, even if you sell these dishes at a low price, you can make high profits!
Put Your Own Spin on Them
A great way to take your bar food menu to the next level is by putting your spin on these classic dishes! By creating a unique twist on these common restaurant bar foods, you can continue offering what your guests want while elevating your customers' views on your establishment's food menu. Not to mention, this is a great way to set your restaurant or bar apart from the rest. Below are a few great examples of how you can put a fresh spin on things:
By offering your own unique take on these restaurant bar foods, you can show your customers that your establishment is creative and different.
Match the Menu to Your Theme
Menu development is a significant part of your restaurant's overall theme and personality. If your restaurant or bar is themed heavily around a specific concept, your drink and food menus should reflect this. Say your establishment is country/western themed. You would not want to offer escargot, fancy wine, and a simple, clean menu with a cursive font. You would want to offer steak, beer, and a bold menu with a simple and strong-styled font. It is important to play around with fonts, colors, and creative copy to ensure that every detail is curated perfectly. All of these aspects will add personality to your establishment's brand.
In addition to matching your menu to your theme, it is also a great idea to match up your food and beverages. Offering suggestions for food and beverage pairings encourages customers to buy drinks, leading to increased sales. Good pairings can elevate your customer's meal and your menu! When developing your menu, it's good to keep in mind which types of drinks pair well with which groups of foods.
Typically beer pairs well with meats and carbs, such as burgers, steak, pizza, pork, or other heavier dishes. When it comes to wine common pairings, include pasta dishes, seafood, and chicken. Now, for cocktails, there are a wide variety of options. A good starting point is to pair each drink with certain dishes. For example, a couple of classic combinations are a margarita and a taco or pizza and beer. See our pairing chart below for the best pizza and beer toppings to get an idea of what your pairing menu could look like!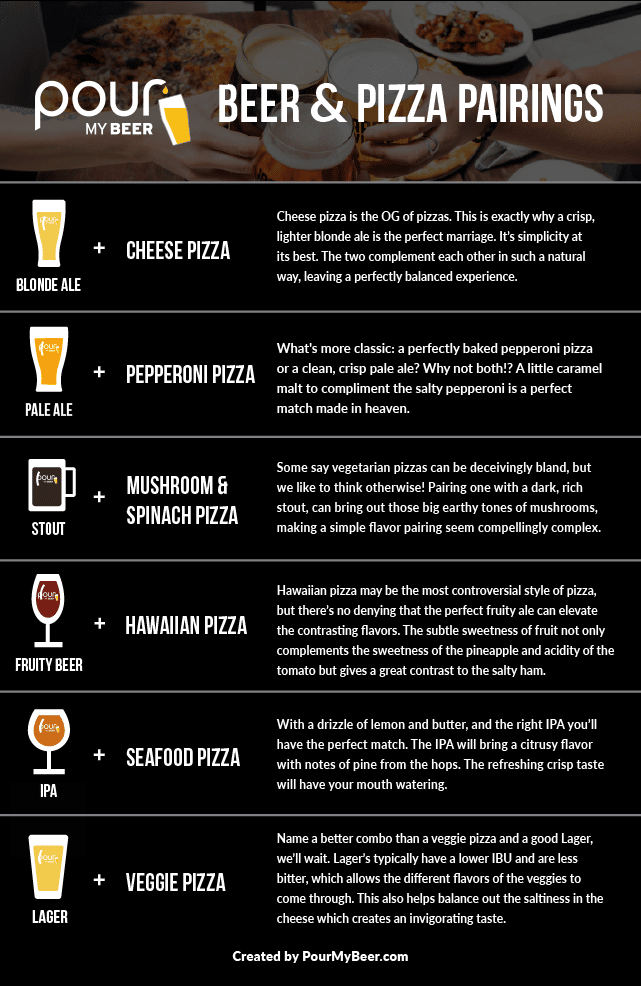 Prominently Display Your Star Items
Another helpful bar menu idea is to display any of your specials, promotions, or famous menu items prominently on your menu. Whether you create a special bulletin for these items or place them at the center of your menu, this is a great way to bring your customer's eyes to them. You can also highlight these items in a different color or use different font sizes too!
For your food and beverage menus, you should use high-quality pictures or get an artist to sketch your drink offerings to display on the menu. Customers love to see what they are ordering, so they know what to expect. It has also been shown that adding visuals to your menu increases sales for those items.
Remember, having no pictures is usually better than having low-quality images, so you must ensure the images you use are high-quality.
Make Your Menu From the Right Material
If you want to offer a physical menu to hand to your customers, make sure the material is sturdy and easy to clean. As restaurants are prone to spills and messes, it is a financially-smart idea to ensure you can clean and reuse your menus. Otherwise, you'll spend a lot of time and money ordering new ones. An example of this is to print them onto glossy paper.
If you plan to adjust your menu items based on seasons or local ingredients available to you, choose paper that is inexpensive to print out and update it weekly or monthly, depending on how often you plan to update the menu. Though this option allows you to offer new menu items more often, it is also typically more wasteful, so keep in mind that some customers may not like the environmental impact it may have.
Separate Your Drink and Food Menu
Think back to when you visited a restaurant for the first time. You had just put your order in, and the server took the menus away, but you wanted to order and try different drinks after you finished your first. Now you have to ask the server to bring one of the menus back so you can look at the drink menu again, which can be a hassle for customers. That's why we recommend having two separate menus, one for drinks and one for food. This allows the drink menu to stay on the table when the food menu has left.
Get the Menu Off the Table
It can be beneficial to get rid of physical menus entirely and instead display offerings on a sign on the wall, a television screen, or provide a QR code for customers to scan and direct them to the online menu. If your venue is small enough to display the menu on the wall and is still visible from all points in your restaurant or bar, this can be a great option, but if not, a QR code is another great option.
QR codes allow customers to scan a code on their phone, which directs them to their search engine and displays your restaurant's online menu. If neither of these is an option for you, another great idea is the usage of TVs to display menu items.
At any establishment with self-pour, Untappd significantly enhances the user experience for self-pour patrons. With this integration, information about each beer you serve is displayed directly on its corresponding screen, with statistics like ABV and IBU. On larger screens above your tap wall, you can display a live feed of Untappd users' most recent pours at the beverage wall.
Besides adding a social element to the beer wall and allowing multiple channels to update at once from one source (your beer wall, your website menu, and your Facebook menu), Untappd allows you to directly add and subtract beers from your list of offerings at your tap wall. You can then link your PourMyBeer screens with that list to display whichever beer is on tap there. These features will save you time and allow you to pull product info directly from the Untappd database to the PourMyBeer screen.
Keep Your Drink Menu Flexible
When developing your menu, it is a great idea to switch out drink items from time to time, especially regarding beer. This makes it easier to change out for seasonal beers and adjust your menu to trending styles. Keeping your bar's drink menu fresh is something that should happen based on the seasons; you don't want to be offering winter beer during the summer. To learn more about what beers your restaurant should carry, click the button below. But don't forget about non-alcoholic beverages! Adding seasonal non-alcoholic drinks is a great way to make all of your customers feel included.
Make Self-Serve Beer a Part of Your Bar Menu!
We may be a little biased, but one of the best ways to take your bar menu to the next level is by adding a self-serve beverage system to your establishment. Self-pour technology helps operators like you increase beverage sales and serving efficiency while reducing waste and the cost of labor all at the same time.
Adding our self-serve beverage system to your establishment can improve your bar menu by creating another line of revenue for you and allowing for a broader selection of beverages. Customers can get up and serve themselves whenever they want, which means staff can serve more guests at other tables. You can also remove the bar menu from the table by having everything right there on the beverage wall.
Not only is adding a self-serve beverage system great for your business, but it also gives your customers the freedom to pour anything by the ounce and enjoy the freedom to sample whatever their hearts desire without having to ask the bartender for that embarrassing free sample.
If you're interested in learning more about how PourMyBeer's self-serve beverage system can help you take your restaurant bar menu to the next level, call us at (312) 416-9989 or email us at sales@pourmybeer.com.