Game Changer For Increased Sales
Do you want to earn more money, waste less Product, and be the most talked about spot in town?
With Self-Pour Taps, You Will...
✅  Increase Profits by 45% or More
✅  Decrease Labor by 20% or More
✅  Increase Your Service Efficiency 4x 
✅  Reduce Waste to as Little as 3%
What Our Customers Say About PourMyBeer...
Brian Rummer, Owner of Barlow's Public House, spoke with us to share why he chose PourMyBeer over other providers in the market. After doing his market research and noticing that many other owners switched to PourMyBeer, he ultimately decided we were the right fit for his restaurant in Vancouver, WA.
Here is why Self-pour tech is a great solution in this new normal!
Self-pour technology helps establishments across the world reduce labor costs and eliminate staffing challenges! Since guests serve themselves, servers can focus their efforts elsewhere, increasing the overall level of customer service.
The Golden Mill, one of our PourMyBeer family members, operates a 6,000 sq. ft. venue with 56 self-pour taps. With the installation of PourMyBeer beverage walls, The Golden Mill can successfully serve 6,000 guests each weekend! To learn more about how a self-serve beverage wall could reduce your staffing issues, download the case study below! 
Besides helping with staffing challenges, self-pour beverage walls grant these major benefits…
How Self-Pour Tech is Changing the Economics of Owning an Establishment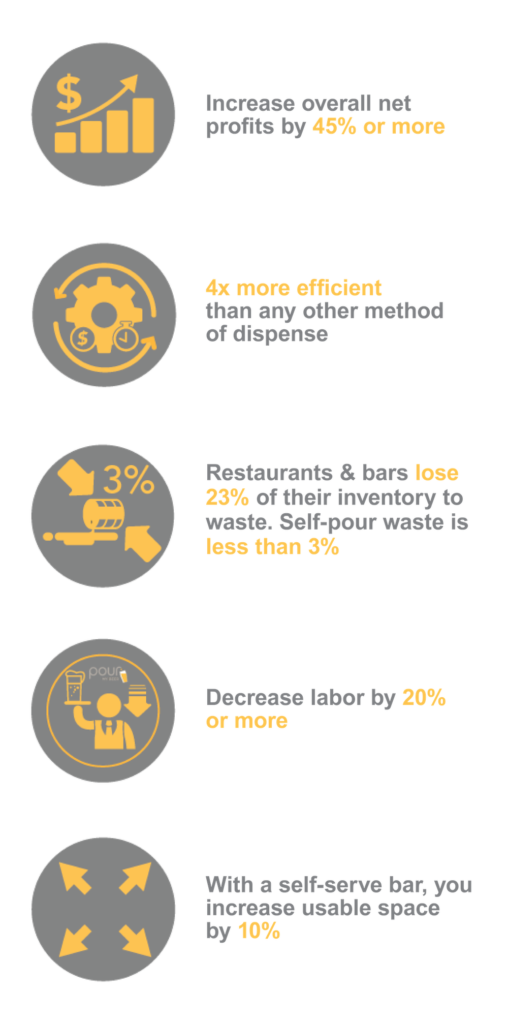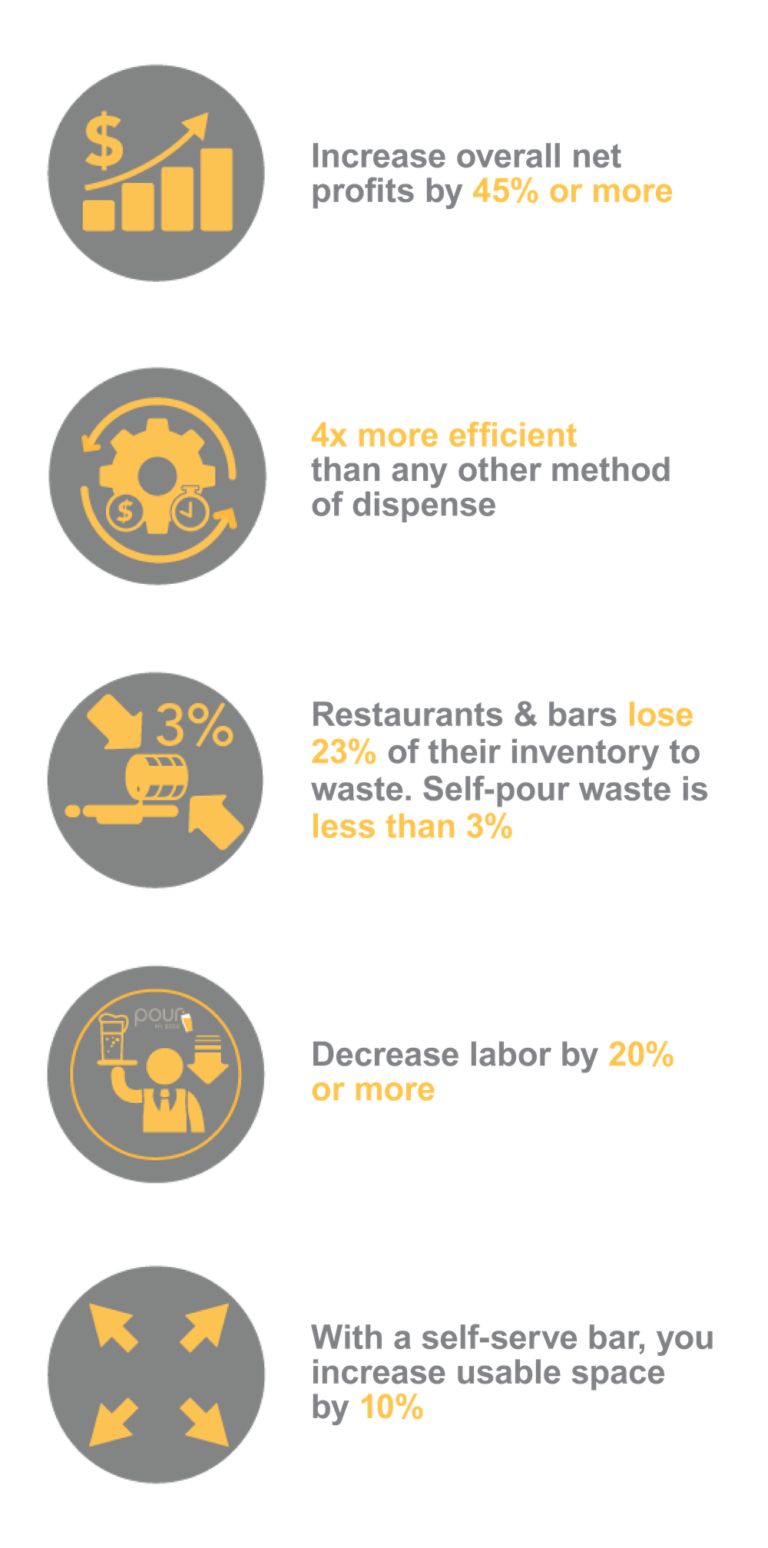 Customers can serve themselves simultaneously while still respecting one another's space. Self-service means everyone gets drinks exactly when they want them, and your staff can focus on providing fantastic and attentive service elsewhere. 
Maximizing customer flow is crucial to increase sales. With self-pour, your establishment can rotate through more customers since they can pour simultaneously. 
SIMPLIFY OPERATIONS & INVENTORY
Self-pour technology eliminates staffing challenges, saving you time and money. With less staff required to safely and efficiently run your bar, self-pour technology will allow you to run your operations smoothly, and you'll save on labor costs.
Self-pour also allows you to simplify your inventory. Kegs work to reduce your use of bottles, making inventory much more eco-friendly, and also much easier to track and maintain from an operational perspective.   
AVOID CREATING CROWDS & OPTIMIZE SPACE
Busy and concentrated areas are eliminated, unlike at a traditional bar where customers wait in long lines to receive a drink. This allows for space optimization due to the simple layout of self-pour.
LOWER YOUR OPERATIONAL COSTS
Fewer staffing needs and thus less wage expenditure means you save big. Self-regulation by customers means less over-pouring and spilling costs.
OFFER CONSISTENT DRINK QUALITY
Kegs are vacuum sealed and cooled, so drinks (particularly wine) stay fresh several weeks after being stored. This means customers get the same fresh taste on Day 60 as they did on Day 1.
There is practically no waste! Free samples are unnecessary since the customers pay for each ounce poured. And with the customer in control, there is no room for staff error by mixing up drink orders or forgetting to enter them into the POS.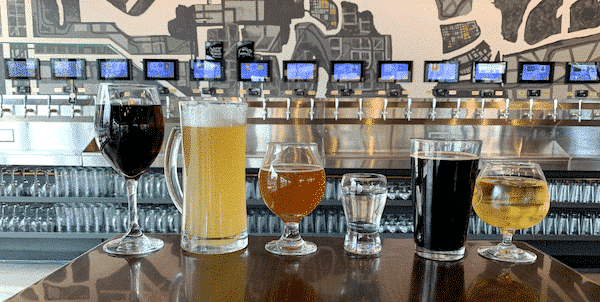 Selected by more major brands than all other providers combined
Questions about spacing, pricing, licensing, or anything else?
We got answers!
What Could Your Wall Look Like?
If you want to learn more about getting started with self-pour technology, we have the perfect resource for you! PourMyBeer's Self-Pour University will guide you through every stage of your journey from ideation to opening night. Learn all you need to know about how to get started below! 
Get Your Zero Pressure, Hassle-Free Quote Now!