How to Execute Cocktails on Tap
If you can keg it, PourMyBeer's technology can pour it! That's our go-to slogan, but many people don't realize exactly how many types of drinks you can keg.
Offering drinks on tap is an awesome idea that gives you the freedom to serve beverages like beer, wine, cider, cold brew, and kombucha. Another excellent option — one that is often overlooked — is having cocktails on tap. Cocktails are traditionally prepared one at a time but can be kegged with surprising ease, and the benefits of self-pour technology apply just as strongly.
Getting cocktails set up on self-pour taps involves most of the same steps and similar equipment to a beer or wine setup, but there are a few nuances to keep in mind. Keep reading to learn how to execute cocktails on tap to elevate your venue and enhance customer satisfaction.
If you'd like to access a book full of batched cocktail recipes, click the button below! Our cocktail book includes 15+ recipes for delicious batched drinks! Whether you're looking to add margaritas or fruit crushes to your beverage offerings, we've got all the recipes you'll need to add something fun for your customers!
If you'd like to access a book full of batched cocktail recipes, click the button below! Our cocktail book includes 15+ recipes for delicious batched drinks! Whether you're looking to add margaritas or fruit crushes to your beverage offerings, we've got all the recipes you'll need to add something fun for your customers!
Everything You Need to Know About Cocktails on Tap
Simply put, if it is a liquid that can be kegged, our tech can pour it! Check out how Flourish, in Oak Park, IL, makes its cocktails.
Why Should Bar Owners Care About Draft Cocktails?
Here's why you should care about draft cocktails:
Cost reduction:

No more heavy, inconsistent pours. Draft cocktails cost you the same amount every time.

Increased efficiency:

Rather than having to mix a single cocktail every time it's ordered, you can mix an entire batch at once, which also allows for reduced labor costs.

Less waste:

Every tenth of an ounce is tracked. No free shots are given away, and drink tabs can't be "forgotten" or incorrectly entered into the POS.

Simplified inventory:

Say goodbye to the days of dealing with hundreds of bottles everywhere! Draft cocktails make it easy to keep track of inventory.
Hear from an experienced self-pour operator who has seen great success serving cocktails on tap below!
Why Customers Prefer Self-Pour Cocktails
Self-pour cocktails benefit your customers as much as your business:
Convenience:

Customers can now buy any cocktail by the ounce, whenever they want, without having to wait for a bartender or waiter.

Cost:

Guests aren't constrained to ordering a whole glass of a cocktail they might not like.

Consistent taste:

Bartenders make drinks the way they like them, which is fair but doesn't provide consistency. With self-pour technology, customers receive the same delicious cocktail every time they pour.

Easy sampling:

Customers can conveniently sample small amounts of various cocktails on tap without possibly spending $12 on drinks they don't like. This provides customers with the freedom to find the beverages they enjoy without paying too much.

Fun:

Guests become the bartender. They engage with each other as they chat about their favorite drinks. Self-pour cocktail bars make the dining experience all the more social and personal. And the best part is that your customers may share their cocktail escapades on social media, showcasing your establishment and providing you with free and valuable exposure online.
All the Equipment You Need You Need for Kegging Cocktails
Kegging cocktails is an excellent way to dazzle your customers. If kegging cocktails is a proper fit for your establishment, here's a look at the equipment you need to get started:
Kegs: A keg is important as it preserves the integrity and flavor of beverages. Cornelius kegs, also called "corny kegs," are one of the more common types of kegs for cocktails. Corny kegs typically hold 5 gallons (640 ounces) or less.
CO2 and nitrogen cylinders: Of course, a CO2 tank is essential for carbonated drinks. A nitrogen system is an optional accessory that allows you to serve still cocktails.
Keg agitator: Keg agitators provide an easy and effective way to mix drinks inside the keg. Unlike other beverages, cocktails need to be perfectly combined for the right flavor and consistency. Different ingredients may settle or separate in the keg if they aren't shaken, and a keg agitator is the perfect way to combat this.
Couplers: Couplers help push the gas in and the cocktails out.
Scale and measuring cup: Scales and measuring cups take the guesswork out of mixing cocktails.
Batching cocktails is a similar process to making a single portion but with some small adjustments. Perfecting your batches may take a little practice as you experiment with ratios. Generally, you want to start by multiplying the ingredients and then slightly adjusting the recipe as needed for the batch.
To get your recipe just right, your ingredient ratios need to be slightly adjusted compared to making traditional single cocktails. Keep this in mind and do a few test batches before serving any cocktails to your crowd. You can keg practically any cocktail with the proper care and attention to detail: Just add carbon dioxide or nitrogen and remove the oxygen from kegging tanks.
As a reminder, nitrogen is recommended for nearly all cocktails except those that are carbonated. Another general rule of thumb for kegging cocktails is that temperatures need to stay low so that the beverage stays cold. Still cocktails will give you room to play with storage temperature, but carbonated ones should remain in a storage location of about 38 degrees Fahrenheit.
A 5-gallon keg holds 640 ounces of liquid. When creating batch recipes, you'll want to leave a little room to shake the keg regularly to ensure all ingredients remain mixed. The cocktails you keg are up to you. Be creative!
One general tip is to avoid frozen ingredients or those with lots of pulp, as these can clog the lines. Once you've selected some tasty cocktails, convert the single-drink recipe to a batch size using this example formula:
Moscow Mule: 1 Drink
2 ounces vodka
0.5 ounces lime juice
3.5 ounces of ginger beer
Converted to a Batch of 600 Ounces
2 ounces x 100 = 200 ounces vodka
0.5 ounces x 100 = 50 ounces lime juice
3.5 ounces x 100 = 350 ounces ginger beer
After tweaking each recipe to your liking, make sure to carefully record it for future batches to maintain consistency.
Now, it's time to bring in the nitrogen or carbon dioxide tanks and regulators. This is the most technical part of the process, but a professional can help ensure the setup is completed properly.
Learn how to batch Moscow Mules in this video. You'll get a step-by-step tutorial of how to perfect this recipe so you can utilize cocktails on tap in your venue!
Popular Cocktails on Self-Pour Taps
The following are popular choices for self-pour cocktails:
Paloma
Mojito
Gin and Tonic
Old Fashioned
Margarita
Cosmopolitan
Espresso Martini
Self-Pour Cocktails Tips and Tricks
Need some tips and tricks to make your setup and batches top-notch?
Shake it up:

Before setting up mixed drinks on tap for a busy night, you'll want to make sure to shake them to ensure all ingredients are mixed. Another option is buying a keg agitator that does this automatically. You can also stabilize drinks with acid blends that remove all CO2 from the keg.

Proper Temperature:

Keep in mind that most cocktails are served cold. Still cocktails will give you room to play with storage temperature, but carbonated ones should remain in a storage location of about 38 degrees Fahrenheit. You can stabilize drinks with acid blends and remove all CO2 from the keg as well. Once the keg is empty, we recommend using Star-San, the industry standard, to clean the keg before refilling.

Infuse the drinks:

A simple but effective way of enhancing your self-pour experience, if your setup allows for it, is to provide the option to infuse drinks with creative and flavorful ingredients. Opt for preserved ingredients like dried fruits, teas, herbs and spices, and edible flowers. Infusions give guests an easy way to customize standard or signature batches.

Offer garnishes:

One of the best things about enjoying cocktails is the fun presentation. Consider boosting your cocktails on tap system by offering garnishes for popular drinks. Mint, lemon, or lime slices, fruit wedges, and coarse sea salt make aesthetic garnishes.

Host workshops:

You can also have nights where you set up informative and entertaining cocktail workshops. Customers will remember the tips they learn for years to come!
Let's get into some do's and don'ts of cocktail kegging. First up is the do's:
Do have an ice machine nearby, preferably at counter height.

Do offer standard favorites and signature cocktails.

Do have your staff shake the kegs a few times during the day or night to ensure ingredients are mixed. Alternatively, use a keg agitator.

Do clean the lines with a professional draft cleaning service at least once a month.

Do mark the date on which the cocktail was batched on your keg.
Now, check out some dont's of cocktail kegging:
Don't use ingredients that perish quickly unless you plan to stay on top of it.
Don't use ingredients that contain pulps or solids, as these will clog up the draft lines.
Finally, keep in mind that state standards can differ. Each state has different standards for batched drinks, so do your diligent research. If you're looking for more specific do's and don'ts when kegging cocktails — i.e., how to handle garnishes — check out our webinar on How to Execute Different Drinks on Tap. We spoke with industry experts who shared tips on how to profitably and efficiently execute kegged cocktails, wine, cold brew, and more on tap.
Popular Kegged Cocktail Recipes
Look no further for draft cocktail recipes that are sure to be a hit! These recipe batches suit your standard 5-gallon kegs:
Margaritas are one of the most popular cocktails thanks to their all-encompassing flavor profile — they're sweet, sour, salty and bitter. The margarita is the perfect cocktail to batch. Here are the ingredients you need:
5.25 liters of tequila
1.75 liters of triple sec
6 bottles of Rose's Lime Juice
1 gallon of apple juice
40 ounces of pulp-free orange juice
373 mililiters of Grand Marnier
Water to top
The mai tai is a tart cocktail that combines hints of orange and lime with a bold rum flavor. It hits you with sourness, followed by a fruity sweetness. Here's what you need to make a batched mai tai:
7 liters of rum
Two 2.5 liters of pineapple rum, white rum, and dark rum
1.5 liters of triple sec
1.5 liters of orgeat
3 liters of 6% citric acid and 4% malic acid solution
1.5 liters of simple syrup
2 liters of filtered water
The bourbon grapefruit fizz — or old-fashioned Paloma — perfectly combines sweet, citrusy, and sour flavors, coming together with a standout grapefruit flavor and refreshing fizz. Here's how to make it:
6 liters of bourbon
3 liters of grapefruit juice
1 quart of lime juice
10 dashes of bitters
8 liters of lemon-lime juice
For an autumn beverage of dreams, combine the following ingredients:
Two 1.75 bottles of bourbon
1 gallon of apple juice
14 bottles of ginger beer
Espressotinis are brunchtime favorites, and you can make them in batches to serve your customers: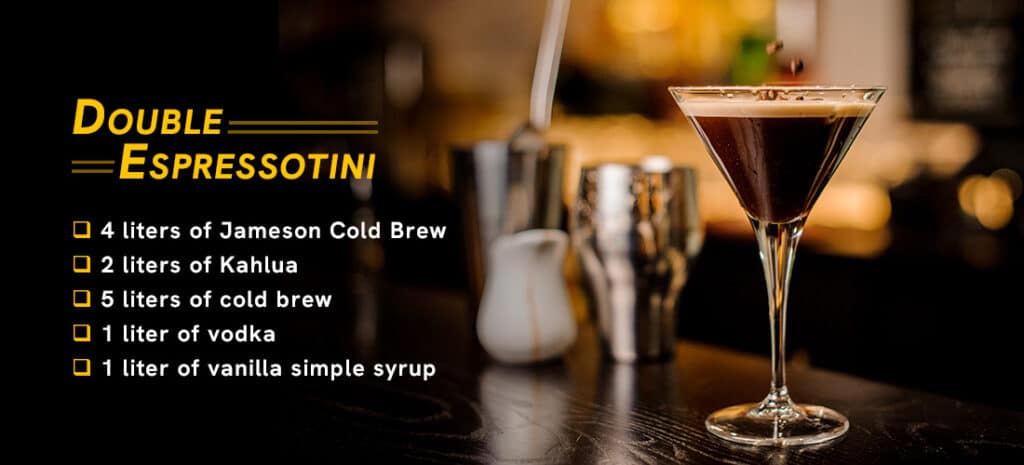 4 liters of Jameson Cold Brew
2 liters of Kahlua
5 liters of cold brew
1 liter of vodka
1 liter of vanilla simple syrup
The Bee's Knees drink is a Prohibition cocktail. Here's how you can make a spicy variation:
4 liters of gin
4 liters of hot honey
4 liters of pulp-free lemon juice
4 liters of water
Rum punch is a classic crowd-pleaser that you can make with the following ingredients:
4 liters of rum
1 liter of grenadine
1 liter of pulp-free mango juice
1 quart of pulp-free lime juice
1 quart of pulp-free lemon juice
4 liters of soda
For each of these batches, start by mixing the ingredients in a large pitcher and top water. Carefully pour the cocktail mix into the keg and secure the keg with the top fitting. If you have a keg with an automated stirring feature, you are good to go. Otherwise, be sure to shake the keg about three times a day to keep the cocktail combined.
Learn more on How to Keg Drinks here, or watch the video of our PourMyBeer family member utilizing cocktails on self-pour taps in his 3 self-serve taprooms.
Frequently Asked Questions
Looking for even more information? We've got you covered. Keep reading for info on which cocktails are most popular and whether your business will benefit from self-pour systems.
What Is the Most Popular Cocktail?
Maybe you want to start small by offering one cocktail. But which one? Everyone's favorite cocktail comes down to personal taste, but the classic margarita still reigns as the most popular cocktail in the United States. Some close runner-ups include the cosmopolitan, daiquiri, martini, and mimosa.
How Do Self-Serve Bars Regulate Consumption?
Self-pour technology actually makes it easier to track every ounce of every beverage customers pour. Self-pour systems use radio frequency identification cards (RFIDs) that link to a customer's credit card and manage consumption. Customers must insert or tap the card with every pour, and operators can set specific limits on how much a customer can pour or how much a customer can mix different drinks. Self-pour systems also have age verification and ID check features.
Which Venues Benefit From Self-Pour Systems?
Any venue can enjoy the advantages of a self-pour system to increase customer satisfaction and save employees time! Self-pour systems make excellent additions to bars, restaurants, wedding venues, sports bars, and bowling alleys.
Start Executing Cocktails on Tap With PourMyBeer
As an operator, you now see how cocktails on tap will satisfy your customers and increase efficiency. Self-pour systems don't take away from your team but empower your workforce to impress customers and drive revenue.
At PourMyBeer, we distributed self-pour systems before creating our own based on market needs and innovations. Become a part of the self-pour revolution now with PourMyBeer! Feel free to contact us at 312-416-9989 or request a quote today.