The hospitality industry has faced many challenges in the aftermath of the COVID-19 pandemic. Even years after the outbreak, we continue to see its ever-changing impacts on the industry. Though some aspects have certainly improved with time, it is without a doubt that there are still many barriers to face.
In the last few years, hospitality business owners experienced record-breaking labor shortages. This all-time high staffing crisis hit the industry at a magnitude we have not seen in decades. Job openings and worker resignation rates are at record highs and show no signs of slowing. In April 2021, Forbes reported that 4 million workers left their jobs, increasing the number of job openings to 9.3 million — a new record.
But fear not, restaurant and bar owners. This is your restaurant's guide to overcoming the labor shortage. We know the struggles you're facing, and we're here to help you navigate through this challenging time. It's time to find creative solutions, think outside the box, and bring the fun back to your establishment.
Before we share solutions to this unprecedented labor shortage in restaurants, we must first understand why this is all happening. It's essential to have a solid grasp of the underlying factors driving the restaurant labor shortage to address them effectively. So, let's roll up our sleeves and delve into the reasons behind this workforce conundrum.
The COVID-19 pandemic spurred many changes, but its effect on employment was one of the most significant. Many restaurants survived the pandemic with limited staff or closed down entirely. Although these eateries are now getting back to normal operations, managers have to fight persistent labor shortages in their staffing.
Workers are not returning to hospitality jobs following the pandemic for many reasons. Some still have anxiety about catching the virus, especially when interacting with hundreds of customers per shift. Others hesitate to return to positions lacking certain benefits or believe they need more room for career growth.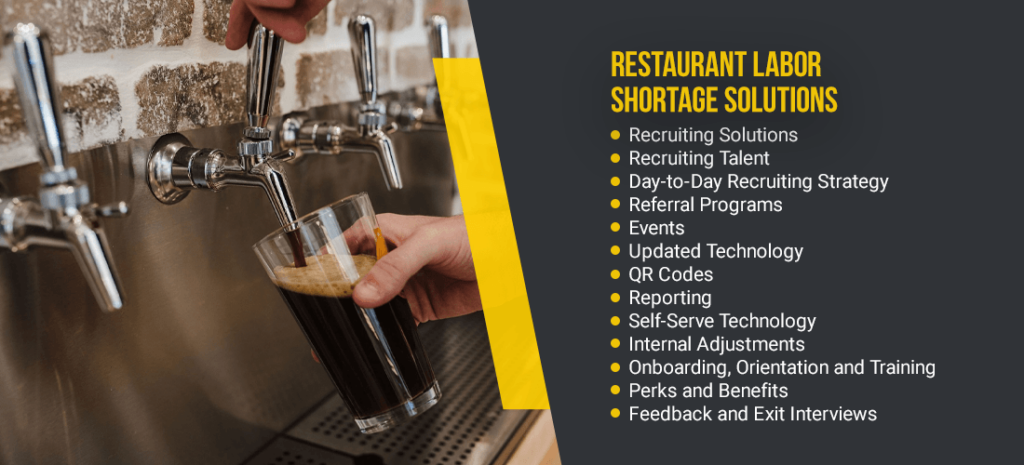 The restaurant labor shortage calls for creative solutions. Here are a few strategies to overcome this challenge:
Strategies to Help Restaurant Workflows During the Labor Shortage
During the labor shortage, implementing effective strategies to optimize restaurant workflows is crucial. Here are some tactics to help streamline operations:
What Is the Future of Staffing for the Restaurant Industry?
The future of staffing in the restaurant industry is a dynamic landscape where technology, creativity, and adaptability reign supreme. Gone are the days of relying solely on traditional hiring methods and hoping for the best. We're entering an era of exciting possibilities that will revolutionize how we find, attract and retain top-notch talent.
No one can really say, but owners, operators, and managers need to find ways to alter operations to meet consumer needs while operating with less staff.

The staffing crisis we're experiencing in the restaurant industry is influenced by a myriad of variables, including shifts in the job market, changing workforce demographics, and evolving employee expectations. The COVID-19 pandemic has undeniably shaken up the labor landscape, with its lingering effects continuing to impact the industry.

Despite being the most labor-intensive industry, technology acts as a crutch to increase the speed of service and improve customer satisfaction.

Navigating the labor shortage is challenging, but the restaurant industry has always had its challenges. Owners, operators, and managers have continuously found ways to manage the challenging landscape.
If you're a manager in the hospitality industry, you may have found yourself with fewer employees than ever before due to the ongoing labor crisis. The COVID-19 pandemic caused many staffing changes in your industry, but with the economy moving forward, managers and business owners are rebuilding as best they can.
One potential path toward resolution lies in the gradual recovery of the job market as the effects of the pandemic subside. As economic conditions stabilize and businesses regain their footing, we can anticipate an increase in job opportunities, enticing more individuals to rejoin the workforce.
Moreover, advancements in technology and automation may play a role in alleviating the labor shortage. We may witness the rise of innovative solutions, such as self-service solutions, robotics, and AI, that help streamline operations, reduce dependency on human labor, and optimize efficiency within the industry.
As of now, the restaurant staffing situation continues to be challenging, with high demand and limited supply. The COVID-19 pandemic has left a lasting impact, with many factors contributing to the ongoing labor shortage. Some key observations can help us understand the current outlook.
Changing workforce dynamics and difficulty in attracting and retaining talent contribute to the ongoing labor shortage. Innovative strategies, employee-centric practices, and industry collaboration are key to navigating the staffing landscape.
According to a report by the National Restaurant Association, it may take more time for restaurants to return to normal. In 2021, the food service industry added back 1.7 million jobs, but many restaurants are still understaffed and facing difficulty recruiting and retaining employees.
However, the U.S. government wants to get the profitable hospitality industry back on track. Both government entities and business owners are investing money in new technology and better facilities in hopes that these changes will get the wheels rolling again. To keep the employees they hire, restaurant managers and owners may need to adopt new tactics.
Employees typically quit restaurant jobs because they need more career growth. Managers can change this in their own restaurants by rewarding good performance and emphasizing the potential for promotion. If employees see areas for advancement, they're more likely to stick around.
As staffing shortages continue, about 8 in 10 restaurant operators say that technology may help them compete by filling employment gaps and helping them pursue new business channels. When it doesn't diminish hospitality, the right technology makes for a better experience for restaurant owners and customers alike.
When the COVID-19 pandemic hit in 2020, millions of restaurant employees faced unemployment. As businesses return to typical conditions, many restaurants face employment shortages. The small staff they had during the height of the pandemic is no longer sufficient as customers return to restaurants in large numbers.
Restaurants and other food service industries are still below pre-pandemic employment levels. As a restaurant owner, you may need help to provide adequate staff, especially for busy shifts. These challenges make scheduling more complicated and you may need to schedule fewer people than you would like to staff all shifts.
PourMyBeer's self-service kiosks provide restaurant labor help. Customers can pour from a variety of beer, wine, cocktails, cold brew, or kombucha. Restaurant operators love this system because it allows them to operate with 20% less staff. Customers will enjoy better service, even during labor shortages. Staff members can focus on customer interaction rather than running back and forth for drinks and guests love using the system to pour their drinks.
With PourMyBeer, your business can fill employee gaps with intelligent, self-serve technology. Our tap walls can include one tablet with one to four taps. You can customize the tap wall to fit your business's needs. Customers will also benefit from more accurate orders. Their drink order will never get lost or mixed up because they can fill their cups with their chosen drink.
With beverage walls, you can focus on other essential parts of your business with confidence that your equipment will provide quality results. Even with heavy use and consistent splashes, industrial-grade equipment will last. If you ever have questions about your taps, our customer service team can help.
The time you spend running your business might leave you, well, running! We know you're on the move, so we created tap walls you can manage from anywhere. Track dispensing, set limits, check sales, and look for trends, all while on the go. Feel the freedom of easy tap wall management and put your energy into helping your business thrive.
As restaurants re-open after the pandemic, hiring has soared. The food service and hospitality industries in the U.S. hired about 1.1 million people in March 2023. Although hiring is high, so is the number of workers leaving their jobs — in the same month, about 1 million people quit.
While you might hire new employees, you may not see overall growth in staff, making it difficult to maintain adequate staff levels. To accommodate these conditions, 40% of restaurant owners added technology during the pandemic. These additions included online ordering, contactless payments, and other solutions. As restaurants continue to endure staff shortages, this technology can help ease the struggle and reduce labor costs. Self-serve technology like our tap walls can prevent long lines.
In a traditional bar, customers often crowd the space waiting for a bartender to finish another customer's order before making their drink. If you have fewer bartenders than usual due to a staff shortage, wait times may increase and customer satisfaction may decrease.
With a tap wall, customers can get whatever drinks in whatever sizes and quantities they want without waiting for human bartenders. Each guest can choose exactly what they want to order and pour it for themselves, ensuring they like their drinks. Customers will enjoy better service and lower wait times even with fewer staff.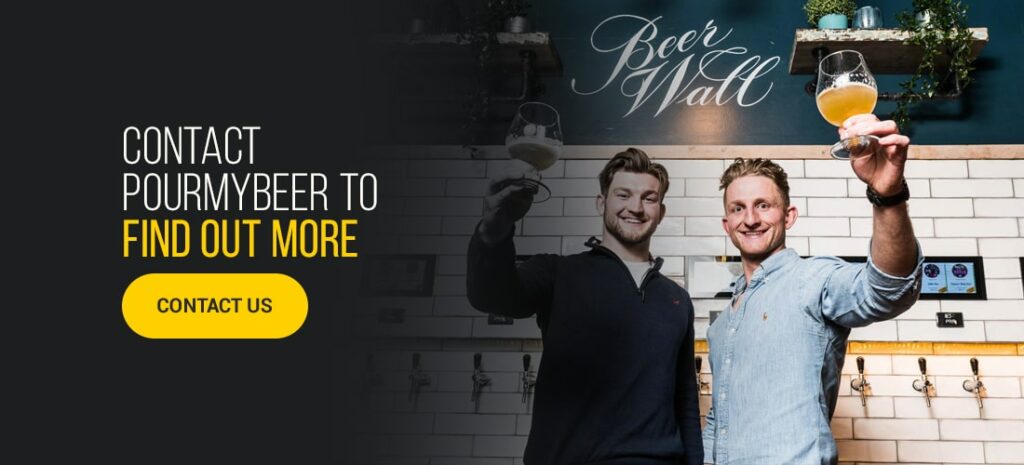 PourMyBeer technology can help your restaurant address and recover from restaurant labor shortages. As a restaurant owner, you work tirelessly to provide a valuable customer experience for your guests. Your limited staff works hard to ensure customers love visiting your business and want to come back again.
Unfortunately, labor issues can cause customer satisfaction to plummet. Customers lose patience when they must wait longer for service. When employees are available to help, they may be distracted by many other guests. Multitasking out of necessity could lead to order mistakes and other issues that make guests less likely to return. Meanwhile, staff may feel less optimistic as customers complain of mistaken orders and lower-quality service.
PourMyBeer can help. Our self-serve taps allow customers easy and fast access to the drinks they want without waiting or risking incorrect orders. Beyond improving labor shortages, our tap walls reduce the time your team spends making drinks. Instead, staff can enjoy taking more time to converse with guests and form connections that turn one-time guests into loyal regulars.
We hope you've found some of these solutions helpful when overcoming staffing issues in your establishment. If you need help hiring and maintaining your staff, check out our guide below!