Is Tech Overtaking Analog for Operators?
As we merge into a new era of technology, many restaurant operators are left wondering if the tech they've adopted still has merit. After all, now that businesses are opening and travel restrictions are slowly lifting, it makes sense to wonder if the temporary measures to combat these challenges are necessary anymore.
However,
73% find that technology actually improves their restaurant experience overall if you ask the average guest.
This statistic is telling; technology has become not only appreciated by restaurant-goers, but more importantly, expected. And why wouldn't it? We use technology in every facet of our lives; it makes sense we'd want it to integrate into our dining experience.
Even with guest appreciation at an all-time high, technology serves another vital purpose: supplementing your current staff. This overlap is where Analog and Tech meet in the middle to create a new experience, bringing together the best of both worlds. As we'll explain, tech is essential for lowering burnout and churn for food-service employees, especially during this sudden hiring drought.
The question remains: how do you ride the tech wave to best suit your business model? We have the statistics and trends to guide you through.
Read the full article or jump to a specific section:
The Trends are About Empowerment, Not Replacement
The aim of technology isn't to replace servers or the experience of sitting down to dinner. Instead, these trends center around empowering both guests and staff to have more human connections and live in the moment during a meal. Technology allows guests to choose their own adventure when dining and supplements servers for a greater chance to upsell.

Each of the prevailing trends emphasizes shared control over choices and the restaurant service pipeline. Speaking simply, this bodes well for the future of the industry. Easing the burden on servers while increasing guest satisfaction in tandem is a win-win situation for operators. When the goal is increased revenue and returning customers, giving the people what they want is the tried and true way for success.
However, what are the actual statistics behind guest choices? Many tech companies and restaurant publications are scrambling to find which way the road is taking the industry. As we dive deeper into the numbers, we begin to see a pattern emerge that's undeniable: transparency and empowerment are vital for guest satisfaction.
Top features are a must for delivery & ordering
In the world of tech, versatility and utility are key factors in what becomes standard and what falls away as a fad. Guests find their favorite tech features to center around transparency and freedom of choice.
For example, two top features guests say have improved their experience are the ability to track the entire progress of their order from kitchen to delivery and specific alerts when their orders have left the restaurant or near their destination. Tracking is a valuable tool, especially when guests can use it to plan out their meals around delivery.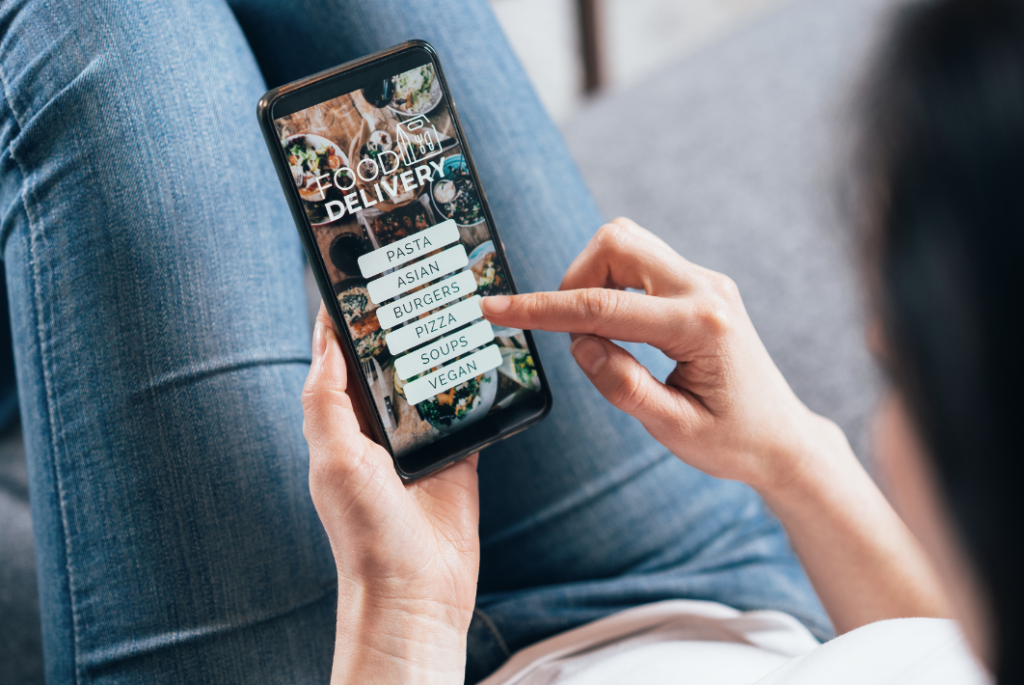 The ability to order ahead of time falls into the popular feature category as well, thanks to the freedom of choice and preparation it gives the guest. Paired with mobile payment compatibility and storing that information, ease of access is a big value prop for restaurants. This also gives the operator the power to move away from reliance on third-party platforms, forming a customer base and analytic view that is solely their own.
QR code payments will see complete normalization
QR codes are another technology trend that's seeing not only increased use but permanence as well. The ability to store payment information is necessary for businesses to thrive and QR codes are an easy way to please guests with no app-download necessary. Although there is fear that QR codes are tracking our every move much in the same way cookie sites do, many app-less QR solutions don't use the pixel tracking most often found in apps and programs. If data privacy is your concern, there are many options that avoid the data harvesting so many are shying away from.
Many are projecting this payment method to see a growth of 240% between 2020 and 2025, making it one of the fastest-growing tech adoptions in America. It's one of the most accessible options to make the switch to since printing out custom signage that directs straight to your ordering URL can be done from a variety of services. Although it has become increasingly popular to have a menu accessible from those same codes, that's really only using half of what these powerful tools can do.
Brand experience is vital in recognition and visibility, and while many simple handheld devices can get that guest payment information, nothing is as customizable as an easy QR code. In the same vein as many other popular pieces of tech, it also allows the guest to make their own choice of when to pay or order for a fully empowering experience.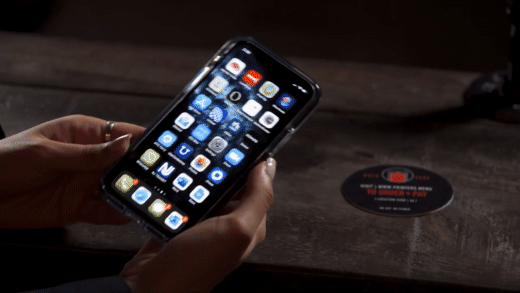 Good marketing is straying away from digital clamor
41% of marketers believe that events are the single most effective marketing channel over digital advertising, email marketing, and content marketing. This new number reflects a 32% increase since 2017. As the online marketing ad space fills, businesses are beginning to see an oversaturation of the landscape. More personal connections with the community are taking precedence over digital outreach, especially for mom & pops.
These new insights mark a decrease in popularity for tech marketing due to the sheer amount of competition and sponsored content across platforms. Rather than putting spend into digital ads, it is becoming more innovative and forward-thinking to reinvest in physical space tech. Events within the space are more effective, and that tech will be what sells the space rather than online and creates a more efficient operation overall.
However, keep the generational demographic in mind since, when choosing a restaurant, Gen Z and Millennials are 99% more likely to rely on social media and online reviews than are Gen X and Boomers. So while this event-forward marketing is gaining popularity, it's not ready to fully replace the online space. But as trends continue to shift and change, and new social platforms roll out, there is a chance that we'll be seeing that live number decrease once the thrill of in-person events begins to wear off.
Online reviews continue to dominate public opinion

A half-star rating improvement on Yelp makes it 30 to 49% more likely that a restaurant will sell out seats during its peak hours. These increases, albeit incremental, are hugely significant for booking success. Much of your revenue comes from customers leaving positive reviews that boost your visibility and rating. But the challenge then becomes: how do you convince those loyal customers to leave reviews?
On the downside, 1 in 8 diners will post a restaurant review after their meal, making it harder to improve a score that might need a leg up or fill in that empty review space. Encourage increased review rates with loyalty programs that are adding to popularity. Those with loyalty programs are more likely to see an increase in reviews and stars overall. Whether it's a punch card, promo code, or luxury card program, anything is better than hoping for a sudden push in reviews out of the blue. It will also encourage returners – a true win-win!
Self-Service kiosk are part of the equation
On the more drastic end, self-serve kiosks are spiking in popularity for quick-service restaurants and casual dining. These are the preferred technologies for fast-food locations with less of an emphasis on human interaction and more on turnover. For some of these experiences, especially for chains that can't afford more human workers, these are great additions to the line-up.
In fact, in 2019 self-service kiosk sales rose 17.9% to more than $11.9 billion. Although these are not popular with bars and other sit-down venues, they have their purpose in the grand technological scheme of things. For businesses that suffer from influxes of lines and cashier shortages, these kiosks are the perfect alternative. In fact, if there's a line longer than three people, customers are more likely to use the self-serve kiosk. This continues to support the choice and empowerment trends we're seeing with diners, however this time from a more fast service angle.
The option to accelerate an already streamlined process built for speed is key to these patrons. For most QSR industry operators, providing the option for a faster, solitary experience is vital in both turnover and gaining review traction. If a hungry customer is held up by a line they deem overly long, that can translate to negative reviews and a downturn in revenue, as we discussed in the last section.
Technology is here to stay
However, not every technology solution is made equal. Figuring out your specific business model before adopting systems for the best frictionless experience is crucial for success. Moving forward, operators who've already adopted tech have plans to keep their current systems – around 40% across all six segments of the food-service industry. With the tech industry improving over the past year at a ten-year rate, the early adopters of tech have the edge over analog-only businesses.
This technology adds value to the guest experience and eases the burn-out servers feel, and in fact, many technology adopters have seen an improvement in staff morale and table turn time. Don't make the common mistake in thinking that technology is a replacement for staff. Supplementary tools are necessary to ease the burden on servers since they continue to be and always will be essential to the guest experience.
In fact, collaboration is the way of the future. Many technology companies are rolling out new and better ways to connect the guest and the server to promote more upsell opportunities and face-to-face interactions. There's no removing people from the equation – only amplifying them from either side of the pipeline. By giving all members of the dining exchange the necessary tools they need to have the best experience, we're improving on a traditional concept for the better.
Technology is about empowerment
Technology is all about guest empowerment. Sharing ownership of the experience creates a collaboration that invests the guest in your business and your staff. These trends prove that technology isn't going anywhere, and there are specific ways to adapt and use it to your best advantage. The new trends and rules of 2021 are simple and repeat in every statistic: guests need to feel they have control.
Empowering guests by giving them more control over their choices and experience is a new expectation born from the ease tech gives us in all facets of our lives. We continue to see repeated patterns of transparency, from delivery status to community event outreach to reviews. This indicator is an excellent lens to re-examine your business while preparing for post-pandemic improvements; if it doesn't make your restaurant more transparent, will it actually attract the guest?
As statistics continue to come out, no doubt we'll find new insights and information to guide us through this unknown terrain of a post-pandemic world. Our new eating and drinking habits will force restaurants to make changes and adapt to, however much of our tech dependency has been well documented for years and will not be going away anytime soon.
What we see in the numbers is the manifestation of long-cemented habits finally reaching an industry that's been reliant on analog tradition, and we're ready to adapt.