How Can You Use Events to Get More People Through Your Doors?
Are you looking to attract more customers and boost sales at your establishment? Hosting events can be a game-changer! Not only do they provide an opportunity to connect with your current and potential customers, but they also create memorable experiences that keep guests coming back for more. Whether you're a trendy bar, a family-friendly restaurant, or a thriving brewery, organizing the right events can be a catalyst for success.
Before diving into the exciting world of event planning, it's crucial to understand your target audience. Who are the people you want to attract? Busy moms, singles, millennials, or seniors? By identifying your target market, you can tailor events that cater to their preferences and needs. And don't be afraid to mix it up! If your customer base is diverse, consider hosting a variety of events to serve different segments of your market.
The benefits of hosting events extend far beyond just bringing in extra revenue. They act as powerful tools to increase awareness and expand your customer base. Imagine someone stumbling upon your establishment for the first time through a captivating event. They may have never heard of your business before, but through events, they get a taste of what you offer and are enticed to visit again. Moreover, events create buzz through word-of-mouth recommendations, social media shares, and effective advertising. The more exposure your business receives, the greater the opportunities for growth.
In this comprehensive guide, we'll explore four event categories, each offering a range of exciting options to drive traffic through your doors and skyrocket your establishment's sales. Let's dive in and discover how you can create unforgettable experiences that leave a lasting impression on your guests.
Enhance your guests' night out with the mesmerizing experience of live music! By designating specific nights for live musicians to perform at your bar or brewery, you create an inviting atmosphere that keeps people coming back for more. Whether it's a romantic date night or a casual hangout, many individuals enjoy the ambiance and personal touch that live music adds to their experience.
Below is an example from one of our PourMyBeer Family Members, Lake Tahoe AleworX located in Lake Tahoe, California.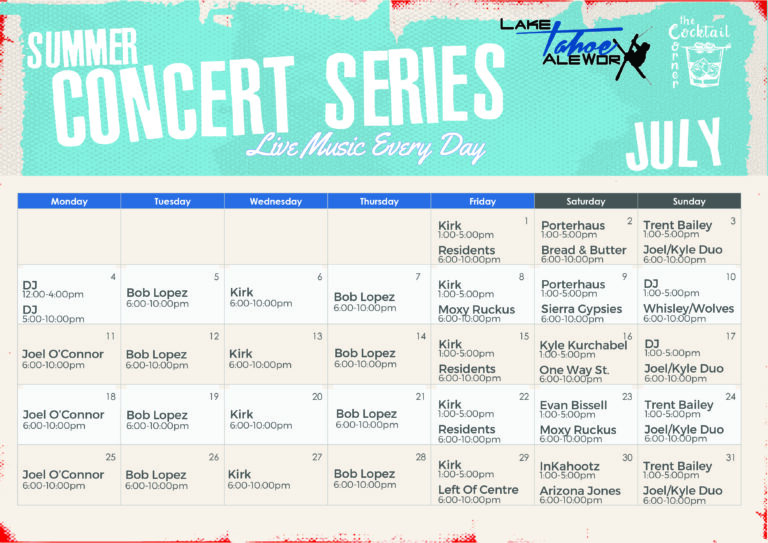 PourMyBeer Pro Tip: Keep your customers informed about upcoming live music nights by leveraging your social media platforms and showcasing a live music schedule on your establishment's website.
Laughter and libations go hand in hand, making comedy shows a fantastic addition to your bar or restaurant. Whether you bring in well-known comedians or local talents, hosting a comedy night automatically boosts foot traffic and injects a delightful sense of humor into your establishment's reputation. A comedy show creates an entertaining environment that encourages guests to stay longer, resulting in increased sales.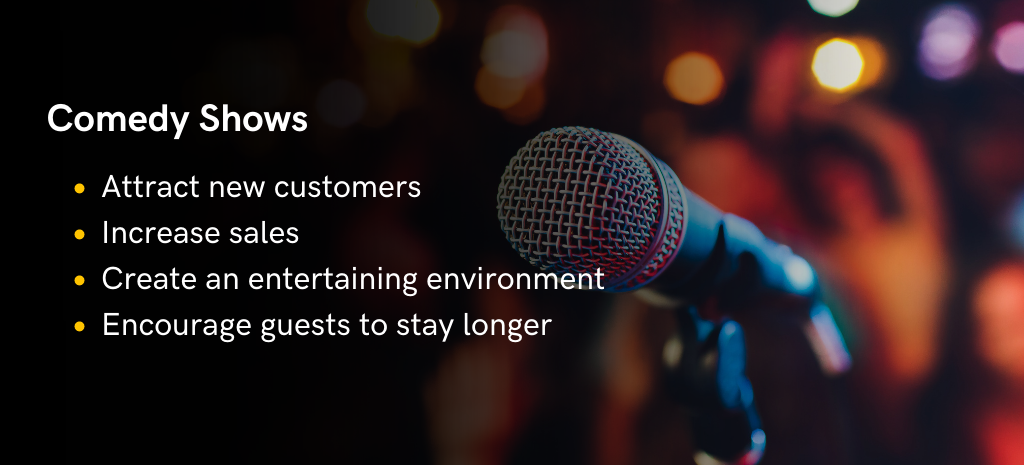 Unleash the hidden talents within your community by organizing open mic nights that attract performers from all walks of life. Whether it's singers, stand-up comedians, or individuals with unique skills, an open mic event provides an inclusive platform for sharing and entertainment. Not only does it draw aspiring performers, but it also entices audiences who can relax, enjoy the show, and indulge in your offerings.
PourMyBeer Pro Tip: Simplify the sign-up process for performers by offering a convenient sign-up sheet accessible via QR codes or dedicated booths. This allows you to keep track of performers and their scheduled performances.
If your establishment caters to a youthful crowd, consider adding a photo booth to capture memorable moments. During the height of a night out, many patrons will want to document their experience through photos. A photo booth provides a creative and interactive way for guests to create lasting memories while keeping your brand top of mind.
Harness the power of social media to increase awareness and engagement for your bar or restaurant. Organize contests that encourage customers to participate by posting creative content, such as photos or descriptions of their experience at your establishment. Offering a gift card as a prize creates excitement and motivates people to continuously visit your venue. Even if only one person wins, the ripple effect of the contest increases publicity and attracts new customers to your business.
If your venue has the space, a real competition can be a great way to engage with your customers. A poker tournament doesn't necessarily require too much setup unless you want a particularly high-end table. Once you have what you need, you can leverage the tournament to boost your marketing presence. Invite anyone and everyone to sign up for a spot and compete over the series of a few days. For the winner, you can offer a reward of a high-value gift card for your establishment, free merchandise from your establishment, etc.
Bring friends together for a night of laughter, fun, and unforgettable performances with a karaoke night. Karaoke attracts people of all ages who love to sing, socialize, and let loose. It serves as a stress reliever and offers a chance for guests to showcase their hidden talents. Even those who prefer not to sing can enjoy the lively atmosphere and cheer on their friends.
Trivia is something that many people love to partake in together. Who wouldn't want to go with friends to your establishment, buy a bunch of drinks, and answer questions in hopes of winning a prize!? You can theme your trivia around pop culture or a well-known TV show. It doesn't matter because even if people don't know much about the topic, many still enjoy drinking and playing for fun.
PourMyBeer Pro Tip: Offer a prize for 1st, 2nd, and 3rd place winners. Prizes could include a gift card to your establishment or free merch.
The same goes for bingo. Bingo is a great activity for family and friends of all ages, providing endless fun and shared challenges. The thrill of possibly winning something will bring anyone in and have them continue to buy drinks!
PourMyBeer Pro Tip: Make sure to offer multiple prizes. Guests will feel like they have more of a chance to win and this will incentivize them to come back and play again.
Food challenges create organic media coverage for restaurants and drive competitive eaters and customers with iron stomachs straight into your establishment to face the ultimate test of man vs. food. And who knows, if your challenge is difficult enough, you could attract food shows like Man vs. Food to come to try out your food eating contest and televise it. This way, you can reach an even bigger audience.
You can call it "Beer Flow." Beer and yoga may seem like an unexpected combination, but in reality, it is a perfect one. People can either drink while they are doing their yoga or wait until after. Regardless it is a popular concept that is a great way to help your customers feel healthy while drinking some of their favorite beers.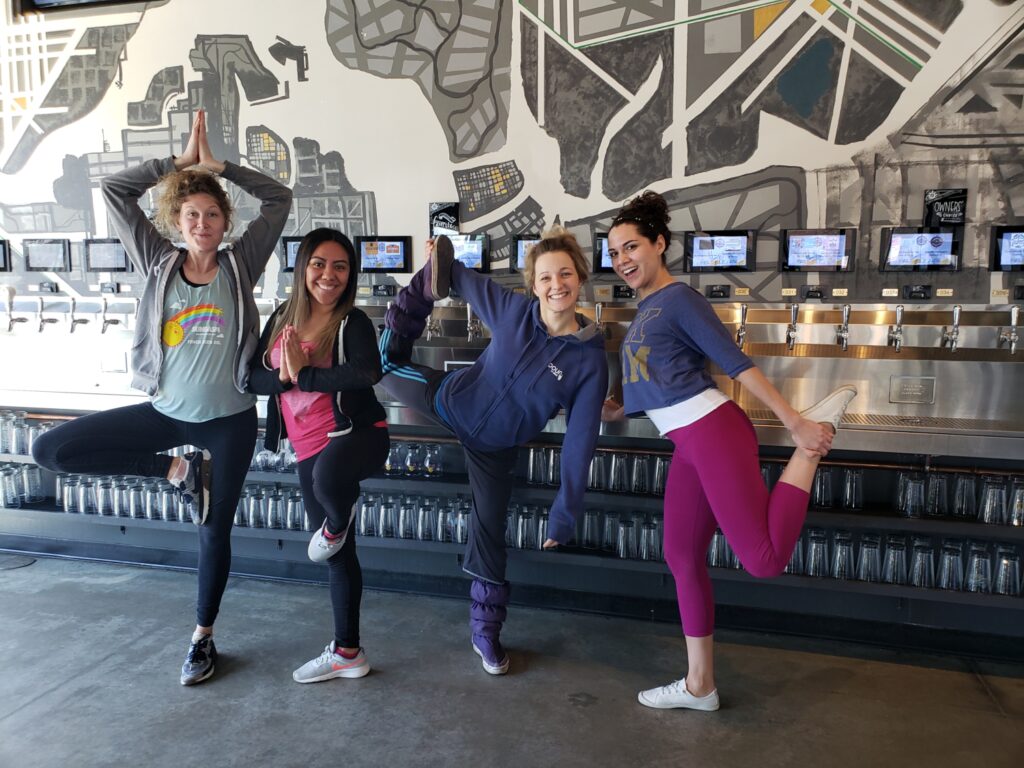 Sports games are a great way to draw customers to your restaurant or bar. There are whole restaurants dedicated to broadcasting games to sports fans. So you'll need to spread the word about the game day experience your restaurant has to offer. Tools like table tents, menus, signage and social media are must-haves for your restaurant marketing as they allow you to communicate with customers that your restaurant has specials on game day.
PourMyBeer Pro Tip: Discounts on food and beverages are an excellent incentive for customers to stop in, and the lowered rate could encourage customers to order more than they otherwise would.
Season/Holiday Celebration Events
Why not celebrate the holidays or a brand new season at your establishment? Many different holidays and seasons give people an excuse to party and have a great time. Themed events such as an ugly sweater party during Christmas, a New Year's Eve celebration, a romantic dinner for Valentine's Day, or St. Patrick's Day parties can be a hit. Consider offering event space for groups and companies to host their holiday events, as this can further increase traffic and sales.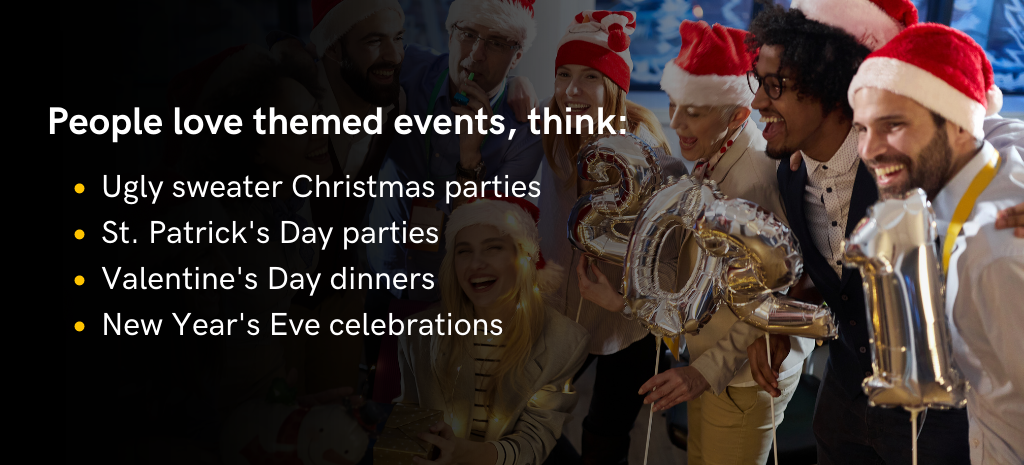 How Can You Market Holiday Events to Increase Bookings?
Social Media – This is the best way to promote your event space/holiday parties. Post about your holiday events/event space on all of your social media platforms with the details that your customers need to know! When are tickets available? What will be served? When do guests need to book the space? The more detail you provide, the better! And, when you promote it on social media, make sure to include the links to the event or reservation software, making it as simple as possible to book and share!
Ads/Signage – While posting on your social media platforms will boost awareness, it's also a great idea to run ads on your social posts where you talk about it! Paid ads help get your content in front of more people, and you can target them to a specific area. Or, if you'd like to go a more traditional route, order large posters/signs to hang inside and outside your establishment to draw people in!
Website – Add your updated holiday events/party space to your site! This will increase exposure, and if people are just looking at your menu online and happen to see your holiday events, they'll remember that when booking theirs and talking to friends!
Partner with Local Businesses – Partnering with businesses in the area to run holiday events is a great way to get the community involved! Your customers will love to support you and another local business, especially during the holidays. Plus, partnering with another business means double the awareness, and you'll have plenty of foot traffic coming to your doors!
PourMyBeer Pro Tip: You can also collaborate with other restaurants and bars in your area for a St. Patrick's Day, Santacon, or Pride bar crawl. Make sure to offer deals on food and drinks or have a specialty drink.
Special Tastings (Wine Tasting, Brewery Takeover)
If your establishment introduces new beers or wines, kick off the night with a tasting event. Allow customers to sample the new products and gather feedback. This creates excitement and helps promote the new drinks. Consider setting a special happy hour discount on the new beer, wine, or cocktails offered at your self-pour beverage wall to encourage customers to try them.
PourMyBeer Pro Tip: Set a special happy hour discount on your new beer, wine, or cocktails on your beverage wall.
Offer incentives for customers to have their parties at your establishment, such as open bar packages or discounts on food. Hosting birthdays, bachelor parties, or company social events at your venue exposes new people to your drinks and food offerings, increasing the likelihood of repeat visits in the future. Consider using self-pour stations to offer a unique bartending experience during special parties and events.
PourMyBeer Pro Tip: With our self-pour station, you can wheel the unit into any event space and offer guests the experience of being their own bartender. These units are the perfect addition to an empty area in your establishment and a great way to add a unique revenue driver to your operations.
Special Cuisine Overtake (Regional or International)
A themed cuisine night is another great excuse for people to come to your establishment to drink beer and eat delicious types of food. Whether this is a country's food style or a specific culture's food, it will open people's eyes to different places worldwide, drive business, and encourage more customers to come back for more events like this. It is also a great opportunity for your establishment to gain visibility in front of different cultures in the area. This is also a great idea when you have a themed night. You can offer foods specific to that theme, play music, and offer games that coincide with the theme.
Organize singles nights to create an environment where people can connect and potentially form new relationships. Such events can attract individuals looking to meet new people and provide a sense of hope, happiness, and love. If successful matches are made at your establishment, share their success stories on social media to entice more singles to attend.
PourMyBeer Pro Tip: If a couple does hit it off at your location, post about their success story to entice more singles to try it out.
Girls' night out is always a fun time and will always result in your business selling more drinks. When deciding where to have their ladies' night, why not give them a great reason to come to your establishment by having a special discount night just for ladies or a special promo for groups? This will encourage them to bring more friends and promote them to buy drinks all night long!
Many organizations are looking to have a nice meeting out, like a book club. If your establishment has an empty area that doesn't get used often, why not host a book club? They can go over their weekly read while drinking wine, cocktails, or beers. Making this a regular thing will allow them to create a relationship with your business, which can lead them to become regular customers. The organization might even become your ambassador. Not to mention that hosting events such as a book club guarantees repeat visits, with a certain amount of sales on a weekly or monthly basis.
Whether it is sports-themed for a big game or the first/final episode of a TV show, a themed night will bring fans to celebrate the moment. If there is a big game, everyone can wear jerseys for the game night. Patrons can also dress up like their favorite TV show characters as they watch an episode at your establishment. You can even offer discounts on drinks and appetizers to attract groups of friends.
Nowadays, life is all about networking and making connections. Host a networking event at your establishment to help the community around you find new work opportunities and bring customers into your establishment to talk over some drinks. You can offer discounts on drinks and appetizers to attract people to come.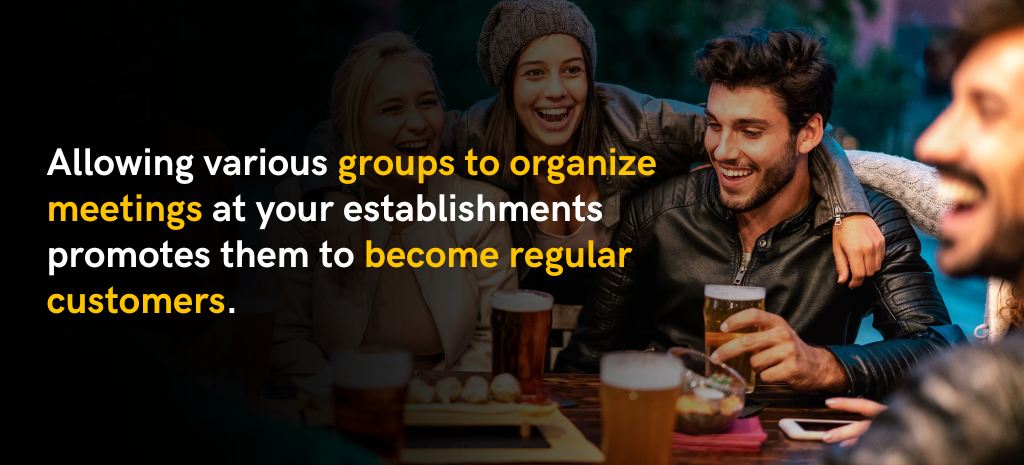 Invite your customers on their birthday by having them put down their information. Offer a free drink, meal, or merchandise on their birthday. You can also offer a discount on drinks or their meals. This is enticing to guests. Who doesn't love a good discount and free stuff? They'll come in and bring all their friends to start the celebration off right! Guests will also be more inclined to take pictures in your establishment when it's someone's birthday. This way, they will tag your establishment on social media, which will help your business by turning them into your ambassadors.
Embrace Major Events in Your City/Town
If the local city or town team is in the playoffs, then cater to that by hosting a viewing party to watch the game or a themed night for the team at your business. This will help target more customers. If the city or town's anniversary is coming up, celebrate the anniversary by having a special deal in honor of that. Simply cater to whatever the locals feel passionate about and watch your sales grow!
Partnering with a charity is a great way to give back to the community around you. It's also a great way to drive customers to come to your establishment for a special event. Reach out to a local charity and bring them in one night for a special fundraising event. This will boost your sales, increase the number of loyal customers, and help with your business's perception. Customers are likely to feel good about supporting a company that donates to charity. Further, your brand image is improved because charitable giving demonstrates responsibility. You will attract many philanthropic customers, and they will continue to come back knowing that your business truly cares about the community.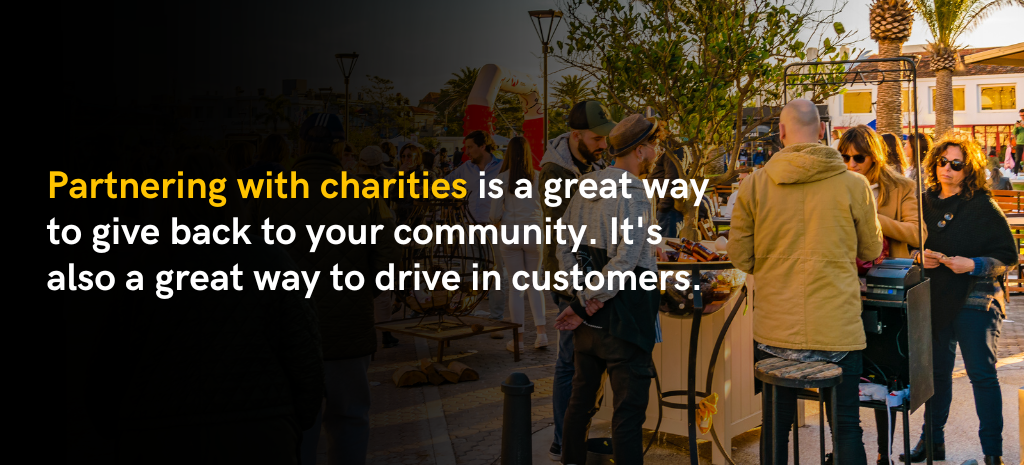 Whether it is your food or a one-time thing, food is always a great reason for people to visit a bar or restaurant. If you don't serve food, you could partner up with a local restaurant, food truck, or a catering company that wants to get some more exposure. Not only is this good for your business it also helps out the business you decide to partner with, so it's a win-win for everyone involved.
Partner with a Microbrewery for a Tap Event
Are you looking to increase the number of craft beer lovers in your bar? Look into teaming up with a local craft brewing company to have an event at your place. If they are unveiling a new beer or even a seasonal beer, look to see if they would be interested in having a tap event, where fans of their brewing company can come to see the first keg of that beer tapped.
Why not reach out to other bars and breweries in the area and attempt to put together a crawl? While this will help your competitors, it will also increase foot traffic to your business. You can add a theme as well, and partner with other establishments in your area for a holiday or themed bar crawl. Make sure to offer discounts on food and drinks or have a specialty drink. (And hopefully, you can show them that your bar/brewery is the best!)
Having an Instagram takeover helps increase the social media awareness of your establishment immensely. Invite some popular influencers to come for a night and take over your Instagram or other social media accounts. You can also collaborate on a post with an influencer, microbrewery, or food truck that you've partnered with. This way, your post will be seen by a larger audience. Instagram Collab posts reduce the amount of duplicate content promoting your brand. If your partners repost the same content as your account, you're competing with yourself for views and likes. With a Collabs post, a view from one account benefits everyone.
When a festival/concert, sporting event, or convention is hosted in your area, host an after-party after the event is over and advertise your after-party during the event. So once everyone attending the event leaves, the first thing in their mind is to come to your establishment to keep the night going by socializing over a few drinks. You can advertise your party by having employees go around before and during the event to hand out flyers. These flyers should let event-goers know where and when your party will be and what you have to offer.
Set up an arts and crafts night for families to bring their children and have a fun family night. You could also make this a fun date night for adults who want to come and sip on some drinks while making art decor for their homes.
PourMyBeer Pro Tip: You can also coincide this event with a holiday. Have the arts and crafts be themed depending on the holiday that is coming up.
If your establishment offers a variety of great food, you could offer a cooking class with your chef. People of all ages who love to cook would be dying to attend a class where you teach them different recipes to make that pair well with certain beers, wines, and cocktails. People are always trying to entertain their friends or families, and this would allow them to buy a class with your chef.
Painting is a great activity for couples, friends, or family to partake in together. Hosting a small "sip & paint night" in part of your establishment would be a great activity to increase the number of customers that come to your bar. This is a great way to involve drinking and eating at your bar with a fun activity such as painting. The customers will make a piece of art at your establishment while sipping on drinks and then will forever have the art in their home to remind them of the time at your establishment!
Many people would love to learn how to create cocktails to impress their guests or significant others. However, bartending classes are expensive, and people don't want to spend the time or money to learn how to make hundreds of drinks if they are not going to bartend professionally. Offering a one-night mixology class would bring in many young customers willing to pay for this fun event. People want to look cool around their friends, and if they have the opportunity to buy a spot in a one-night class and learn how to make one or two drinks well, they will take that opportunity. Each class could show how to make two specific drinks. Then people would be very likely to take the class in the future to learn how to make more drinks!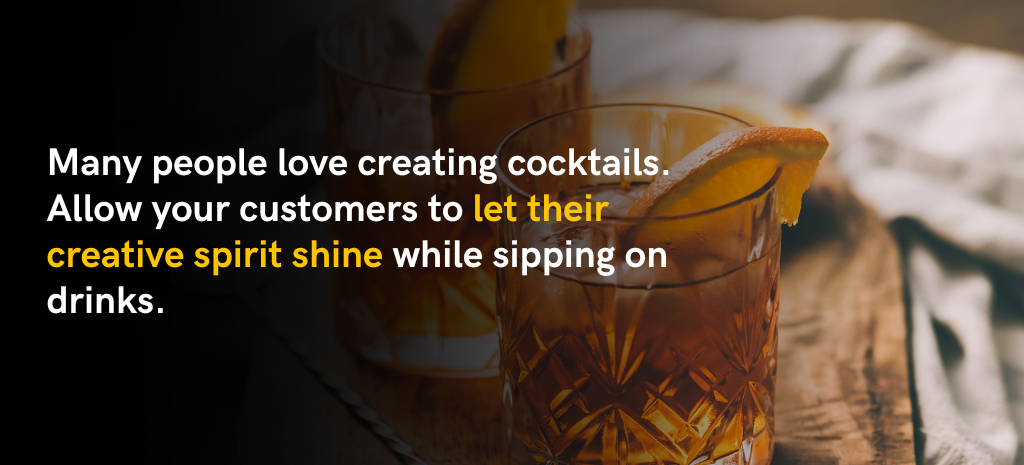 A great majority of people enjoy beer, but only a few really know how it is made. Teach beer lovers how their favorite pilsner or IPA came to life or why and how they are different. It is the perfect opportunity for people to come in and learn more about beers while tasting some new ones. Not only will they likely stay after the "class" to drink more (spend more $), but also, they will be more likely to return.
Wine tastings are a great opportunity to drive more traffic to your establishment. Guests will get the chance to try new wines, enjoy their favorites, and learn more in the process. You can base your event on a specific type of wine or region. If you don't have a sommelier on staff, consider hiring a local sommelier to educate them about the wines.
It is also a good idea to offer food during the tasting. You can pair foods with specific wines and educate guests about why each pairing goes together.
If your establishment is pet-friendly or if you have an outside patio, host an event bringing pet lovers from all over to mingle over some drinks while their dogs play together. This would be a great way for people to meet and show that your bar/brewery loves animals.
Below is an example from one of our PourMyBeer Family Members, Bark Social in North Bethesda, MD, a social club for dogs.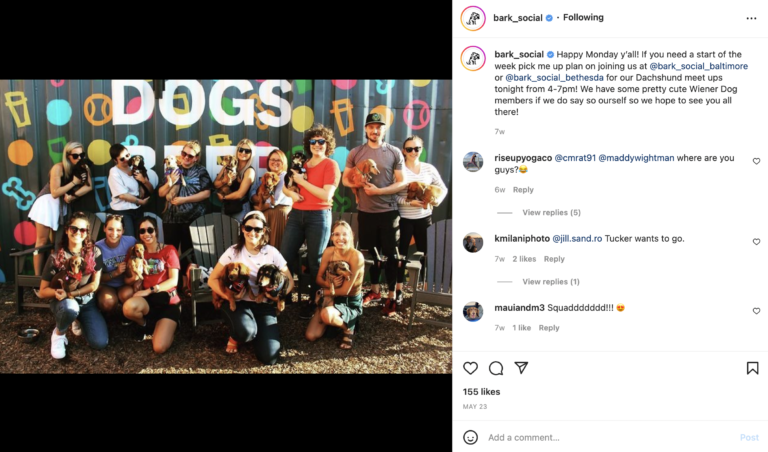 Best of luck with your next event! And if you liked our tips, don't forget to share them with your community!