With a rise in health-conscious culture, Millenials and Gen Z consumers are keen on the risks of over-indulging in alcohol. This group is now engaging in mindful drinking unlike ever before. The steady and fast-paced rise in non-alcoholic drinks facilitates this shift in alcohol consumption. Non- and low-ABV beverages have boomed in the market as they maintain the same flavors found in many beers, wines, and cocktails without the health risks of alcohol, keeping consumers purchasing drinks according to their preferences. Non-alcoholic drinks were previously just a version of an alcoholic drink made without alcohol or with the alcohol removed or reduced to almost zero. However, we are seeing more and more innovation in the industry. Forbes reports that "NA sales totaled $331 million (up to 32%) in the last year, while low-alcohol sales rose 8.1% to $2.77 billion. Brands saw a 315% increase in low- and no-alc beverage dollar sales." New drinking habits have led to new solutions, and research reveals that beverages with minimal or no alcohol will cater to a broader demographic in 2023.
New trends among millennial and Gen Z consumers are driving the boom in the non-alcoholic drinks industry. Heavy drinking can produce potentially negative effects like hangovers, anxiety, and more. With greater awareness, these generations are becoming increasingly concerned with alcohol's effect on one's overall physical and emotional well-being.
Not drinking has become a trend that is becoming more and more popular, regardless of a person's sobriety status. For this reason, the demand for no- and low-alcoholic beverages has sharply escalated in the past year.
Once merely associated with situations where you can't drink – designated drivers, pregnancy, recovering alcoholics, etc., today's consumers are choosing for no other reason than the fact that they want to. Mitch Cobb, the co-founder of Upstreet Craft Brewing and Libra, a no-ABV beer, says, "We see this a lot in our taprooms and retail stores. People will come in to have a beer after work followed by two NA beers or will drink NA beer during the week and traditional craft beer on the weekend, or buy both four-packs of IPAs and NA beer for their party."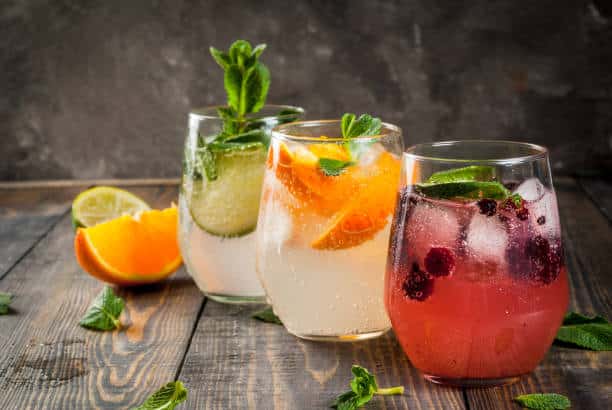 As it turns out, there is not a hard delineation between traditional drinkers and those who drink low to no-alcohol beverages. Interestingly, 78% of non-alcoholic beverage buyers also purchase alcoholic beer, wine, or spirits—moderation is a driving force. This means offering non-alcoholic beverages and traditional drinks in your business will not polarize the other type of consumer. The conversation is dynamic. It's no longer why aren't you drinking? But instead, what are you drinking?
We see these trends presented in the emergence of alcohol-friendly restaurants and bars. Not only is the rise of non-alcoholic products offered in bars and restaurants, but we are also seeing entire booze-free bars and retailers emerge. For instance, New York City's first and only sober dive bar, Hekate Cafe & Elixir Lounge, has proven to be an appreciated community space in the city. They serve coffee all day and herb-infused elixirs at night.
Gen Z leads the non-alcohol movement, and it's insulating an even smaller community. One of these communities is the sober curious. Sober curious is a term used fairly regularly on social media platforms nowadays. 'Sober curious' describes someone who has chosen to avoid alcohol for personal or wellness reasons. It's important to note that sober curious people may not meet the criteria for an alcohol use disorder and do not always intend to give up alcohol permanently.
Although it's gaining traction now, sober curiosity is nothing new. Challenges like Sober October and Dry January are long-standing monthly challenges that encourage people to break certain drinking habits. The only difference now is that younger generations evaluate their drinking habits out of curiosity rather than necessity.
Data reveals that 42% of millennials drink regularly, and only 21% of Gen Z drink regularly. So not only is there an emphasis on drinking less alcohol or alcohol alternatives, but the industry has seen so much innovation in the past year alone. Kim Cox, SVP of Account Management at Nielsen IQ, reports some of the benefits of NA drinks: "These new innovations better meet health and wellness desires of certain consumers such as lower ABV, lower sugar, lower calorie or sustainable sourcing practices."
In recent years, an influx of celebrity non-alcoholic drink brands have popped up. These celebrity-endorsed NA brands are meeting the demands of younger generations and also influencing them. In September 2021, actress Blake Lively launched her own line of non-alcoholic sparkling mixers. In 2012, Lively told Allure: "I don't drink. I've never tried a drug. It's not like I decided on these strict lifestyle choices and I'm enforcing them. It's just something that I genuinely don't have a desire for." Another example is the Kin Euphorics line co-founded by Bella Hadid. This NA line is unique because the drinks offer similar stress-relieving and mood-boosting effects to alcohol. The products are infused with adaptogens, a class of herbs, plants, and mushrooms associated with these effects. The NA industry is evolving. Producers are not merely seeking to mimic alcoholic drinks, but you'll find that some are trying to offer an experience unique from what alcohol offers.
An annual trend report conducted by Pinterest reports that Gen Z and X will drive a trend that demands mocktails, cocktails, and low-ABV drinks. Pinterest trends have shown that searches including "mocktail bar" have increased by 75%, and the search "fancy non-alcoholic drinks" has increased by 200%. The reason? Pinterest credits the new conversations and thinking about alcohol. Some people are deciding to cut back on alcohol for reasons such as hangovers, whereas others simply enjoy the increasing number of low-ABV options there are. Younger consumers drive the no-alcohol industry as they are more conscious of their choices and what they're putting into their bodies. Overall, wellness is (positively) becoming trendy.
How does this implicate your business?
The rise of non-alcoholic beverages is the result of a newer conversation surrounding drinking and gathering culture. With more options available on the market than ever before, people are drinking intuitively and on their terms. Not only can this movement be perceived as autonomous for the drinking population, but it is also inclusive for the recovery and sober population. The NA industry has brought new life and fun to trying unique drinks while making the sober community feel seen.
We don't suspect that this is a trend that will soon phase out. Non-alcoholic beer, non-alcoholic wine, and other NA drinks are here to stay. What's great about PourMyBeer's technology is that it offers the ability to tap virtually anything. By keeping beverages like kombucha, cold brew, and more on tap, you can appeal to a community looking to diversify its drinking habits.
The rise of non-alcoholic drinks is reflective of a generation that isn't defined one way or another. By featuring non-alcoholic drinks in your bar or restaurant menu, you will ensure that anyone can stop by and enjoy a memorable night with you.
PourMyBeer is here to help you reimagine your bar or restaurant. Not only are there many options for beverages you can tap, but our self-pour technology is an efficient, economic (profitable), and fun solution to improve your guest experience. Contact us to learn more!