Hiring restaurant staff — and maintaining them — may seem like a daunting task, but it doesn't have to be. We are here to help you along the way! In this guide for hiring and maintaining staff in your bar or restaurant, we'll show you how to find the best staff that suits your establishment, schedule them effectively, train them for success and even explore different tipping methods.
Staffing is important for any establishment. Be it large or small, a restaurant, bar, or brewery, having the right staff can make all the difference when it comes to bringing customers back through your doors. Your staff is the face of your business. They interact with customers, make the food and drinks, maintain cleanliness, and overall, they determine the type of experience that your customers have when they visit your bar or restaurant. Needless to say, when it comes to hiring staff, you must choose the right people for the job!
Needless to say, when it comes to hiring staff, you must choose the right people for the job! So, get ready to elevate your restaurant staff hiring game and create a team that keeps customers coming back for more.
Finding good staff for your establishment can be exciting and challenging. In this section, we'll show you where to find top-notch employees for your restaurant staff hiring needs. We'll also explore the essential skills and qualities to look for when hiring restaurant staff.
Where Can You Find Good Employees?
When you begin your restaurant staff hiring process, it all starts with your job description. Writing job descriptions with too many qualifications can scare away potential workers. When writing your job descriptions, be specific in the tasks that need to be done. You want to attract skilled and relevant applicants.
PourMyBeer Tip: Skills are teachable. For jobs that do not necessarily require schooling — i.e. server, hostess, barback, or busser — we suggest mainly focusing on hiring employees whose attitudes match your company's culture.
Most important when it comes to hiring — focus on growth potential. Staffing your establishment with employees who have both the potential and desire to grow their skill sets will help you create an ideal work environment. Explain to new hires that you are looking for quality employees and that over time, there is potential for advancement within the company, which comes with increasing responsibilities. Hiring employees who are focused on their personal growth will help the company grow as well.
Once you have written your job descriptions, you need to get them in front of the right people. In this day and age, your openings should be posted online. Forums like Indeed, Glassdoor and even Craigslist are great websites to post your openings. Additionally, you should engage in more traditional methods like posting a "Now Hiring" sign at your bar, which might encourage skilled customers or community members to approach you about the position.
Below are some notes to consider when interviewing potential candidates:
Have the applicant interview with at least two managers. This will ensure their personality fits — and a second opinion never hurts!
Ask relevant questions to identify the hard skills that the applicant has.
Ask personality questions to identify the soft skills that the applicant has.
Focus on understanding the energy and attitude of the employee. A bad attitude will drive customers away — no matter how skilled the employee may be.
What Skills Should You Look for in Your Employees?
When hiring restaurant staff, keep the following basic skills in mind:
Customer service: No matter what the job position is, all employees must have some level of responsibility for customer service. Front-of-house employees must interact politely and energetically with customers, while kitchen staff needs to uphold a level of professionalism and consistency with the food they serve to customers.
Physical speed and strength: Servers need to have the agility and ability to carry trays of food and drinks to-and-from tables, without dropping or spilling items.
Safety conscious: Restaurants, particularly the kitchen, can become dangerous places. Your employees need to follow and respect your safety guidelines. If not, you can run into serious problems regarding the safety of the customers and even other employees.
Attention to detail: This is very important when it comes to customer experience! Servers must be well-educated on the menu to help customers make decisions and follow dietary restrictions. And it is equally as important for chefs to be precise to guarantee consistency with every dish leaving the kitchen.
How to Decide on the Right Staff for You
When it comes to hiring restaurant staff, finding the right fit for your establishment goes beyond skills. So, let's explore the two crucial aspects to consider — ensuring employees align with your company culture and assessing if their skills match your requirements.
Are the Employees Matching Your Company Culture?
The right employee for an upscale dining room is not the same as the right employee for a neighborhood dive bar. When going through the process of hiring staff, they must match the personality of your establishment. By doing this, you re-emphasize the vision of your bar and create a team of like-minded individuals who will work well together.
Do Your Staff Members Match the Skills You're Looking for?
For certain positions such as chefs or bartenders, you need to have a certain level of training or schooling to produce consistent quality, so it's important to hire people who have a pre-assessed skill set. However, when hiring for other positions, look to the soft skills. Hiring motivated employees who are personable, can communicate well and bring a positive attitude, is often more important than experience.
How Many Employees Does a Restaurant Need?
Determining the right number of employees for your hiring needs can be a balancing act. It depends on factors like the size of your establishment, the type of cuisine you offer and the peak hours of operation.
While there's no one-size-fits-all answer, consider factors such as kitchen staff, front-of-house servers, bartenders and support staff. Evaluate customer traffic and workload to ensure smooth operations and exceptional service. Remember, finding the perfect balance will keep your bar or restaurant running like a well-oiled machine!
Think About Your Business Size, Positions, and Needs
The type of establishment you own will determine the hard number of employees you need, and how you will want to consider hiring restaurant staff. Keep in mind, it's important to have a manager on duty for every shift to address larger issues if necessary. Here is a mini guide for reference:
For a casual restaurant like a dive bar, pub, or alehouse, you should have one server for every five to eight tables and around four back-of-house employees for every 50 tables.
For more of a fine dining experience, you want to have one server for every three to four tables and closer to six or seven back-of-house employees for every 50 tables.
For a self-serve restaurant, you need fewer employees on the floor. We recommend one server for every 12 tables while maintaining four back-of-house employees per 50 tables.
Scheduling staff effectively is key to the smooth operation of your establishment. To help you schedule staff, there are two important aspects — determining the optimal number of staff per shift to meet customer demand and the benefits of cross-training employees for added flexibility.
Determine the Number of Staff Needed Per Shift
The most efficient way to identify when you need more staff is by using Key Performance Indicators, or KPIs. Analyzing when your business's busiest days and times are will help you optimize your staffing needs and reduce excess labor costs. Take a look at our list of 25 KPIs to help you get an idea of what metrics might help you staff your establishment more efficiently.
Cross-training can help you with your staffing issues as well. Training your staff to perform multiple jobs will increase your overall efficiency. For example, your servers should know how to bus tables and back bars. That way, when you have less demand, you can have fewer employees in-house. While this won't be a solution during more popular hours because you want to maintain superior customer service, this can be very beneficial on slower days. In addition, cross-training provides you with flexibility in your scheduling efforts if you can be confident and comfortable with your employees' ability to accomplish multiple tasks/jobs.
Hiring restaurant staff is only the first step. Maintaining a happy and motivated staff is crucial for the success of your bar or restaurant. To help maintain your establishment's staff, foster regular check-ins and positive relationships and build a strong and inclusive company culture. Here's how you do it.
Check-Ins & Relationships with Managers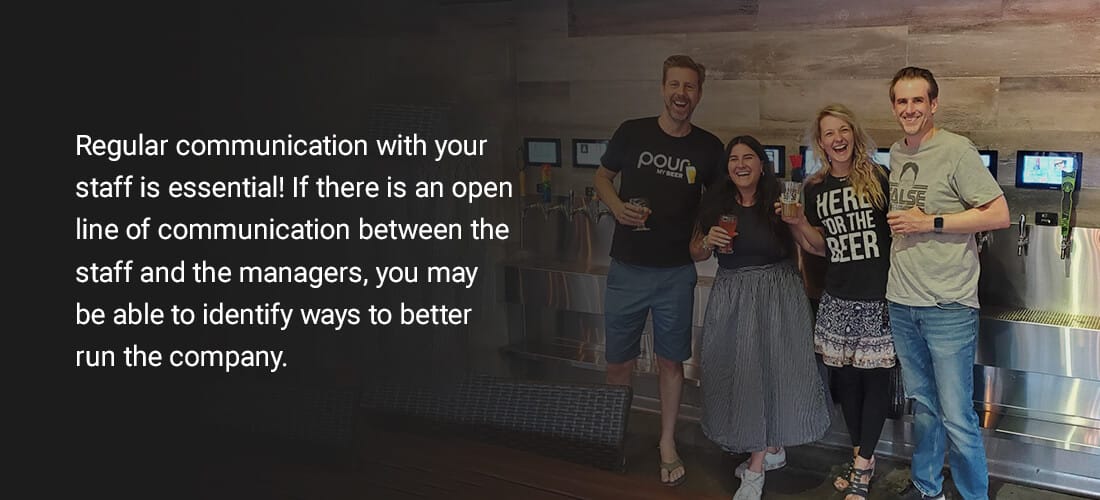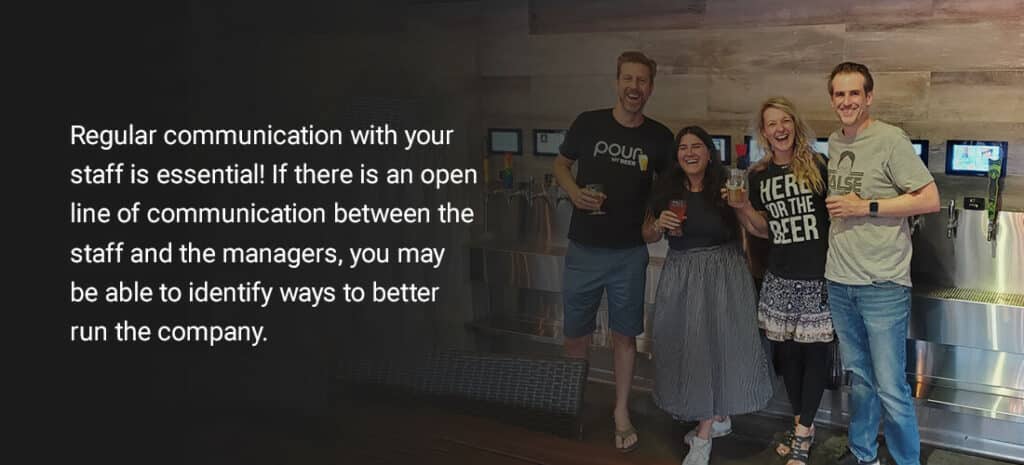 Regular communication with your staff is essential! After all, they are the ones who are seeing first-hand how the company is functioning. If there is an open line of communication between the staff and the managers, you may be able to identify ways to better run the company. This helps you as a business owner, empowers your employees, and makes them feel like they have a stake in the success of the business.
Build Your Company Culture
Let your employees know they are appreciated. By celebrating good behavior, you encourage them to act in certain ways. This will help boost employee morale and create a positive work environment. Celebrate publicly and critique privately. Be transparent with your staff — they'll respect you more.
Training your staff is crucial. There is no way around that. The better you train your employees, the more knowledgeable they are, and the better the experience is for the customers. However, designing an effective training program is not as simple as it may seem. You need to take into consideration several different variables including time and resources, non-negotiable skills and trainee demographics.
To provide some guidance, let's equip your staff with the skills and knowledge they need to succeed with these techniques:
Provide clear training documentation: Since training employees can be expensive and time-consuming, you need to be efficient. Having an established training program with training documentation will help you ensure that you are not spending extra time teaching employees things that they can easily pickup on the job. You want to be clear in explaining to your employees what is expected of them, without spending too much time on the nitty-gritty details. Focus on being concise.
Incorporate on-the-job training: Training on the job is an effective strategy to teach the smaller details. Having new employees shadow your current workers will help them better understand how to accomplish their jobs. Showing new hires a good example of how to do the job and interact with customers is invaluable. This will teach them what is required for the job and how to embody the culture of your establishment.
Focus on skill building: Teach new employees outright how you want them to do their job. Focus on the hard skills, and be clear about your expectations. Work them through the process of problem-solving. Make it clear how you expect them to interact with the patrons of your establishment and teach them what you want them to do in situations that commonly arise. Part of this is also explaining to them when they would be better off bringing in a manager to handle the issue.
Tailor the training to different learning preferences: Remember to tailor your training to your employees. For example, if you are training millennials, it's important to know how they best learn vs. Gen Zs. Some may prefer paper-based training, while others may prefer you incorporate some technology into your training.
Different Tipping Methods
In the service industry — restaurants in particular — tipping is an essential part of the salary determination for employees. When structuring your pay scale for your staff, you need to think about how you want to address this. Here is a list of three tipping options to consider:
This is the most common across the board. Sometimes called tip pooling, this method requires you to pay all employees the full federal minimum wage. Then all accepted tips will be split evenly amongst employees at the end of the night. This reinforces the team atmosphere between employees because the better each one performs, the better off everyone is.
PourMyBeer Tip: You need to keep an eye out for employees who are not pulling their weight. States may have different tip pooling laws, so be sure to check on the tipping guidelines for your specific state.
As an employer, you have the right to adjust the wages of your employees receiving tips. You can count a percentage of the tips that a tipped employee earns towards meeting the minimum wage requirement. Individual tipping motivates employees by giving them direct control over additional potential cash in their pockets.
This method is less common; however, it has great advantages. When you establish your pay scale with no tips, you are accepting that you need to pay your employees higher wages. You will attract a different demographic of employees because of the amount you are paying them, and you will most likely retain those employees and have a lower turnover rate. This is also a great solution for self-pour setups! If you work in a self-pour establishment, you may see that some guests are less inclined to tip because they poured their own drinks (which is great!), however, to motivate and retain your employees, you need to compensate them for that.
Staffing at Self-Pour Establishments
Considering how to staff a self-pour establishment is different than a traditional bar or restaurant. One of the biggest advantages of having a self-pour beverage wall in your establishment is the fact that you can drastically reduce the amount of staff that you need to have per shift.
Check out this video where we talk to Gardy Desrouleaux, a managing partner at Craft Food Hall Project, about how self-pour technology allows him to operate his entire venue with only five staff members per shift!
Self-pour technology allows you to eliminate the need for additional bartenders, barracks, and even some waitress or waiter positions. But, it can also create some fun new positions, like a Beer or Beverage Wall Ambassador! A Beer Wall Ambassador can be a helpful employee stationed near the beverage wall who can explain how the technology works, as well as help direct customers to their favorite drinks or make new suggestions.
Historically, we have seen a significant increase in beverage sales at self-pour locations with an ambassador. If you're looking for a script to give your employees, check out an example here. This will ensure all staff members are making your customers feel comfortable with the self-pour technology and it will help you sell more drinks!
What to Look for When Choosing a Beer Wall Ambassador
When selecting a Beer Wall Ambassador for your self-pour establishment, keep these qualities in mind:
Product knowledge: Choose someone who knows about your offerings and gets genuinely excited about them.
Outgoing and social: Opt for someone who's naturally friendly and outgoing and enjoys interacting with people.
Interest in operations: Look for individuals who show a genuine interest in your establishment's operations and are motivated to boost sales.
Ability to learn: Ensure the candidate can quickly grasp and learn the script for the check-in process.
Here are a few bonus tips to consider:
Hospitality industry experience: Prior experience in the hospitality industry can be an added advantage.
Tech-savviness: Consider individuals who are comfortable with technology and can assist customers with the self-pour system.
PourMyBeer Tip: If you can't afford to employ an employee with this function full-time, consider having them come in for the busiest hours of the day.
Reduce Staffing Needs and Increase Current Staff Satisfaction With Self-Pour
In this guide for hiring and maintaining staff in your bar or restaurant, we've explored valuable insights to streamline your operations and boost customer satisfaction. That said, hiring and maintaining restaurant staff is going to be a different process for every establishment. You will want to start with a clear and detailed business plan and outline what a "great employee" really means for your brand.
One exciting restaurant staff hiring solution that stands out is self-pour technology. With PourMyBeer's self-serve beverage systems, you can reduce staffing needs while enhancing the customer experience. No more waiting for bartenders or servers — customers can pour their own drinks. It's an engaging and fun experience that boosts customer satisfaction and sales.
Ready to transform your establishment? Request a quote from PourMyBeer and unlock the benefits of self-pour today. Cheers to a successful and efficient future in the hospitality industry!