When you order portable beer dispensing for events and parties, your business can experience increased profits and a better service experience. Learning the benefits of self-serve beverage walls can help your company improve customer service, optimize its space and create a unique guest experience.
Beverage Solutions for Private Event Spaces
If you want to use private party venue dispensers, consider self-serve beverage technology. Whether you are looking at automated beverage solutions for a wedding venue or corporate events, a self-serve station can be one of the best solutions for your space, but you'll want to consider a few things before deciding what size station you need.
Think about the purpose of events held at your facility. Are they networking events? Are companies launching a product or making an announcement? Do your clients host stand-alone parties or social events following conferences or meetings? Setting the tone can be essential to a successful event.
Depending on the kind of event, your drink menu and self-service needs may differ. With 3 self-pour station sizes – 4-tap, 6-tap, and 8-tap – you can pick the size that's right for your space and event needs. After deciding on the size of your station, think about what drinks you might offer from your self-pour beverage station. Will you want beer, wine, cocktails, or non-alcoholic drinks? The dual-zone cooler design is custom-made for every customer to ensure all beverages are served at the correct temperatures.
How to Ensure Smooth Corporate Events With Self-Serve
At a corporate party or special event, a self-serve beverage station can help ensure a smooth event. For example, a self-serve station creates fewer lines, encourages more socialization, and allows guests to become their own bartenders. You can encourage guests to try a variety of different drinks from the self-pour station, which can be easier to serve. Creating a smooth corporate event should also include non-alcoholic options and food to pair with wine and beer. Guests can serve themselves and enjoy food during the event.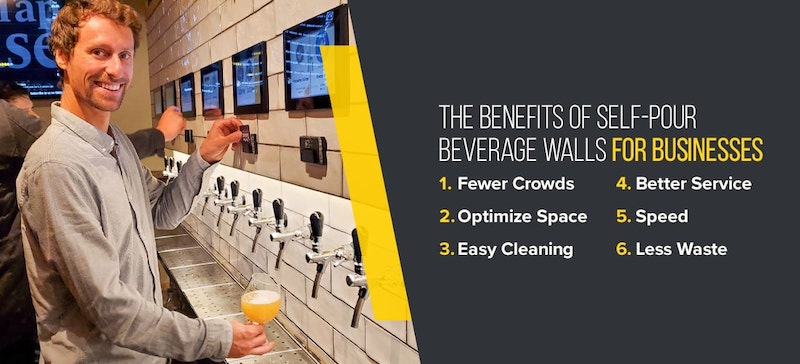 The Benefits of Self-Pour Beverage Walls for Businesses
Self-pour beverage walls have many benefits for both your customers and your business. From fewer crowds to optimal space and easy cleaning, self-pour beverage stations allow your clients and their guests to get their drinks quickly. Here are a few benefits to using a self-pour wall in your business.
Your business can reduce the number of people hanging around bar areas and reduce the time it takes to get a beverage. This is critical during events as most people will gravitate toward the bar. Oftentimes, bartenders get overwhelmed by crowds. With self-pour, guests can approach the self-pour station whenever they please, creating service efficiency and reducing lines.
Adding a self-pour station to your event space allows your venue to instantly transform a common area not generating revenue into a profit center. With a beverage station, your venue can eliminate the need for a traditional bulky bar and use the extra room to create more seating areas or food spaces. Your business can focus on improving its customer service through a well-placed beverage station and optimal furniture spacing.
Because self-serve beverage technology allows guests to serve themselves, they are relatively easy to clean. Customers can also clean up their drinks, and a staff member can wipe down the machine at the end of the day. Customers will feel more at ease in a clean and well-kept space.
Using a self-service beverage station allows your servers to focus more on their customers and spend less time preparing their drinks. Your customer service is likely to improve, as will your sales.
The speed at which customers receive their drinks will vastly increase. A self-serve station allows guests to try out drinks on tap and quickly pour and dispense them. It can speed up your serving process and help you make sure classic mixes, cocktails, and other beverages are consistent every time.
Because the customer pays for every ounce of the drink, your company will have less waste. You can reduce the number of free samples, foamy beer, or over-pouring, which may be typical with standard servers. You'll also save money when you waste fewer drinks and reduce the cost of your goods overall.
The Benefits of Self-Serve Technology for Guests
Using self-serve beverage technology for large groups allows restaurants to focus on increasing sales and attending to other customer needs. Here are four significant benefits to using self-serve beverage stations at your business.
1. Unique Chance to Sample
Self-serve beer and wine stations offer guests a fun, unique experience they might not have known before. Guests can also confidently sample beverages in small amounts before deciding what they like and pouring their own drinks. Since they don't need to commit to an entire glass, guests may be more likely to try things they haven't had before and will appreciate the chance to taste different beverages. Customers can expand their tastes from beers and wine to cocktails and cold brews without worrying about paying for a full drink they may not like.
Many guests will love using your beverage technology, and since it's so easy to handle, your business won't become overwhelmed due to many customers or questions. A self-serve beer and wine station can also operate independently, with very little staff to watch over it. Your business can handle total capacity with simpler operations without worrying about excess lines or long wait times.
Servers can also act more efficiently with the addition of a well-placed beverage station. Because servers have more time to devote to customer service while guests pour their drinks, customers will feel that their needs are better met. Self-serving beverages also help make lines shorter and service faster. Customers can drink at their own pace without waiting for the bartender or server to bring them a drink or take their order.
Contact PourMyBeer to Find out More
At PourMyBeer, we offer self-serve beverage systems to businesses that want to enhance their drink offerings. A self-pour technology in your event space allows customers to pay by the ounce, freeing up time for your staff members. With over 12,000 taps installed in 30 countries, our company makes it faster and easier for businesses to serve and access beverages. Whether you want to serve beer, wine, kombucha, soft drinks, or other beverages, our self-serve technology is one of the best ways to increase sales and improve workplace efficiency. Contact PourMyBeer today to learn more about our products or explore our services online.