How to Find & Pitch the Right Investors When Starting Your Self-Pour Business
When it comes to looking for investors, you'd be amazed at how well word of mouth travels, especially if you have an amazing idea like opening your very own self-pour bar or restaurant. People love to be a part of something new and exciting – and what's more exciting than pouring yourself drinks whenever you want without waiting in line?
However, before you can look for the right investors, you need to consider the amount of capital you'll need to raise and how you plan on raising it. Depending on the size of the space and the cost of your lease and buildout, you should plan on raising anywhere from $250,000 to $700,000 to open up your doors. A rough estimate of those costs are as follows:
25% on the draft system / self-pour system
50% on the design, buildout, permits, furniture, and restaurant equipment
15% on ramping up staffing, soft openings, and advertising
10% on stocking your inventory and reserves to get you through the first 2 months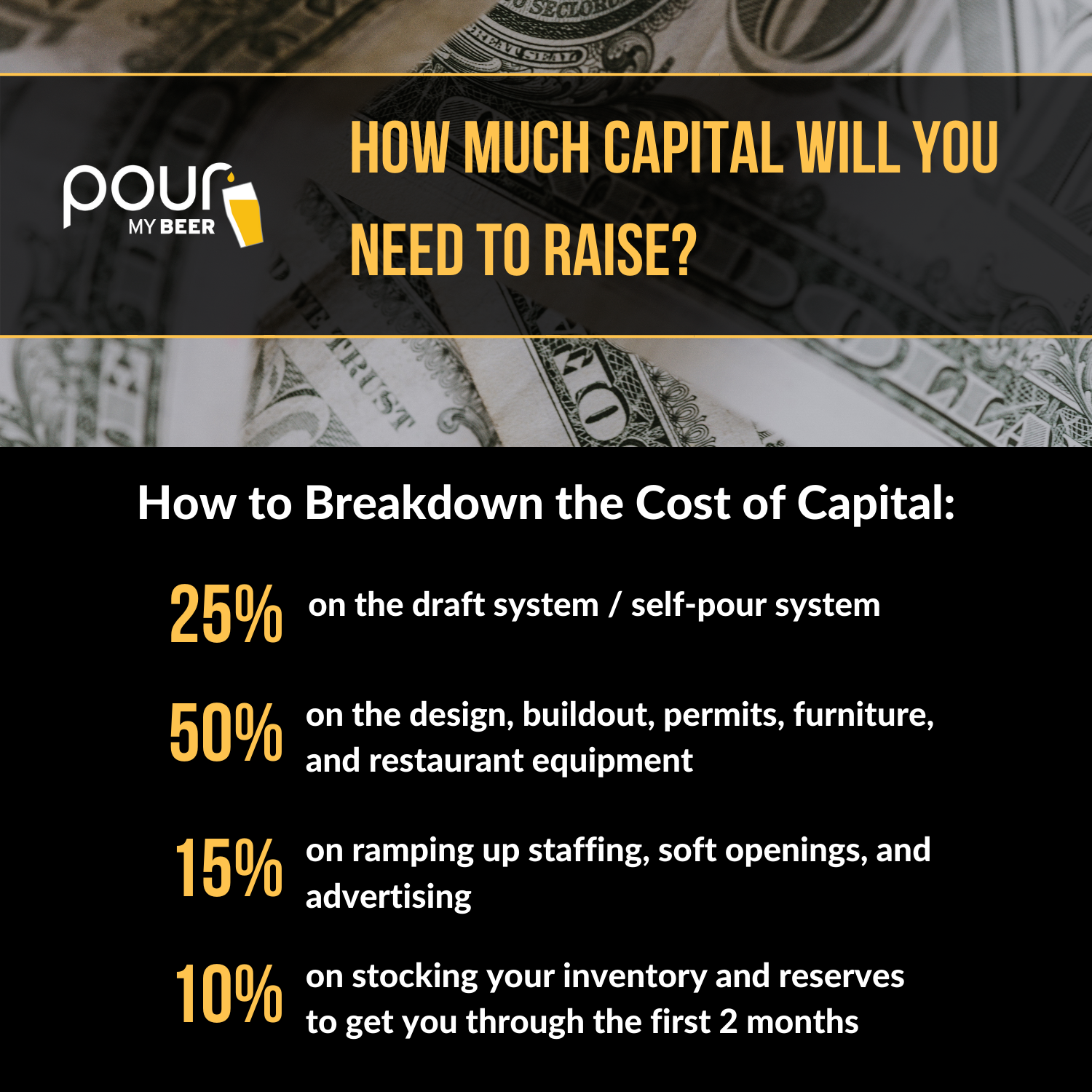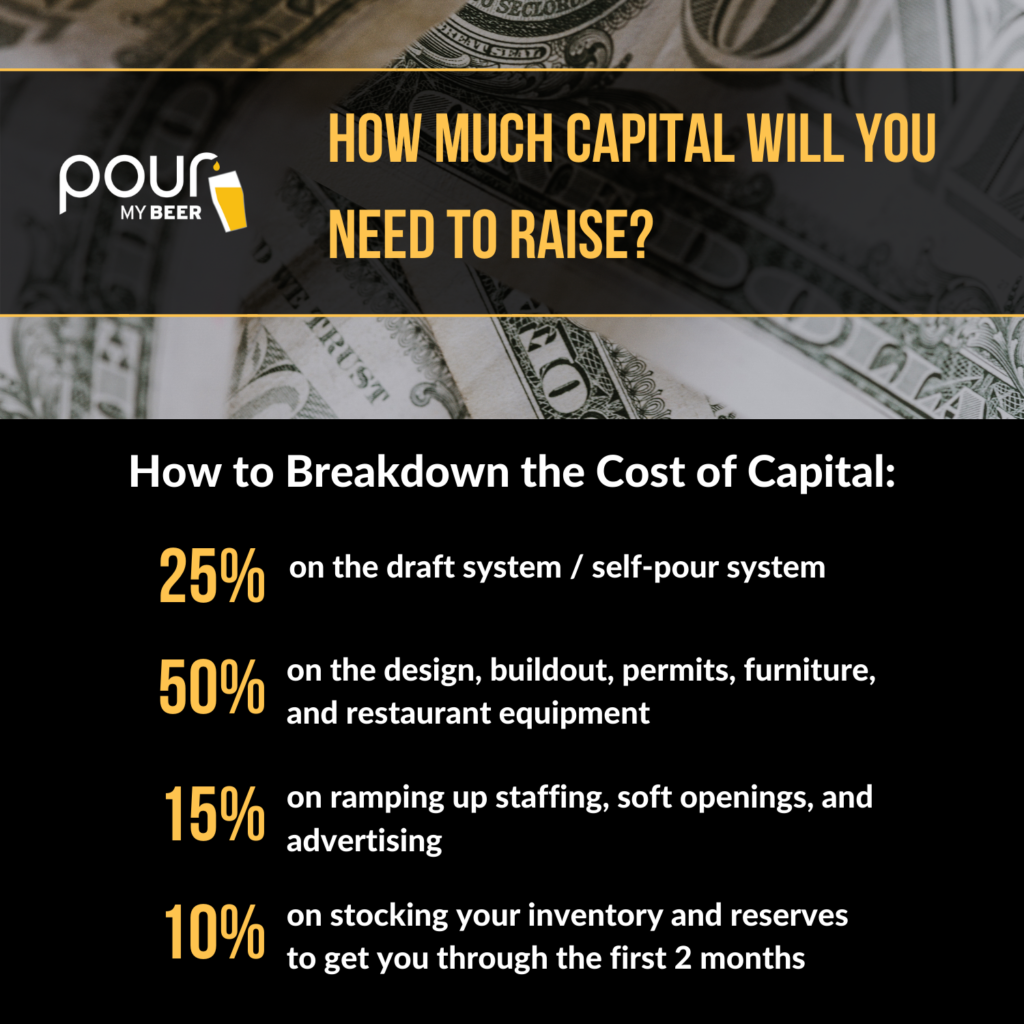 Now that we've broken down the amount of capital you'll need to raise, you can start looking for investors. When finding the right investor a few important things to evaluate and analyze include their previous investments, their performance, and how hands-on they plan to be when helping you grow your self-pour business. It is crucial to ask a potential investor about their previous investments to determine if they have kept up with funding; if they haven't, this suggests they are struggling to make payments and you should avoid bringing them into your business.
Also, keep in mind that securing a strong investor with a diverse portfolio and background can lead to interest from other investors within their network during future rounds of funding, such as scaling or expanding to multiple locations.
You must bring on the right investors, and while everyone would love a Venture Capitalist to come on board, it's more realistic to raise funds through a round of family and friends, and possibly even angel investors. VCs typically invest in companies that have already shown exceptional growth and are poised to continue to expand, while friends and family are key investors at the beginning of your business. They will be able to provide your business with great ideas and concepts and even give valuable feedback during the early development of your self-pour bar or restaurant.
Friends and Family as Investors
Friends and family are the most obvious investors, but not always the most fruitful area. Trust is such an important aspect of business and investing. You should already have trust with your family, but it goes both ways. Depending on your family's financial situation, getting a few family members to each invest $25,000 – $50,000 could provide you with the seed money you need to attract more investors. You could treat their investment like a SAFE Note or as equity, but you want to be as clear as possible with them on how they can or will make their money back. Underpromise and over-deliver.
In most cases, our customers prefer to have investors who trust them to use their own judgment, essentially leaving the investors with free hands, except when looking for occasional advice and mentorship when pitching bigger accounts or taking the business to the next level. However, there are also cases when the entrepreneurs look into more hands-on investors who are willing to spend more time guiding them when starting their own self-pour business, especially if the investors already have plenty of experience in the hospitality industry.
Seek Investors in the Industry
Finding investors within the hospitality industry will most likely be your best bet. They will understand your business, your expectations, and give you the most valuable advice, but you do not want to pitch any investor who will listen to you. Find someone who cares about your values, vision, and fits in well with your company's culture. Whoever you choose has the opportunity to make or break your business, so be very smart about your decisions.
How To
Pitch
The Right Investors
Now that we've tackled how to find the right investors for your self-pour bar or restaurant, it's time to talk about how to pitch your investors. If it's your first time pitching, or even if it's not and you're looking to gain more expertise and knowledge, we've got you covered. Here we will take you through the different steps and tricks you should use when pitching investors.
Typically when making a sale, if you can transfer your knowledge and passion for whatever it is you're selling to the audience you're presenting to, you will be successful. Getting a customer to buy a product that doesn't exist yet is no different than getting an investor to commit to your vision with their capital. Before you consider pitching anyone on your self-pour business, you need to understand your why.
Understanding your "why" is an integral part of pitching any investor. Think about why you want to open this bar or restaurant. What motivates you? What are your strengths and values? If you don't know your why, it will be much more difficult to tell your story and gain the support of investors.
Next, you should visit a minimum of twenty websites and social media accounts of existing self-pour concepts and create a list of what you like or don't like about them. Write down how your business will differ from them or be similar to the ones you like.
Don't get caught up on things like the name or the logo and brand of your business just yet. We've had customers who didn't have the name of their location until they secured a lease. For example, Tapster was named Timeless for 9 months before opening, but now they have 3 Tapsters (2 in Chicago and 1 in Seattle).
We also encourage you to physically visit 10 to 15 self-pour locations. Take in the full experience. How were you greeted? How did they explain the concept? What is the layout of the products on tap? What did you like? What didn't you like?
Talk to the owners, ask them how they raised the capital to open and how much capital it took. You have the luxury of using the success of the other-self pour taprooms to validate your business plan.
Now, you'll need to prepare your pitch. You must have a well-organized pitch deck to show your potential investors what they will be investing in and, most importantly, be prepared to show coherent financial forecasts. You should be able to discuss your expectations and the agreement in place so that you aren't setting yourself up for distress later on.
Make sure that your pitch is no more than 15 slides and no longer than 10 minutes. You want to grab the attention of the investors. What sets you apart from other competitors in the market? How are you unique? What's the story behind your business?
The most important part of your pitch is the story, but this doesn't mean your personal story. Tell the investors the story of the bar or restaurant you plan to open. Set the scene. Make them see what you see. This will take you further than just presenting data to the investors.
Finally, make sure you have answers to all of the questions that could be asked. If you aren't prepared, investors won't be interested.
Once the pitch is over, it is crucial to follow up. Even if the investors you presented to weren't interested this time around, they may want to invest in future rounds of funding. Keep the investors you want to be involved in the loop.
Ultimately, you can choose and pitch many investors. Just make sure you are making the best decision for yourself and your business. If you do your research and ask questions, you will find investors who fit well with your business and vision, and you'll be on your way to opening your self-pour bar or restaurant in no time!
If you're looking for more information on how to finance your self-pour bar or restaurant we're here to help. Cheers!
Self-Pour Operations "Do's" and "Don't's"
To help put your business in the best possible position to be as successful as possible, we have compiled a quick guide containing the most important Do's and Don'ts to keep in mind when opening your own self-pour business based on experiences with our 500+ customers.
Simply fill out the form below to download it.