Financing Your Self-Pour Establishment
A bank loan, finding investors, or self-financing - which one is right for you?
First and foremost, you should decide how you're going to raise the capital needed, whether through a bank loan (SBA), investors, or self-finance your self-pour adventure. In most cases, we have seen financing come from a combination of two or even all three of these options.
The first step to financing a successful business plan is to conduct initial research on what the total project costs are going to be. Begin by calculating rent or build-out, furniture, and equipment, including your self-pour beverage wall, whether it's for craft beer, wine, or cocktails, as well as permits and liquor licenses, which can become costly depending on your location state.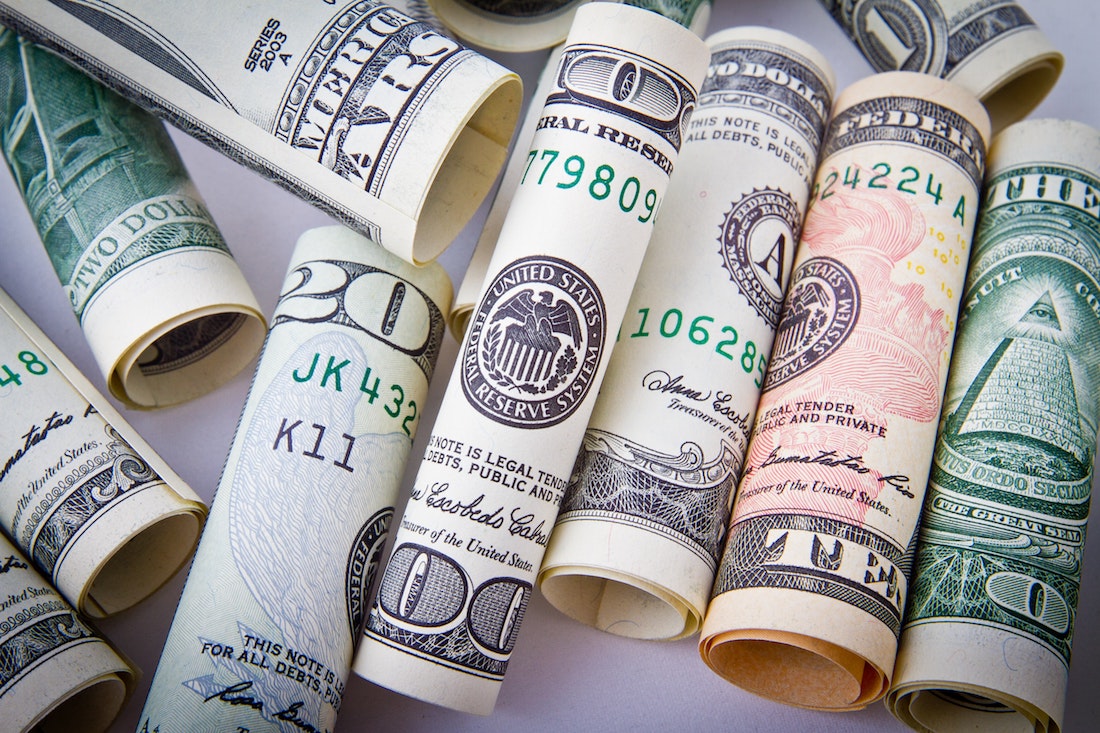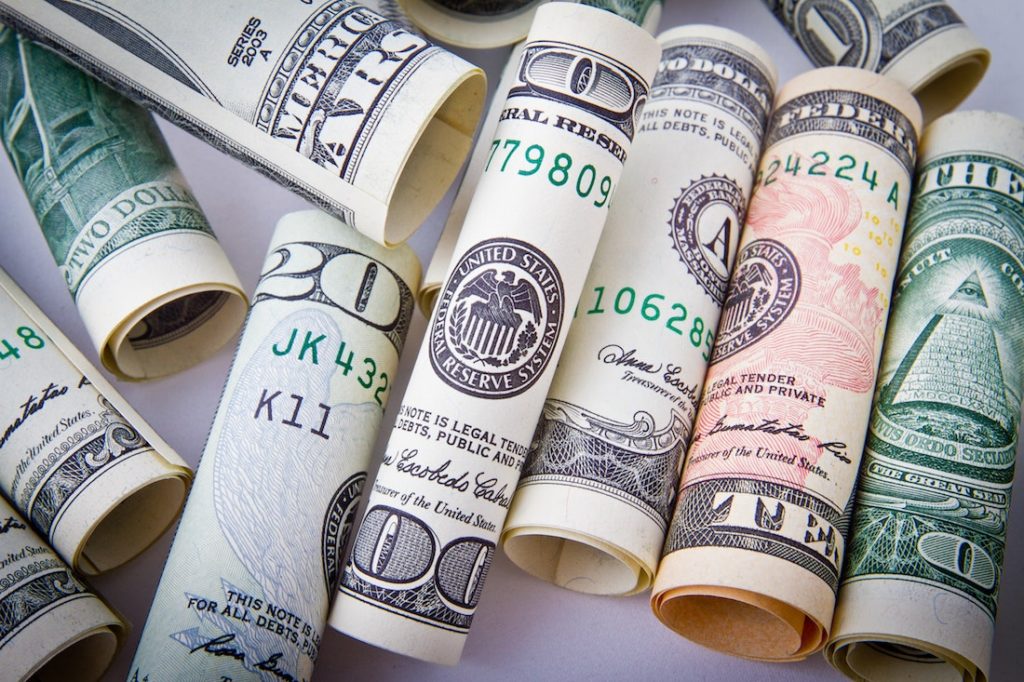 The SBA recommends separating these expenses between one-time expenses and monthly expenses. After determining what falls into each category, total the amounts for at least one year of operation, although the SBA recommends five years. These calculations will give you a good idea of the amount you need to gather to get started.
After completing this basic math, the next step on your journey to opening up your own self-pour business is raising capital. Listen below to hear from a successful self-pour operator on how he managed to secure finances for his 3 self-pour establishments.
Planning for Your Self-Serve System
As stated above, there are 3 main ways to find financing — bank loans, investors, and self-financing.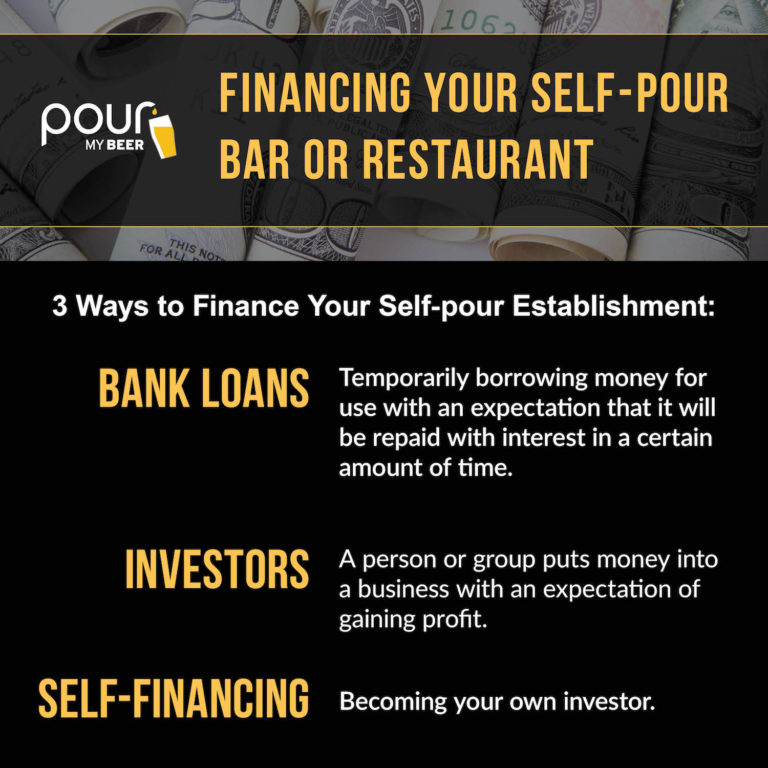 Now, let's take a look at each in more detail:
By Merriam-Webster's definition, a loan is money given to the borrower for temporary use with an expectation that interest will be included in the repayment. Loans are a very common way to gain initial funds for your new business.
The Small Business Administration is a government agency working to protect the interests of small businesses and their owners throughout the country. The SBA has a network of various lenders and banks that help small businesses obtain funds while protecting the lenders and ensuring they don't acquire too much risk. Here, we will take a look at the three main loans that the SBA offers:
Standard 7(a) Loans: These are the most common loans offered by the SBA because they are for various purposes. 7(a) loans are designed to help small business owners with expenses involving real estate, working capital, or equipment, 7(a) loans must be paid back within 10 years and are valued anywhere from $5K to $5M. One catch, however, is that the SBA requires you to have sought out other financial resources before applying for this specific loan.
The maximum maturities for SBA loans are as follows:
25 years for real estate
10 years for equipment
10 years of working working capital or inventory loan
Microloans: These loans are for smaller funding levels and have a maximum amount of $50,000, with the average loan being $13,000. Microloans can be used for working capital, inventory/supplies, furniture/fixtures, or machinery and equipment. When you receive a microloan, you receive business training and must pay it back within 6 years.
CDC/504 Loans: 504 loans are used to gain assets for expansion or modernization. They are available through Certified Development Companies (CDCs), the community-based partner, and must be used for fixed assets. Benefits of 504 loans include 90% financing, fixed-rate interest rates, and savings resulting in improved cash flow. While there is no maximum amount for 504 loans, the SBA caps their loan amount at $5M. For certain energy projects, the borrower can receive a 504 loan for up to $5.5 million per project, for up to three projects not to exceed $16.5 million total. To qualify for a 504 loan, your business must have a tangible net worth of less than $15 million. Check out this link to see other eligibility requirements.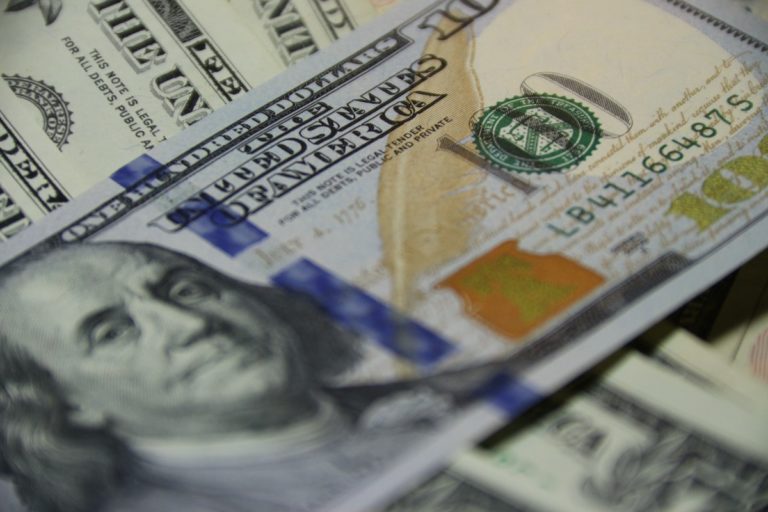 SBA loans are an enticing option if you're looking to finance your bar, restaurant, or brewery because they have low-interest rates, the lowest down payments, and you remain in complete control. To be considered for an SBA loan, you will need a credit score of 680 or higher, and you must pay a 10-20% down payment. A strategic and realistic way to raise capital is by increasing the down payment through investors and/or doing a round of funding with family and friends.
Even though there are several benefits, there are also some downfalls. It typically takes anywhere from 30 to 60 days to hear back from the SBA, the paperwork is quite lengthy, they may require collateral, and it can take weeks to months before processing into your bank account.
One of the most common ways our PourMyBeer family members finance their self-pour beverage walls is through investors. Most businesses that are just starting will go through their close circle of family and friends first. However, it can be difficult to blend your personal and professional lives, so we recommend proceeding with caution. It is important to write down the loan terms or investments to ensure both parties understand their responsibilities so, things do not go south quickly.
Small businesses can also find investments in the form of venture capital. Businesses with high growth potential have a better chance of receiving venture capital in exchange for part ownership of the business. Venture capital can come from angel investors, VC firms, or other financial institutions. It doesn't always have to be monetary, but rather a form of expertise. We also recommend finding angel investors that are involved in the restaurant or food and beverage industry since they may be able to provide valuable knowledge going forward.
This form of raising capital comes from various people, whether friends and family, investors or other individuals. Crowdfunding is a newer way to raise money that has gained popularity through social media. Some regulations determine who can invest and how much they can give to prevent people from putting too much of their money at risk.
People who invest in crowdfunding opportunities do not expect to receive any ownership in the business, but rather, little gifts, such as gift cards to your restaurant. There are three different types of crowdfunding, so you must research and pick the right option for you. The most popular crowdfunding sites are GoFundMe, Kickstarter, and Indiegogo. Whichever you choose, make sure to read the specifications detailed on each website.
If you have the initial capital and trust your own financial management skills, you can become your own investor. This option is the most appealing among bar and restaurant owners for a few reasons. One, because they have a 100% stake in the company; second, there are no loans to pay off.
If the personal financial capacity is there, bootstrapping (using personal savings) can be a great way to fund the project, but that puts all of the financial risks on you. There are local like Community First Fund. that offer startups small business loans. These loans come with high-interest rates and a lien on personal real estate. However, small business loans are a great option if you want to retain control of your business and if you don't have a high enough credit score for an SBA loan. Make sure you have a business plan, an expense sheet, and your financial projections for the next five years to have higher chances of approval. Personal loans usually don't require you to give collateral, and there are more possibilities on how you can spend the money. Although, the amount of money you'll receive will be much less than an SBA loan because personal loans are based on your finances.
Ultimately, the decision comes down to how much risk you are willing to take on and how much of your business you are willing to give away to investors. If possible, always remember to try and hold at least 51% in ownership equity so that you retain both creative and operational control of your business.
Here is a quick breakdown of your financing options.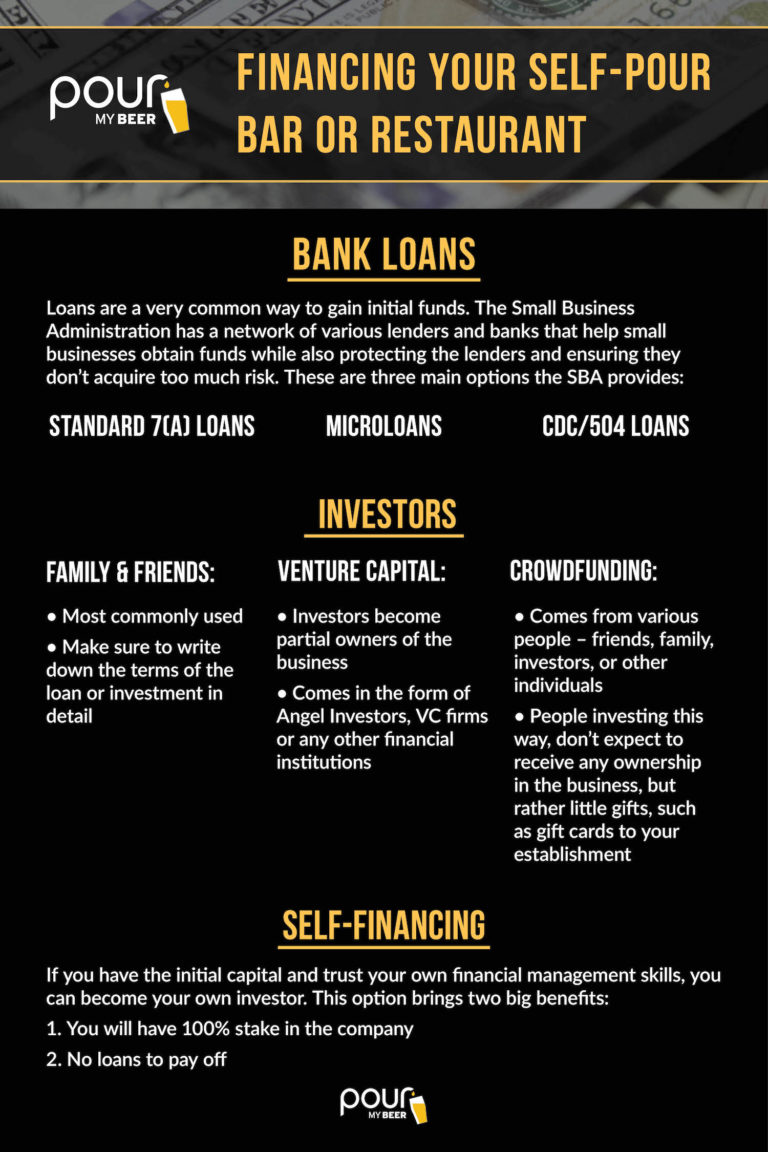 If you're looking for a business plan example, check out the one below from one of our existing customers that includes financing. To access it, fill out the form below.
Download the form to access templates and samples!
If you liked this content, don't forget to share it on your preferred social media!
Whether you choose to go with bank loans, investors, or self-financing, or if you're a small business trying to figure out finances, we are here to help you. We are happy to share the experience that we have had with customers in your area. Don't hesitate to contact us at cheers@pourmybeer.com or (312) 416-9989.