Country clubs have long had a reputation for their luxurious amenities, exclusive memberships, and the prestige of being a member. However, with the rise of technology and changing customer expectations, clubs that only offer a cookie-cutter experience will get left behind.
That's where personalization comes in! By tailoring the country club experience to each member's unique preferences and needs, your country club's customer service satisfaction, loyalty, and revenue will increase.
Here, we'll explore how country clubs can leverage the power of personalization. From customized membership packages to innovative food and drink options, we'll show you how to make your members feel like VIPs.
Whether you're a country club owner or manager, let's dive into the world of personalization and discover how it can elevate your country club experience to the next level!
Personalized Membership Packages
Personalized country club memberships are essential for reaching a broader range of people and their needs.
For example, a family membership might include access to the club's pool and tennis courts, while a business membership might include discounted event space rentals and networking opportunities.
Personalized membership packages can attract new members and retain existing ones. By giving people the flexibility to choose a package that fits their lifestyle and budget, clubs can ensure guests feel invested.
Additionally, offering the option to add amenities or services to their membership package is a great way to increase revenue while providing a personalized experience.
Greeting each country club guest by name is a small gesture, but it can significantly impact the experience. That's why having employees learn the names of regular attendees is so crucial.
When employees take the time to learn members' names, it shows that they care about building a relationship with them. It creates a sense of familiarity and warmth that can make an average visit memorable. Plus, it makes members feel valued and appreciated, which is essential for building loyalty and retention.
How can your team memorize so many names? One approach is to hold regular training sessions focused on member engagement and personalization. Employees can practice identifying regular attendees and learn techniques for building rapport and making members feel welcome.
Another approach is to use technology to assist in the process. For example, an online portal or mobile app could allow members to upload photos and provide information about themselves, making it easier for employees to recognize them.
Selling branded merchandise in your country club's shop is a creative way to provide a unique member experience. Whether it's a logoed polo shirt or a custom water bottle, branded merchandise allows members to show off their club pride on and off the course. Plus, it's an excellent marketing tool and a revenue generator.
Be choosy about which products you add your logo to. To create a unique experience for members, clubs should invest in up-to-date, high-quality merchandise that aligns with their brand and appeals to their members.
For example, a country club known for its top-notch golf facilities might offer branded golf balls, tees, and gloves, while a club focusing on health and wellness might sell yoga mats and fitness apparel. And for an extra personal touch, consider offering customization options, such as monogramming or embroidery.
Having a well-curated shop with the latest branded merchandise enhances the member experience and serves as a marketing tool for the club. Members who wear and use their branded merchandise in public become walking billboards, generating interest and attracting potential new members.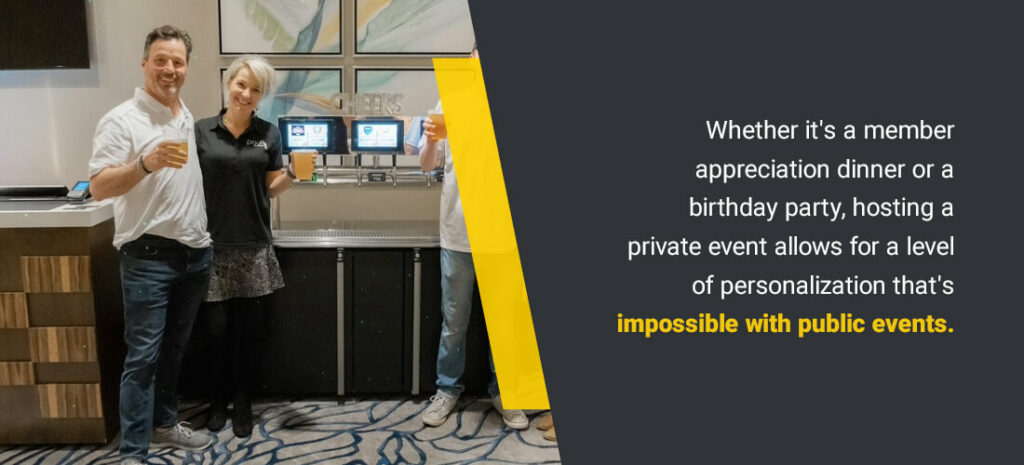 There's nothing quite like hosting a private event for your members. It creates a sense of community and exclusivity members love. Plus, it caters to specific needs and provides experiences that exceed expectations.
Whether it's a member appreciation dinner or a birthday party, hosting a private event allows for a level of personalization that's impossible with public events. The possibilities are endless, from nameplates on tables to custom gifts for guests to take home.
When planning the menu, consider every guest's unique dietary needs. Offering vegan, gluten-free or kosher meal options can make guests feel cared for and appreciated.
Private events also provide a unique opportunity for members to mingle and build relationships with one another. By creating a space for members to connect, country clubs can foster a sense of community that's hard to find elsewhere.
Keep Your Clubhouse up to Date
Updating your clubhouse can offer a unique experience to your guests. For example, if your members are avid wine enthusiasts, you could add a wine bar or cellar to the clubhouse, offering tastings and events.
Or, if your members love to socialize, creating a cozy lounge area with plush seating and a fireplace could provide the perfect place for members to gather and catch up.
It's not only about adding new amenities. Prioritizing updates also means ensuring existing facilities are well-maintained and functioning correctly. That includes everything from keeping the bathrooms clean and well-stocked to regularly updating the décor and furnishings.
An up-to-date clubhouse provides a unique experience for guests and shows you value and care for them. Plus, a well-appointed clubhouse can attract new members and encourage current ones to come back for more.
Stay Ahead of the Competition
Staying ahead of the competition means keeping tabs on what other clubs are doing and finding ways to improve upon those. For example, if a competitor adds a new fitness center or spa, it's essential to evaluate your offerings and see if there are areas for improvement or expansion.
Gaining a competitive edge goes beyond copying what others are doing. It's also about thinking outside the box and finding unique ways to personalize the guest experience. That may mean offering a custom cocktail menu or personalized fitness training sessions.
By constantly innovating and finding new ways to enhance the guest experience, your club can set itself apart and attract new members. It's all about being the best of the best and providing an exclusive, one-of-a-kind experience.
Upscale dining is one of the first things that comes to mind when most people picture a country club membership. Consider how you can go a step beyond by providing outstanding options guests will love.
One way to do this is by offering a rotating menu with seasonal dishes or highlighting local ingredients. Guests will appreciate the effort put into creating a unique dining experience and trying something new.
Another way to provide a personalized experience is by giving guests control over their drinks. For instance, fun and interactive self-pouring taps allow people to serve themselves beer or wine, sampling different varieties without committing to a full glass. It's an excellent way to encourage exploration and socializing.
Contact PourMyBeer for a Personalized Beverage Wall
Personalization is a powerful tool for country clubs to enhance the customer experience and increase revenue. By understanding and catering to each member's unique needs and preferences, country clubs can create an unforgettable experience.
PourMyBeer offers various self-pour tech options. Regardless of your business type, we can install personalized beverage walls based on your needs.
If you want to set your country club apart with a personalized beverage wall, contact us for more information.