A Guide to Building Your Self-Pour Restaurant/Bar Brand 201
Once you get things right on-premises, you're ready to move on to mastering your branding game online. A brand is not just the logo, tagline, or name, but it's also the communication of an experience. It's how people feel about your company. Branding is paramount – from the moment they walk through your establishment's doors to the moment they look up your business online or stumble across it on social media.
Your brand voice and online engagement are a vital part of your establishment's branding. However, when we talk to our current and future customers, the most commonly heard struggles are either not knowing how to handle social media and online presence or not having enough time to run it properly.
It goes without saying, but in today's heavily digital world, your online presence has a significant impact on how your customers perceive and remember your brand. Any restaurant that wants to stay on top of their customers' minds and attract new customers needs to be present online. Besides building a better relationship with existing customers, the internet will also help you reach new markets and attract more traffic to your door, leading to increased sales.

That is why we have decided to gather tips to guide you with your branding decisions regarding your online presence. The first thing you should ask yourself goes back to our previous article: Restaurant and Bar Branding 101 (On-Site). How do you want to identify yourself in today's crowded market? Who do you want to be, and what makes you unique?
Your online presence is an extension of your business, so you want to make sure to brand it properly. The right online presence doesn't happen overnight. To help you get started, we have compiled an entire blog post to cover this topic. So without further ado, let's dive in!
You can break your branding online into 4 main categories. Below, we'll take a closer look at all of them.

Your Website As a Second Door To Your Business
Your website is like an online door to your restaurant. That said, would you be comfortable if your guests came to your establishment, were not presented with the food menu, and had to ask for it a couple of times before receiving it?
When potential customers visit you online, you need to give them the information they are looking for and make it simple to find. In addition to happy customers who get their questions answered, having updated information available will help you get more traffic to the door since 75% of people make a decision based on search results when it comes to choosing a restaurant. Don't miss your opportunity to bring these hungry and thirsty customers to your door! In addition to answering all the necessary information on your website, this helps you maintain strong branding both online and offline.
Your Website's Branding Must-haves
The consistency of your fonts, colors, and style of photos is crucial. It's just like walking into your physical location. Does it look nice and give out the feel you want the (potential) customers to experience? Is the message clear on whether your business is hipster, family-friendly, etc.?
If you have a story, you must tell it. It can even be in the form of a video, which can often be more engaging than text-heavy pages. With attention spans decreasing, storytelling via video is a great way to keep people engaged. Watch the following example from Decent People Taproom below.
Humans are highly visual creatures. Use this to your advantage by displaying your meals and drinks on screens throughout your establishment and on social channels to allure new customers.
While this might not be a brand element per se, it is a key part of any successful website. Let your customers know what you want them to do – whether it is booking a table, getting directions, following you on social media, or anything else. Make sure they know what action you want them to take. It might even be something more direct, like "donate" or "participate" in volunteering or other activities in the community. It all depends on how you want to position your business.
PourMyBeer TIP: If you offer delivery and online ordering, make sure to communicate that with an appropriate call to action.
If you're already investing your time to run your social media properly, you'll want to include social media icons on your homepage. They will promote your social media presence directly to your site visitors and allow them to learn more about your business' personality through these platforms. If they end up following you, you'll stay in their minds and give them more reasons to visit.
As mentioned above, having updated information on your site, especially the latest versions of your food and drink menus, is essential. Just like everything else, your menu page should reflect consistent branding – think fonts, colors, images!
PourMyBeer TIP: Don't use a downloadable PDF as your online menu, as that kills your search ranking. Put it all straight on the page!

Running a bar or a restaurant is no easy job. A lot goes into it, so if you don't consider yourself very tech-savvy, don't try to create and run your website all by yourself. After all, your website is like an online signature for your brand, so you should make sure it's good enough to be proud of. All your branding should come together in this one place, particularly if you have several locations.
Time to Become Google's Best Friend
Google My Business is vital for your target market geo-searches and your customer's reviews. Claiming ownership of your establishment on Google is free and can be done right here.
Scenario A - New Business
Sign in and enroll with the Google for Business account.
Scenario B - Existing Business
Google strives to provide people with accurate and relevant information. So, you'll need to go through a verification process to complete your profile. Once you get approved as a verified business owner, you can update and edit any information to make your business easily discoverable.
Even though restaurant trends are constantly changing and evolving, one thing has stayed the same since the early 2000s: people use Google to search for places to eat. Hungry coworkers, friends, families, you name it. They all do the same thing when they want to find a new place to grab a bite in their area. This is precisely why your business needs to be easy to find online and alluring to your potential customers when they see it in the search results.
Just like with your website, ensuring that all of your business' information is up to date on your Google My Business account should be a top priority on any day. Google determines your local ranking based on three factors: relevance, distance, and prominence (relative to the searcher and their query). Therefore, it's essential to make sure your information on Google is always up to date, so Google's algorithm can help you turn searchers into patrons. As you continue to add new and great-looking photos and respond to your online reviews, Google will begin to match local searches with the best results. Make sure the best result is your establishment. If you want to learn more about local search rank optimization, click here.
PourMyBeer TIP: Start with simple information such as your phone number, address, website, online ordering link (if applicable), hours of operations, etc. Then progress to things like the indoor and outdoor photos or videos you want people to see.
Look at the photos, videos, and information on your profile as if you were a searcher seeing it for the first time. Do they attract you to come in? Do they communicate what your business offers and truly stands for?
Google My Business is also where your Google reviews come into play, and that's where your online branding takes on a life of its own.
Online reviews are an important tool for managing your customer community; they can truly make or break your business. According to a survey conducted by TripAdvisor, 94% of US diners are influenced by online reviews. Because of this, you need to make sure your reviews support your brand.
These days consumers expect to be listened to and acknowledged. A simple "thank you" message for any positive review or an apology/a promise to work on a solution for a negative review can both go a long way.
While this may not always be the most fun aspect of running your business, it's crucial. You shouldn't be afraid to address negative reviews, as you want your brand to look responsive and always striving to improve. Whether it's on Yelp, TripAdvisor, Facebook, or Google reviews, communication must be a two-way street.
PourMyBeer TIP: When customers leave your establishment feeling happy, you should encourage them to leave a review of their experience and thank them for doing so. Positive reviews can provide a good opportunity to inform customers about any specials or your loyalty program, helping to encourage repeat visits and brand loyalty.
Let's review some of the platforms on which you should set up an account for your business and make sure to engage with the users.

Yelp is a powerful tool in the U.S. market. By setting up and maintaining your Yelp profile, you can start conversations with your customers and begin turning them into your brand ambassadors.
Besides providing your customers with basic information such as hours of operation, address, price range, etc., you can also include information about amenities. This increases the chances of your business appearing in search for potential customers who are looking for a place with an outside patio or kid-/dog-friendly establishment.
Yelp is also a great platform for user-generated content (customers using Yelp take pictures for you). You can highlight the best-looking Yelp photos on your website or social media platforms, crediting the user, which will make them feel appreciated and more likely to return (and even become your brand ambassador).
PourMyBeer TIP: You can connect to local Yelp managers in your area and offer them help by organizing Yelp events at your place to gain exposure in front of an audience most likely to leave reviews.
This tool is especially powerful if you are in a touristy area. When you set up your profile on TripAdvisor, you will significantly influence the user perception of your business. Just like with Yelp, you can upload your photos to show people what you want them to see.
A very similar tool the to other review platforms, but probably the most powerful of all in terms of search. This is because Google reviews are the most likely to display directly in search given a query, including your establishment's name. When customers are looking for specific keywords such as "dog-friendly," "vegan," "self-pour," or other trending terms, it helps with ranking higher in the search if your online reviews include these keywords.
When setting up your social media accounts, you need to stick to your branding just like everything else. First and foremost, your username should be just as your brand's name appears. If your brand name is taken, choose a username that will be easy to find and makes the most sense for your company.
PourMyBeer TIP: If the name for your establishment is no longer available for a handle, you can add your town or city names to it to make it logical and easy to find.
Before diving into a few social media platforms more specifically, there are a few general rules that are good to keep in mind across all platforms:
Create a consistent voice
If you have a team of people managing your social media accounts, create a basic guide that will help them use the same consistent voice online – from colors and fonts to guidance on hashtag use or visuals you prefer to show.
Besides using a consistent voice for the text of your posts, you need to stick to your color scheme and show high-quality photos of what your business is about. If someone started following you based on your content, it's because they like it and are interested in getting more of it. Make sure you give it to them in a way that aligns with your brand voice.
Social media is your opportunity to preview how your guests might feel when they visit your establishment, which is why you should try to capture your brand through their eyes. Take a photo of a happy group of friends or a couple trying self-pour beers together, or a close-up shot of the signature dish.
PourMyBeer TIP: Try to avoid out-of-place posts that have nothing to do with your business's core values. They can lead to confusion, and in any case, that is what your personal social media profiles are for.
Utilize a social media calendar
A social media calendar will help you stay consistent with your posts and maximize engagement (especially if you post at peak times of the day). You can utilize one of many social media scheduling platforms such as Meetedgar.com, Hootsuite, or Buffer. These tools automate the process and help you maintain consistency without having to physically post every time.
In the social media world, consistent engagement is essential, as it keeps the brand on your customers' minds.
Reshare Positive User Generated Content
User-generated content is any content about your brand created by your customers or employees. It can help your brand gain exposure for new audiences and is viewed as more genuine, so you should use it for your marketing whenever possible.
Make sure your social media accounts prompt the users to take actions that will help you reach your goals. Whether you want people to call and make a reservation, visit your website, order online, or sign up for your event, you need to communicate that by using a clear CTA.
Keep social media icons at the top of your website so they are easily visible and can effectively cross-promote your social media efforts. Just as you want to drive your customers from your website to your social media, you want this to work in reverse as well.
Monitor your brand's mentions on social media as that will help you stay on top of any negative exposure. If it does happen, knowing about it enables you to respond and potentially change negative feelings into more positive ones. Platforms such as Hootsuite or Sprout Social can help you with these efforts.
Google is also a helpful (and free) tool, which will notify you whenever any new content or discussions containing the keywords you are tracking pop up online.
Show your business' personality
Strengthen the branding and positioning of your business. Social media allows you to share anything from company core values (employees' stories, the business story, relevant motivational quotes) to your value proposition to customers (contests, reviews, and testimonials). Guests like to feel connected to the place where they dine-in or drink, so don't be afraid to show your business' personality.
Social media ads present a powerful tool for restaurants and bars because they are highly customizable, making it easier to target the right customers. If you have space in your marketing budget, start playing around to see which posts you can promote to get your brand more exposure and bring the right traffic to your door.
Now, let's dive into the two major channels that are most useful for restaurants and bars:
If your target audience is a younger crowd, Instagram should be your channel of choice since it's so popular and heavily visual.
How many times have you seen a picture of a delicious meal on Instagram? Whether it is a simple plate of burgers and fries or a fancy hors d'oeuvre platter, food is very visually appealing. Instagram, being an inherently picture-based platform, is the best place to capitalize on that fact. And it's not just restaurants that show off their food. Food presents a great sphere for user-generated content (when customers take pictures and tag your business on their social media), and you always want to encourage that!
PourMyBeer TIP: Have your Instagram handle or hashtag on your menus, table tents, or elsewhere around your space to encourage the idea of tagging your business on social accounts.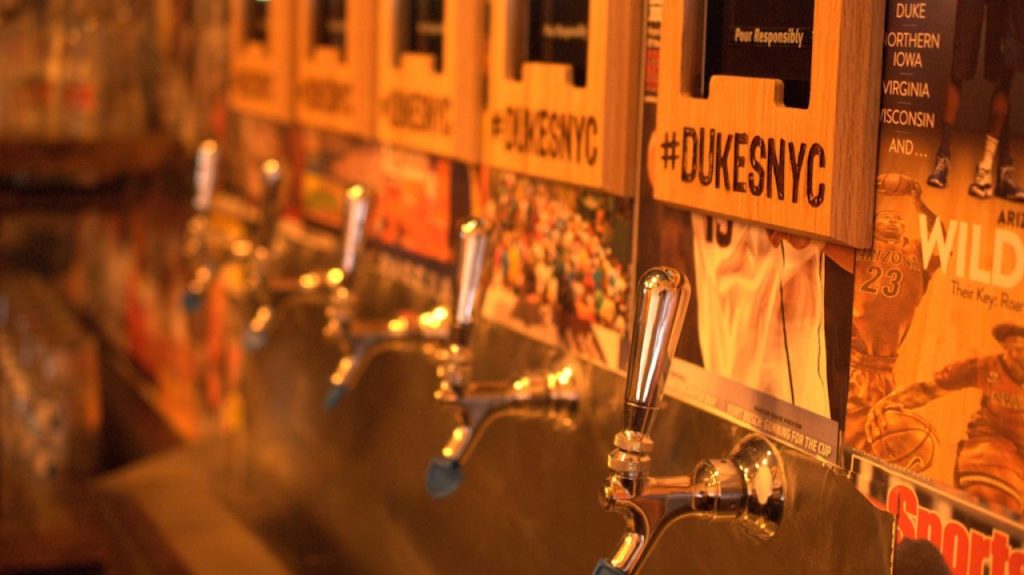 Tips on How to Make Your Instagram Pictures AWESOME:
1. LIGHTING
This is the key element of any photo! The light should be coming from the side, so there is ideally no shadow.
PourMyBeer TIP: If you don't have a professional camera, don't worry. Use your smartphone and take advantage of its lighting tool by tapping the darkest spot of your screen to get lighter shots when needed.
2. FILTERS
Filters are helpful when your picture is too dark or has some funky-looking light in it. However, be cautious about using filters that make your pictures look unnatural or washed out.
PourMyBeer TIP: As mentioned above, consistency is crucial for your branding, and using too many different filters can become distracting. Thus, if you do use filters, make sure to stay consistent with them.
3. FRAMING AND CROPPING
Lead the photo to perfection by utilizing framing and cropping tools. Most smartphones will have these, as will your computer's basic photo viewing program. If you want to get real fancy, you can use advanced platforms like InkScape or Krita.
4. MAKE IT PRETTY
Make your design more professional looking by adding relevant text or imagery. InkScape is a good option here. However, online design platforms like Canva and Figma are better suited for quicker digital design.

INSTA HIGHLIGHTS
Have a highlight album of your signature dishes, beers, or signature cocktails that you want to highlight. Anything that corresponds to the core of your restaurant brand should have its category highlighted at the top so you can get them even more visibility. The names of your highlighted categories should be relatively short, as they won't fully display if they are too long.
PourMyBeer TIP: We recommend highlighting behind-the-scenes activities, signature dish/cocktail preparations, or your employees' whereabouts, as that will further help to show what your brand is all about.
INFLUENCERS
Utilize food influencers. It helps create brand awareness, as influencers commonly serve as role models or inspiration for many others.
Back in the old days, this used to take the form of celebrity endorsement. But in today's heavily digital world, influencer marketing has become an equally powerful tool. But who is a social media influencer? It can be anyone who influences other people's decisions, particularly buying decisions. Instagram is the most commonly used platform for social influencers. They often post throughout the day via their Instagram stories.
The main thing you will need to consider is if the influencer is relevant to your business. Do they have a following that consists primarily of your target market?
And remember that this is a numbers game. In influencer marketing, this is referred to as reach. This is the number of users you can expose to your campaign. And finally, it's important to note that it's not just about the number of followers but also the level of engagement the influencer can create with your audience.
HASHTAG GAME
Become a hashtag pro. By creating your own hashtag, you will better communicate branding to your community. If done well, your loyal customers will use your hashtags, and they'll take off from there.
HAVE FUN
Don't stick to pictures only. Boost exposure by sharing stories (which can take the form of pictures or videos), utilizing boomerangs, and mixing them up as needed. Don't be vanilla!
Show appreciation of your team
Share your team members' stories. Showing behind-the-scenes footage or sharing the stories of some of your employees can be incredibly powerful. They are local people, which means they have friends and family in the area. This can mean more immediate exposure to others in the community, and with some strategic marketing, help make your business appear more personal than the competition.
PourMyBeer TIP: Give a shoutout to an employee who has been with your organization for years or has done something extraordinary. If interested, you can also share their career development, or you can celebrate their work anniversary with an appreciation party. (Of course, documenting this for Facebook or other social media accounts.) All of these things promote a public image as a benevolent employer.
As with any other social media platform, you need to make sure you have some CTAs on your Facebook page. Include a link to your reservation page, online order page, or even the page to sign up for the monthly newsletter. Give users reasons to click and reasons to engage with your company.
"What's your favorite dish in the summer?" or "What's your favorite beer?" Questions like these help get your customers talking and engaged with your business, but remember to engage back (ideally with something relevant from your menu) because online communication should be a two-way street. If done well, asking engaging questions will help you steer the waters of powerful word of mouth.
As covered in the previous category, Facebook reviews are becoming more relevant. Make sure you not only encourage them but also share them to get more exposure. And never forget to thank the customer who took their time to leave you with their feedback.
It will help you allure more positive reviews. If users are already following you on Facebook, they are already fans of your brand. You can encourage them to write a review by doing a special giveaway or giving them a gift card in exchange for a little bit of their time.
When creating a Facebook post, try to make your audience like it enough to share it with their network.
On the contrary, email can still help you communicate who you are online and, depending on the size of your subscriber list, it can have a great impact on your foot traffic. From giveaways to special discounts, weekly specials to upcoming events, email updates can help increase your restaurant's sales while keeping your brand in your customers' minds.
However, an email marketing campaign can only be beneficial if you have a high-quality email list to which you send your online letters. Make sure to track email addresses by having site visitors enter theirs when performing a CTA like registering for the newsletter, ordering online, etc.
PourMyBeer TIP: Instead of giving your guests access to the Wi-Fi by sharing a password with them, we recommend implementing Wi-Fi that asks your customers for their email addresses to get access.

Now is the time to embrace the power of the internet to brand your establishment online. The platforms and tools covered above are powerful ways to help you communicate the message you want your customers (or potential customers) to remember. With them, you will help your target market better understand what your brand stands for and what its core values are.
Your business is unique, so consider which of these tools make the most sense for your operation and in which way to use them.
As always, if you have any questions or feedback, we would love to hear from you!