When guests are at your hotel, it can sometimes be a challenge to give them reasons to stay in, outside of using their rooms to sleep each night. After all, hotels are mainly used by guests for that purpose only, with most of the attractions generally being outside. But, with PourMyBeer, hotels bring the best parts of a great night right into their lobbies, using the power and fun of self-pour beverage technology.
Using our self-pour tapwalls or mobile kegerators, hotels' lobbies around the U.S. all the way to Canada are already delighting their guests with the ability to become their own bartenders, all while not needing to leave their hotel.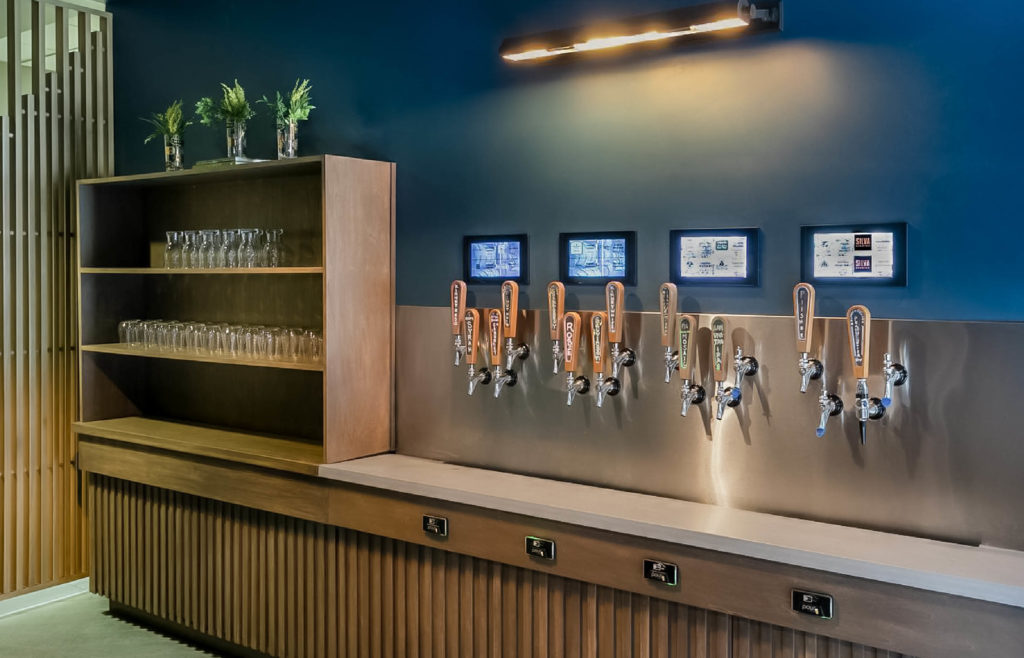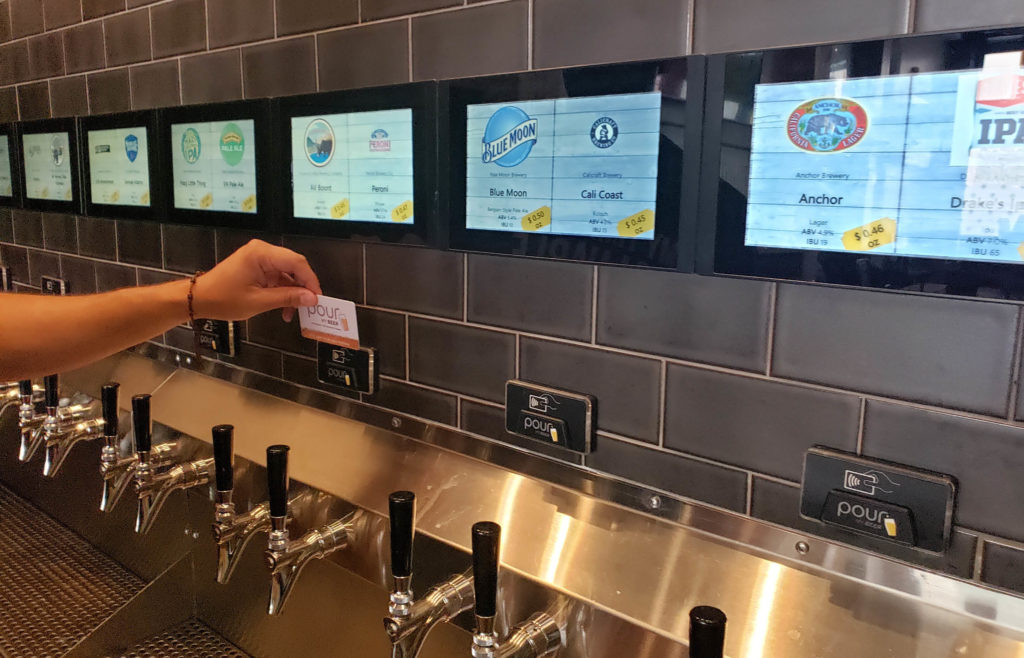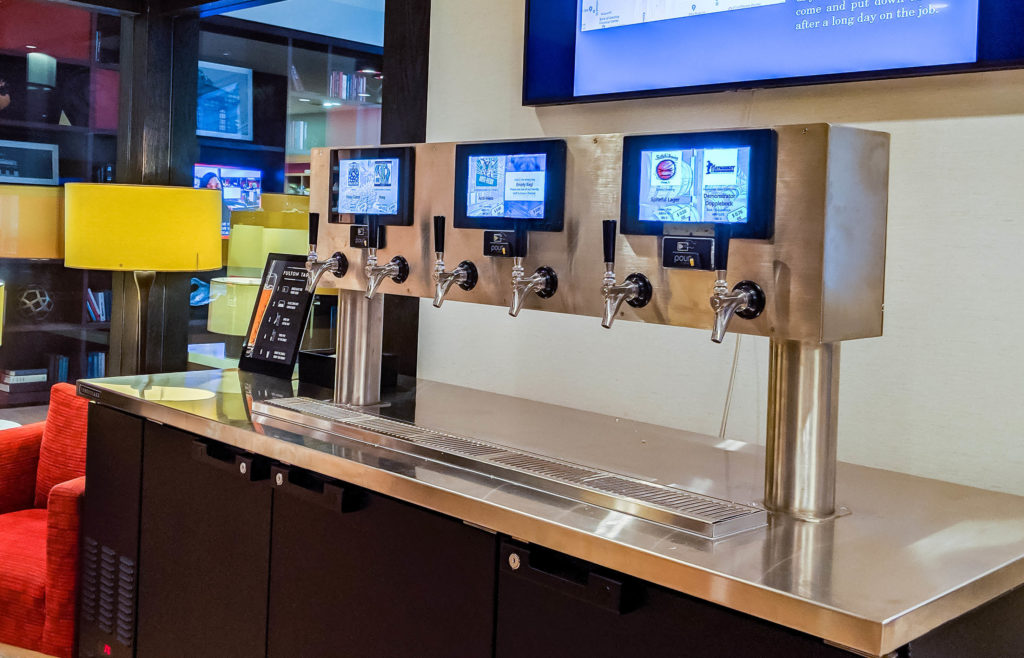 PourMyBeer's self-serve technology is significantly more efficient than a traditional bar you might see at most hotels. By allowing customers to pour what they want, when they want, you, as the owner, are not losing out on profits. And best of all, it gives guests a better, more memorable experience than any regular bar would.
Check out how PourMyBeer works:
And here is an example of how it works in a hotel in San Francisco… 
How can hotels get the best out of self-pour?
Conferences & Resorts: Conferences, work functions, weddings, events, you name it. Self-pour is guaranteed to enhance the experience and be a major success! Attendees at any such events will surely enjoy the fun and ease of self-pour, and the social aspect will make it that much better.
Extended Stay: For guests staying for longer periods, a self-pour setup introduces an opportunity to make your hotel's self-pour bar a place where loyal customers continue to return to. When long-term guests really enjoy self-pour and get used to the efficiency, they won't feel the need to go elsewhere!
Select Service: You can consider partnering with national beer/wine brands for guest loyalty programs, meaning that guests in those programs with your hotel also get benefits that extend to your self-pour bar. 
Boutique: For a touch of luxury and class, you can introduce some high-end craft beer offerings and tastings to enhance the self-pour experience. Because we can keg anything that can be poured, it will easily be integrated into the system and can elevate the self-pour experience for clientele looking for a high-end drink experience.
As the owner, you get some serious benefits out of using self-pour instead of a traditional beverage dispensing setup:
Lower Cost

: Without needing to bartend, staffing needs reduce, and with it expenditures for wages and overhead.  

Better Service

: And when you put customers in charge of their own drinks, it means that your staff can focus on providing excellent service and ensuring the space stays clean and welcoming. 

Less Waste

: With self-pour, guests pour in exactly the quantities they want, meaning they are much less likely to waste drinks or overpour. Free sampling is also unnecessary now as well, because sampling with self-pour is very easy and costs little in small amounts.

Easy Inventory

: Kegs make your inventory management a breeze. Instead of having to keep track of and later dispose of hundreds of bottles at a time, you'll have only a handful of kegs to manage at a time.

Unique differentiator

: Self-Pour is new, it's interesting, and it attracts attention. Especially at a hotel where guests are likely to be looking for a good time, having this is a great way to attract people, especially if you advertise it to them well.


And your guests will also have plenty of reasons to love the tech as well:
Convenience: 

No more waiting, no more aggressively flagging down a bartender. Self-pour gives the customer control.

Cost Efficiency and Sampling: 

With a pour and pay-by-ounce system, guests can take precisely the amounts they want, meaning they can easily sample and take partial drink amounts instead of committing to an entire glass.

Consistency

: Kegging drinks keeps them cold and fresh, ensuring that every time a guest pours, it's as enjoyable as ever.

Fun and Unique Experience: 

Self-pour is a very interactive and social experience. Guests will often talk to each other about their favorite drinks, how to pour perfectly, and which ones look the coolest. This can be a great marketing boost for your hotel, and since it's relatively new for hotels in general, it'll really make you stand out.
If you have any questions on how to get started when opening your own self-pour bar, don't hesitate to contact us at
(312) 416-9989
or
cheers@pourmybeer.com!
Join the Self-pour Revolution!