On-Site Opening Support Package
We want to set you and your team up for self-pour success during your Soft and Grand Opening. Over the years, PourMyBeer team members have been to many of our family member's grand openings, and we're looking forward to giving you the support you need to have a successful opening! Our team will provide technical support and marketing assistance on-site and show guests how it works and explain to your crew how to work the wall! Hear what Kathy, an operator who had our support at her opening, says about having us on-site!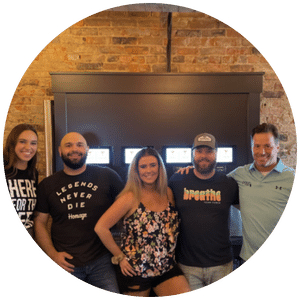 I am not going to lie, opening a business so tech-forward was very scary at first as I was terrified something would go wrong or crash, and I wouldn't have the tools to troubleshoot it. I'd have paid 4 times what it cost to have them there for our soft and grand opening. They made the process so much less stressful than it would have been. 10/10.
Our 2-Day Launch Support Package Includes:
Day 1
- Pre-Launch Setup & Testing
On-Site Guidance & Training
Configure screen display settings (pricing, background image, beverage colors, etc.)

Assign products to taps

Set tap calibration for accurate pouring

Assign tap numbers

Configure keg levels

Create cards for both pre-pay and POS online bill-pay
Ensure full end-to-end testing is functional, from creating a card to pouring

Fire drill practice (if your internet goes out)

Take you through the typical support process – call, email, text, knowledge base, training videos & customer resource center

BKG setup/training

Write and run through employee script with staff
Day 2
- Launch Day Support
On-Site Troubleshooting & Staff Shadowing
Shadow front desk staff and provide support with customer check-in process (creating and closing cards)

Provide additional "Beer Wall Ambassador" customer support for reactivating customer cards and offering how-to guidance

Live videos using our Social Media platforms to promote your business and drive traffic to your location.
On-Site Guidance & Training
On-site marketing assistance to capture videos and pictures for cross-promotions

Online reviews – Yelp, Google, and Facebook to help promote new location

Advise on in-store promotional/how-to signage and guest "workflow"

Setting up with the check-in station

Help with training staff on checking people in and explaining to them the wall

Help with the employee script

Help to run the wall during peak hours

Live Facebook video
Optional
Add-ons
(Depending on Our Team's Availability)
Create promotional video

Create press release

Assist with social media posts
Total Price - $2,000 + Travel Expenses and Food ($75 per Diem/per person)
*This package includes two days of on-site support with one support team member and one marketing team member. One-day or one team member support packages are not available.*
Hear what Some of our Self-Pour Operators Said about Having Our Team at their Grand Opening!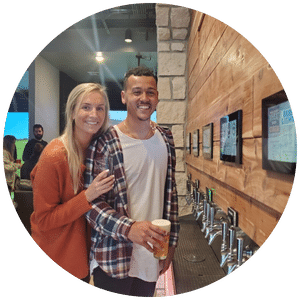 Having the PourMyBeer team at Goolsby's was a great example for our new staff. We all needed to see that it was ok to jump in and help a guest operate the wall for the first time. No one wants a bad pour, and the PourMyBeer team members are expert coaches!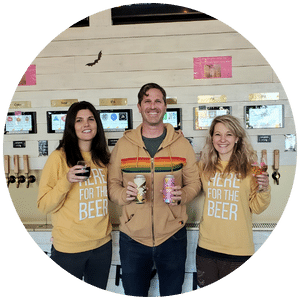 Opening a self-pour tasting room is a stressful endeavor, but with the PourMyBeer support team on-site, everything felt much more relaxed. Not only are they knowledgeable about the self-pour technology, but they are also extremely good with new guests who don't know the system yet. Offering support staff on-site for your opening is just one of the many reasons why PourMyBeer is the best in the business.
Get in Touch Below to Purchase Your Package or Learn More!
The PourMyBeer team is committed to helping you through every step of your self-pour journey. If you would like to purchase our launch package for your grand opening or if you have questions, please contact our Customer Success Team at customersuccess@pourmybeer.com.
To provide the best experience possible, we need a minimum of 2-weeks notice to schedule and coordinate our team members. Once a date is confirmed, any changes may result in an increase in travel expenses and will be added to the final invoice.