RFID Cards and Wristbands
What are my
RFID
options?
All self-pour systems on the market require radio-frequency identification (RFID) for guests to begin pouring at the wall; however, not all providers offer the same RFID options to operators. Let's dive into how RFID technology works in compatibility with self-pour technology and the various options PourMyBeer provides to operators.
RFID cards are the most popular option among our PourMyBeer family members. Our quick, responsive, custom-printed RFID cards allow guests to easily tap or place their card on the reader. PourMyBeer is the only system on the market that enables owners to decide if guests tap the card to the reader or place the card in the reader to pour – the choice is yours, and you can change it at any time!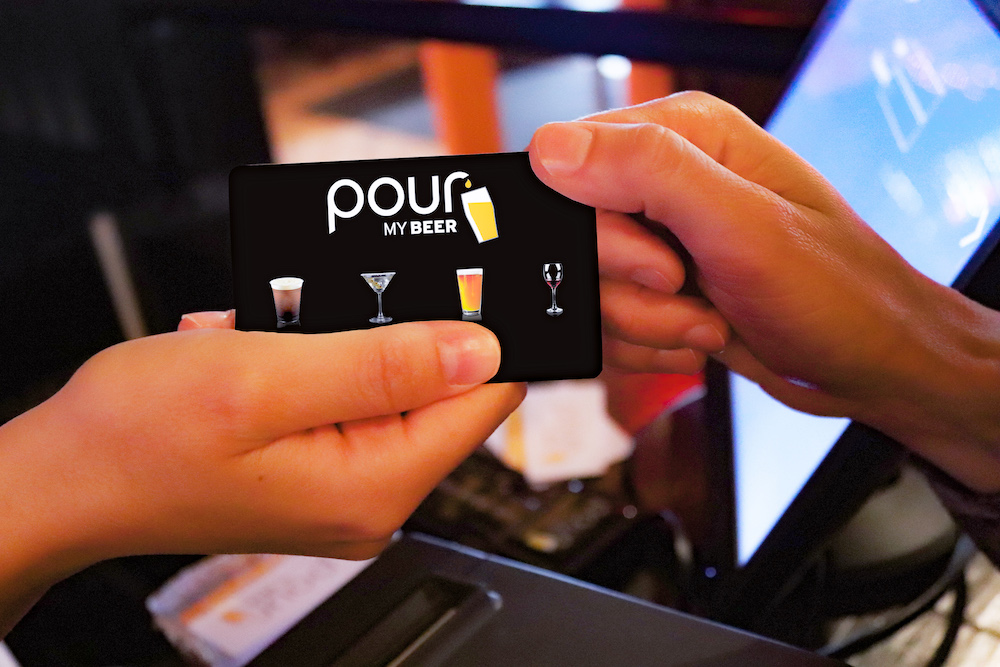 At PourMyBeer, our system supports READ/WRITE and READ ONLY cards. This includes all variants of the MIFARE® family (MIFARE Mini®, MIFARE Classic® 1K, MIFARE Classic® 4K, MIFARE Ultralight®, MIFARE Ultralight® EV 1, MIFARE DESFire®, MIFARE DESFire® EV1, and MIFARE Plus®) and the NTAG2xx chip family (NTAG203, NTAG210, NTAG212, NTAG213, NTAG215, NTAG216).
We offer affordable, high-quality RFID cards that are PourMyBeer branded and ready to ship or personalized with your business's logo/brand. You can conveniently order cards 24/7 at our RFID Card Store: https://pourmybeer.cards.
We exclusively use securely encrypted cards for all managers/staff to protect access to key system controls.
Below are some examples of our customers' personalized RFID cards.
While our RFID wristbands are not as popular as cards, we have offered this option to our PourMyBeer family members for the last 4 years. Our efficient tap-to-pour technology allows guests to simply tap their wristband on the card reader and begin pouring. Watch the video below to see our RFID wristbands and tap-to-pour feature in action!
How to activate new 2K MIFARE cards
When you receive new 2K MIFARE RFID cards, they will need to be assigned to your location using the admin function called "change card password."
1) Log into the check-in area (where you make customer cards) using an admin card or credentials.
2) Press the green "change card password" button.
3) Leaving the old password field blank, press the arrow at the top right of the screen.
4) Scan the new cards one after another until all of them are done.
NOTE: If you use a POS integration with your PourMyBeer system, you are most likely using read-only or 1K Classic MIFARE RFID cards that do not require passwords. You can use these cards right out of the box for pairing with POS tickets and online prepay or bill pay options.