Most bartenders pour hundreds of draft beers a day, and so they are familiar with finicky tap handles and know how to tilt the glass just right to get that perfect head. The typical patron has likely never used a draft system before, and unless they have bartending experience, they likely have never poured a beer on their own.
The standard draft beer faucet needs to be opened quickly. You have to pull the handle as fast as possible and open it fully to get a good pour. If you don't do this, you WILL have a glass full of foamy beer. As mentioned before, bartenders know to fully open the tap handle and tilt the glass, giving it the perfect stream of beer. Nevertheless, most of your customers don't know this, so this is where the trigger taps come into play. Your customers can get a helping hand from using "Trigger Taps," also referred to as On/Off Taps or Pass/Fail Taps.
The purpose of a trigger tap is for the line to be fully opened or fully closed, nothing in between. This reduces the possibility of a first-time self-pour customer accidentally pouring a glass full of foam.
While the images below may look like your average tap, they have this special trigger tap implemented to prevent the dreadful foam.
Our partner, Micro Matic, sells trigger taps to ensure customers have a great pouring experience. Check out their Tap Handle and their features and specifications.
Watch this video to see how the trigger taps work!
How can you tell which taps are trigger taps?
Answer: You are going to see a little TT (circled in the image below) on the front!
While these taps are certainly not required, they will help your customers pour the perfect beer. It will also make them feel like they are professional bartenders because they will be pouring like a pro!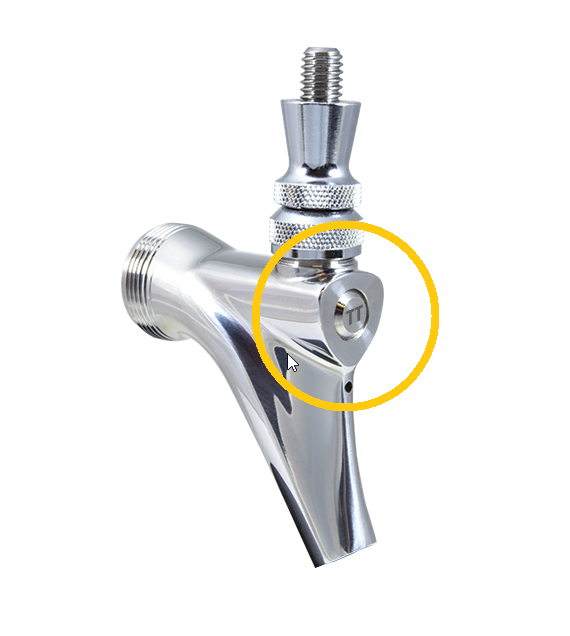 If you have any questions or would like to learn more about trigger taps, click below.