Are you looking for behind the bar secrets? Keep reading!
Bartenders are used to hearing secrets while serving beverages to eager guests at the bar, but today we are going to share some of the best secrets about what's going on behind the bar. This blog was written by Perlick Corporation to share some of the top secrets from behind the bar that every operator should know. Perlick is a 100+-year-old fifth-generation family-owned company headquartered in Brew City, aka Milwaukee, with an extensive legacy and reputation for innovation; so these tips can help take your operation through centuries to come.
1. More profit is poured at the bar than cooked in the kitchen
With culinary creations being what drives a large portion of visitors to the restaurant industry, it might come as a surprise that libations from the bar are the main profit driver for the food and beverage industry. Of course, we had to start with this point because of our love for beer. So, pause here and grab a drink before we continue.
2. Draft beer is the most profitable beverage
Draft beer is the most profitable beverage served at the bar. With draft beer being key in generating profits, it is imperative to understand how to serve this seemingly easy-to-understand beverage to guests. There is an art to serving up a perfect pour, and we're ready to let you in on the secret. Draft beer is considered the freshest and best product you can get. Packaging and bottling beer takes it out of its purest state, which is why draft drinks have become a fan favorite.
3. Serve draft drinks at proper temperatures to increase profits
Proper serving temperature ranges from 36-42 degrees Fahrenheit. This temperature range is critical. When serving beer at the proper temperature, carbon dioxide rises out of the beer and is released from the liquid at a given rate and enhances the flavor. The colder the beer, the more the CO2 stays in; the warmer the beer, the faster the CO2 comes out. If draft beer is served at too low of a temperature, for example, 32 degrees Fahrenheit, the CO2 stays locked into the beer. When the CO2 is not released, the flavor of the beer is compromised. Additionally, once the beer hits your stomach, the CO2 releases, and you begin to feel gas from the CO2. Customers will then eat and drink less due to feeling too full, all caused by the improper release of CO2. To gain profits, it is crucial to serve draft beer at the proper temperature to increase profits and enhance the customer experience.
4. Avoid drinking and serving beer out of a can or a bottle
The five senses are an important part of many human experiences. When it comes to eating and drinking, 80% of taste is derived from the smell. For this reason, it is important that when it comes to serving beverages, especially beer, they are served in a glass. When enjoying a beer from a glass, the aroma from the CO2 releasing enhances the beer flavor.
With this being an important part of the experience, different varieties of beer now have specially made glasses to enhance their flavor profile. With self-pour technology like PourMyBeer, establishments can offer kegged drinks without the hassle of a bartender pouring each beverage for every customer. PourMyBeer's technology immerses customers in the beverage experience while ensuring the flavor is savored and secured.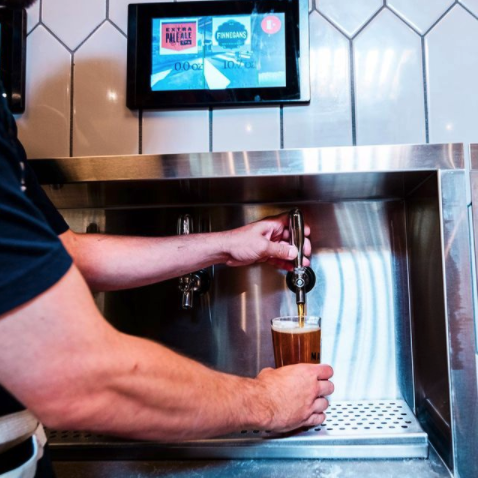 5. Foam in the glass is a good thing
A crucial element in the flavor profile of a perfect draft beer is the foam or head. Ideally, 1" head of foam should be present on a properly poured beer. The proper amount of head keeps the CO2 trapped in the liquid. When the beer is picked up for consumption, the head comes forward and is breathed in, enhancing the flavor. It is also important to note that the head on beer consists of 25% beer and 75% CO2. Foam poured down the drain is actually profit being poured down the drain.
6. There is a proper way to pour a draft beer
To create the perfect pour, do not pull from the top of the tap handle. Pulling from the top of the tap handle places strain on the shanks and screws on the mounting surface. Instead, place three fingers on top of the faucet. Snap the faucet open and closed as quickly as possible to prevent agitation on the top of the faucet, which could cause the beer to foam excessively. Hold the glass below the faucet (never inside) at a 45-degree angle. Snap the faucet open and pour ¾ full. Then, to create the head on the beer, drop the glass below the faucet to cause agitation, and snap the faucet shut. If you have a self-pour system in place, ensure to educate patrons on the pouring process. It will make them appreciate the art of draft beer or have fun engaging in their own self-serve station on systems such as PourMyBeer.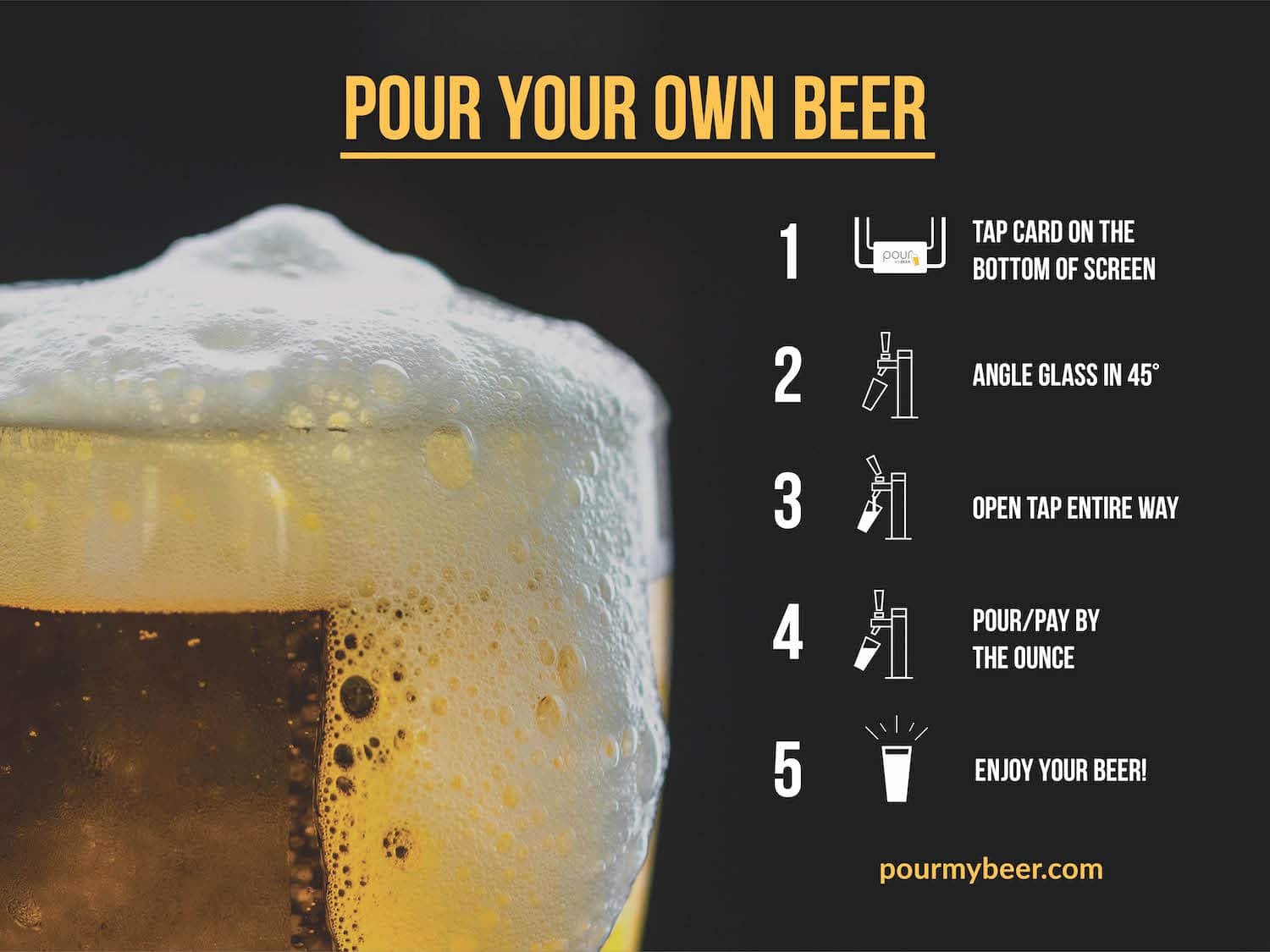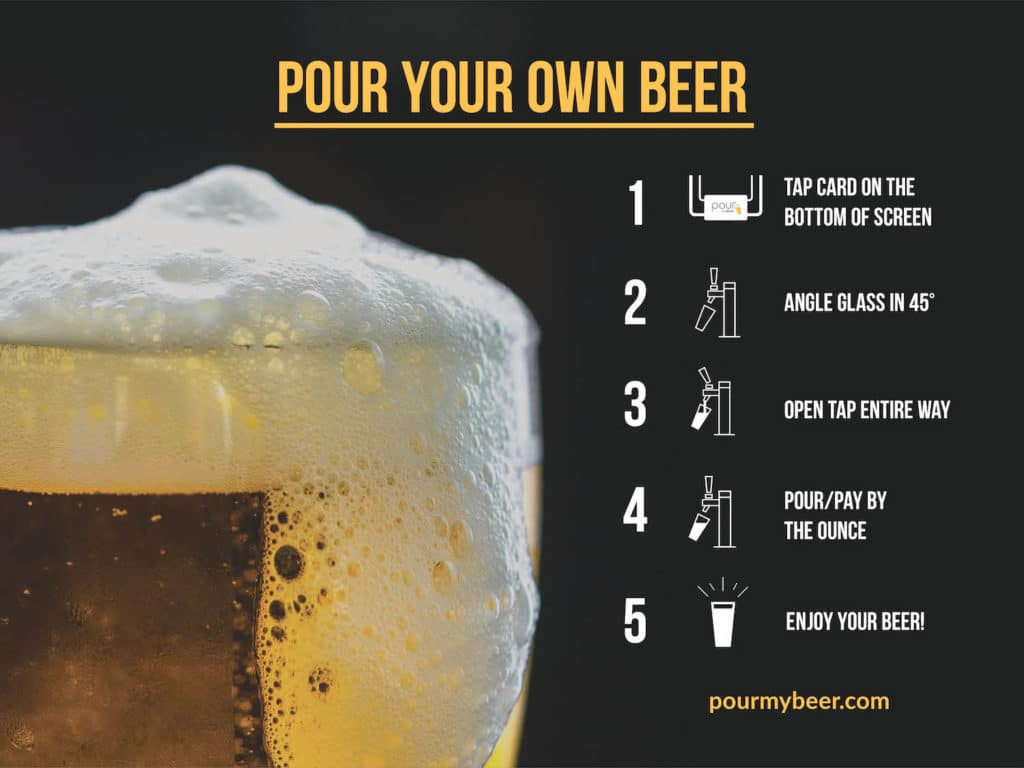 As mentioned previously, temperature plays an integral part in the service of draft beer. Coolers must maintain a constant temperature to ensure the stability of the kegs. Optimal cooler temperatures can range from 34-38 degrees. Kegs should stabilize in the cooler for 24 hours before tapping! If the keg is getting low, having a backup ready and cooled to proper temp 24 hours prior is ideal. PourMyBeer's technology has warning indicators on the screen to alert operators when keg levels are low.
8. Have a dedicated beer cooler
A dedicated beer cooler is advised. Beer stored in food coolers is subject to fluctuation, which can cause foaming problems and compromise flavor.

9. Understand the lifespan of a keg
There are a variety of factors that contribute to the lifespan of a keg and there is no "one key rule" to follow. The type of beer and the size of the keg all play a role in the keg's lifespan. The key factor to understand is as soon as the keg is tapped, the "freshness" clock begins to tick. When tapping a keg, oxygen is introduced and, in time, alters the flavor of the product. If a keg is stored properly at ideal temperatures previously discussed, the average lifespan of a keg is 90-120 days (3-4 months.)
Faucet cleanliness is imperative for any draft system. Faucets must be cleaned every two weeks. The way some faucets are sealed, where the liquid shuts off after use has exposure to oxygen causing a second fermentation process generating mold and bacteria. When cleaning, it is recommended to remove the faucets, wash, and sanitize. Perlick's award-winning 650SS Forward Sealing Flow Faucet is designed with a flow compensator and an adjustable flow control handle. This allows for restriction of hard to pour brands, as well as slow pours for growlers, sampler glasses, and flights.
Notable features of the 650SS Forward Sealing Flow Faucet:
Made with stainless steel construction that won't tarnish or taint the flavor of the beer

Patented forward sealing design eliminates the need for a valve shaft exposed to beer and air

Vertical spout angle for more thorough draining – no area for beer to collect

Easy to clean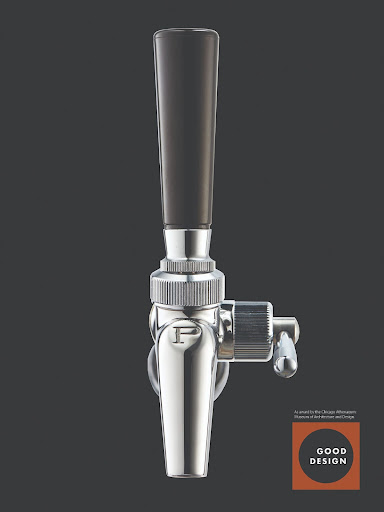 11. Pressure Source is a key component in beer quality
The pressure source is critical to maintaining product quality in a beer system. It propels the beer from the keg to the faucet. The pressure source can be straight CO2, mixed bottle gas, blended nitrogen and CO2, or beer pumps that can deliver beer up to 600 feet.
12. Cocktails on Tap is the way to go
Beer isn't the only beverage that can be poured out of the tap! Diversify your offerings with cocktails on tap. Popular cocktails that are time-consuming and individually made can be batched for serving on tap. Cocktails can be easily dispensed though PourMyBeer's self-pour technology. The benefits to serving cocktails on tap are:
Reduced waste

Reduced strain on overworked bartenders

Quicker throughput with increasing labor shortage issues

A great way to quickly elevate your beverage program and increase revenue

Increase bartender efficiency by pre-batching high volume cocktails

Maintain a consistent spirits ratio to reduce pour costs

Temperature regulation and keg storage extends the shelf life of pre-batched cocktails
Perlick's Tobin Ellis Signature Series Draft Cocktail System is a curated selection of everything you need to get the perfect draft cocktail system up and running, in one place! Some of the benefits of the system are:
Liquors, liqueurs, syrups, juices, and mixers all have different levels of viscosity. These ingredients can easily separate in a batched keg. Perlick's specially designed cocktail kegs combined with our NSF approved circulating pump maintain product quality and consistency by keeping drinks thoroughly mixed throughout their life in the keg. The circulating pump

draws beverage from the bottom of the keg through the pump via barrier tubing and returns it down a second tube back to the keg. ​

Depending on the type of beverage being dispensed, either straight

CO

2

or a Nitrogen/

CO

2

blend (Guinness Gas) is used to push the beverage from the keg to the tap.​

A programmable timer allows for intermittent mixing to precisely and automatically control the amount of circulation. Perfect for carbonated cocktails stirred cocktails like Negronis and Manhattans, and much more.​

An in-line fine mesh filter keeps pulp and other ingredients out of the circulating pump​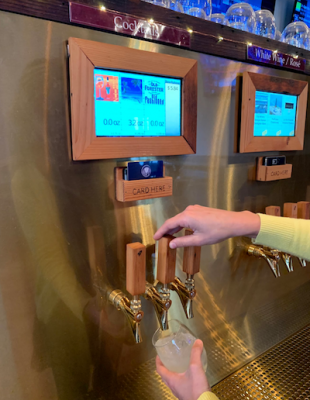 cOCKAILS ON pOURMYBEER SELF-POUR TAPS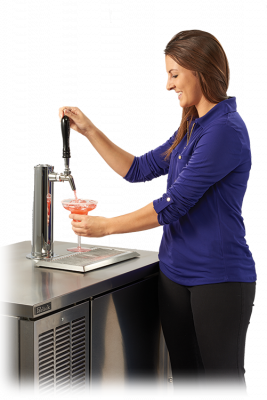 Perlick's cocktail dispense tech
13. Wine on Tap is another rising trend
Wine on tap systems keeps wine flavor intact for weeks on end. For businesses, that means selling more wines by the glass with consistent quality. Selecting keg wines means higher quantities, which results in a lower cost per glass and even higher returns. Wine on tap has come a long way since first introduced and now is becoming widely accepted. Customers don't seem to miss seeing their wine poured from a bottle, while bars and restaurants are confident enough to include more expensive choices in the on-tap list.
Wine on tap is now available in more than 500 labels, all available in sixtels: each sixtel holding the equivalent of 26 bottles of wine. Benefits of wine on tap also include:
Labor, cost, environmental savings

Stays fresh for up to 90 days
Perlick developed and tested their line of sanitary 304 stainless steel components to ensure their systems will not corrode or affect the quality of wine being served from their equipment. Perlick's 630 Series Forward Sealing Faucets previously mentioned feature a front seal and ball design, which locks out air and preserves all of wine's natural flavors. Perlick offers a Wine Certified guarantee, meaning that their products can properly store and dispense wine.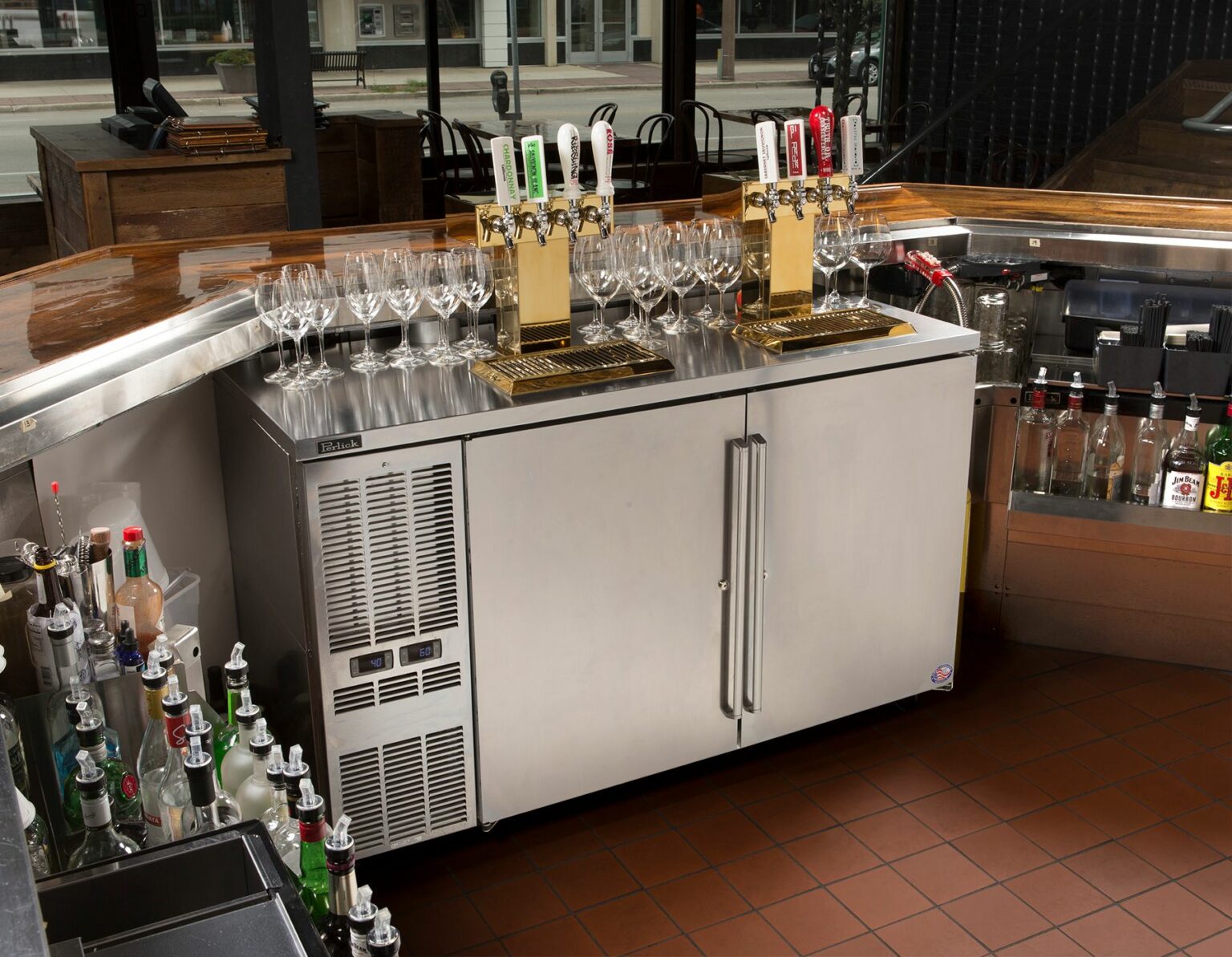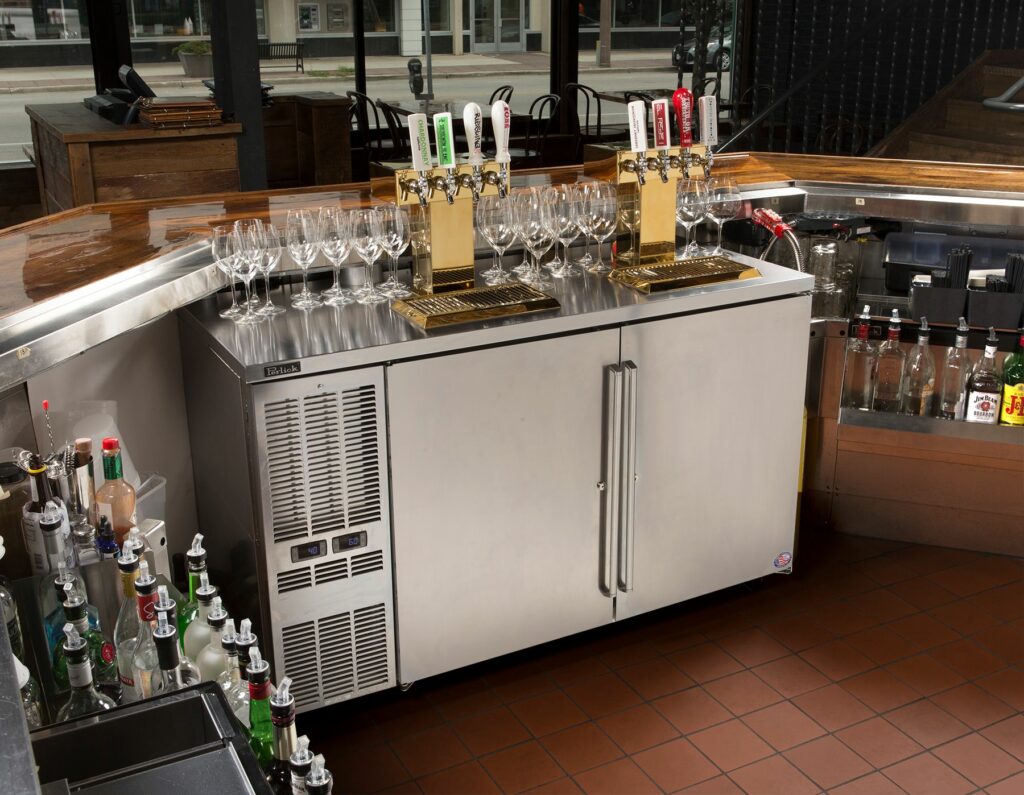 14. Include Fun, Non-Alcoholic Options
Nonalcoholic beverages, or "mocktails," are growing in popularity within the food and beverage industry. With an increase in Millennials and Gen Z-ers adopting "drysolation" during the pandemic, the increase in interest for sober options is growing and here to stay. Offering exciting, intricate NA options on your menu is a great way to meet this market need while bringing in increased revenue from a market that is otherwise "untapped." Offering draft kombucha, tea, or nitro coffee are all great options. Perlick offers an easy solution for operators that already have a draft beer system that would like to diversify their offerings. Perlick's Nitro Dispensing Kit allows for connection to an existing tower to maximize dispensing options. Beverages such as coffee, tea, beer, and others can be infused using the Perlick Nitro Dispensing Kit – elevating your dispensing capabilities. The infuser kit gives you the capability to dispense nitrogen-infused beverages at the same PSI such as coffee and beer for a wider appeal to customers.
The Perlick Nitro Dispensing kit includes an infuser, hoses and connections, 6-way distributor, regulator assembly, and air sleeve

Kit pairs with the following Perlick commercial series refrigeration: BBR, BBRN, BBS, BBSN, DDC, DDS, DZS60 and HC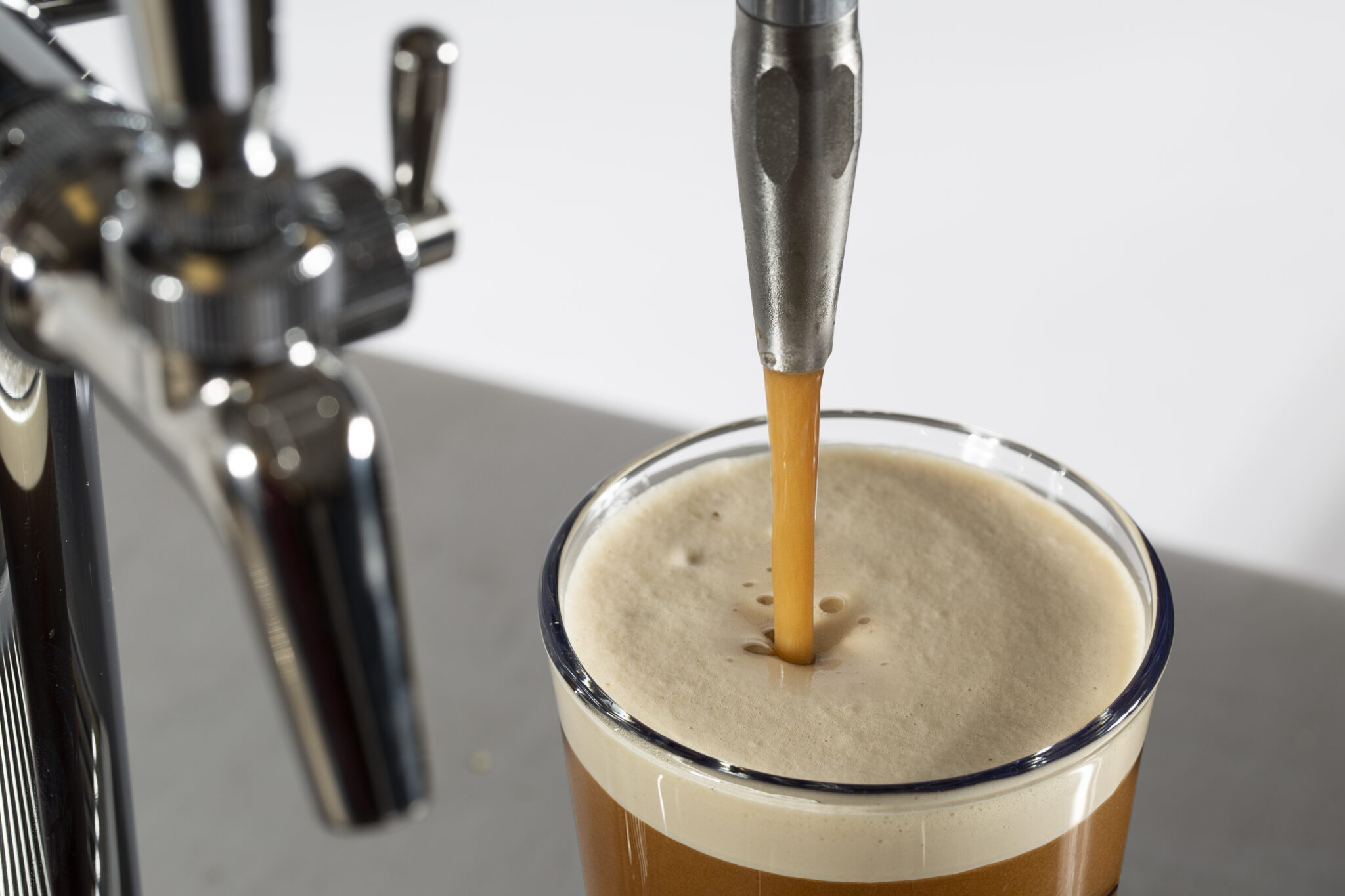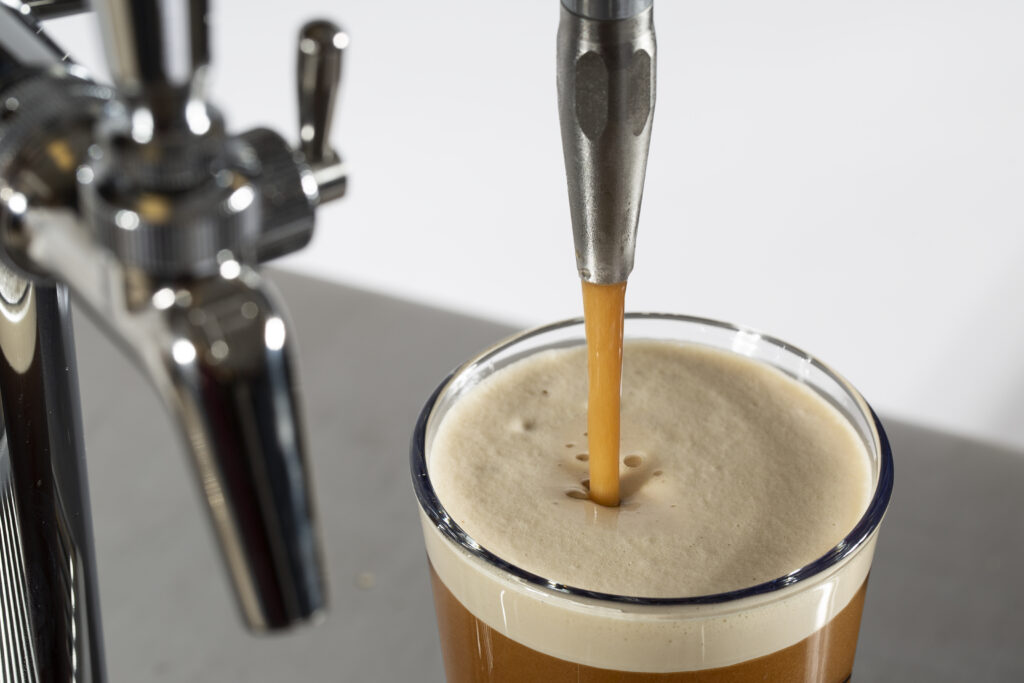 15. Curate Your Cocktails with Specialty Ice
Ice in cocktails is not just for cooling, nor is its shape only about aesthetics. Ice is part of the life and soul of a drink. Controlled dilution is a main part of the equation. Bar professionals with a real passion for the art of cocktail making have always known this because of how ice impacts the overall experience. Customers, too, have started to take notice. And we don't just refer to the importance of ice, but also its shape. Just like each type of beverage has an ideal glass size and shape, the same can be said for ice. Perlick offers a solution to this growing trend. The Ice Vault designed by Tobin Ellis is the only product on the market that is NSF certified for the storage and preparation of craft ice and mixers. Perlick's Ice Vault's rear freezer compartment stores up to 48 large format cubes within easy reach of the bartender, meaning no more running to the back freezer for specialty ice. All compartments are also designed to store juices, vermouths, champagne, and spirits at optimal temperature, making it easy to create the perfect specialty cocktail without ever leaving the cocktail station, increasing both speed and flexibility.
We've covered a lot! With these tips, we hope you've gained some insight into the (not so) secret practices that aid in maintaining a successful and profitable operation. For more information on how Perlick and PourMyBeer can elevator your offerings, contact us below!