Self-Pour Technology In
Barcades
When going to a barcade, customers are looking to have fun playing games with their friends and/or family. Customers moving around from game to game can make it difficult for your staff to keep up with their drink orders. The fun has to stop with a traditional bar set up causing customers to have to wait in line to get a drink. Thanks to PourMyBeer's revolutionary technology, your customers are able to quickly pour themselves another drink without waiting in line and get back to the fun!! Your staff can focus on other things, like cleaning up glasses and tables, and making sure everyone is having a good time.
Benefits of self-pour for barcade owners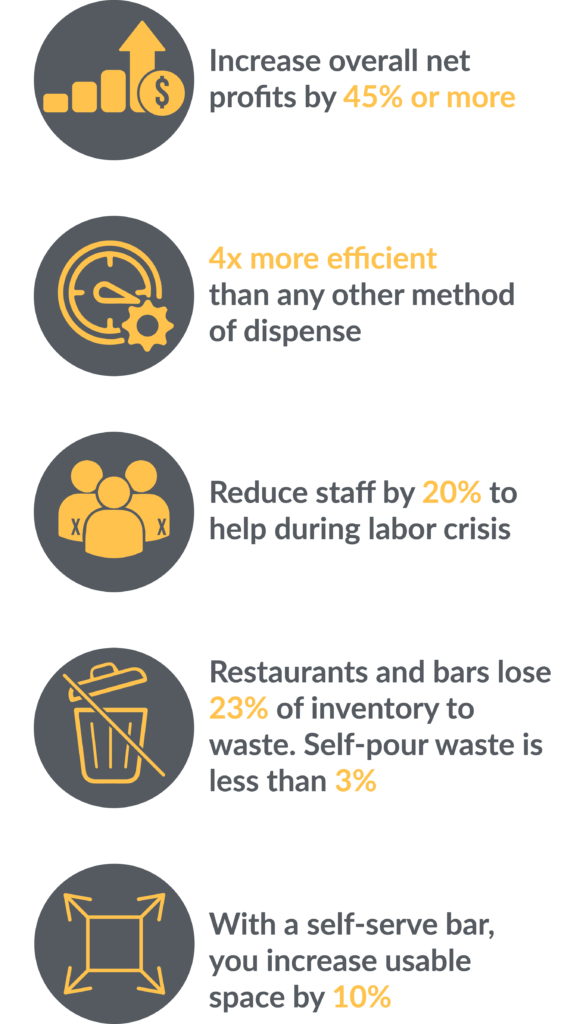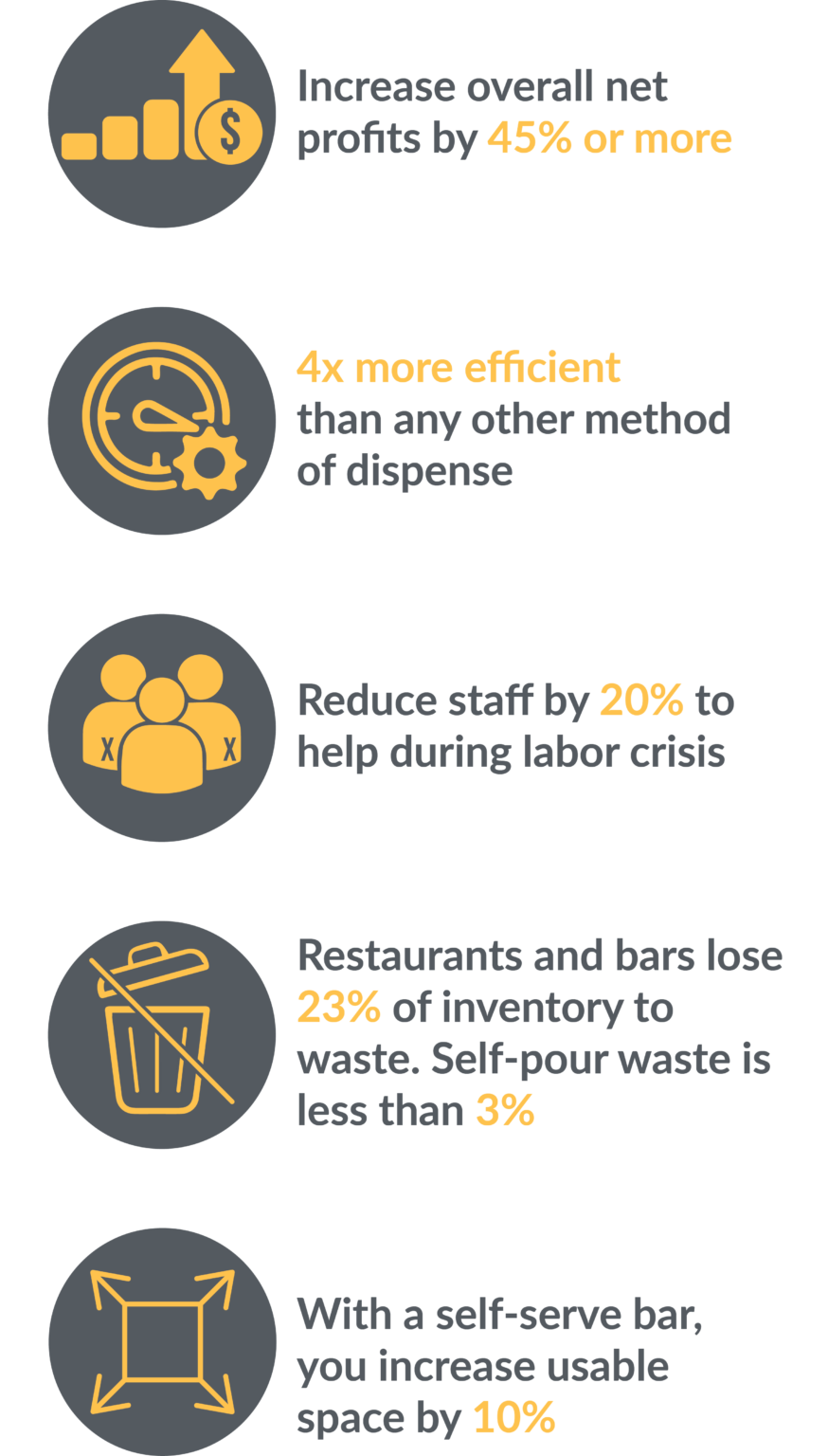 Reduced Cost: Since the customer is in control of how much they are pouring, you will save on wage expenditure as you don't need as much staff. Self-pour technology tracks every ounce poured so no more losing out on profits due to over-pouring or spillage.
Service Efficiency: With customers acting as their own bartender, they can approach the wall when they need a refill. Meaning, your staff can focus their attention and efforts elsewhere, enhancing the overall customer experience.
Waste Reduction: Self-pour accounts for every ounce poured, meaning customers won't want to waste what they pour. Since customers can pour as much or as little as they want, no more free samples are necessary. Also, with self-pour technology tabs will never be unpaid as the POS is automated, eliminating human error.
Consistent and Quality Taste: Kegs are vacuum-sealed to keep beverages as fresh as possible. Once kegs have been opened, they'll remain fresh for weeks and maintain the same quality taste from day 1.
Easier Inventory: The use of kegs eliminates the need for bottles. Now you'll only need a few kegs in your inventory.
Check out this TikTok to get an inside look into one of our Barcade locations, Can Can Wonderland located in Saint Paul, MN.
Benefits for your customers
More Convenient: Customers have the freedom to pour whenever they want with self-serve technology so they never have to wait to get the attention of a bartender or server again!
Cost Efficiency: At a traditional bar, customers can have a couple of free samples and then purchase a full glass. With self-pour, customers can try a variety of samples before pouring a full glass. They pay for what they try and decide to drink.
Cold and Consistent: Kegged drinks provide fresh, cold drinks every time. Customers will get the same great taste from the first pour to the last.
Sampling is Easy: The pay-by-ounce model appeals to many customers. They can sample as many beers as they want in smaller amounts – giving them the option to taste beers they would normally never be able to taste.
Fun: Let's not forget the best part, self-pour gives customers a unique and fun experience! Customers love interacting with each other, comparing their favorite brews, and engaging on social media. It's a concept like no other!
Check out this TikTok to get an inside look into one of our Barcade locations, Insert Coin located in in Centralia, WA!
A list of some Barcades utilizing the power of self-pour
Taps: 42
Screens: 21
The Circuit is Richmond, Virginia's first dedicated retro and modern arcade bar, offering a vintage vibe with ultra-modern amenities. They offer 50 rotating local and national craft beers, ciders, and wines.
They have tons of classic arcade games including Asteroids, Pac-Man, Mario Kart, Guitar Hero and Skee-Ball.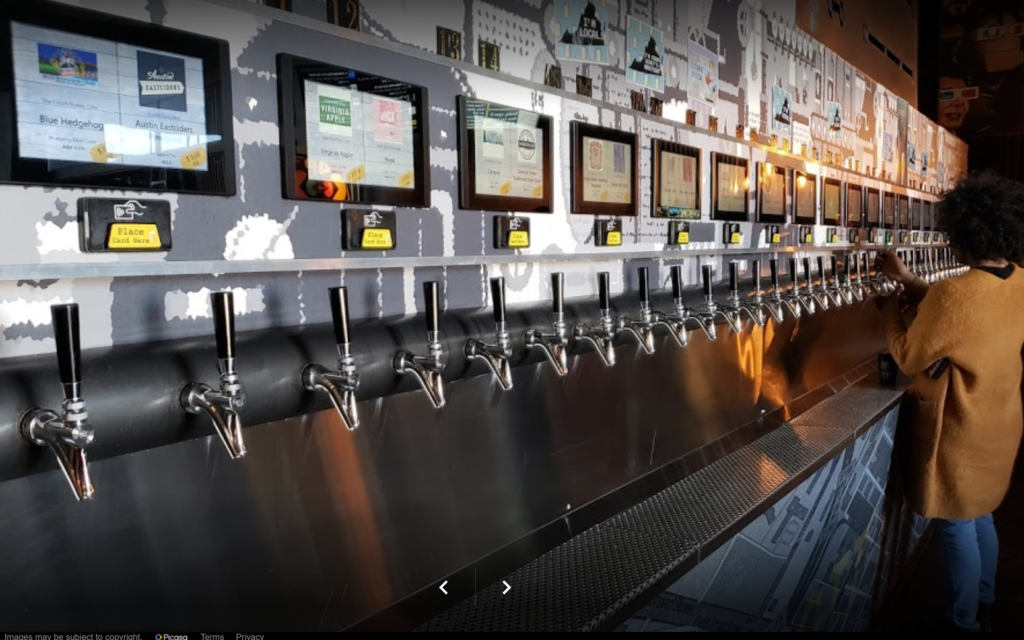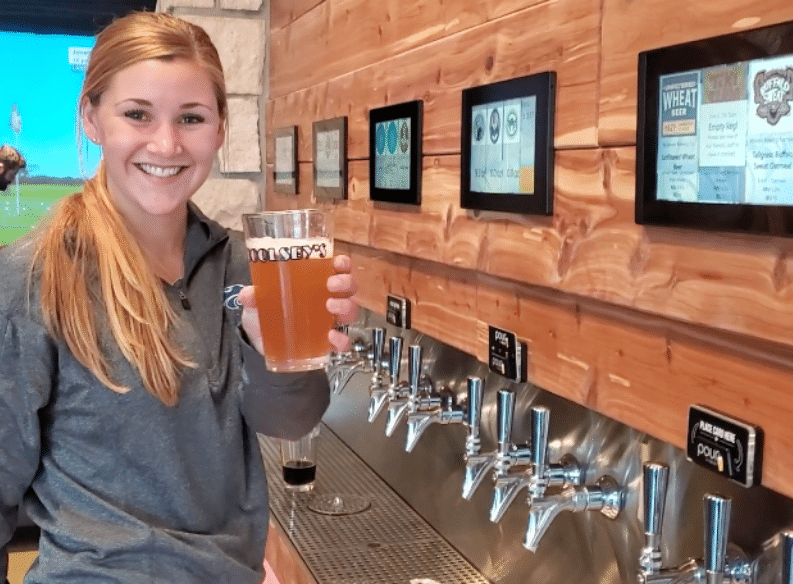 Taps: 30
Screens: 10
Goolsby's is a social destination with a 30-tap self-pour beer wall, sport simulators and Duckpin Bowling! Not only do they have tons of games and an awesome selection of beers but they also have delicious appetizers, pizza, wings and burgers.
You can get a better feel of what Goolsby's is about in this video.
Taps: 36
Screens: 18
Can Can Wonderland is a whimsical destination of amusements and entertainment featuring indoor mini golf, vintage pinball and arcade games located in Saint Paul, MN.
Can Can Wonderland is the first arts-based public benefit corporation in Minnesota.That means with every putt, boozy milkshake, arcade game, Skee-Ball battle, and delicious smash burger devoured, Can Can Wonderland is able to give back and economically support the Minneapolis-St. Paul artist community.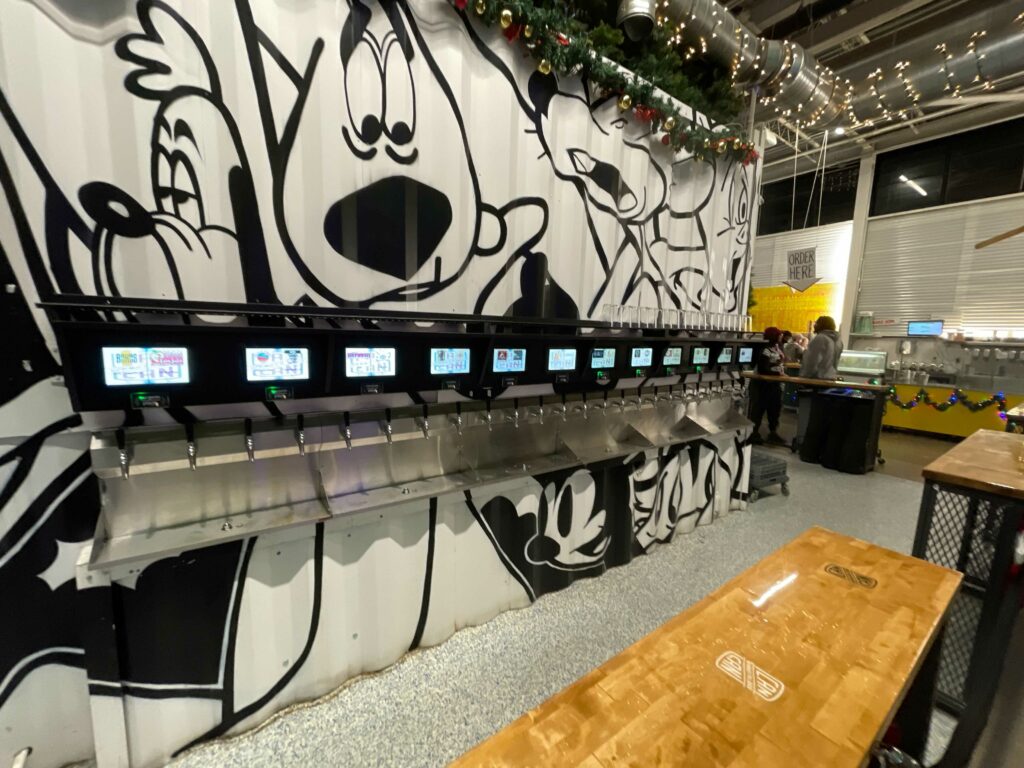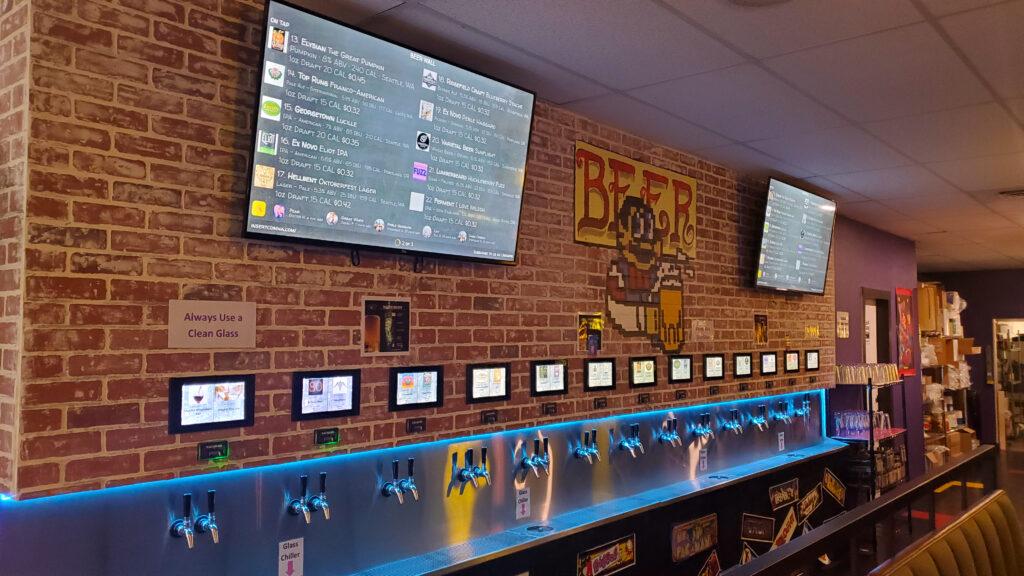 Taps: 26
Screens: 13
Located in Centralia, Washington, Insert Coin is a mom-and-pop retro arcade bar offering over 100 arcade machines, both retro and newer redemption games. On the bar side, they have a self-serve beverage wall featuring craft beer and cider. They also have a full bar featuring fun, themed cocktails.
Taps: 40
Screens: 12
Dogwood Social House is a new multi-entertainment concept with ax throwing, bomb bowling, arcade, and live entertainment. They offer a large selection of craft beers on the self-serve beverage wall.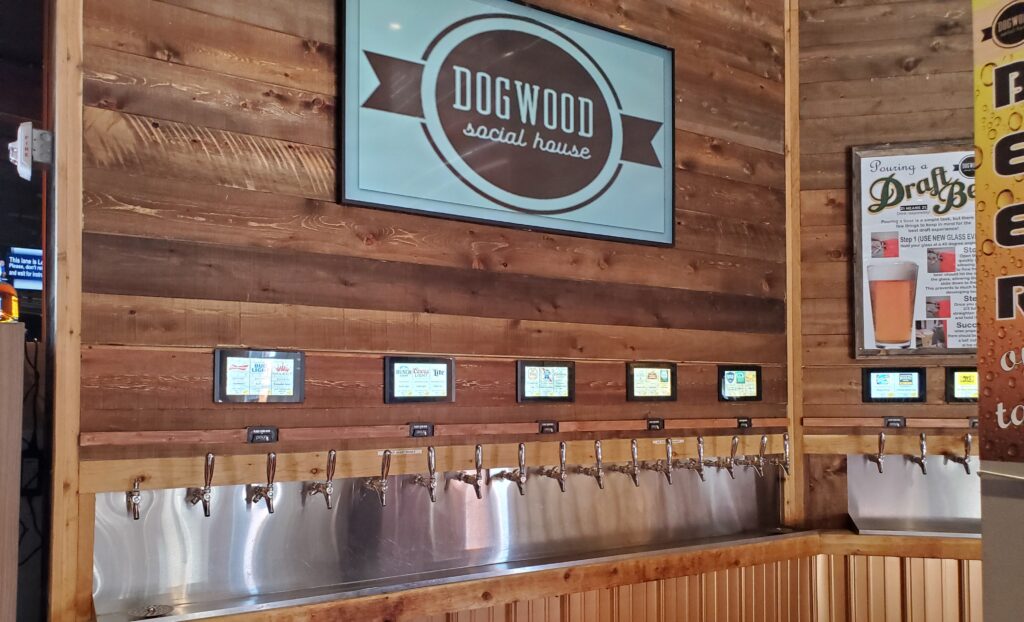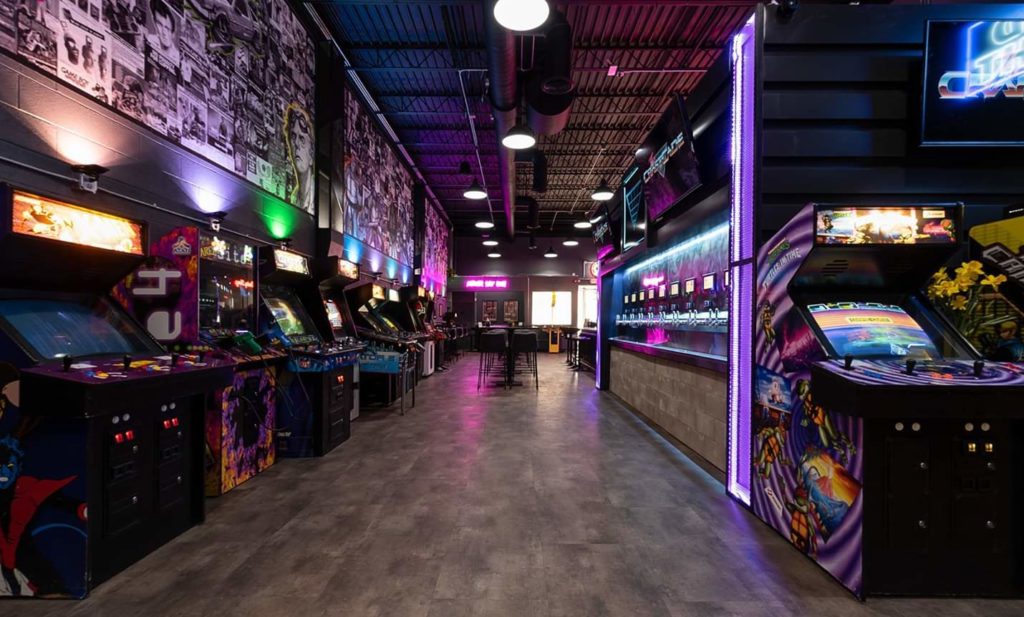 Taps: 20
Screens: 10
The Craftcade offers a retro-styled entertainment concept in the Bismarck Mandan area, celebrating the "most awesome" cultures of the 1980's and 90's. It's Bismarck, North Dakota's First Retro Arcade, Pizzeria, & Craft Beer Hall!
Slingshot Social Game Club
Taps: 45
Screens: 15
Located in Charlotte, NC, Slingshot brought back the games we all grew up playing, re-creating the classics with added twists for an extra dose of friendly competition. With a 48 tap and 16 screen beverage wall, Slingshot is able to offer a variety of craft beers, ciders, and wines.
Slingshot focuses on games that have more of a social element to them. They have everything from Duckpin Bowling and Skee-Ball to Dance, Dance Revolution Extreme and Pac-Man!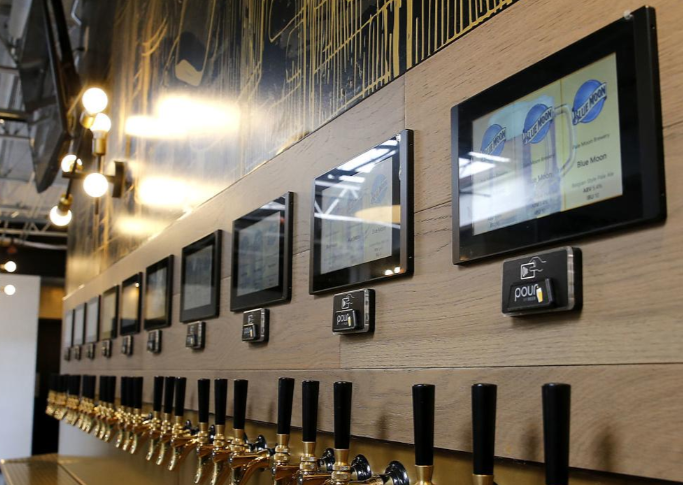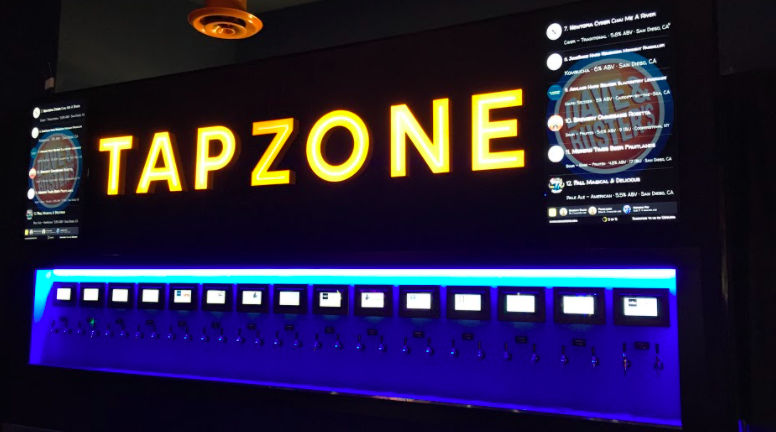 Dave & Buster's San Diego
Taps: 30
Screens: 15
Dave and Buster's is a large franchise that offers tasty food and friendly service mixed with entertainment and games. Located in San Diego, with a 30 tap, 15 screen beverage wall, Dave and Buster's is able to elevate their location with the power of self-pour.
They have tons of games for people of all ages, there's always something to do.
Generations AdventurePlex
Taps: 18
Screens: 9
Generations AdventurePlex is a multi-plex facility featuring 2 levels of food, fun, sports viewing and amusement attractions. They have tons of games including bowling, ax throwing, bocce ball, laser tag and machine games! Their beverage wall offers customers the opportunity to choose from 18 beers.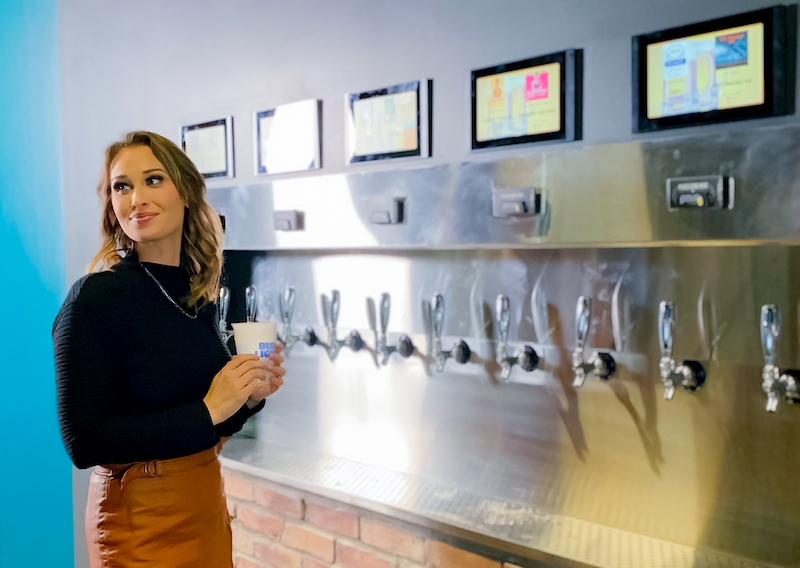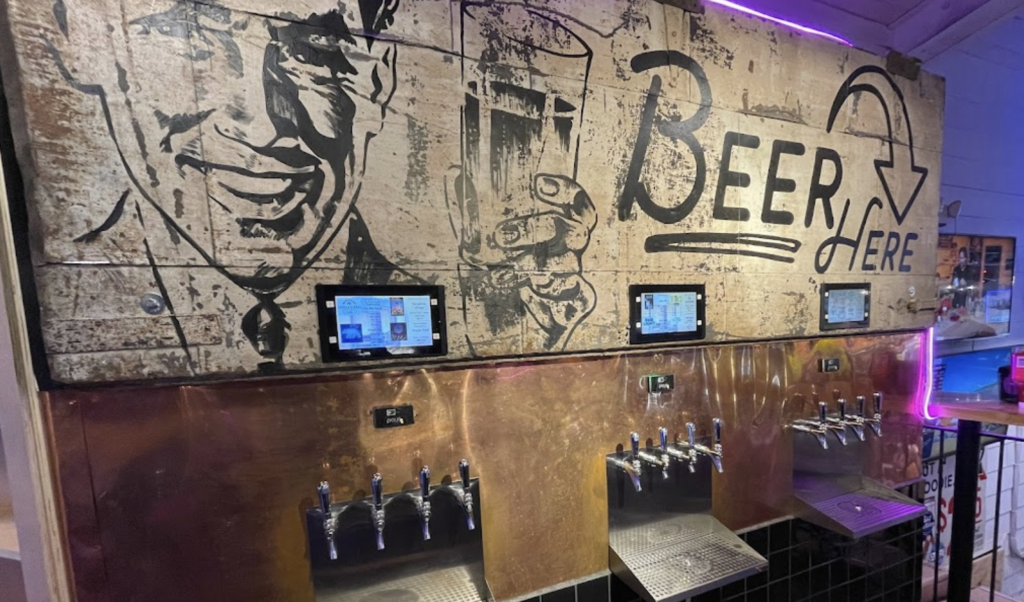 Taps: 12
Screens: 3
Funky's Arcade Bar provides a unique experience for self-pour fans in Danville, VA. This barcade has combined a fun and enjoyable ambiance with skillful cooking into one extraordinary dining experience enriched by self-pour fun with their 12 self-pour taps!
If you would like to read about the benefits of self-serve technology from real-life examples, check out some of our many case studies. If you have any questions about adding the power of self-serve beverage technology to your barcade, contact us at (312) 416-9989 or cheers@pourmybeer.com!