How to Increase Efficiency & Profitability with Self-Pour Beverage Technology
Thursday, June 23rd | 10 Am MT
Laurel Thomas, South/Central Territory Director at PourMyBeer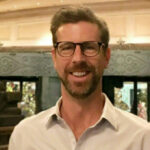 Ed Lazaruk, VP of Sales at PourMyBeer
We recently hosted a webinar on everything PourMyBeer! Laurel Thomas, South/Central Territory Director at PourMyBeer, and Ed Lazaruk, VP of Sales at PourMyBeer, discussed how to increase efficiency & profitability with self-pour beverage technology. We also had a couple guest speakers, Susan Ganter, Co-Owner of The Golden Mill, and Jim Wright, Director of Operations and Industry Consultant at The Golden Mill, who shared their self-pour success stories and talked about different verticals PourMyBeer is in and how our technology fits in!
What can you expect to learn from watching the recording?
Click on each image below to learn more about our event speakers!
South/Central Territory Director
Click on each image below to learn more about our self-pour operators speaking at the event!
Co-Owner – The Golden Mill
Director of Operations at Stanley Beer Hall & The Golden Mill and Operations & Technology Consultant at Malcolm Yards
Back in 2018, when The Golden Mill Feed Store was for sale, some local Golden friends and neighbors got together and decided to put in an offer with the desire to save a local iconic landmark and with the thought – "we could do something for the Golden community." The site, which sits right on Clear Creek, with views of North and South Table Mountain to the east and famous Mt. Zion to the west, was the perfect place to create a social gathering place, but the new owners had no experience in the restaurant business. Enter the folks at The Stanley Marketplace. With extensive experience in the food hall industry and more importantly, a focus on community, the perfect partnership was born.
The new reimagined Golden Mill continues the community gathering place tradition with new life as a spot for locals and visitors alike to enjoy live music, events, and pop-up markets while enjoying food from five local food concepts and beverages from a self-pour wall that boasts over 50-taps of home-grown brews, wines, and house-made cocktails.
They are also home to downtown Golden's first and only rooftop patio and bar, which includes a second self-pour wall of 16-taps including local beers, wines, and cocktails as well as sake to complement our adjacent Sushi Bar – Sushi Sora.
If you missed our previous webinars and want to check them out, click below to visit our Webinar Series Center! If you have any questions, do not hesitate to contact us or email us at cheers@pourmybeer.com!