Self-pour at entertainment venues
Self-pour at
entertainment
venues
When friends and family get together on a Friday night, more often than not, they'll choose a venue that offers activities – bowling, axe throwing, arcades, etc. After playing games for a while, they'll work up an appetite and become thirsty.
With self-pour beverage walls, guests can choose when to pour, become their own bartenders, and ultimately, never wait in line or miss out on the fun. And, with the ability to pour as much or as little as they want, guests can sample as many beers as they'd like. No more committing to one drink for the entire night!
From axe throwing venues and bowling alleys all the way to arcades and car racing venues, many entertainment venues utilize PourMyBeer technology to quench their customer's thirst after the intense games. Establishments like OVRDRIVE Car Racing and Stumpy's Axe Throwing have integrated our revolutionary self-pour technology, and customers can't seem to get enough!
Entertainment venues offering PourMyBeer technology stand out among the rest. With the ability too quickly and efficiently serve guests, customers will never have to wait in line for a drink again. Installing a self-serve beverage wall can benefit your entertainment venue in many ways. 
Check out how our PourMyBeer family member, Warehouse Cinemas located in Frederick, MD, set up their self-serve beverage wall! 
What a Self-Serve Wall Brings to You and Your Entertainment Venue
Differentiation Aspect

– Offer your customers something no one else in the market can.

Speed of Service

– Customers can quickly leave the game to go get their drink (their friends and family will never even realize they left to grab a refill).

Customer Satisfaction

– With no need to wait in line, customer satisfaction levels will increase, ultimately increasing the overall experience.

Increase in Revenue

– With the increased speed of service, you'll increase your profits. Customers will pour more since they can quickly grab a refill without waiting in line.
Of course, your customers enjoy the games and activities at your venue, but when having so much fun, thirst comes really quickly. There is no better way to keep your customers around longer (spending money) than a self-serve beverage wall.
With self-pour technology at your establishment, customers will be able to take control of their drinking experience. And, you'll stand out from other venues in the area. Customers love the freedom that comes with self-pour – the ability to pour their own drinks on their own time will be a unique experience that they haven't had before.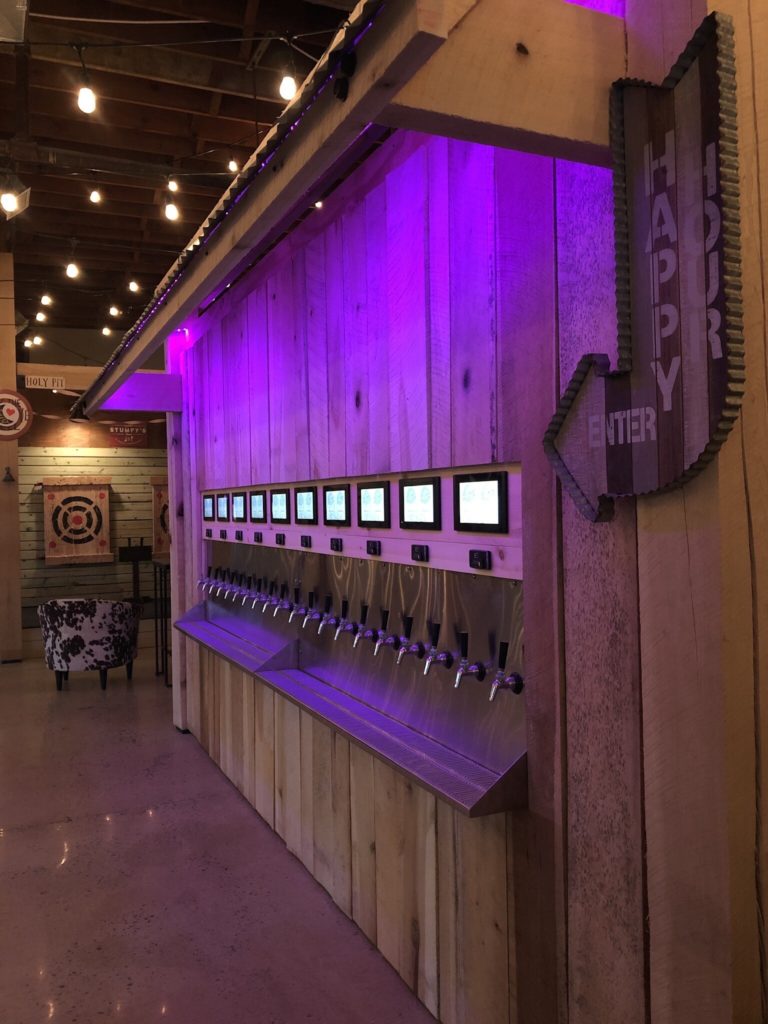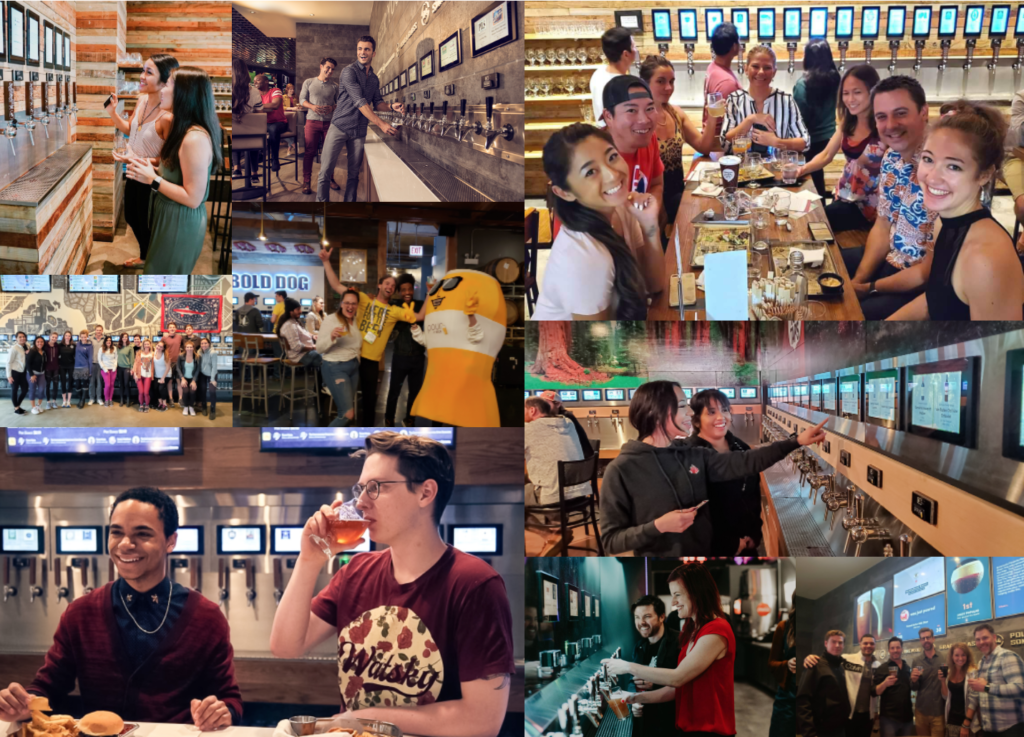 No matter when your guests become thirsty, they won't have to miss out on a second of the fun. When they want a drink, they can quickly approach the beverage wall and pour their beverage of choice and return to the fun. And, if your customers don't know what they want to drink, they can sample every beverage from the wall in whatever quantity they want. This increase in service will greatly enhance the customer experience as they won't ever have to wait in line for a drink again.
Since customers will avoid waiting in long lines and crowded areas with self-pour beverage walls, their overall satisfaction will increase. Customers will love the freedom to grab a refill when they need and return to their game. This increase in satisfaction will lead to an increase in traffic as well – word of mouth will spread and you'll increase the number of customers to your door!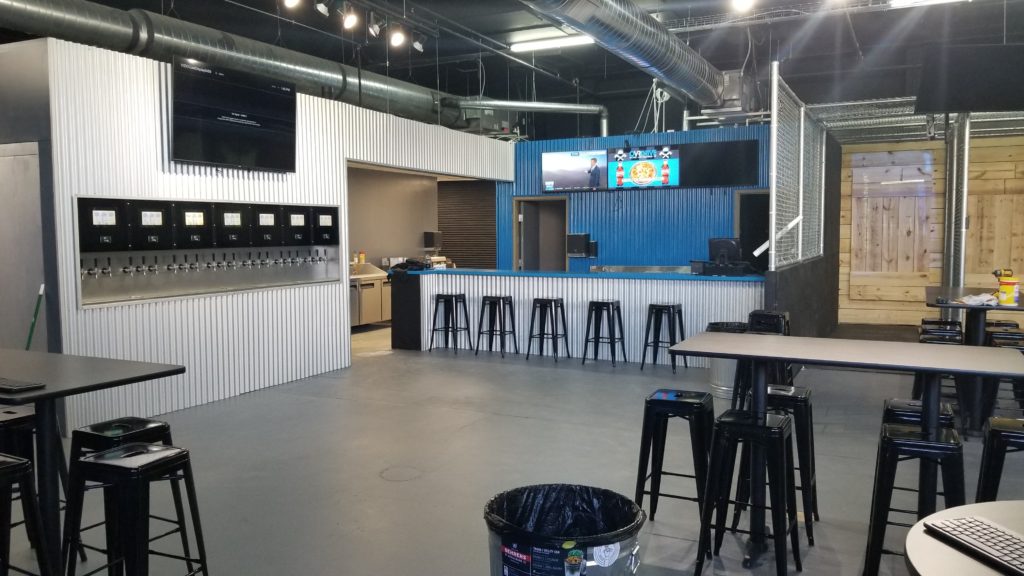 An increase in service and satisfaction for the customers increase revenue for you as the operator. An increase in service and satisfaction for the customers increase revenue for you as the operator.Customers will want to post about your establishment on social media and engage with others. This will help increase traffic even further. And, you can get creative with your marketing efforts to really drive more traffic to your doors.
If you have any questions on how to get started when bringing self-pour technology to your entertainment venue, contact us at (312) 416-9989 or cheers@pourmybeer.com!
Or if you would like to learn more, check out some of our awesome PourMyBeer family members (as we like to call our customers) videos.