Welcome restaurant boss visitors!
The Restaurant Boss says yes to self-pour
The Restaurant Boss, aka Ryan Gromfin, has helped thousands of independent restaurant owners and operators succeed. He is THE restaurant consultant and business coach of the industry. With years of experience as a chef, restauranteur, food industry author, and speaker on the matter, Ryan has the knowledge and experience to transform any operation into the best restaurant in town!
He understands and appreciates the benefits of self-pour beverage technology and would like to fill you in on how it can turn your business into a profitable venture. And with all that credibility, how could you not trust him. Ryan knows what he is talking about!
See why The Restaurant Boss believes self-pour is a game-changer for increased sales.
The Restaurant Boss and PourMyBeer have a lot of aligned goals and visions for the restaurant industry. Ryan is constantly searching for new and innovative ways to improve restaurant operations. Self-pour enables customers to pour their own drinks and pay by the ounce. With less staff needed, operators can reduce labor costs, create simplified operations, and create everlasting happy customers. He is all about new technology to implement to make this possible. The way people eat and drink changes within the blink of an eye, so staying up-to-date with the latest and greatest technology will help your establishment keep competitive and not fall behind.
Simply put, self-pour technology allows patrons to pour their beverages and pay by the ounce. With self-pour beverage walls, customers use an RFID card or a wristband linked to their payment method to pour beverages of their choice.
We are liquid agnostic, so if it's a liquid, we can pour it! Self-pour technology provides many options just like a regular bar – if not more! Beer is not the only thing to pour, there is wine, cocktails, sodas, kombucha, and even cold-brew coffee. Since our self-serve technology is so versatile, it reaches a broader market as there are more choices for customers.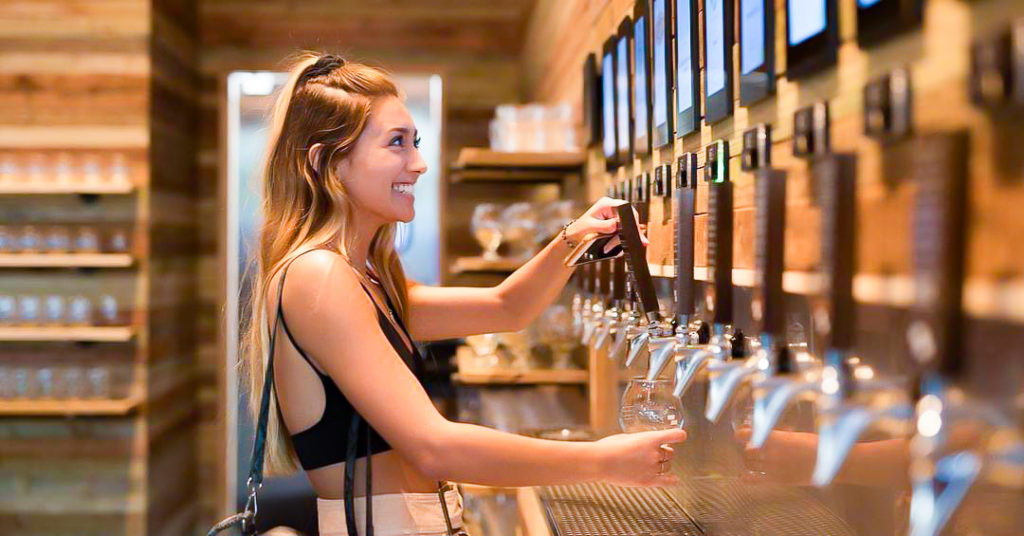 How self-pour tech is changing the economics of owning an establishment
The Restaurant Boss is always looking for tips and tricks to help you improve operations. Self-pour presents several benefits that lead bar/restaurant owners to success. Our innovative technology is a game-changer when it comes time to innovating.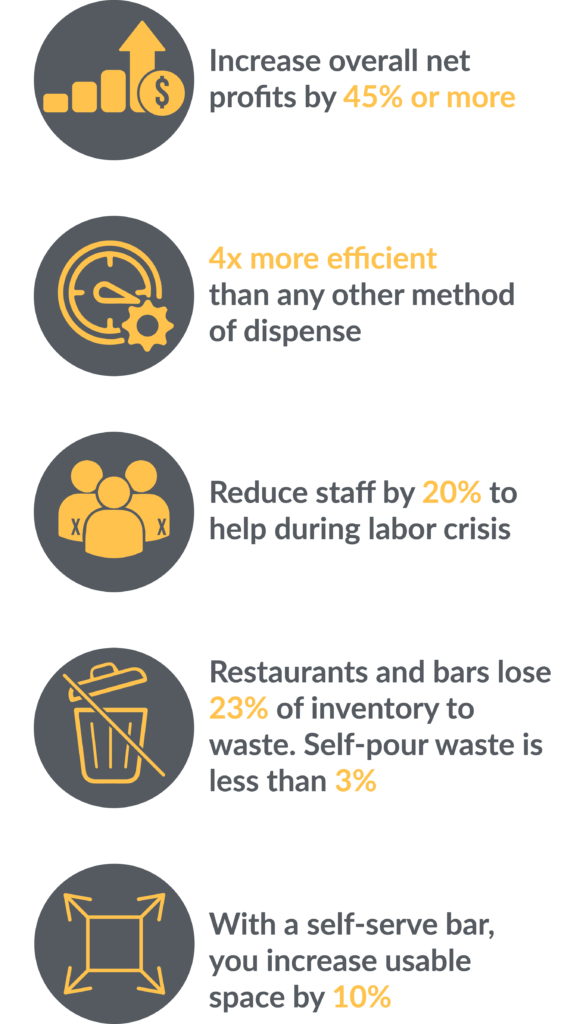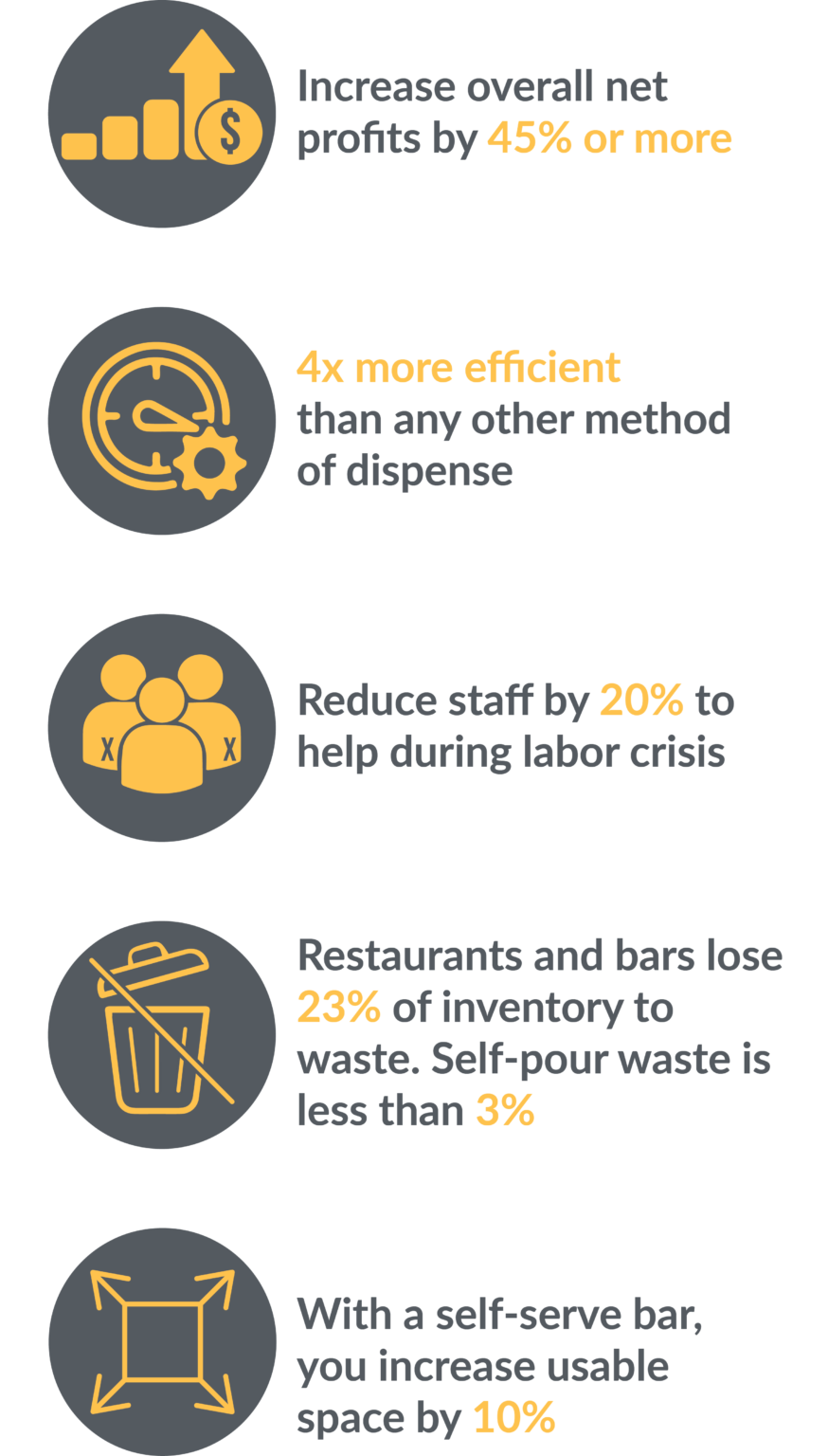 What it takes to be the best
Check out his three-part series on what it takes to be the best restaurant because most of the things he mentioned can happen with the help of self pour.
LOWER YOUR OPERATIONAL COSTS
Fewer staffing needs and thus less wage expenditure means you save big. Self-regulation by customers means less over-pouring and spilling costs.
INCREASE SERVICE EFFICIENCY
Self-service means everyone gets drinks exactly when they want them, and your staff can focus on providing fantastic and attentive service elsewhere. 
Kegs also work to reduce your use of bottles, making inventory much more eco-friendly, and also much easier to track and maintain from an operational perspective.
OFFER CONSISTENT DRINK QUALITY
Kegs are vacuum sealed and cooled, so drinks (particularly wine) stay fresh several weeks after being stored. This means customers get the same fresh taste on Day 60 as they did on Day 1.
There is practically no waste! Free samples are unnecessary since the customers pay for each ounce poured. And with the customer in control, there is no room for staff error by mixing up drink orders or forgetting to enter them into the POS.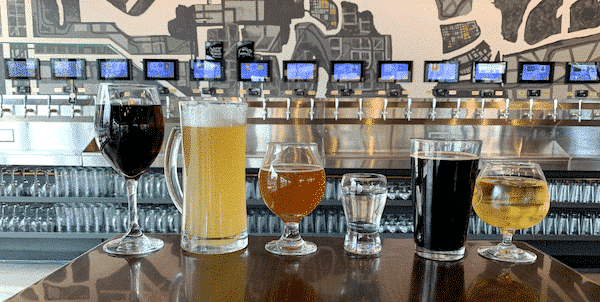 Here is why the restaurant boss would agree that self-pour is a great addition during the staffing crisis
The Restaurant Boss often speaks about the importance of finding and keeping good staff, and during this staffing shortage, it is extremely hard to do so. Self-pour technology helps establishments across the world reduce labor costs and eliminate staffing challenges! Since guests serve themselves, servers can focus their efforts elsewhere, increasing the overall level of customer service.
CraftWorx, one of our PourMyBeer family members, features a 60-tap self-pour setup. On their busiest nights, they can serve 200+ customers with as many as 16 people pouring at the wall with only 3 staff members! Download the case study below to learn more about how a self-serve beverage wall could reduce your staffing issues! 
What our customers say about working with us
With self-pour, you will serve and sell more, all while your guests are having more fun! Check out the benefits and different setups of self-pour below!
questions? we have answers!