Virtual Tour of Self-Pour restaurants and bars Around the U.S.
Virtual Tour of Restaurants And Bars powered by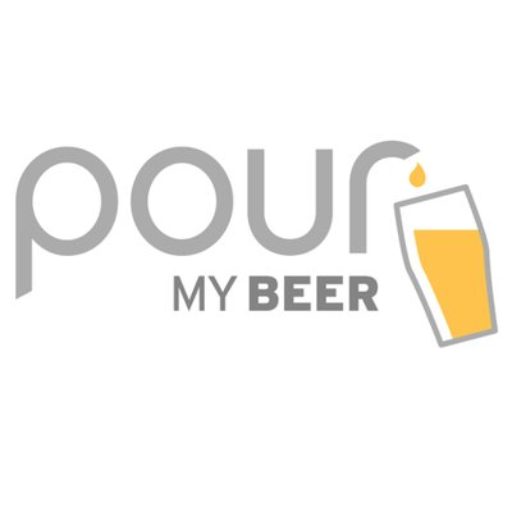 Lets take a virtual tour through some amazing self-pour restaurants and bars. You will get some great ideas on how to start your self-pour project and learn the Do's and Don't from these experienced operators.
Location: West Reading, Pennsylvania
Number of taps and screens: 38 taps / 19 screens
Type of Establishment: Self-Pour Taproom
Beer Wall on Penn is located in West Reading, PA, and aims to add to the rich restaurant community in the area. Coming to an already active area with bars and restaurants, they knew they had to bring something unique to the table to stand out, and they did precisely that with their 38 self-pour taps serving a variety of delicious, mostly local beverages. Beer Wall on Penn was so successful within the first year of its opening, that it opened its sister location Beer Wall on Prince in Lancaster nearby.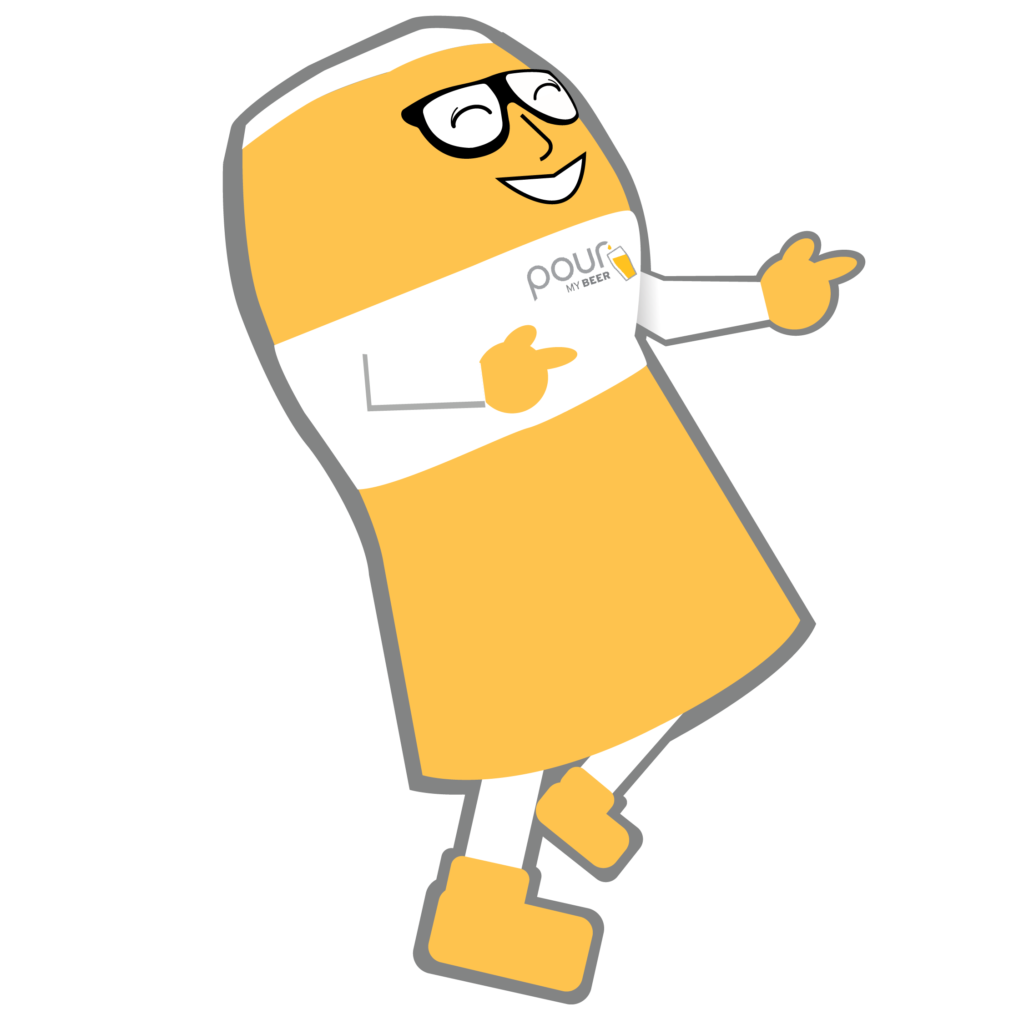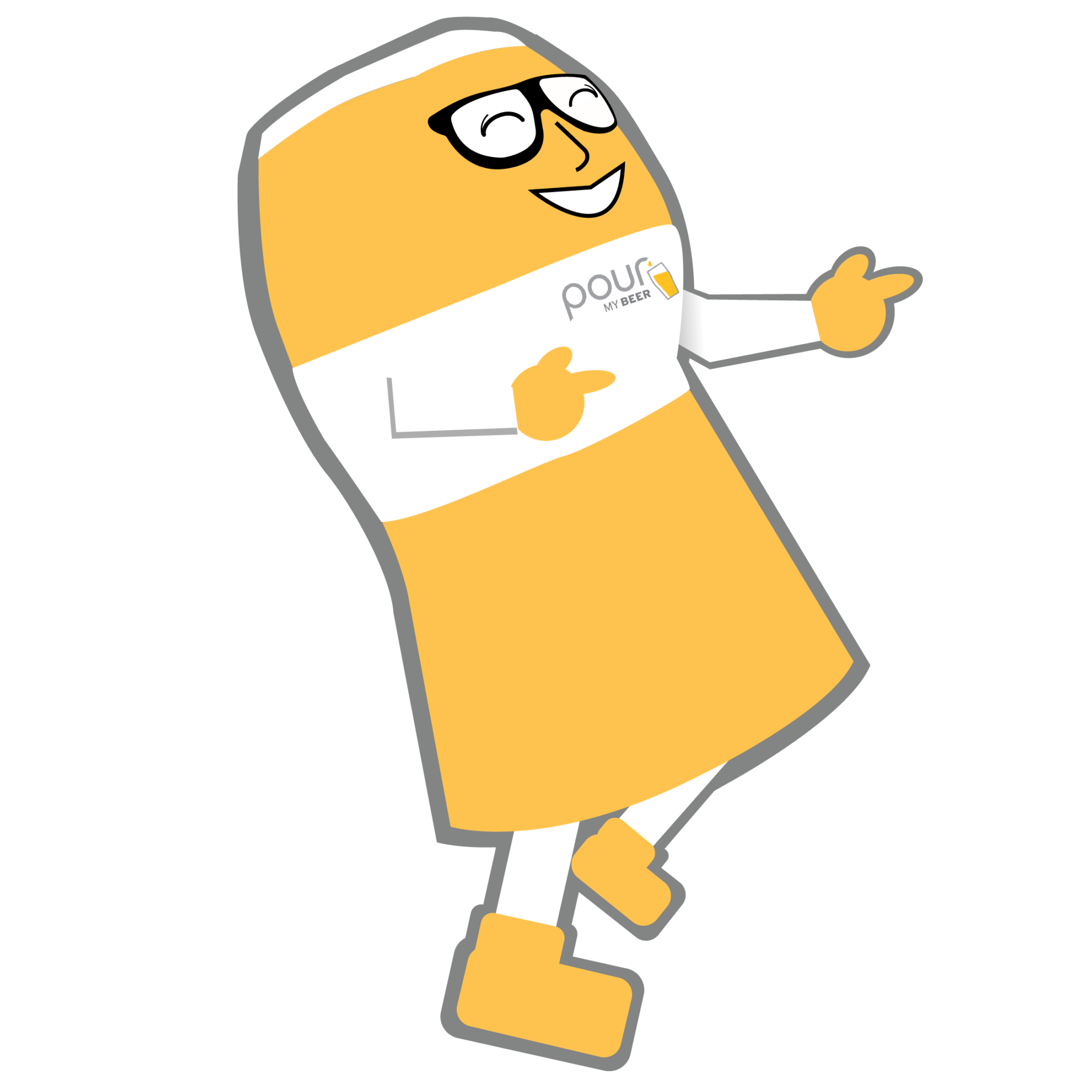 PourMyBeer Key Takeaway: 
What is important to understand when opening your business is that you should be bringing something different and unique to your community. In most cases, self-pour will do just that, however we recommend to also combine it with another unique twist. Look at the other establishments around you: do they do live events such as music and trivia? Do they do a brewery overtake to support small local breweries? Do they have pool tables, arcades, or many TVs to watch sports? Take a look at these two articles to find event ideas and branding ideas to find your inspiration to make your business different and unique compared to the other businesses in your neighborhood.
Location: Raleigh, NC
Number of taps and screens: 48 taps / 24 screens
Type of Establishment: Casual Pub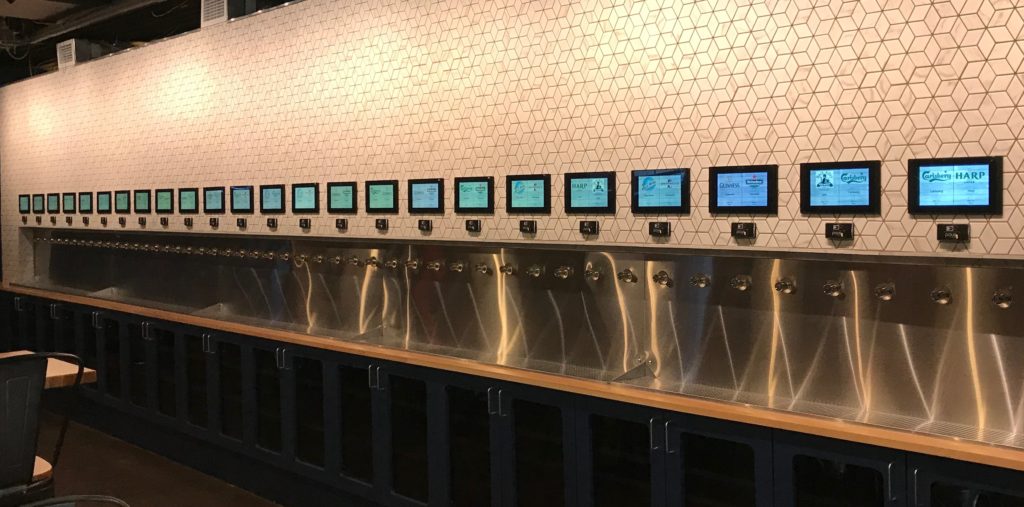 New to Downtown Raleigh, NC is Bigfoot Taphouse. Their 48 tap beverage wall holds an assortment of beers and ciders. Home of the "foot" long, Bigfoot Taphouse offers their famous gourmet hotdog as well as some appetizers to snack on while testing out the great options they have on tap. Its cozy and playful ambiance is a great spot to enjoy time with friends and family, listen to music, and play some trivia! This family-owned and operated restaurant is the perfect place for a night out in Downtown Raleigh.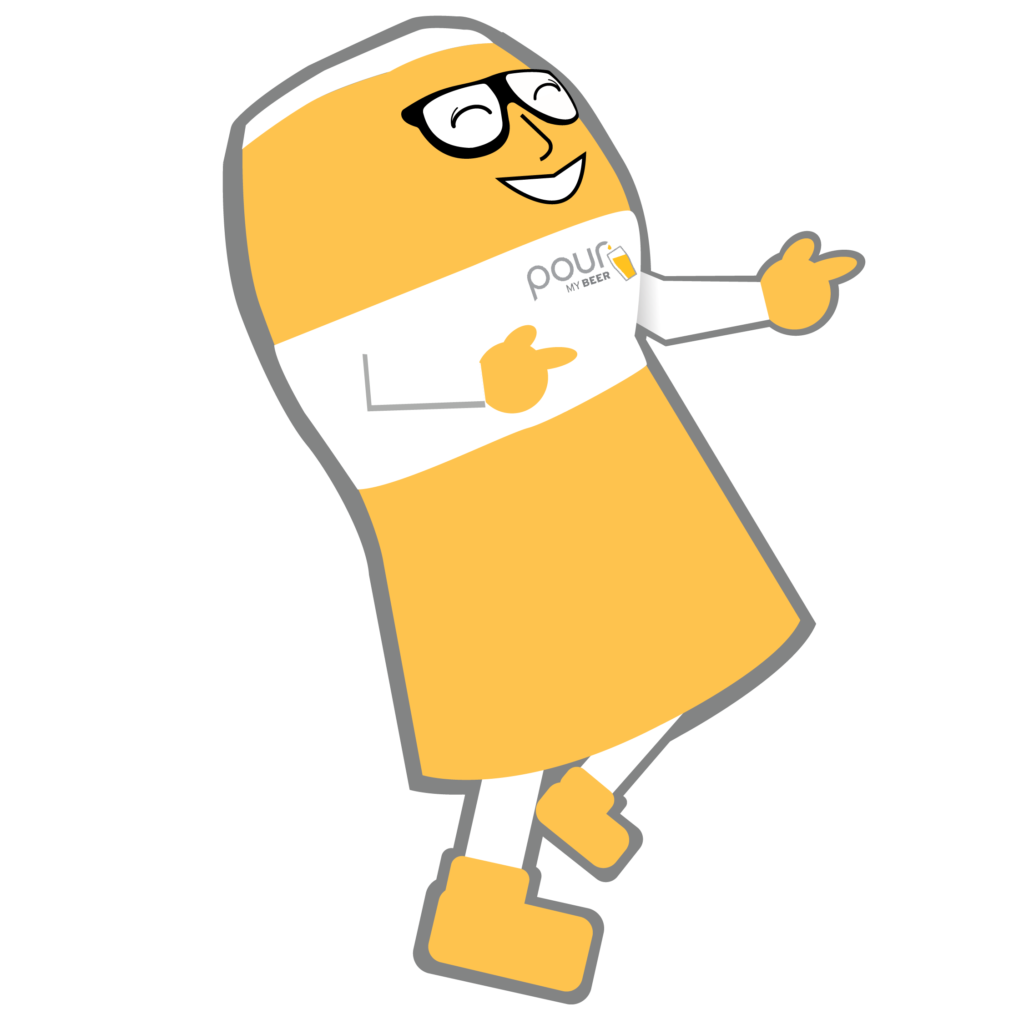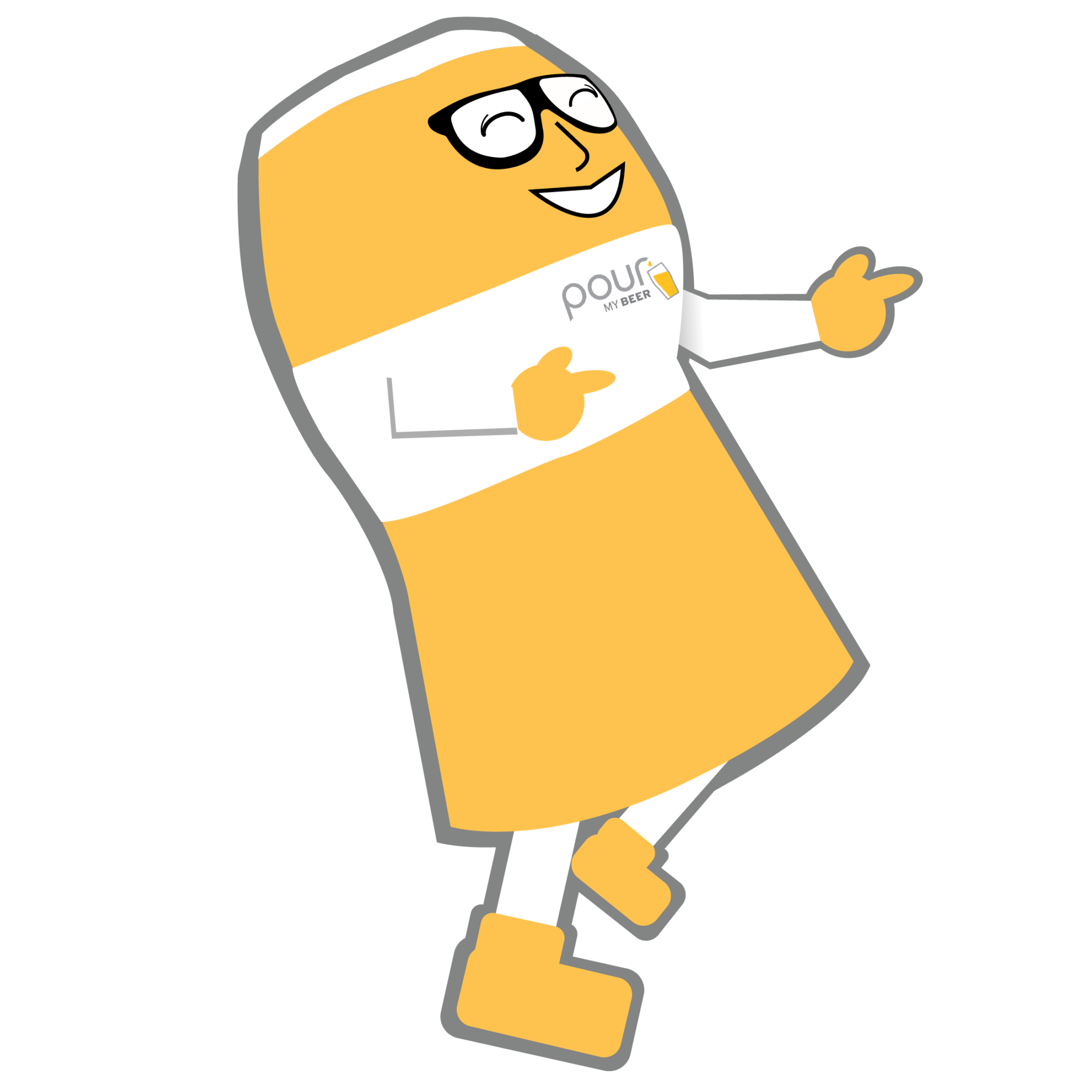 PourMyBeer Key Takeaway: 
Bigfoot Taphouse opened in 2020, and despite opening in the middle of a pandemic, they have seen great success. Their trivia nights are a great way to bring in a crowd and create a fun environment for locals.
Location: Topeka, Kansas
Number of taps and screens: 30 taps / 14 screens
Type of Establishment: Traditional Pub & Tavern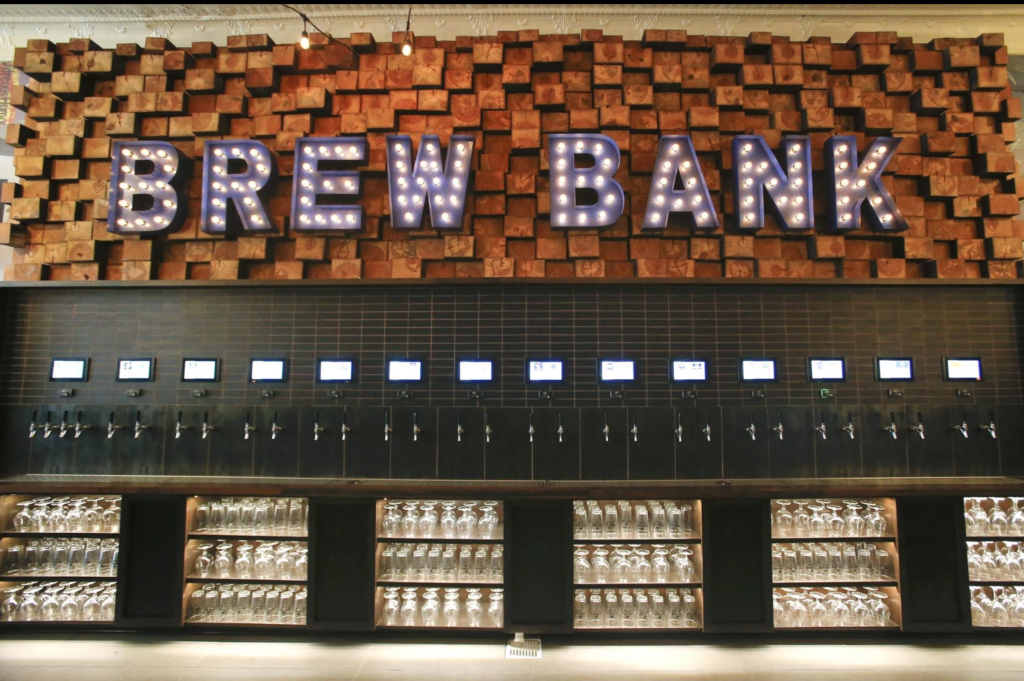 Brew Bank is the first of its kind. Located in Topeka, Kansas, Brew Bank offers 26 different beers and 4 different kinds of wine. The beers offered at Brew Bank are not available at every bar you frequent. As the first self-pour tap wall in Kansas, they wanted to create a bar that was designed around the community. That being said, not only is the seating community-style, but so is the food. All of the menu items are shareable and served on slates – you can choose from several pizzas and charcuterie boards, and there is even a children's menu. If you're looking for a fun place to drink beer, eat delicious food, and mingle with the people around you, then Brew Bank is just the place!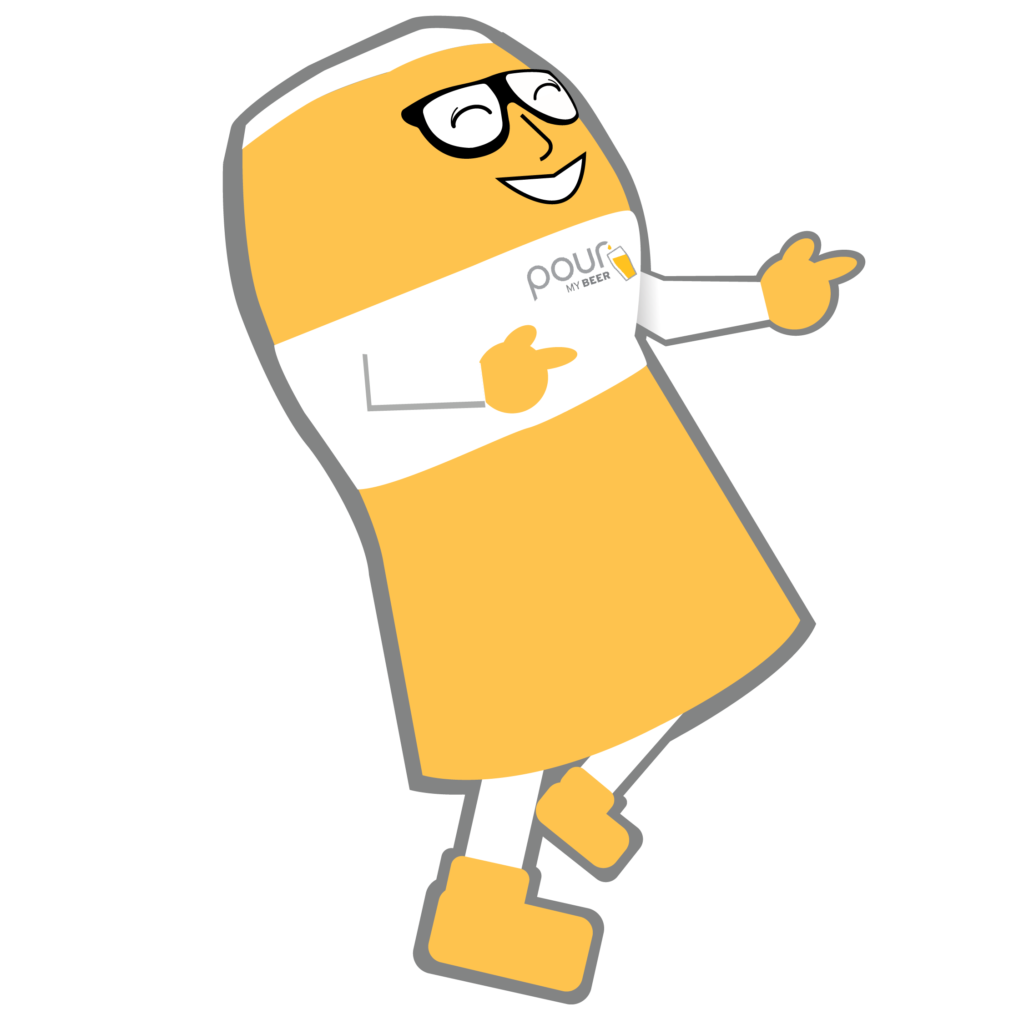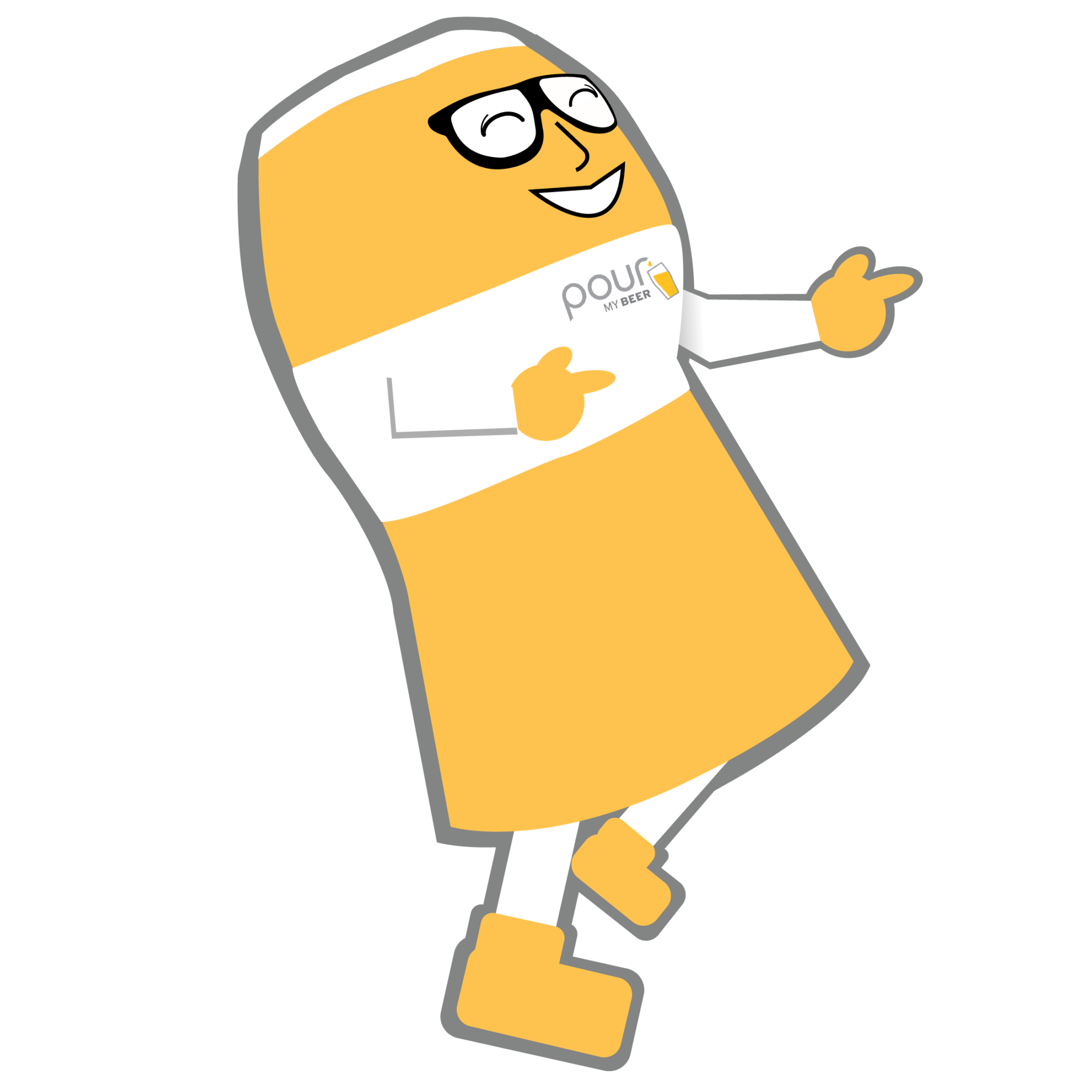 PourMyBeer Key Takeaway: 
Brew Bank was the first restaurant to bring self-pour technology to Kansas and they build their messaging strongly around that. This is a huge advantage that many other PourMyBeer family members have fully embraced and taken advantage of. If there are other self-pour venues in your state already, don't worry: you can still position yourself as being the first in your county, city, or even just a neighborhood. Positioning your business as a first will make many locals feel that this is something they can't afford to miss. Then, you just need to make sure they have a great time so you can turn them into loyal customers, returning later for more self-pour.
Location: Kent, Washington
Number of taps and screens: 30 taps / 15 screens
Type of Establishment: Restaurant and Taproom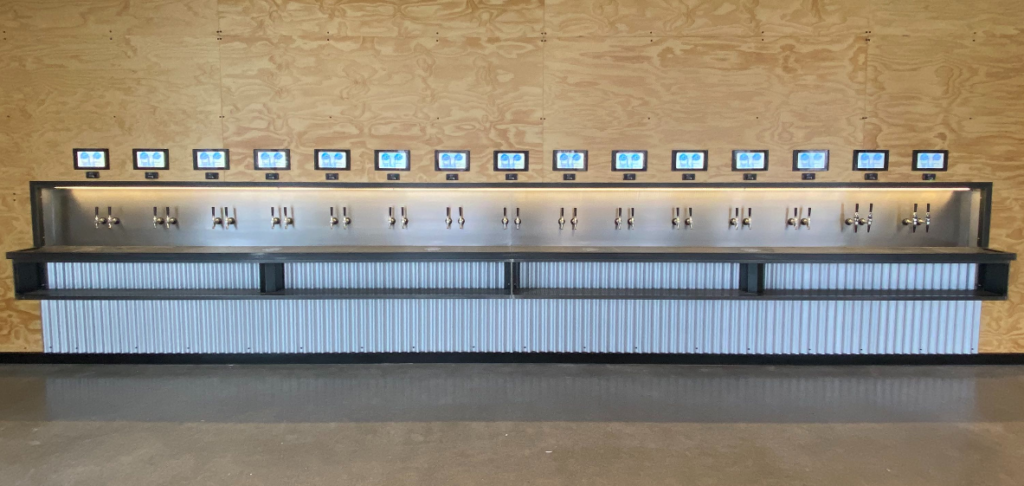 If you love eating breakfast sandwiches while sipping on beer, then Egghole is the place for you! With 30 beers and ciders on tap, there is plenty of variety. They even offer self-pour coffee and cold brew! Egghole makes handcrafted sandwiches, salads, and fries using high-quality, locally sourced ingredients. If you're looking for a place to gather with your community and have great breakfast-style food, stop by and check it out! P.S. They also allow pets!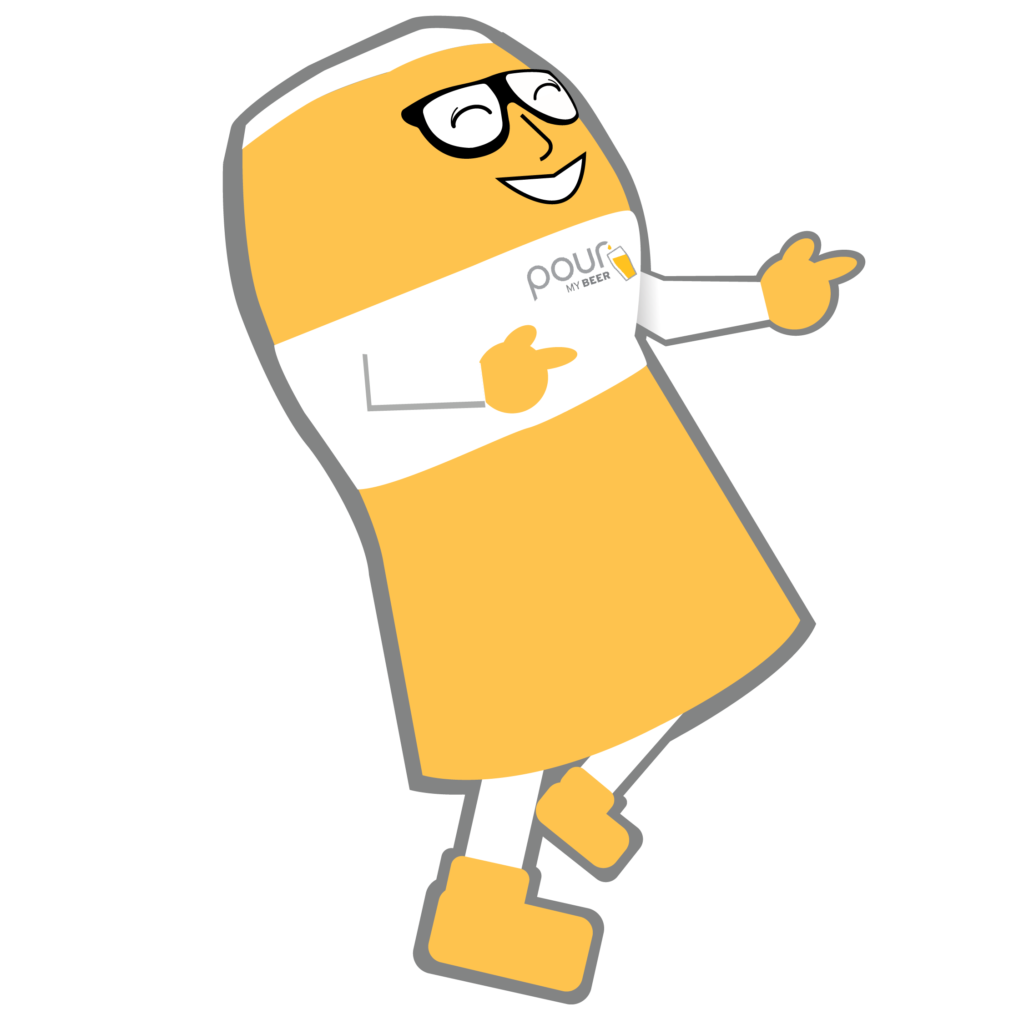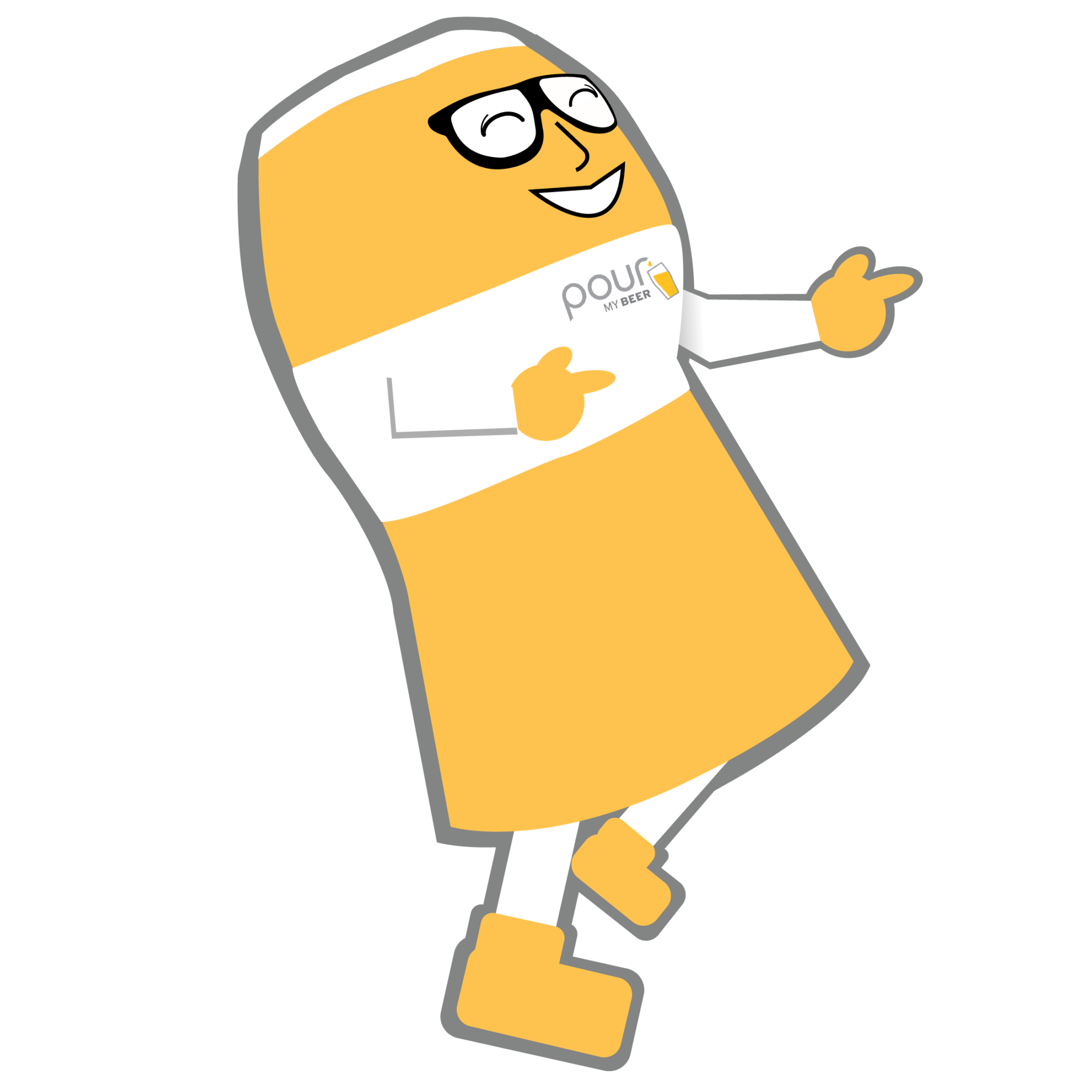 PourMyBeer Key Takeaway:
Egghole is one of the most recent additions to the family and a unique one. Since they entered the hospitality industry during the pandemic, they had to make quick adjustments after opening, and are currently only offering growlers for their drinks for customers to buy and take with them.
Location: College Place, Washington
Number of taps and screens: 50 taps / 25 screens
Type of Establishment: Pizzeria & Taproom
With a self-serve tap wall with 50 taps, customers can choose from craft beers, wine, cider, kombucha, or even nitro coffee. Located in the heart of hop country in Washington, Hop Thief is a fitting name. Their menu has pizza, sandwiches, and shareable plates. And what's a better combination than beer and pizza? Check out this video to see how fun it is!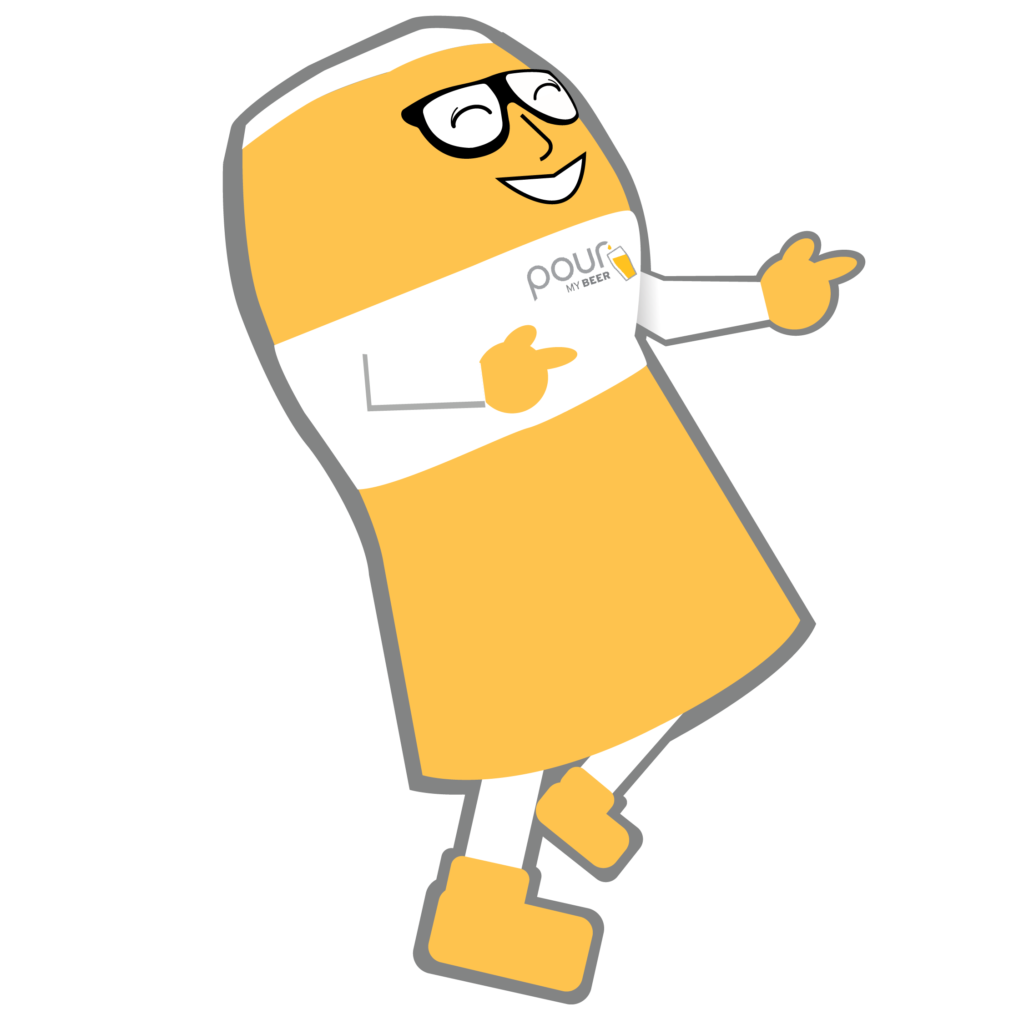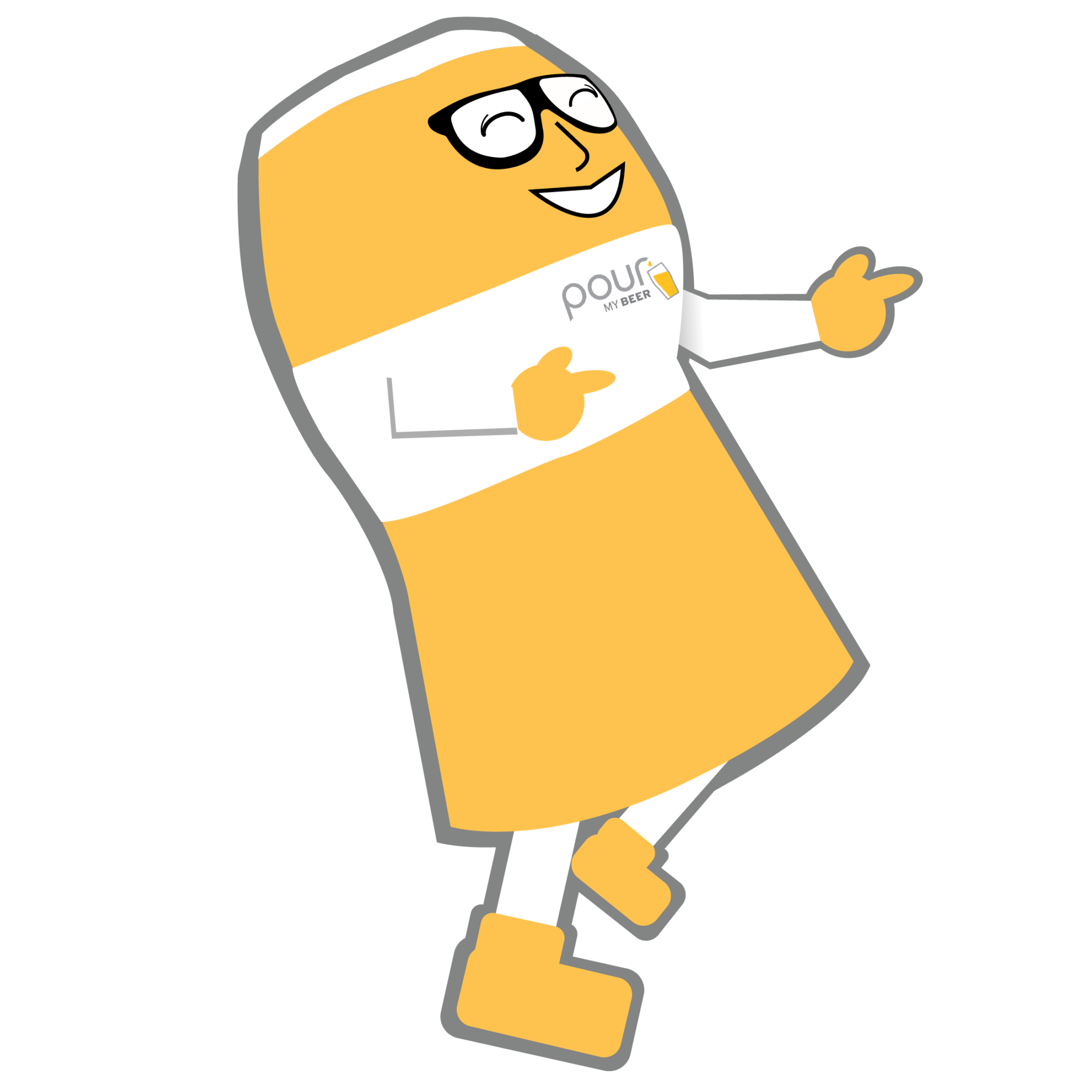 PourMyBeer Key Takeaway: 
Hop Thief's, Juston, is a very experienced operator who knows how to run a business properly, how to attract customers, and how to cater to his community. Since his community happens to love craft beer and wine, the ability to sample anything by the ounce was something the area truly needed. They marketed intelligently, highlighting their great-looking venue that has a spacious outside patio and lots of entertainment for guests including arcade and board games. Their efforts have been very successful and continue to bring customers to their taproom!
Location: Austin, Texas
Number of taps and screens: 40 taps/20 screens
Type of Establishment: Restaurant
Oz Taphouse joined the PourMyBeer family because they were not happy with their previous self-pour provider. This wonderful place is a great spot in River Place, Austin to have a great night. During lunch hours, they focus on bringing office groups in and making sure to serve groups of colleagues quickly and efficiently so they can get in and out as quickly as possible. This is where the efficiency of self-pour shines through. While workers are waiting for their food to arrive, they can try a variety of mostly local beverages on their self-pour taps.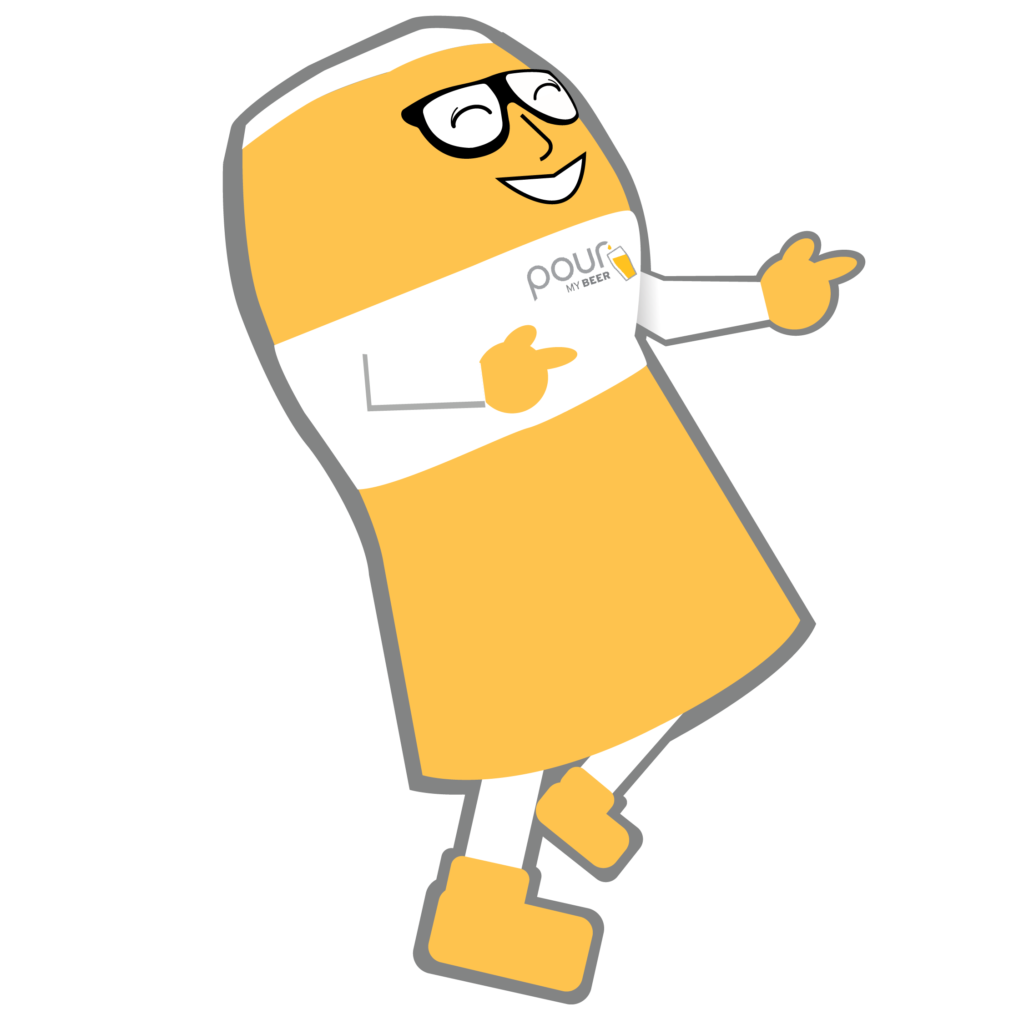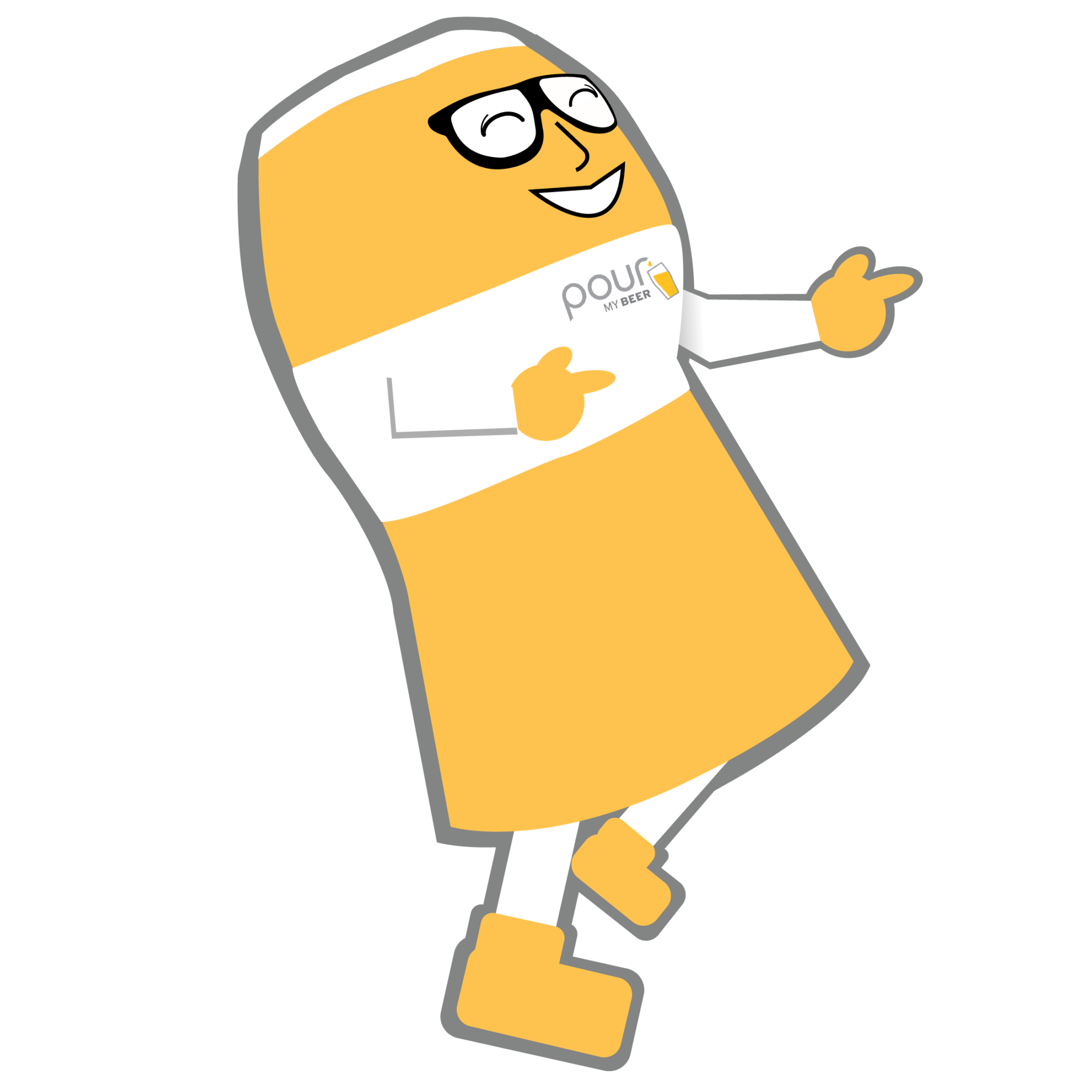 PourMyBeer Key Takeaway: 
On the weekends and later in the afternoons, Oz focuses on creating an atmosphere that attracts families. Not only do they have a great spacious patio outside with an open grassy area for kids to play, but they have even added a huge playground so the children can have fun there while the adults are enjoying self-pour drinks.
Location: Ellicott City / Baltimore, Maryland 
Number of taps and screens: 24 taps / 12 screens
Type of Establishment: Casual Restaurant
With locations in both Ellicott City and Baltimore, RegionAle serves high-quality sandwiches and craft beer to customers throughout Maryland. RegionAle's new location is Baltimore has the largest self-serve beer wall in the city. With 24 taps, customers can choose from craft beer, wine, and cocktails. They put a twist on classic sandwiches that will leave you wanting more. Check out RegionAle's two locations if you're ever in Maryland – you will not be disappointed!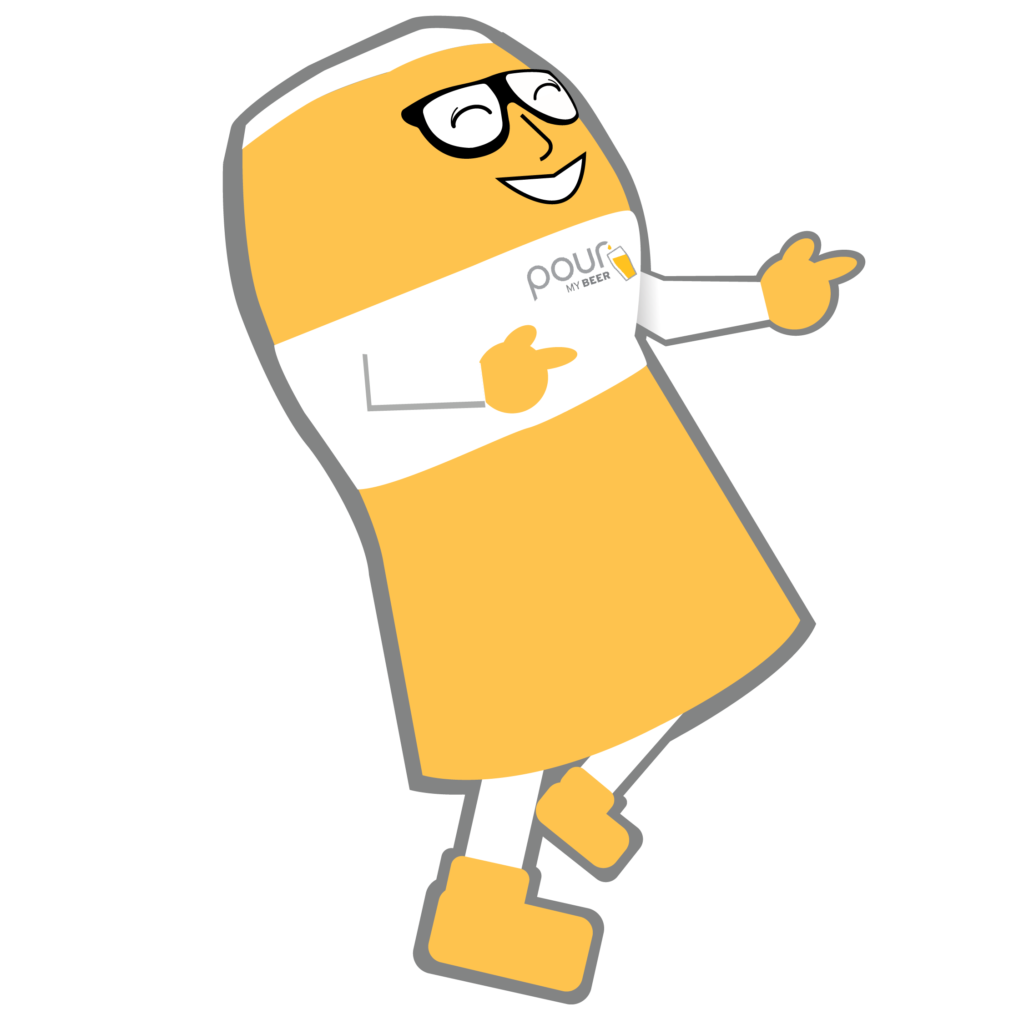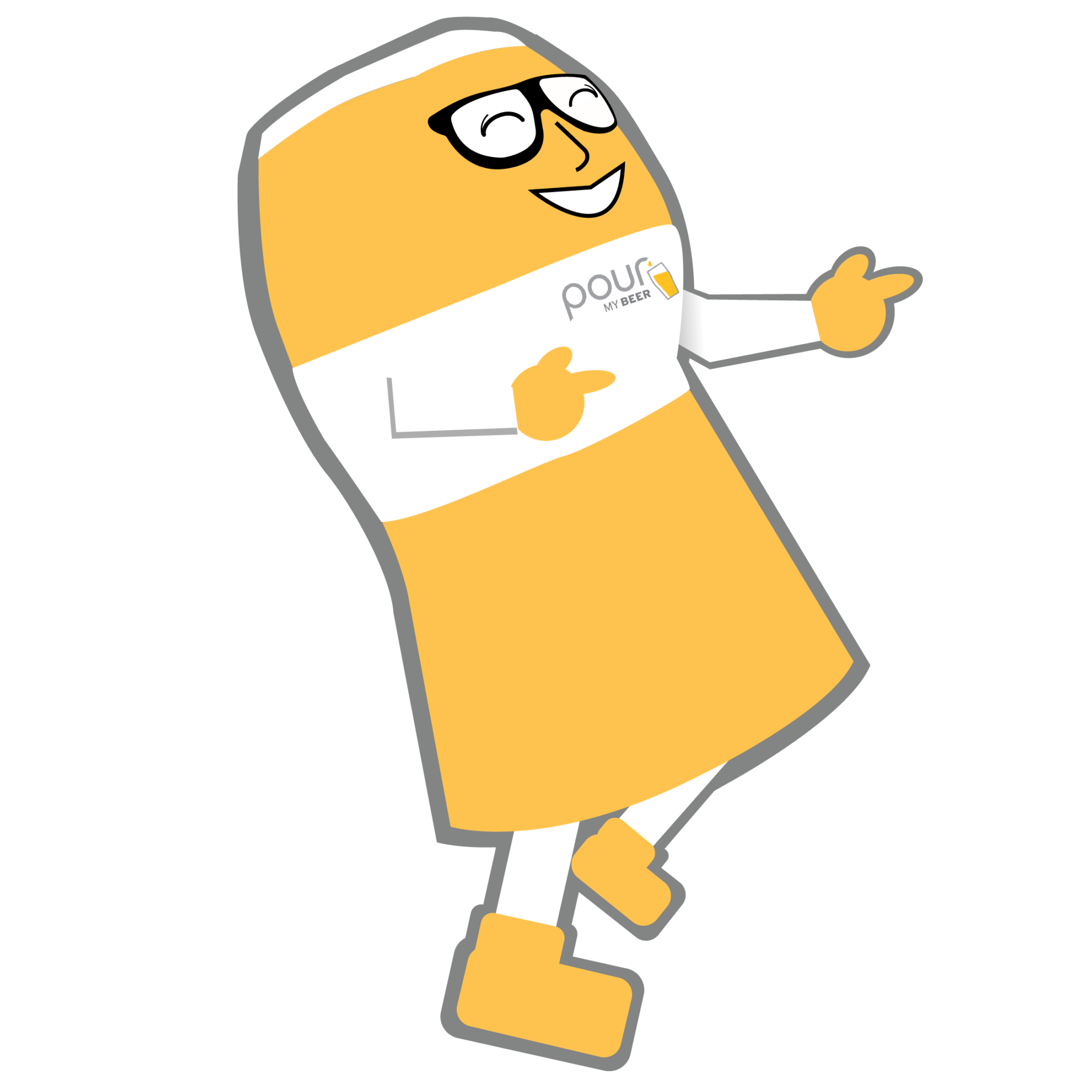 PourMyBeer Key Takeaway:
If you know that you have great food and can easily attract customers based on that alone, why not try to maximize the profits by adding a self-pour system to the mix? RegionAle made this smart play so that while guests are waiting for their food to arrive, they can enjoy sampling some local craft beers. And of course, who wants to eat a delicious sandwich without a nice refreshing beverage to go along with it? With local beer and wine on tap, RegionAle has its customers covered on both accounts.
Location: Cape Girardeau, Missouri
Number of taps and screens: 42 taps / 14 screens
Type of Establishment: Sports Pub 
Rosati's transports its customers to Chicago through their delicious deep-dish and thin-crust pizza. With their very own self-pour beer wall, you'll be able to have one of the best pairings – pizza and beer. Established in 1964, Rosati's has over 200 locations and prides itself on maintaining the Chicago tradition. With dedicated staff across the entire franchise, Rosati's makes customers feel at home and even does catering for larger events.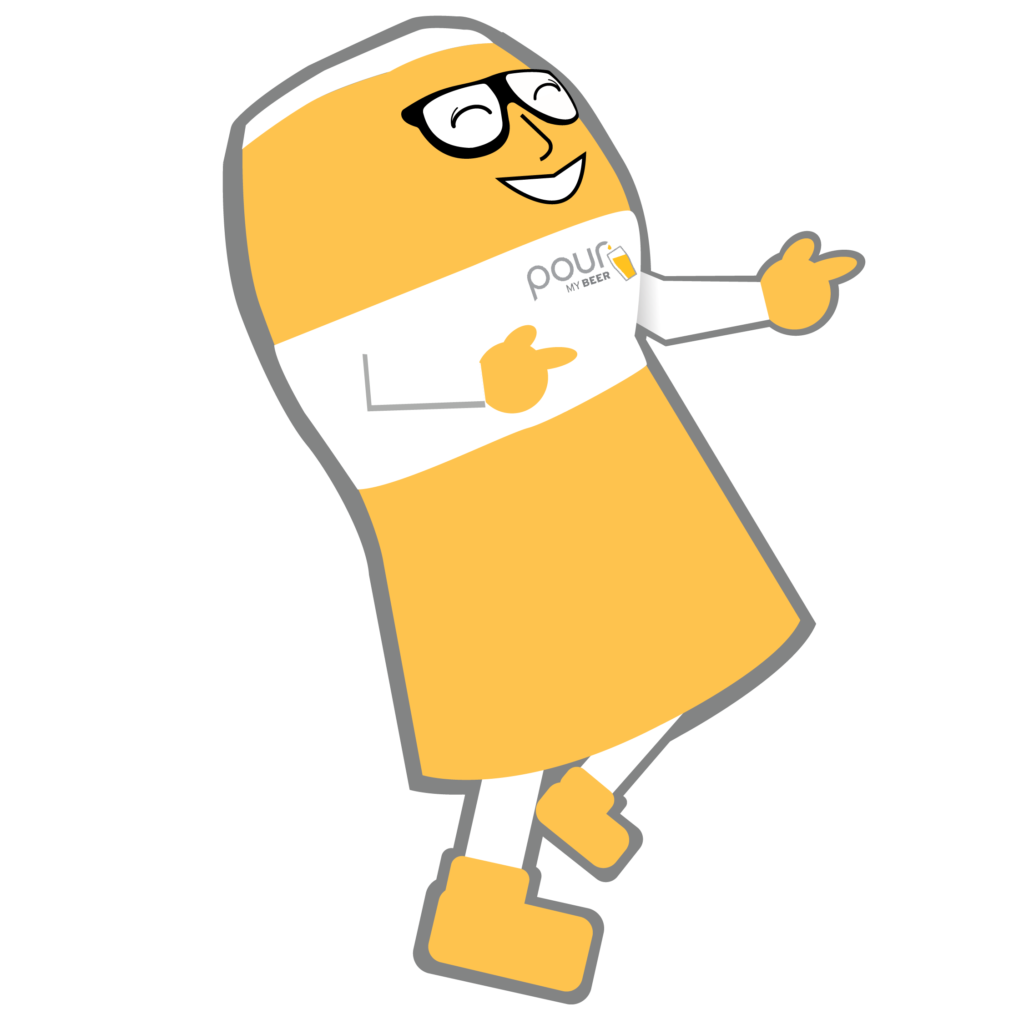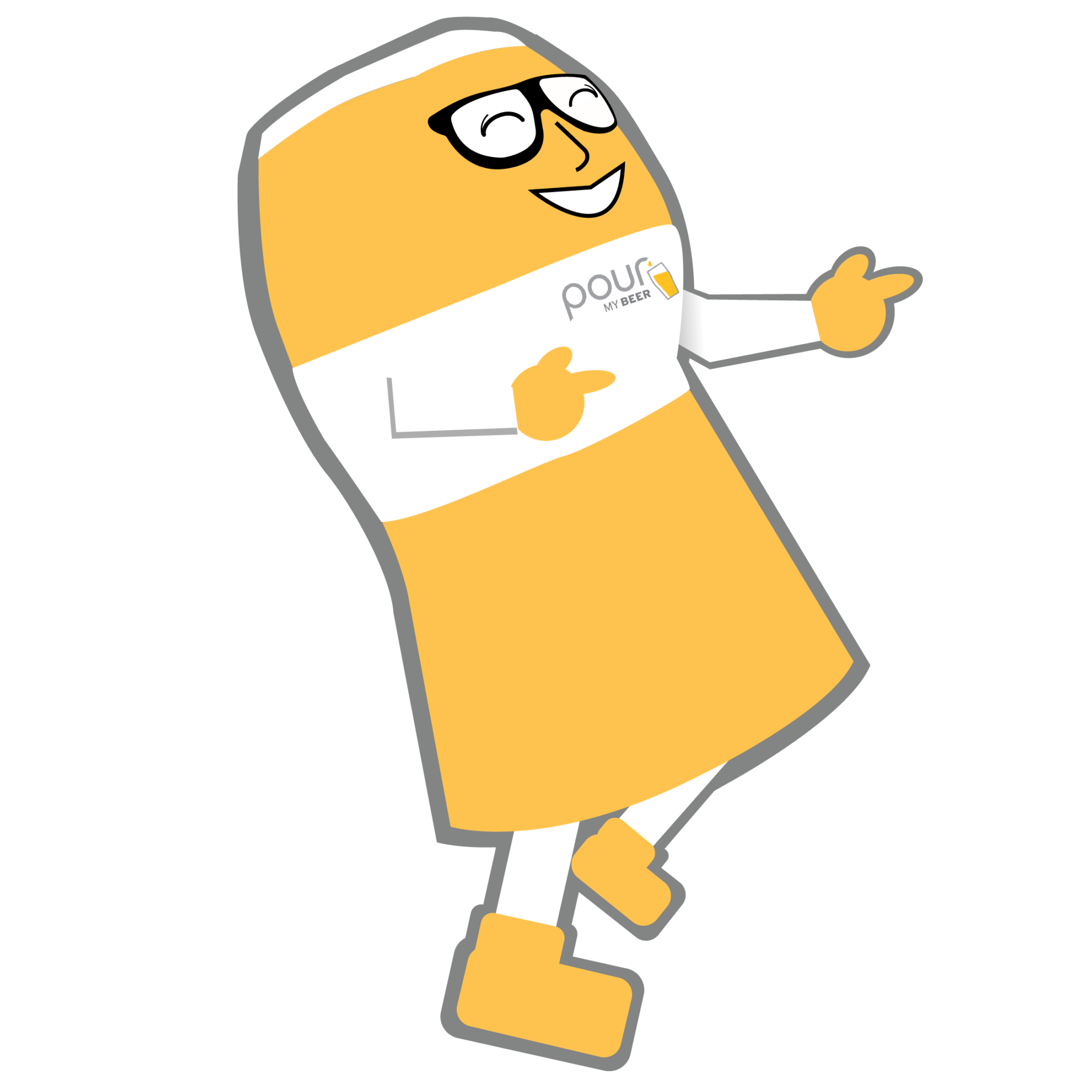 PourMyBeer Key Takeaway: 
Rosati's decided to make customers forget that there is any waiting happening for their delicious pizzas to arrive. They check the costumes in as soon as they arrive, and while they place their pizza orders, customers can start sampling any of their 42 great beverages. And due to their efficient food service, most customers find themselves surprised that the pizza is already there before they have even found a favorite drink! All those samples poured contribute to Cape Rosati's revenue, so no wonder they are so successful. Cape Girardeau is currently the only Rosati's location that is utilizing the power of self-pour, but of course, we plan to add some more.
Location: Minneapolis, Minnesota
Number of taps and screens: 26 taps / 13 screens
Type of Establishment: Restaurant and Taproom
Tap Society likes to keep things simple, with great beer and classic American food. With fresh burgers and fries, and a friendly atmosphere, customers are guaranteed to have a great time here. Their self-serve beer wall powered by PourMyBeer brings a new drink experience to the Minneapolis area, in addition to their awesome shakes and floats. If you want to get an idea of what their space looks like, they've got a virtual tour of their own on their website, letting you digitally walk around their beautiful venue!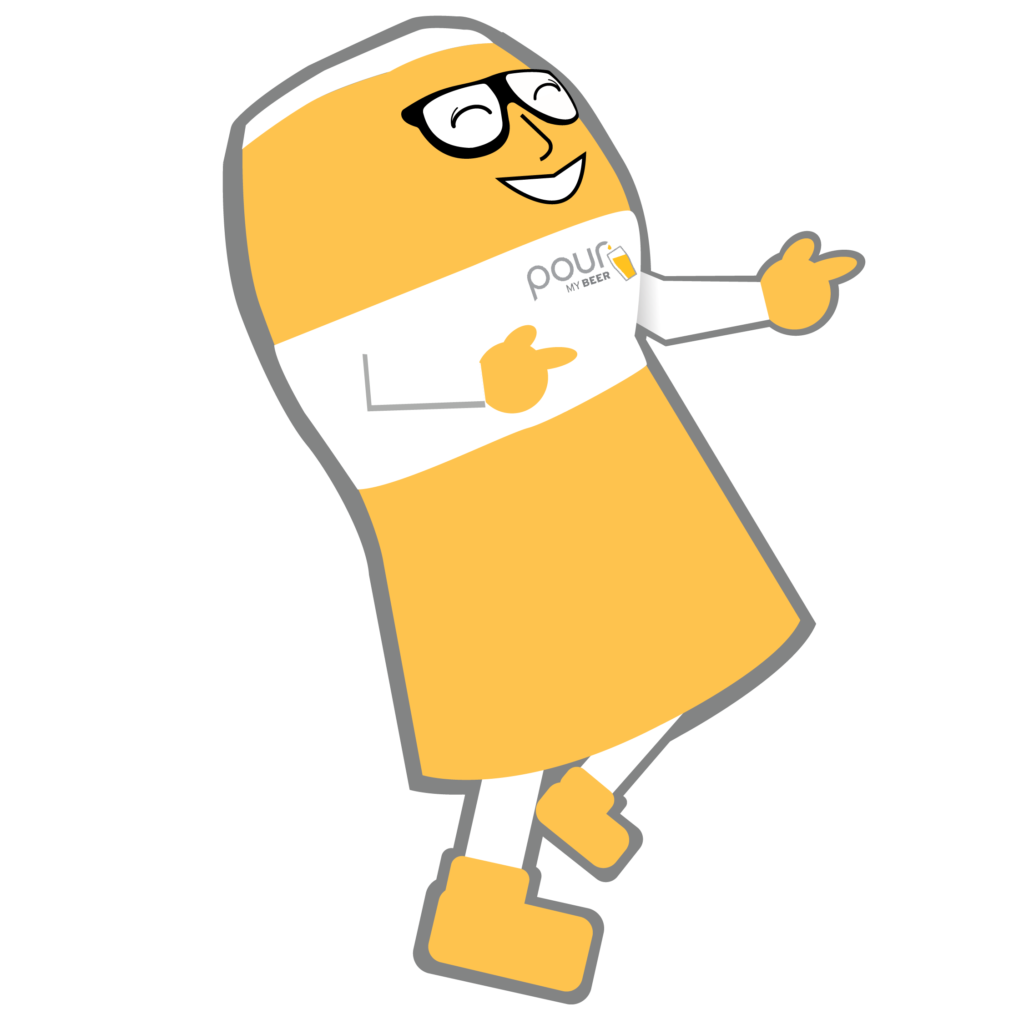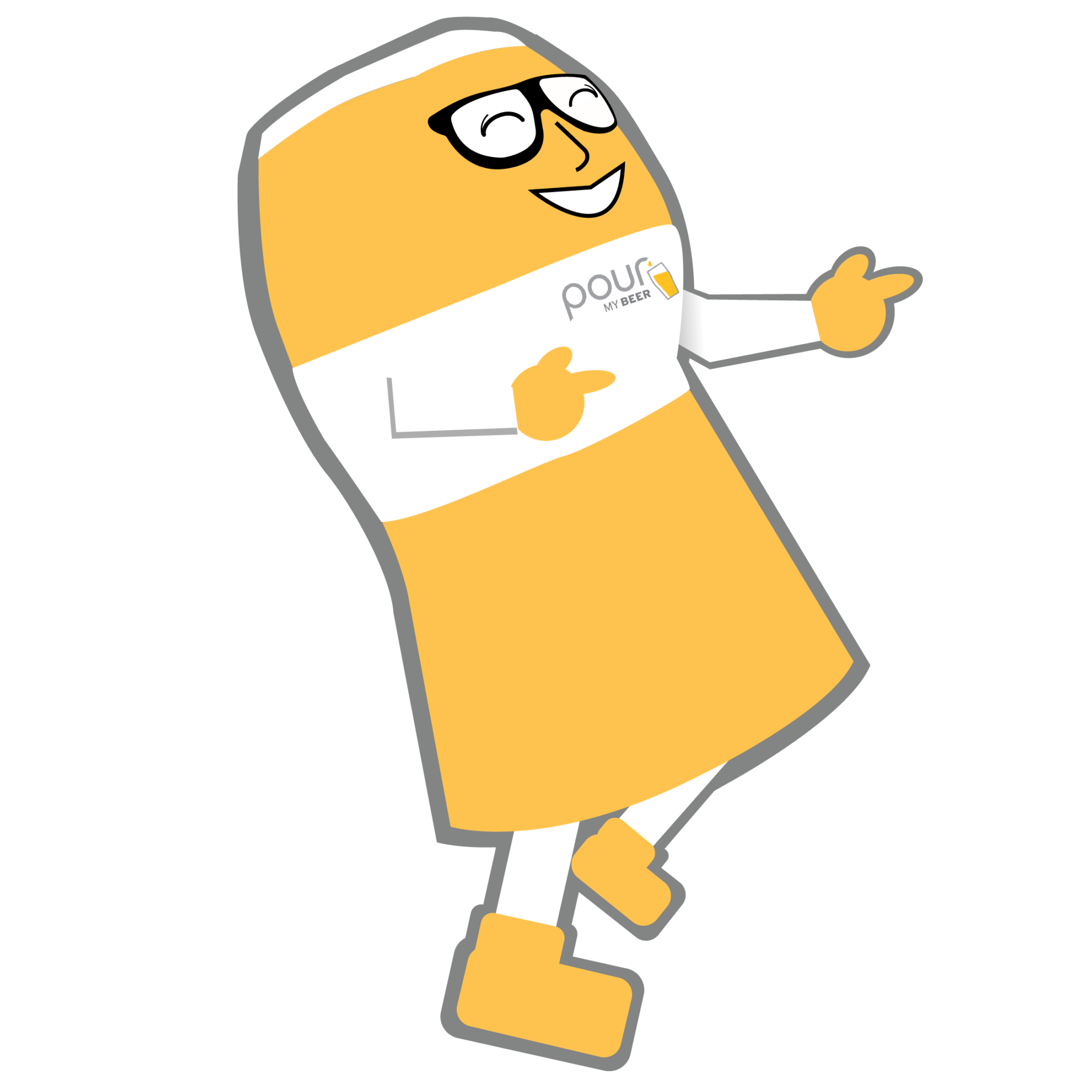 PourMyBeer Key Takeaway:
Tap Society believes that keeping things simple is key, but don't think that means they don't get creative with their food and beverage offerings. Tap Society believes you should be adventurous when it comes to your menus. Offer beers from different parts of the country (or world) to give your customers a taste of something new and exciting. They're also very strategic when it comes to using ingredients in the kitchen. They're always asking "What do we have and what else can we make with it?" Keeping things fresh is key and Tap Society is no stranger to this concept!
Location: Eagan, Minnesota
Number of taps and screens: 32 Taps / 32 Screens
Type of Establishment: Brewpub
Dan Redpath had a dream to open his own brewpub for years. One day, he finally decided to make his dream come true and that's when Union 32 Craft House was born. Union 32 holds true to its Minnesotan roots, offering only local craft beer on their 32 taps. They also have their own brews on their self-pour taps for guests to try. Come stop by Union 32 and experience what Minnesota is all about!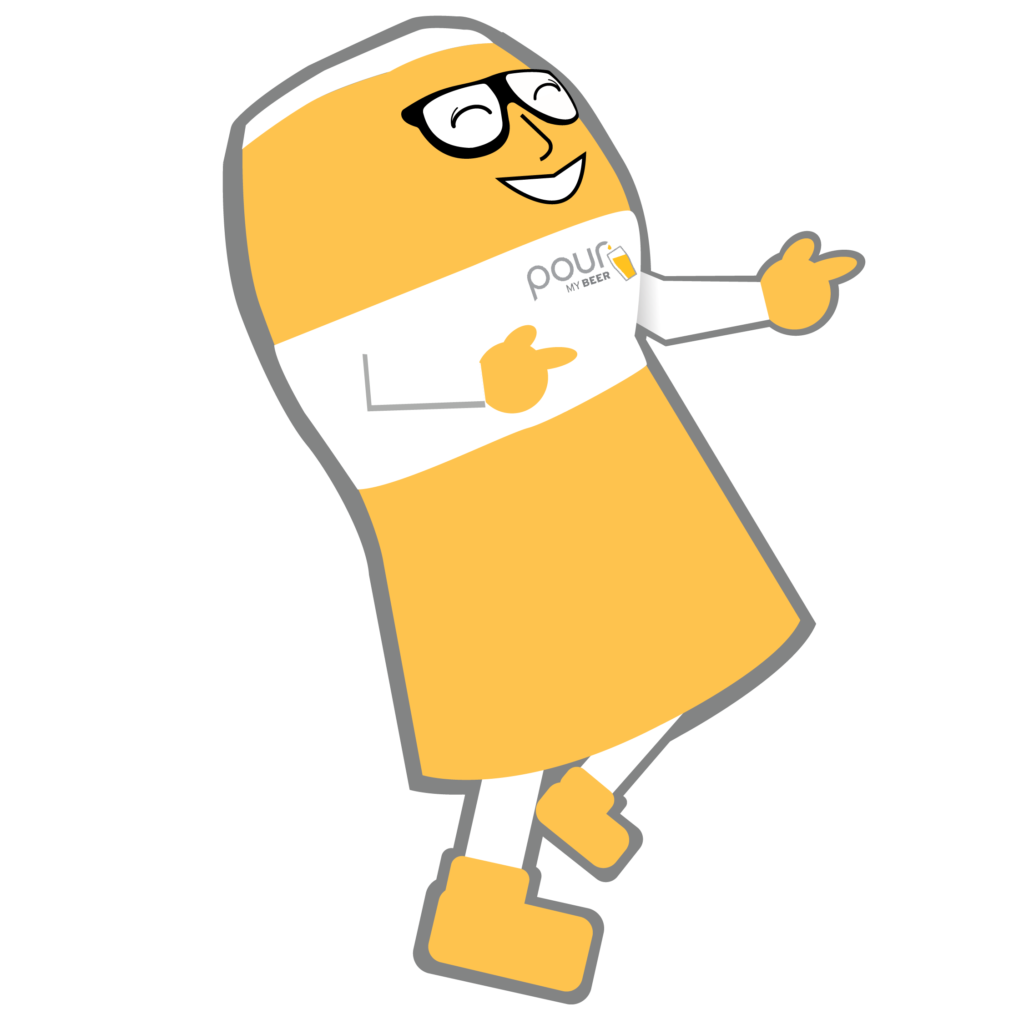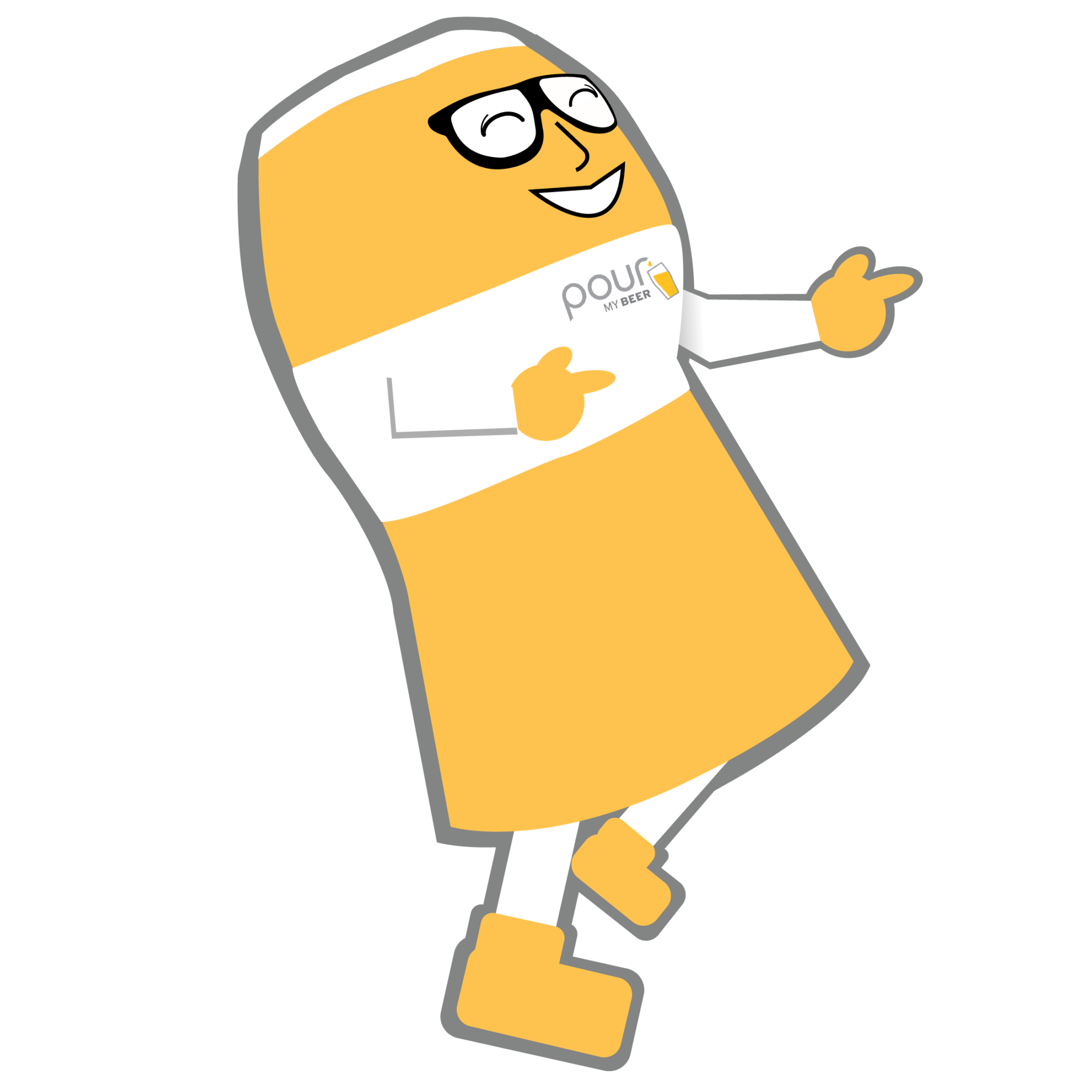 PourMyBeer Key Takeaway:
Union 32 loves to support their local community. They collaborate regularly with local breweries in the area to bring in something unique for their customers. They also host popular events for the community such as "Tap Takeovers." Breweries come to Union 32 and give out free samples of beer as well as merchandise. Customers get to taste something new and different, while Union 32 gets extra traffic to their doors. Not only do they host events with breweries, but they also are known for hosting events for local organizations in the area. They want to raise awareness among the people in their town and truly make a difference for these organizations!
Location: Newtown, Pennsylvania
Number of taps and screens: 20 taps / 10 screens
Type of Establishment: Pizzeria and Taproom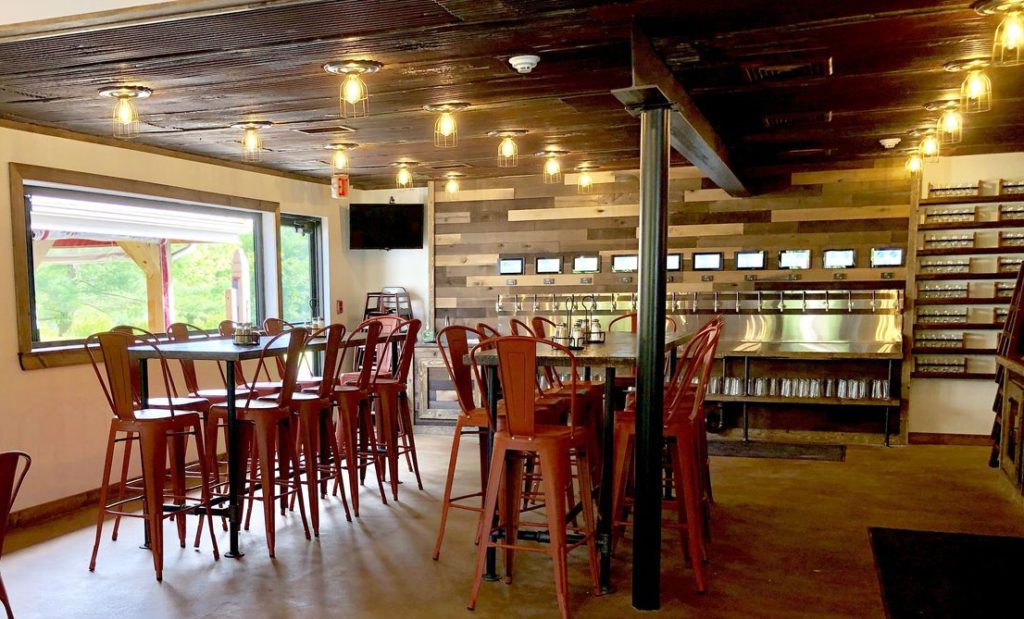 Pizza and beer – is there a better combination? Well, Vince's Pizzeria is bringing this combo to the residents of Bucks County, PA. With a family recipe dating back to 1946, Vince's Pizza is regarded as one of the best pizzerias around. Vince's is supporting their local community by using local produce and serving beer and wine from local breweries and wineries on their self-serve tap wall. If you want to learn more about Vince's Pizzeria and their self-pour beer wall check out this video!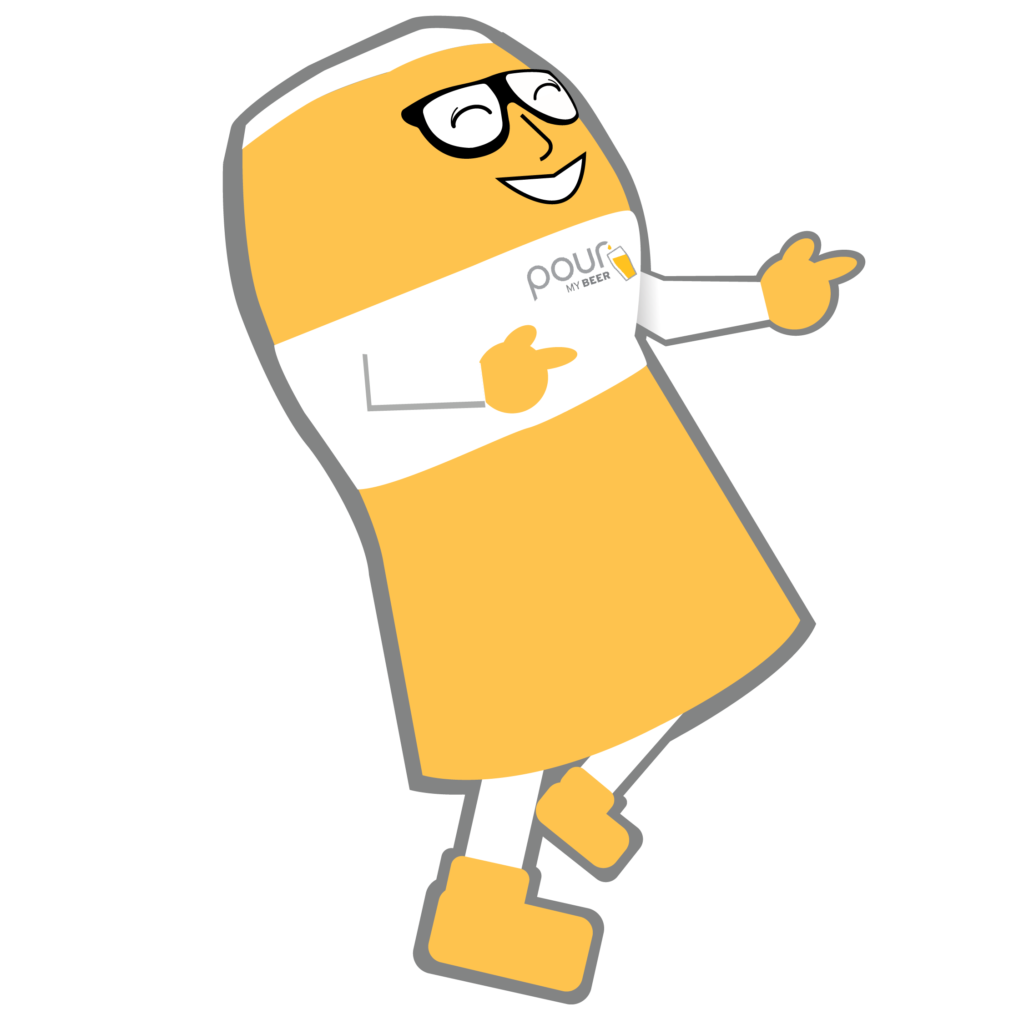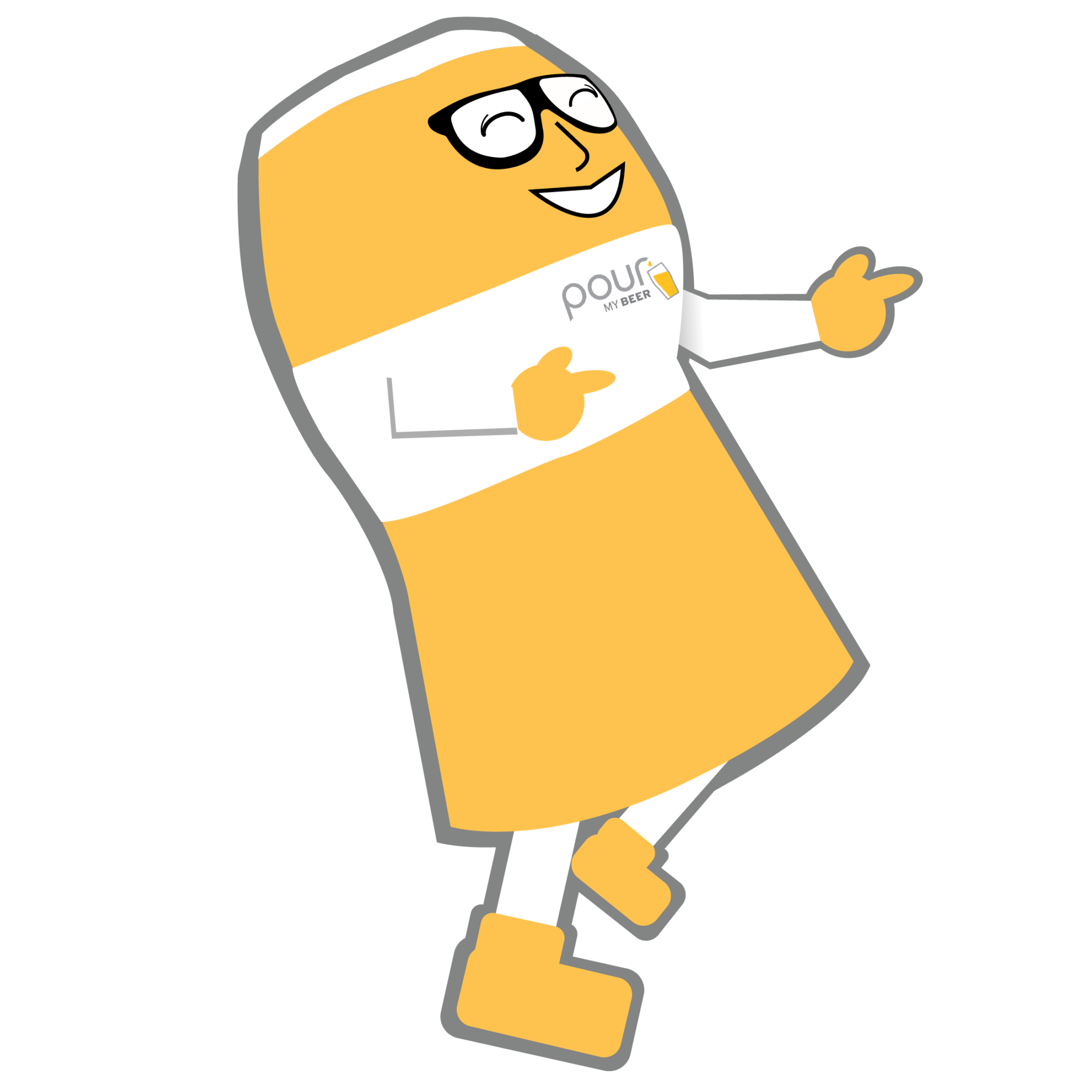 PourMyBeer Key Takeaway: 
One of the best things about Vince's is its ability to cater to adults who love beer while also maintaining a genuine family-friendly atmosphere that welcomes even younger customers and families. Vince's owners knew they did not want to open a traditional bar, as this would give their venue a decidedly more mature vibe. They also noticed that self-pour was not very common in their area, and thus made a smart decision to enter a market that would love their unique combination of pizza, beer, and a family-friendly feel all in one.
To Check out more PourMyBeer locations, click below!