Self-Pour in Country Clubs
Self-Serve Beverage Technology In
Country Clubs
When going to a country club, customers are looking to have fun hitting some golf balls with their friends and family. After a round of golf, customers want to relax and get a drink at the bar. Instead of waiting for a bartender, they can walk up to the beverage wall, pour themselves a beverage, and head to the driving range. Since you have complete control over what you offer on tap, you can give your patrons the ability to sample and drink anything they want in the exact quantities they want! Thanks to PourMyBeer's revolutionary technology, you can account for and keep the profits for every ounce they pour.
Benefits Too Good to Ignore

As a Country Club owner/operator, a self-pour beverage wall will bring you many benefits:
Reduced Cost: With the customer in control of their drinking experience, you will save on wage expenditure as you don't need as much staff. Self-pour technology tracks every ounce poured, so no more losing out on profits due to over-pouring or spillage.
Service Efficiency: Since customers become the bartender, they can approach the wall when they need a refill, meaning your staff can focus their attention and efforts elsewhere, enhancing the overall customer experience.
Waste Reduction: Self-pour accounts for every ounce poured, meaning customers won't want to waste what they pour. Since customers can pour as much or as little as they want, no more free samples are necessary. And, with self-pour technology, tabs will never be unpaid as the POS is automated, eliminating human error.
Consistent and Quality Taste: Kegs are vacuum-sealed to keep beverages as fresh as possible. Once kegs have been opened, they'll remain fresh for weeks and maintain the same quality taste from day one.
Easier Inventory: The use of kegs eliminates the need for bottles. Now you'll only need a few kegs in your inventory.
Self-serve technology doesn't just bring benefits to country clubs but also to the customers, who will love the efficiency & fun of self-pour!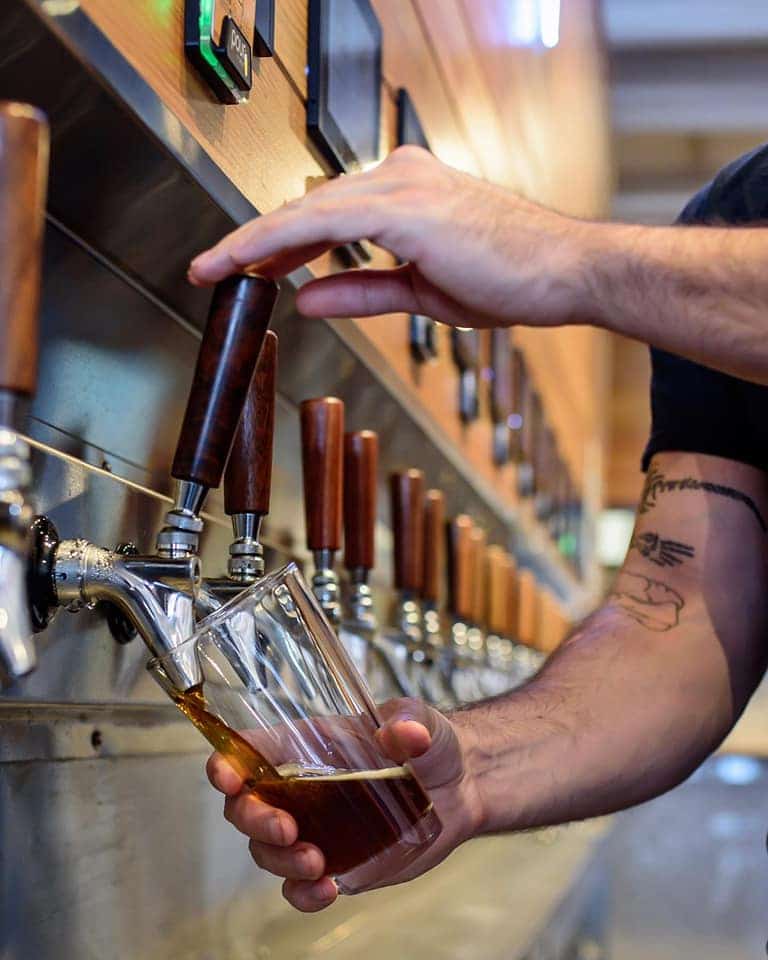 More Convenient: Customers have the freedom to pour whenever they want with self-serve technology, so they never have to wait to get the attention of a bartender or server again!
Cost Efficiency: At a traditional bar, customers can have a couple of free samples and then must pay for a full glass. With self-pour, customers can drink less than a glass at a time, meaning they can try a variety of drinks at the same price as at a regular bar.
Cold and Consistent: Kegged drinks provide fresh, cold drinks every time. Customers will get the same great taste from the first pour to the last.
Sampling is Easy: The pay-by-ounce model appeals to many customers. They can sample as many beers as they want in smaller amounts – giving them the option to taste beers they would normally never be able to taste.
Fun: And let's not forget the best part, self-pour gives customers a unique and fun experience! Customers love interacting with each other, comparing their favorite brews, and engaging on social media. It's a concept like no other!
PourMyBeer family member, The Seabrook Island Club, is a great reference to Club Members' satisfaction since they have added self-pour to their operations. Seabrook Island Club features a fixed wall with 12 self-pour taps and a self-pour station with 8 taps serving beer, wine, and cocktails to their guests delight. The Club offers tabled seating with firepits and overlooks a beautiful golf course with water features and views of the Atlantic Ocean! The self-pour experience doesn't get much better than this. Hear from Mitchell Laskowitz, General Manager and Chief Operating Officer, to hear how self-pour added a cutting-edge experience while decreasing labor issues!
Download the Seabrook Island Club Case Study
Learn how self-pour technology helped Seabrook Island Club reduce staffing issues while increasing Member satisfaction by downloading the case study below!