Self-Serve Beverage Walls in Grocery
Stores
When you think of a self-pour beverage wall, you probably associate it with bars and restaurants. However, the truth is that more often than not, self-serve technology is becoming a part of unique businesses and establishments such as various entertainment venues, military bases, and also grocery stores!
PourMyBeer technology is used by many grocery stores from big brands like Whole Foods and Hmart to small, family-owned stores like Woolley Market in Washington and Lynn Street Market in Virginia.
Who says that grocery shopping can't be fun? Adding self-pour to your store will bring a new element to grocery shopping that your customers didn't realize they needed!
What will Self-Pour Tech Bring to Your Grocery Store?
The Owner of Woolley Market Shares Her Experience with PourMyBeer
Bulk Buying Section – Provides an easy and efficient way to dispense liquid products in bulk.
Increase Profits – Those beverage sales quickly become a strong stream of new revenue.
Unique Selling Point – Differentiates your store from others.
Many are familiar with the concept of buying in bulk, which essentially means buying ingredients such as nuts, pasta, grains, and more in your desired quantity – i.e. as little or as much as you want. If you incorporate a self-pour tap system into your grocery store, there are many potential uses for it rather than just dispensing beer and wine.
If you're looking for a way to spice up your bulk section, add a self-pour station for a clean, efficient, and fun way to pour liquid ingredients such as olive oil, vinegars, kombucha, and coffees. This way, you can have customers sample your products, and still charge per ounce sampled. Stores that offer free samples of their products are oftentimes losing out on profits, especially when customers are sampling multiple ounces at a time, but with this system, you can make sure that every ounce is accounted for.
The beverage sales from your self-pour system will be a new stream of revenue while also reducing overall product waste. This element of grocery shopping will be another way to generate sales for your store due to its unique selling point and extreme efficiency.
Our system has proven to increase profits by 45% or more for our customers, giving them security and maximizing customer flows in and out of their establishments.
A self-pour beverage station will certainly make your grocery store stand out among the rest, since PourMyBeer technology offers a unique selling point that will draw customers into your doors.
Grab the public's attention with this innovative shopping experience and you'll be able to see the difference in your customer flow. People are always looking for ways to make life easier, and a self-pour beverage wall may be just the solution!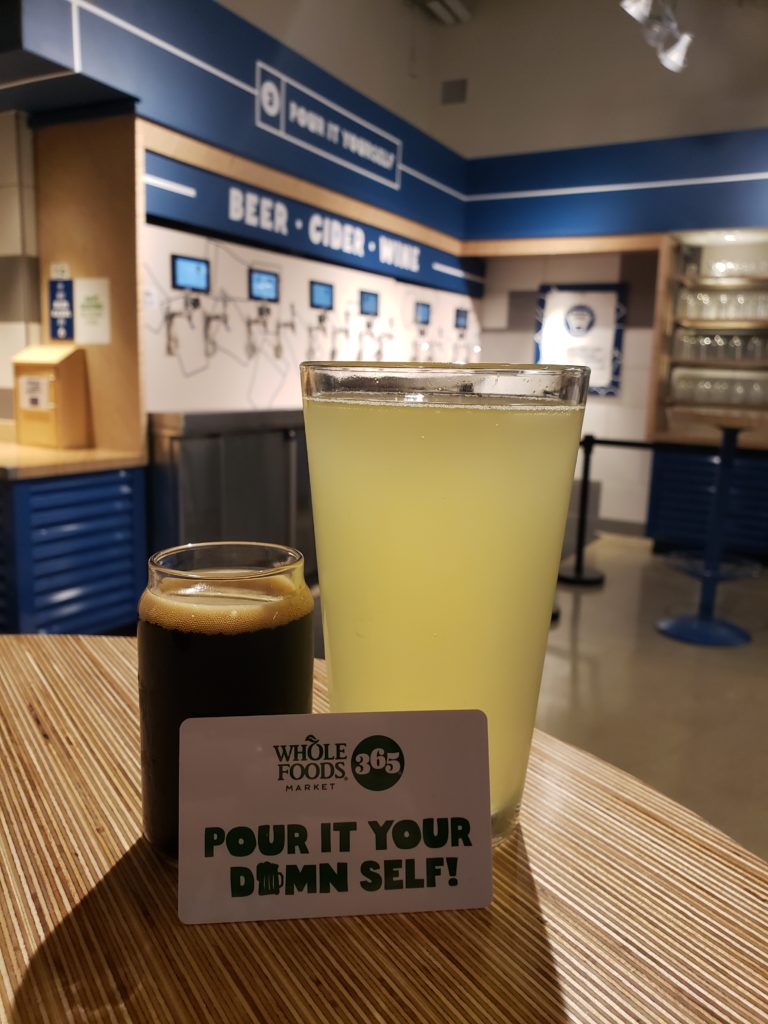 What do Self-Serve Beverage Walls Bring to the Shoppers?
Time-Saver – Customers can make multiple errands in one run.
Sip and Shop – Self-pour brings entertainment to dull, everyday errands. Who wouldn't want to sip something tasty while shopping? It gives your shoppers a reason to come back.
If your state permits the sale of beer and wine in grocery stores, a self-pour station can be a real time-saver for some shoppers. Patrons will have the ability to make their alcohol run at the same time as regular grocery shopping. This will eliminate the time it takes to go to the liquor store, so customers will be able to get everything they need including groceries and beverages all in one trip.
With this also comes the opportunity to sample beverages before customers purchase it, adding a fun and unique element to everyday errands. If customers like what they are tasting, they will be more likely to buy a six-pack or growler of that specific beverage.
Including sampling and alcohol purchases into one's regular grocery shopping will lead to increased sales for grocery store owners. Since every ounce is accounted for, you will not lose out on profit, and also will keep customers coming back for more.
There's no better or more efficient way to make grocery shopping enjoyable and relaxing than by utilizing a self-pour tap system. Customers can unwind while completing their errands by bringing a pint of beer or glass of wine with them as they shop.
Additionally, you can increase the use of indoor/outdoor dining areas at your store, as customers can sit down and order food from the hot bar while drinking their favorite beverages, dispensed from your PourMyBeer taps.