Self-pour in bars and taprooms
Self-Pour Beverage Walls at
Bars and taprooms
Imagine a busy sports bar with patrons filling the entire venue and all eyes locked on TVs. The game is on, and everyone is hooked. But…everyone's glass is close to empty. So what happens when it's getting close to commercial time?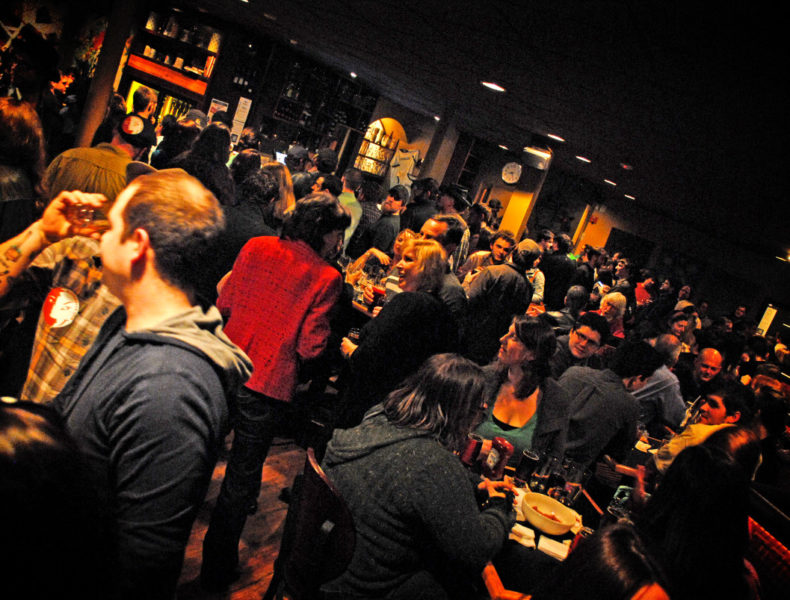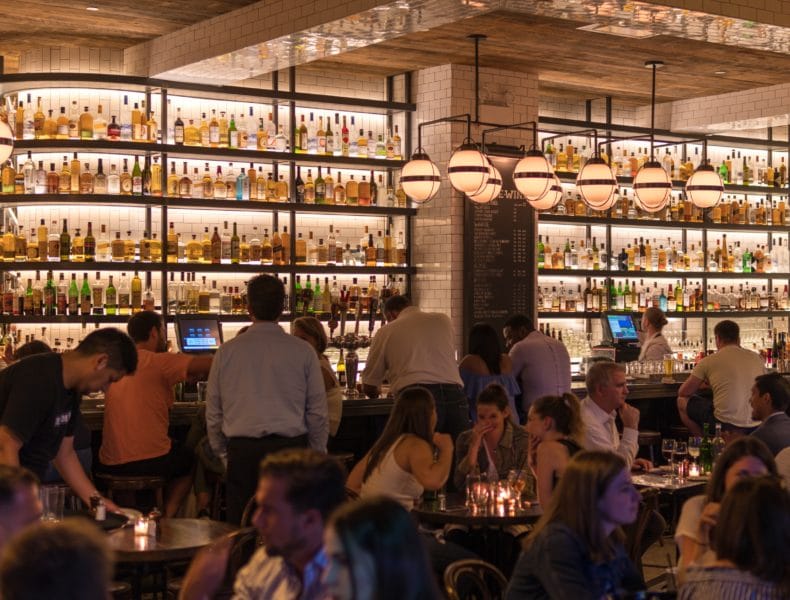 Everybody swarms the bar, trying to get another round or doing their best to flag down the bartender, only for half of them to fail and most likely give up before the game is back on.
Now, what happens if you have self-pour? Everyone leisurely makes their way to the tap wall, samples a few, and fills their glass with however much they want of their favorite beverage. They are then able to get back to their seat with a few minutes to spare.
And the best part? You, as the bar owner, don't miss any of their orders. Your customers are all satisfied and your staff can focus on great customer service and making sure the place is constantly cleaned and monitored. And you don't lose out on any profits by giving out free samples or having patrons sitting around with empty glasses.
Check out how PourMyBeer works:
Revolutionizing the Modern Bar and Taproom Experience
Whether you're the bar owner, the bartender, or the patron, one of the worst aspects of the bar experience is when the patrons can't get served when they want. Not only is the customer likely to be unhappy and unlikely to want to return, but the bar is also losing out on potential profits.
At a bar with traditional dispensing methods, large crowds are inevitable at times. With every single drink needing to be served by a very limited number of bartenders, some patrons will have to wait or will fall through the cracks and be unserved entirely. As a bar owner, this is never a good thing: it not only means that your customers are often left unhappy with their experience, but it also means you're losing out on potential revenue. With self-pour you put this inefficiency to an end.
Thanks to PourMyBeer's revolutionary technology, the customer becomes their own bartender, and they are in full control of when and how much they want to pour.
This means that your staff can focus on providing friendly, fast, and high-quality service to customers in order to make their experience exceptional every single time, giving them a positive reason to return.
From San Francisco to Chicago, many bars and taprooms across the U.S. have already been seeing the benefits of self-pour. Additionally, bars and taprooms all over the world are starting to embrace the addition of a self-pour beverage wall.
Benefits Too Good to Ignore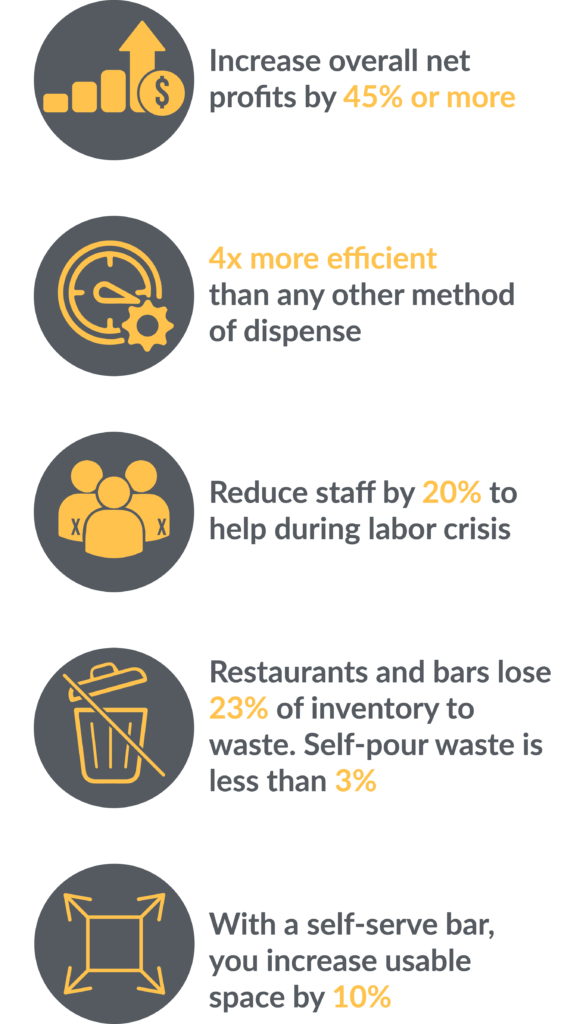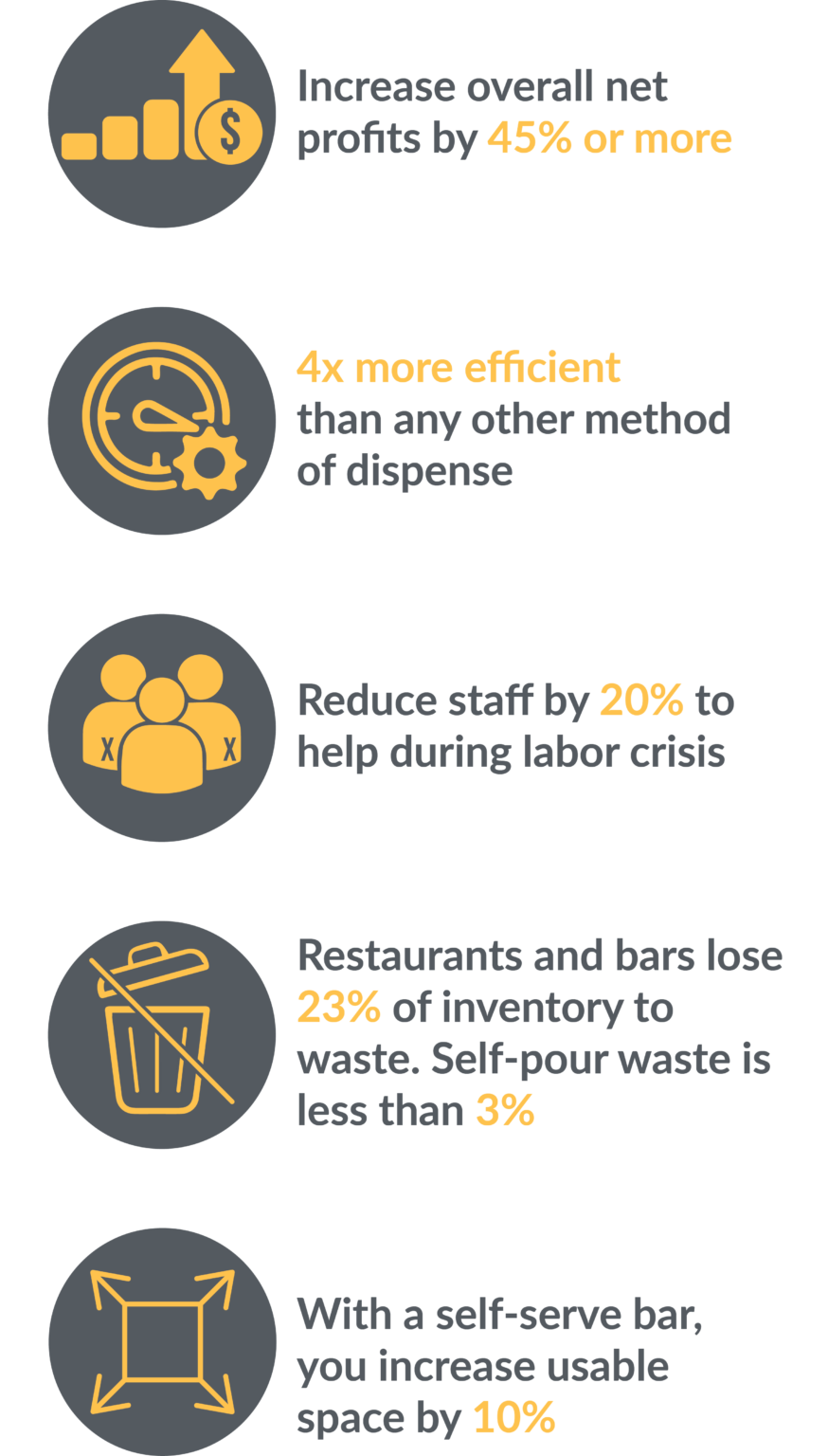 Easy Touch-Screen Technology

When customers come to sports bars like yours, they expect a fun, lively atmosphere where they can relax and watch their favorite teams go head to head. PourMyBeer's self-serve pour walls contribute to this unique environment that has people coming back again and again. These pour walls consist of dispensers that provide user-friendly operation thanks to our revolutionary touch-screen technology. Your patrons will love the:
Industrial-Grade Customizable Tablets: Our tablets are ready to take on anything in a bar setting where spills happen. This heavy-duty equipment is waterproof and durable enough to withstand consistent use. Plus, you can customize your tablets with adjustable backgrounds, product images, and descriptions to help consumers decide which drinks to get.
Multi-Pour Configurations: You can add up to four taps per screen for ease of use. Pair your IPAs, fruit beers, seltzers, and other favorites together to save on space and give customers an idea of what they can pour.
24/7 Connectivity: Over time, battery-powered tablets can experience swelling and screen cracking, and consumer tablets aren't meant to stay on like you need them to. Our tablets are designed for 24-hour-a-day work. Whenever you open your doors, your pour wall will be ready to accommodate customers.
Real-Time Displays: When customers insert their RFID card to pour, they can see updates in real time. The screen will show them how much money they've spent and how close they are to their drink limit. These displays also help you keep track of keg levels and which ones will need replacement soon.
POS Integrations: When you switch to PourMyBeer, you can seamlessly integrate your self-pour system with any of our Point-of-Sale integration partners so that your regular customers can continue paying with the same methods as always and you have one less thing to think about as you transfer to this new method.
And your customers are not the only ones who will benefit. Our system is streamlined to work for you and your employees, too! PourMyBeer tablets can complete all operations without Wi-Fi, so you can keep things moving even when they're disconnected. They run on an exclusive operating system that updates on your schedule, so you're ready to go whenever business picks up.
On the off chance you do have a concern, you can reach us anytime. Proof of our quality products is that our customer care team gets minimal calls despite having thousands of self-pour solutions worldwide. We know our space-saving technology works for sports bars like yours, and we're happy to assist you in anything we can to make your operations even more efficient
As a self-pour bar or taproom owner, the self-pour beverage wall brings you many benefits:
Lower Costs

: When the customer becomes their own bartender, your staffing needs for bartenders reduce significantly, and with it, your wage expenditure.
Better Service

: Customers having full control over their drink needs also ensures that they are served with maximal efficiency; no one needs to be left waiting. Your remaining staff can then keep your bar running smoothly 100% of the time.

Less Waste

: Self-pour allows patrons to pour exactly the amount they want, and this will significantly reduce the amount of alcohol waste generated compared to a traditional bar. Overpouring and spillage by staff are completely eliminated since customers are handling pouring on their own accounts themselves.

Fresh for Weeks

: Since the kegs in which wine and cocktails are kept are pressurized and cooled, they are kept fresh for a long time, meaning customers get the same tasting wine on day 30 as they did on day 1.
Eco-Friendly Inventory: Another benefit of self-pour is that using kegs significantly simplifies your inventory. Instead of having to keep track of and later dispose of hundreds of bottles at a time, you'll have a few dozen kegs (at most) at a time which are also reusable, making the self-pour solution much more environmentally friendly.
Unique differentiator: Self-Pour is new, it's interesting, and it turns heads. In a bar and restaurant market with so many new places, it can be difficult to stand out. Self-pour is a great way to do exactly that, especially if marketed well.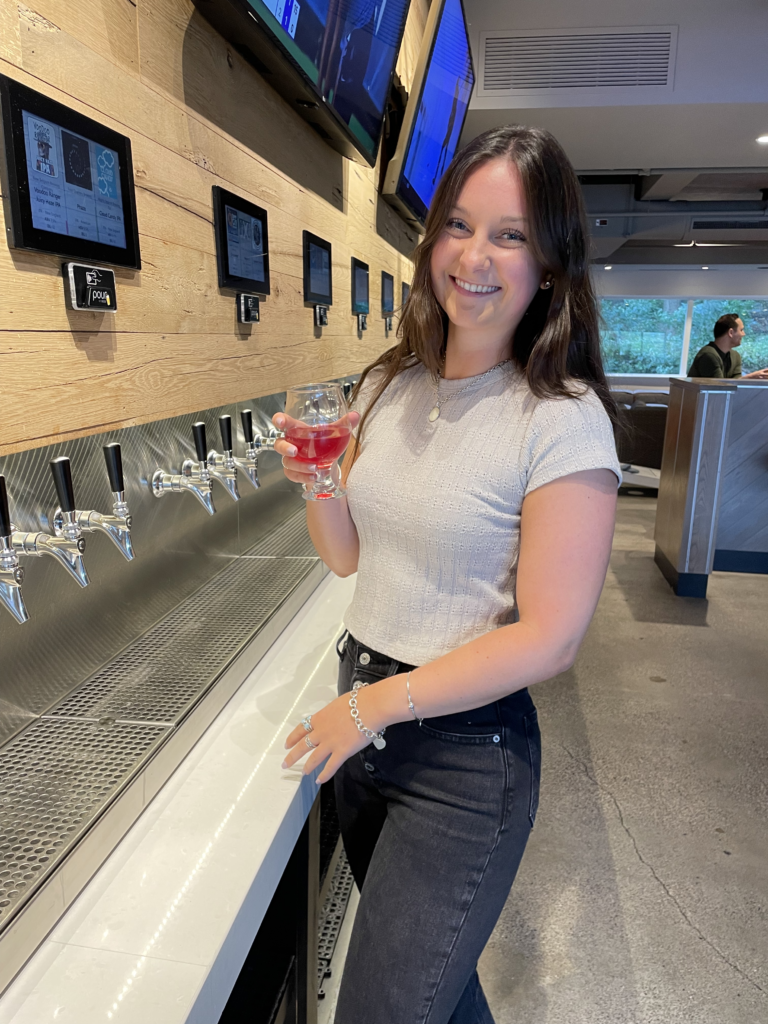 Not only does the switch to self-pour benefit you, as the bar or taproom owner, and your staff, but also the customers, who can enjoy the quick and fun new way to drink their favorites!
Convenience:

When we say "stop waiting, start pouring," we're not kidding. Customers always get to be in control of their drinks, making their experience more fun and a lot more convenient.
Cost Efficiency and Sampling: Pouring and paying by ounce means that patrons don't have to commit to an entire glass of a beverage just to try it. Sampling is possible and encouraged, so no one has to spend too much on a drink they don't like.
Consistency: That kegging system that benefits you on the bar side also makes things nicer for customers, because it means that every drink is delicious and chilled from the keg all the way to their glass with every pour.
Fun and Unique Experience: Self-pour is a surprisingly social and interactive experience. Customers often talk to each other about their favorite drinks, how to pour perfectly, and which ones look the coolest. Some of this even makes it to social media, which can be a nice marketing boost for the bar as well!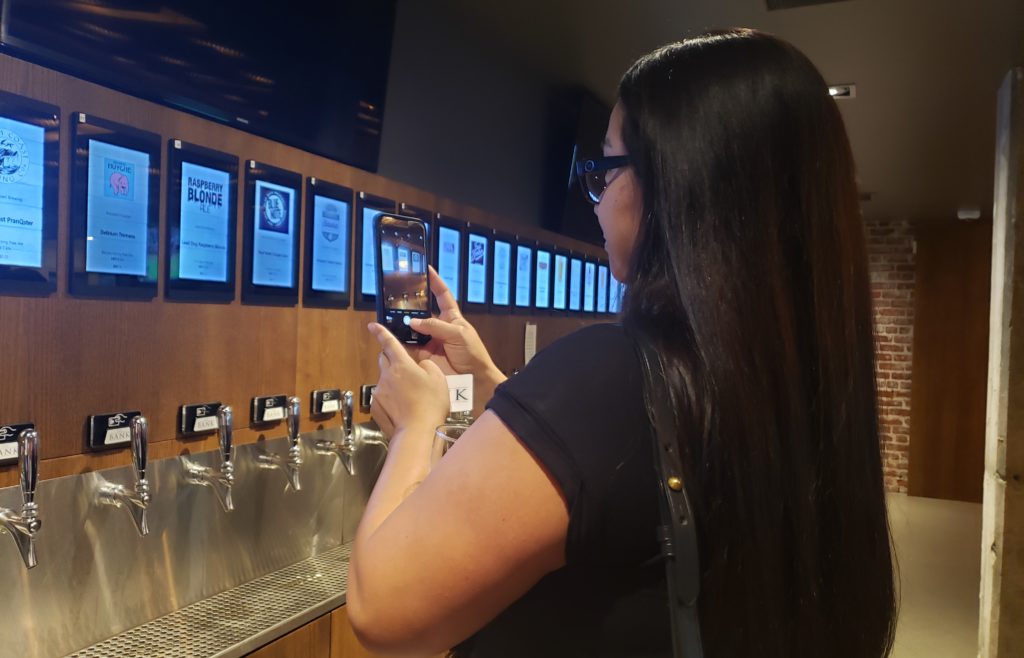 Download our many Case Studies below to study later!
Want to see how self-pour technology helps other restaurant owners? Check out some of our case studies by filling out the form below.