The combination of craft beer and pickleball offers a fun and dynamic way for amateurs and seasoned players to enjoy the sport and one another's company. There's nothing better than cooling off after a match with a refreshing beverage, and there's no beverage more refreshing than a crisp self-pour craft beer. See why this pairing is perfect for players and spectators!
Pickleball is played on a court with a low net that's about one-third the size of a regular tennis court. It combines principles of badminton, tennis, and table tennis. Pickleball balls are similar to Wiffle balls, and the paddles are similar to but larger than ping-pong paddles. As with the other sports, your pickleball objective is to send the ball over the net to your opponent without sending it out of bounds. When opponents are unable to serve the ball back to you, you win points.
Pickleball is a fast-paced, low-impact game — perfect for people of all ages! Play on your own against another individual, or team up with a friend for a round of doubles.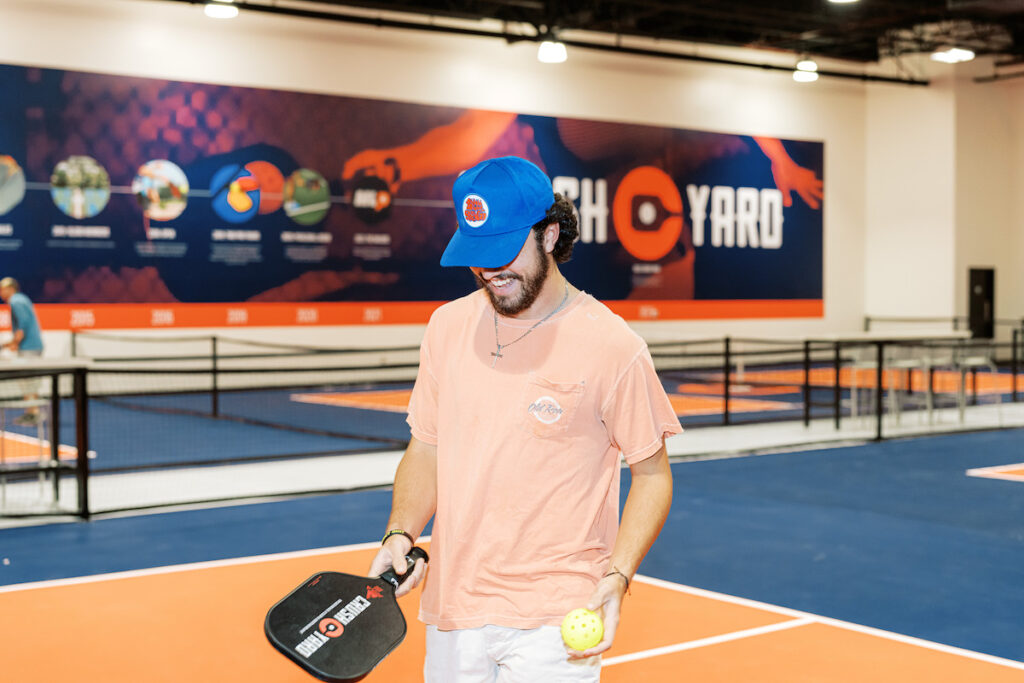 Pickleball Tips and Tricks
Are you a pickleball first-timer or an amateur player? If so, you should know how important strategy is to the sport. Even if you're just playing for fun, follow these handy tips to keep your game entertaining:
Serving: Avoid serving near the sidelines or hitting the ball too hard to enjoy a more challenging and entertaining round.
The kitchen: The non-volley zone, or "kitchen," is the 7-foot area on either side of the net. As the name suggests, you cannot volley from this area.
Paddle position: Keeping your paddle high, around your chest, will help you react quicker.
Player position: Facing the player instead of the net gives you this advantage.
Centerline: Aim to return baseline shots to the centerline to keep the game going.
Control over power: It is more important to focus on ball placement than power.
Why Pickleball and Beer Make a Great Pairing
Pairing two fantastic social activities creates an opportunity for a memorable day out. Pairing pickleball with beer, for example, can bring people together, encourage conversation and offer a relaxing, friendly atmosphere. Here are some more reasons to serve beer during a pickleball match:
Refreshment: A cold beer is refreshing after a game of pickleball, offering players a delicious way to cool down and quench their thirst.
Tradition: Many people look forward to opening a frosty beverage after playing a sport, and this tradition can easily become associated with pickleball.
Celebration: Sharing a beer with friends, family or colleagues is an excellent way to celebrate their game-day victories.
An Ideal Pairing for Sports Facilities Owners
Beer is a popular and profitable concession, and selling it at a sports facility can boost revenue. The added offering also encourages patrons to stick around your facility and enjoy their drink for longer, leading to more sales. Additionally, offering craft beer means you are creating a new experience within the community, helping you attract individuals coming to play, as well as those looking to socialize.
You will also enjoy a special competitive advantage since it's unlikely that your competitors serve craft beer. Finally, pickleball and beer make for an awesome pairing because you could see more opportunities to collaborate with local breweries or sponsors to enhance your offerings.
The Best Ways to Serve Beer at a Pickleball Court
Before implementing these changes, ensure you have the necessary permits to sell alcohol. The process of obtaining a liquor license depends on your location, so it is best to research the regulations and other licensing requirements specific to your area.
Once you've ensured you're in compliance, there are many ways to serve beer at the pickleball court:
Concessions: Add canned craft beer to your existing concessions stands for a cost-effective and convenient solution.
Self-pour options: Self-pour technology allows patrons to dispense their own beer, creating a seamless experience. A self-pour pickleball brewery can lead to a 50% increase in sales and will entice players and families!
Seasonal offerings: Make the most of your new venture with seasonal craft beers to entice new customers.
Diverse menu: Be sure to add variety to your craft beer menu by offering IPAs, stouts, sours, and lagers.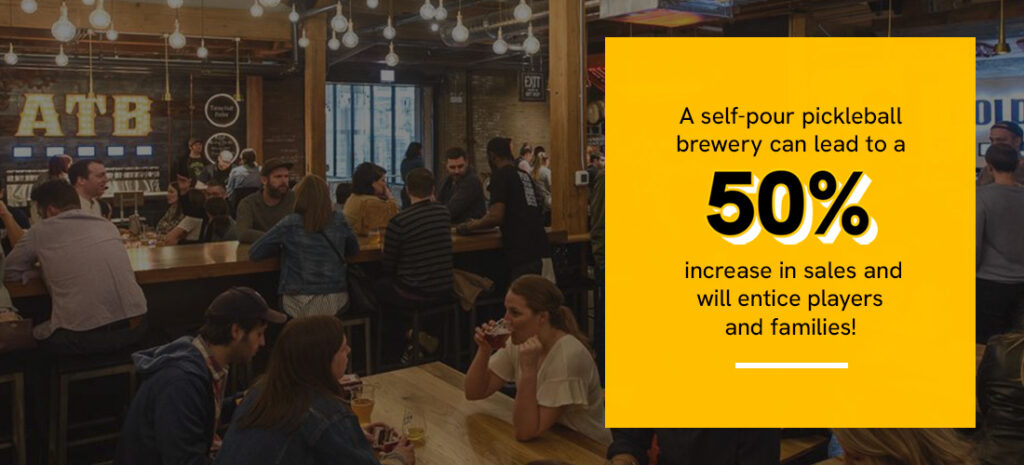 How to Promote Your Pickleball Brewery
Once you've set everything up, you want to get the word out there, whether you are adding a selection of canned beer to your concession stands or setting up a brewery with pickleball. Here are a few ways you can promote a pickleball and beer merger:
Tasting event: Host a tasting event where visitors can sample some of the available drinks and learn more about local craft beers.
Collaborative events: Organize pickleball tournaments or leagues, and invite local breweries to promote their offerings.
Local partnership: Reach out to local food vendors so that visitors can enjoy some delicious bar snacks alongside their craft beer.
The Future of Pickleball and Beer
Pickleball is becoming increasingly popular across the United States. The number of pickleball players grew by 159% in 2022, and even Major League Pickleball teams are seeing a rise in stakeholder interest. Craft beer also remains a reliable beverage, accounting for nearly 25% of the total U.S. beer market. Are you sensing the possibilities yet?
If you manage a pickleball court — or are looking to open one — and want to attract players, offering craft beer is a great idea. Self-pour systems, especially, allow players and spectators to get a frosty beverage without having to wait in line and miss any of the action on the court.
These self-pour systems are also incredibly efficient. Customers can pour their own pints and will pay by the ounce, often via radio-frequency identification (RFID) chip cards. This way, you reduce the risk of overpours and ensure each drop is accounted for while keeping the process easy as pie.
As pickleball grows in popularity and craft beer remains a staple of the beer world, a world of possibilities opens up. It is reasonable to expect a rise in facilities that provide a combination of both to encourage spectators and players to enjoy competition alongside some tasty brews.
Trust PourMyBeer to Take Your Pickleball Court to the Next Level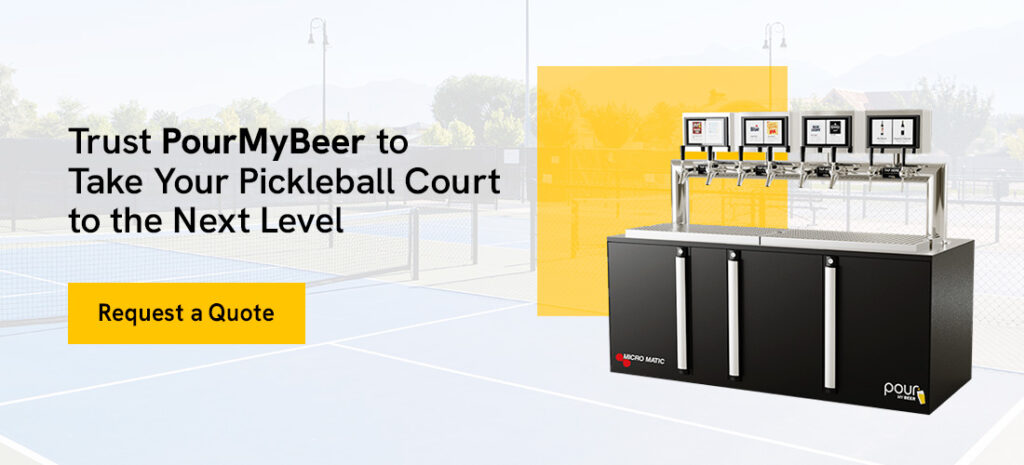 Ball games are better with beer — it's just the truth — and your establishment can successfully pair craft beer and pickleball with self-pour systems from PourMyBeer. Our self-pour draft beer systems add convenience and excitement to your facility with cutting-edge reporting systems that empower you to make data-driven decisions to optimize your offerings. Are you ready to incorporate self-pour technology into your facility? Contact PourMyBeer for a quote.