From slot machines to craps tables, a bustling casino floor is an exciting place to be. Drinks flow, Roulette wheels spin, and guests have the time of their lives. But if the bar's backed up, it is tough to provide the quick service your guests expect.
Enter the self-serve beer wall. Instead of ordering each round from a bartender, guests can walk up, pour themselves a drink and get back to their game without losing time waiting for service. This technology can help you delight your guests and make your casino stand out from the competition.
Top Ways Self-Pour Benefits Your Casino Operations
Self-service beer walls are an excellent match for a casino setting. Installing self-pour technology enhances the guest experience by allowing them to drink and play at their own pace. A well-designed casino beer wall can also visually liven up your space, encouraging guests to buy more drinks and spend more time on the floor.
Here are some top benefits of bringing self-serve beer taps to casinos.
Unique Customer Experience
Sometimes, guests don't want a full serving of beer. Maybe they are the designated driver or want to taste a few varieties before committing to a whole pint.
With self-service casino drink kiosks, guests have ultimate control over their drinking experience. They can choose a beer and stick to it, or they can mix and match different brews to decide which one they like.
And this technology isn't limited to just beer. Self-service beverage technology can pour any drink you can put in a keg, including wines, craft ciders, cocktails, and even non-alcoholic offerings.
There's also an interactive element to self-service pouring. Guests can use the touchscreen to learn everything they need to know about each beverage option, such as flavor notes.
When guests have to wait at the bar for the bartender to pour their drinks, they lose time they could be spending playing games, which can negatively impact their overall guest experience.
Self-service casino drink kiosks give your guests the drinks they want immediately, slashing wait times and freeing your service staff up to focus on other important tasks.
Providing a wide range of beverage options gives your guests the ultimate freedom in choosing how and what they want to drink.
Just because you provide self-service drink options doesn't mean you have to get rid of the bar entirely. Many people prefer sipping handcrafted cocktails with elaborate garnishes. You can cater to everyone by providing the best of both worlds.
For example, you could install self-pour taps near the bar for beer or wine and reserve the bar for specialty cocktails that must be made by hand. This kind of arrangement keeps traffic moving along while maintaining a high level of service and selection.
When guests order from a traditional bar, the bartender monitors their consumption and decides when to cut them off. Some people have a high tolerance for alcohol, though, and seem fine even though they're buzzed.
Self-pour technology reduces your liability risk by making it easier to cut guests off. To use self-pour taps, customers must first purchase pre-loaded RFID cards. These cards limit them to two standard drinks — for example, the standard serving for beer is 16 ounces, so the most beer a customer can pour is up to 32 ounces before needing to reload their card.
You can set house limits on the number of times guests can reload their cards to keep things fair for everyone and minimize the risk of guests drinking too much.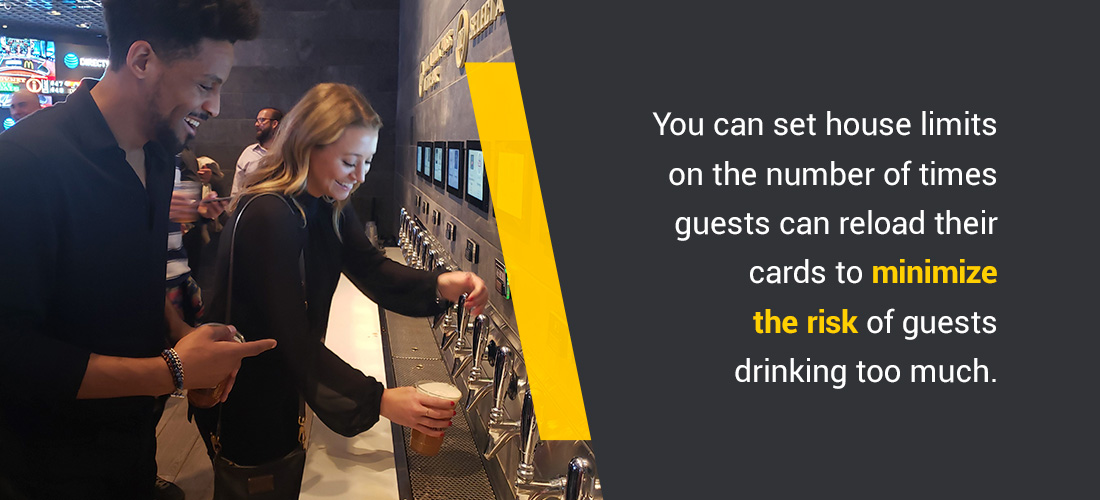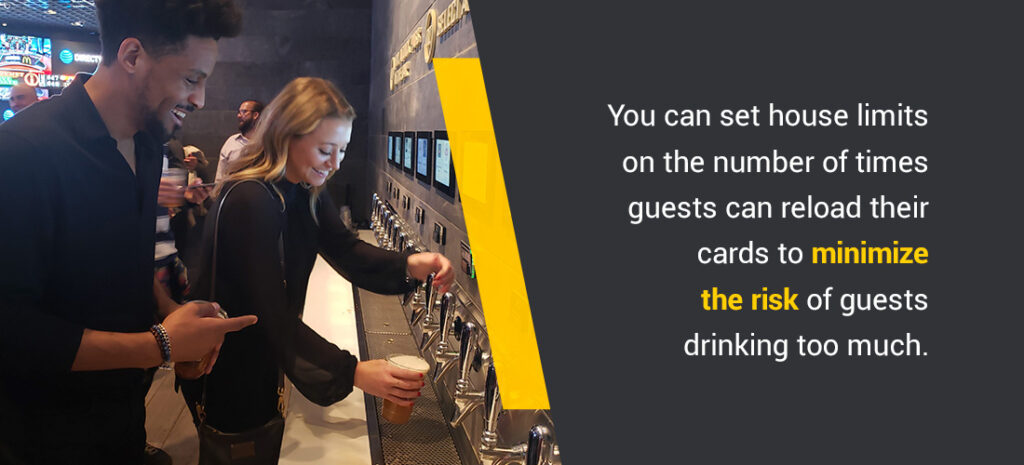 Tap Selections for Casino Settings
Make sure it's visible:

Place your self-service beer wall where guests will see it.

Keep traffic moving:

Make sure there's plenty of space around the taps so guests can easily access them even during peak business hours.

Staff appropriately:

Even though a self-service beer wall can operate without a bartender or server, you'll still want to have enough staff to ensure a great customer experience by refilling kegs, selling drink cards, and providing drink recommendations.

Offer different glasses:

Provide your guests with multiple glass sizes suited to both small sips and big pours. It's a small gesture that enhances the guest experience.

Mix up your menu: Keep things interesting for guests by providing a good variety of drink choices. For example, you could offer a rotating selection of locally brewed craft beers. You could also offer different types of drinks, like a few beers, a few wines, and a few non-alcoholic beverages.
Going all-in is the best way to create a drink selection your guests — and your bottom line — will love.
Increase Return on Investment Through Self-Pour
Self-service is becoming increasingly common in almost every aspect of the service industry, including in casinos. Here's how jumping on this trend through self-pour technology can help you access an untapped revenue stream:
Software integrations:

If your business also includes resorts and restaurants, managing inventory without technical hassle is critical. A system that

integrates with your point of sale (POS) system

ensures every transaction is accounted for while allowing your guests to serve themselves.

Cost efficiency:

At a traditional bar, guests have to order a full drink they might not even like wasting both their money and your valuable inventory. Self-pour technology allows guests to sample drinks before committing to a full serving so they can put more money into games.

Increase beverage sales:

A bottlenecked bar can make some guests hesitant about ordering drinks altogether, decreasing your chances for revenue. The speed and convenience of a self-service system entice more guests to buy drinks and puts more money in your pocket.
If you're looking for a good match for your casino, PourMyBeer has what you need for success.
Let PourMyBeer Help Your Casino With Self-Pour Technology
We built our self-pour technology to withstand heavy use in busy environments like restaurants, craft breweries, grocery stores, and, of course, casinos.
With the ability to offer up to four taps per screen, PourMyBeer enables you to maximize your wall space and provide a wide selection of beverages to delight your guests. Plus, seamless integration with more POS systems than any other self-pour technology means you can fit PourMyBeer into your existing sales system hassle-free.
Want to learn more about our automated beverage dispensers for casinos? Contact us for more information.