Both long lines and inefficiency are the most common deterrents for customers when buying food and beverages at multi-location establishments, such as bars, restaurants, taprooms, breweries, food halls, and grocery stores. Fortunately, one notable solution exists — self-service kiosks.
The growing emphasis on satisfying rising customer needs fuels global investment in developing interactive kiosks. The global self-service market may reach $21.42 billion by 2027, a significant increase from $12.05 billion in 2020. These kiosks increasingly incorporate technological improvements, such as knowledge navigation software, to attract and improve customer engagement and ultimately increase serving efficiency and profits.
Below, we'll dive into how self-pour walls can help you optimize your multi-location drink supply strategy.
Beer Tap Solutions for Multi-Location Chains and Franchises
In 2023, the beer industry will generate $643.40 billion and may grow by 8.51% annually. Considering beer's popularity with the rising need for self-service stations, a self-pour beverage wall is an excellent solution.
How do you choose the correct self-serve beverage dispensing solution for your establishment and locate the best placements to maximize success? Here are a few steps to take when implementing sustainable drink systems for franchises and chains:
Identify your needs:

Ask yourself questions about your current business model and how integrating a self-service beverage model will improve your customers' experience. What will it help you accomplish? Do you want to cut back on lines or get more bang for your buck? You must understand why each establishment needs this beverage option before embarking on the route to deploy them.

Select a point-of-sale (POS) system:

Next, research the self-service industry and possible solutions that are right for your business. When conducting your research, one of the most important factors to consider is the POS integration capabilities. What

POS systems

does each of the self-serve providers on the market integrate with? Are your competitor chains and franchises using self-pour technology in multiple locations? What POS system do they use?

Analyze your operations:

The next step is to examine your whole process in light of the new self-pour beverage model. Analyze the omnichannel customer ordering experience as a whole. This process can help you verify that the beverage technology will integrate smoothly into your current operations and how it will integrate with your new POS system.

Focus on the location:

A self-pour wall may become the focal point of any one location, attracting more customers and generating buzz. Thus, the area where you choose to position your new self-pour setup is crucial. Examine your current layout to identify high-traffic areas and underutilized space — self-pour is most effective in those settings.

Know your customers:

To attract visitors, your setup must be pleasant and intuitive, emphasizing ease of use. What's the point of installing self-pour if customers won't use it? To maximize your return on investment,

follow these do's and don'ts when setting up your beverage wall

to ensure you're promoting it, explaining how it works, and getting the most out of your self-pour setup.

Plan out the logistics:

Consider how you want to deploy your new self-pour setup as the launch date approaches. Do you want to launch the technology in one establishment at a time or all at once? Whichever you choose, your customers come first as they'll be using the self-pour wall, effectively determining its success. Remember your employees' roles, too. Who will

supervise the wall and support customers

?

Launching your self-pour setup:

After doing your research and putting in the time and effort, it's time to sit back and watch the self-pour technology in action!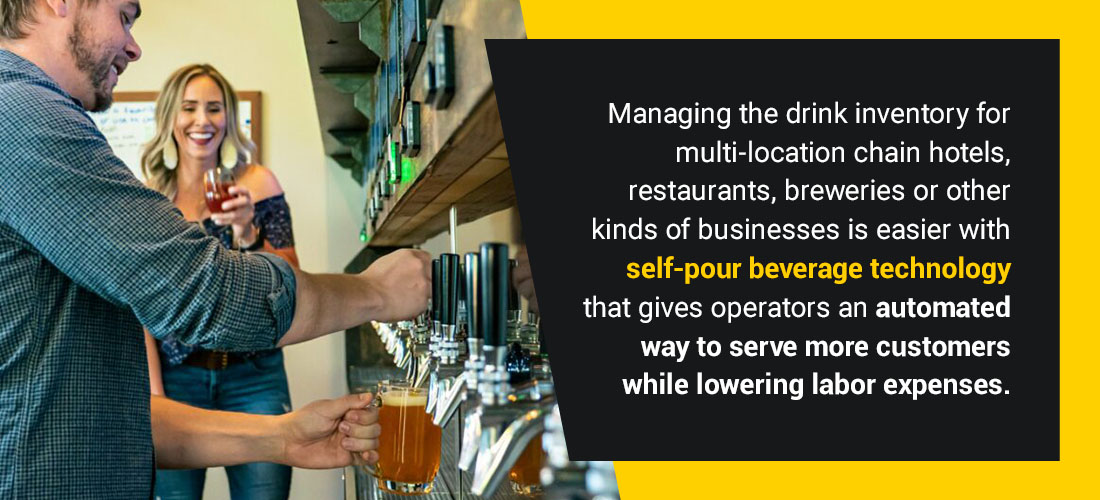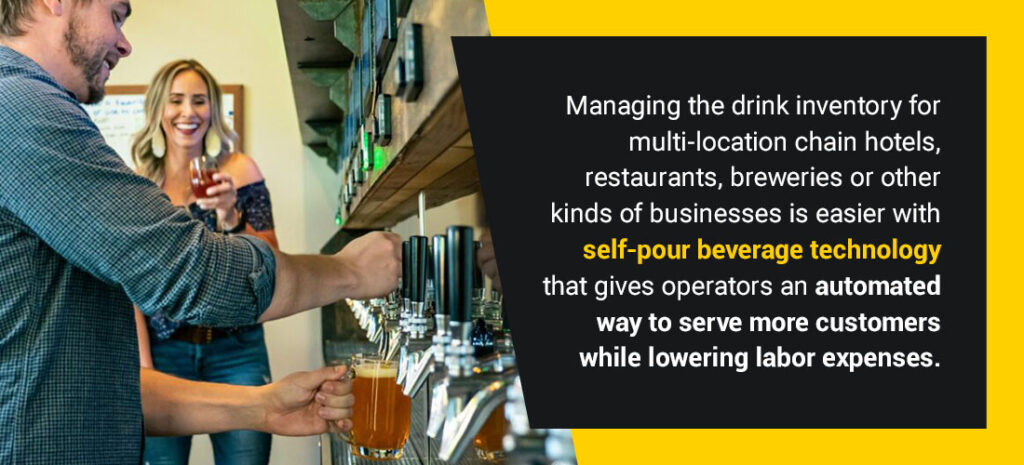 Why Self-Serve Is Essential for Multi-Location Hotels, Restaurants, and More
Growing a strong, profitable multi-location business takes a significant investment of time, money, and resources — frequently far more than you may imagine. Here are a few challenges multi-location managers may face:
Managing performance:

Multi-location managers shift their focus from the daily operations of one establishment to the company-wide operations of multiple establishments, which can be overwhelming and exciting. Technology is your friend when managing the business's overall performance. Investing in automation elements, POS systems, and superior reporting features will provide insight into the bigger picture.

Maintaining communication:

Managing many locations necessitates comprehensive contact so that employees get the knowledge and tools they need to put their expertise to use. Open communication between yourself, the management team, and other employees fosters a sense of togetherness.

Creating consistency:

Building brand and culture consistency is crucial when opening multi-location businesses. Customers will already have expectations for your bar or restaurant, especially if you're launching a second place. You must do everything possible to satisfy their expectations and provide the greatest possible experience.
To tackle these obstacles, automation for multi-location establishments becomes paramount. Managing the drink inventory for multi-location chain hotels, restaurants, breweries, or other kinds of businesses is easier with self-pour beverage technology that gives operators an automated way to serve more customers while lowering labor expenses. The benefits of self-service beverage technology over traditional dispensing methods include:
Improved customer flow

Increased operational efficiency

Better use of employee skills
Fuel Enterprise Growth With Self-Pour Technology
Self-service ordering and self-pour technologies transform how restaurants collect and use data to improve operations. Furthermore, self-service ordering and self-pour technology give restaurants precise data on consumer movements and spending behaviors across their facilities. Self-service ordering and self-pour technologies enable restaurants to make data-driven decisions that improve customer experiences while increasing earnings.
As a result, your restaurant's efficiency will increase — you can serve more customers and earn more profit with self-pour technology. To summarize, your multi-location franchise will enjoy the following benefits from self-pour technology:
Increased operational efficiency

Maximized customer flow

Optimized space

Simplified operations

Reduced lines and wait times

Improved customer satisfaction
If you're interested in learning more, we explain why you should choose self-pour technology over traditional dispense methods on our blog.
How PourMyBeer Can Help You
A self-pour wall allows customers to immediately quench their thirst and increase your business's operational efficiency and profits. Let us help you give your customers a fun and interactive way to pour beer, wine, cocktails, sodas, kombucha, and even cold-brew coffee. PourMyBeer offers high-quality self-pour technology with seamless integrations and superior reporting with numerous beverage options.
Have further questions? Feel free to contact us online orrequest a quote, and we'll get back to you as soon as possible.