Imagine you're walking into a vibrant restaurant, bar, or hotel, and your eyes are immediately drawn to an intriguing wall adorned with taps, each waiting to pour your favorite brew. It's a self-pour tap wall that beckons you to experience the joy of pouring perfect draft beer. But what's the secret behind curating the best beer on tap for this fantastic setup? That's precisely what we're here to explore.
Beer is undoubtedly one of the most beloved drinks in the United States. Yet, knowing how to choose beer for a self-pour tap wall can be a head-scratcher for many establishments. The challenge lies in finding the best beers that cater to your clientele's diverse tastes while ensuring a memorable and fun-filled experience.
In this blog, we'll dive into the art of selecting beer on tap for your self-pour wall. Whether you're a cozy neighborhood pub, a chic restaurant, or a trendy hotel lounge, we've got you covered. We'll unveil the secrets to crafting the perfect draft beer list and stocking your self-pour wall with options that will keep your customers coming back for more.
Best Beers to Have on Tap
Get ready to explore a selection of popular draft beers to make your patrons' taste buds dance joyfully. From refreshing pale ales to hoppy IPAs and everything in between, these best beers to have on tap are sure to keep the good times flowing.
IPAs pack a punch of flavor, and having the best IPAs on tap can take your self-pour tap wall to the next level. Let's explore some hop-tastic options:
Ballast Point Brewing Company Sculpin:

This iconic IPA from California is a fan favorite for a reason. Made with Simcoe, Amarillo, Centennial, and Cascade hops, Sculpin is a citrusy delight with notes of apricot, peach, and lemon. It's a classic West Coast IPA that's crisp and refreshing — a go-to choice for IPA enthusiasts.

Alpine Beer Co. Nelson IPA:

This IPA contains Nelson Sauvin hops. Nelson IPA also hails from California and is like a tropical paradise in a glass. Bursting with notes of passionfruit, mango, and gooseberry, it's a unique and refreshing choice that'll have your customers return for more.

Bell's Two Hearted Ale:

This IPA is all heart. Brewed in Michigan with Centennial hops, it offers a harmonious blend of floral and citrus hop notes with a malty backbone. It's a classic that stands the test of time.

Sierra Nevada Hazy Little Thing:

For those

craving a

hazy IPA experience

, Hazy Little Thing is a game-changer. Also brewed in California, this IPA boasts a range of hops like Citra, Comet, Simcoe, El Dorado, Azacca, and Mosaic. It's unfiltered and bursting with tropical fruit flavors and a soft mouthfeel. It's a crowd-pleaser for those who love a hazy brew.
Remember the delightful world of pale ales when curating the best beers for your self-pour tap wall. We've got some top picks to keep your patrons hopping with excitement:
Sierra Nevada Pale Ale:

A true classic, this pale ale is a must-have on your tap wall. Bursting with Cascade and Centennial hops, Sierra Nevada Pale Ale is a timeless classic known for its balanced malt sweetness and a hoppy, citrusy bite. It offers a refreshing and crisp profile with a subtle piney aroma. It's a gateway pale ale that welcomes both newbies and seasoned hopheads.

Oskar Blues Dale's Pale Ale:

From the Rocky Mountains, Dale's Pale Ale is a trailblazer. It's a hop-forward brew with a sturdy malt backbone. It's characterized by a bold citrus and pine hop presence balanced by caramel sweetness. This beer has slightly higher bitterness, making it a favorite among hop enthusiasts.

Firestone Walker Pale 31:

California knows its beer, and this pale ale is no exception. Pale 31 blends Cascade and Centennial hops with a crisp and clean flavor profile. It features a delicate balance of biscuity maltiness and floral, citrusy hops, making it an easy-drinking choice for various occasions.

Deschutes Mirror Pond Pale Ale:

Hailing from the Pacific Northwest, Mirror Pond is a serene escape. Mirror Pond Pale Ale is characterized by its smooth and approachable nature. It showcases a biscuity malt backbone with prominent citrus and floral hop notes from the Cascade variety. This beer strikes a harmonious balance between malt sweetness and hoppy bitterness.
Pilsners are the answer if you're looking for refreshing beers to grace your self-pour tap wall with a touch of elegance. These light, crisp, and endlessly drinkable brews will keep your patrons coming back for more. Here are five top-notch pilsners to consider: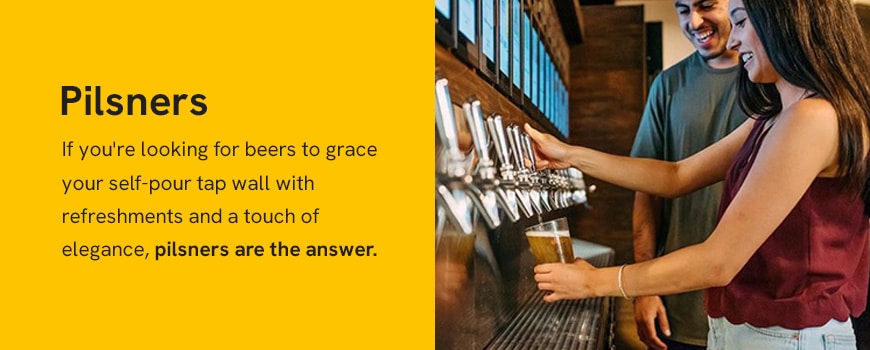 Pilsner Urquell:

The original Pilsner from the Czech Republic, where it all began. With a pale golden hue, a gentle hoppy aroma, and a balanced taste that's both malty and bitter, it's a historic masterpiece that still shines today. Pilsner Urquell has a crisp and clean finish, making it incredibly refreshing.

Trumer Pils:

Straight from Austria, Trumer Pils is known for its clean and slightly sweet maltiness. Containing Saaz and Hallertau hops, Trumer Pils offers a somewhat sweet maltiness complemented by a mild, noble hop bitterness. It has a smooth, clean finish, making it a well-balanced and highly drinkable Pilsner.

Victory Prima Pils:

Hailing from Pennsylvania, this Pilsner is anything but ordinary. Prima Pils is a hop-forward Pilsner with floral and spicy hop notes. It balances this hoppy character with a sturdy malt backbone, producing a crisp and assertive beer with a dry finish.

Oskar Blues Mama's Little Yella Pils:

This Pilsner is a lighthearted, easy-drinking delight from Colorado's Oskar Blues Brewery. As a blend of Saaz and Vanguard hops, it's a touch sweet with a mild hop character, making it an approachable choice for any palate.
For those seeking the rich, roasted flavors of a dark beer, Porters are the ultimate comfort in a glass. Here are five exceptional porters that will add a touch of darkness and depth to your self-pour tap wall:
Deschutes Black Butte Porter:

Hailing from Oregon, this porter is a masterpiece. With a velvety texture, notes of chocolate and coffee, and a slight hoppy kick, it's a delightful balance of flavors perfect for sipping by the fireplace. This beer is like a dark chocolate bar in a glass, making it an ideal choice for those who love rich yet approachable dark beers.

Anchor Porter:

From the heart of San Francisco, Anchor Porter boasts a smooth and silky profile. Anchor Porter is known for its dark body and a harmonious blend of roasted malt, dark chocolate, and a touch of caramel sweetness. The hop bitterness is subtle, allowing the malt flavors to shine. It's a classic example of an American Porter that's both approachable and full of character.

Founders Porter:

This Michigan gem is a robust porter with bold flavors of coffee and chocolate. It has a creamy mouthfeel and a slightly higher ABV, delivering a rich and satisfying experience. The hop bitterness is more noticeable, balancing the beer's sweetness.

Funky Buddha Maple Bacon Coffee Porter:

Prepare for a flavor explosion from Florida's Funky Buddha Brewery. This porter is an adventure in a glass, featuring the delicious trio of maple syrup, smoky bacon, and coffee. It's like breakfast and dessert rolled into one.
Sure, you can offer beers from all corners of the world, but having a local brew on tap is like giving your patrons a taste of home. It's a unique selling point that sets your self-pour tap wall apart. Whether it's a craft brewery down the street or a regional favorite, locals love to see their hometown heroes represented.
It adds a personal touch to your tap wall, sparks conversations, and creates a sense of community. So, don't forget to add a dash of hometown charm to your beer lineup — a sip of local pride will keep them coming back for more!
Increase Beverage Revenue With a Self-Pour Tap Wall
In the world of hospitality, making the right choices can be the difference between an average night and a spectacular one. When offering beer on tap for your self-pour tap wall, it's all about creating the perfect draft beer list. We've explored some of the best draft beers to have on tap and the art of balancing flavors. But now, let's turn our attention to the fun and enjoyable aspects of the self-pour experience.
Take the plunge and embrace the world of self-pour technology with PourMyBeer. With our high-quality, liquid-agnostic system, you can serve the best beers, wine, cocktails, sodas, kombucha, and more. Boost your profits, increase efficiency, and create loyal customers who rave about your establishment.
Ready to take the leap? Request a quote today and let PourMyBeer turn your self-pour tap wall dreams into reality.