Your restaurant operations plan acts as a guidebook to your establishment's success. With a complete understanding of the day-to-day routines necessary for your success, you can stay on top of profit margins and emphasize efficiency without compromising on food or service. An established operational plan in your restaurant business plan shows investors you have a well-thought-out system for running the business.
Operational plans help ensure you know what to do when issues arise. In this guide, we'll explore how to make a restaurant operational plan and all the elements you should include to stay on top of your restaurant's management and operations.
Components of an Operational Plan
You must carefully consider the components of an operational plan to help generate profits, attract the correct investors, and lead your restaurant to success. But first, you'll want to establish a summary that outlines the following:
Your mission statement

The restaurant concept

How you'll run the restaurant

Potential costs

Your estimated return on investment
Next, you'll cover the key components that comprise most of your operational plan. Be sure to rearrange these factors in order of priority according to the person you are presenting the operational plan to. Here's a list of the main components your operational plan should include, along with the details you can highlight.
Your menu determines various basic operations within your establishment. For example, it affects the amount of space you need for equipment, whether staff will need training on certain equipment, your production methods, and where you'll source ingredients from.
The main focus here is to establish which meals, ingredients, and equipment you need to satisfy customer desires and generate a profit. You can evaluate the food cost of individual menu items by adding up batch ingredient costs and dividing this amount by the number of servings you can create with the batch. You can then determine the labor costs by estimating the production time for the batch and multiplying the labor hours by the hourly wage your employees will receive.
While you'll want to make sure you have enough staff to cook and serve meals every day, it's equally essential to ensure your kitchen staff has the skills and ability to prepare the meals consistently and efficiently. Investors won't expect you to have a full team when submitting your restaurant operational plan, but it can help to have a few people on board and highlight the work experience they have.

You can also include your training procedures in your restaurant operational plan, which should include how you'll prepare employees to complete tasks. You should also have a plan in place for how you'll handle busy periods. You may schedule extra workers for these hours and cross-train your front-of-house employees to tackle back-of-house tasks during calmer hours.
Show investors the restaurant design ideas you have in mind for your establishment. Rather than a professional mock-up, all you need are pictures to form a mood board of your basic vision. You can do this by including images of the style and decor aesthetic similar to what you are going for.
The design portion of your plan can include furniture, wall decorations, floor designs, menu design ideas, and even kitchen equipment and restaurant software designs. Any and all ideas that make your restaurant design stand out are welcome here.
Inventory suppliers are an important part of your operational plan because they provide you with the help you need to execute your plans. Explain to your investors the necessity of each supplier's role and how they will help your restaurant perform better. Some advice for acquiring the correct suppliers includes:
Purchasing most of your ingredients from a limited number of vendors to shorten the ordering process.

Ensuring these suppliers can provide you with a stable supply of ingredients all year.

Creating an

appropriate balance of fresh and shelf-stable

ingredients.

Prioritizing fresh seasonal produce to elevate your menu and attract customers.
It's important to have an accurate and efficient point-of-sale (POS) system. Your system should allow servers to customize menu offerings, leave notes for the kitchen, and find the item they're looking for quickly. Consider investing in a solution that separates menu items into categories — such as appetizers, drinks, alcoholic drinks, entrees, and kids meals — to ensure servers can ring in even the most detailed orders quickly.
Integrating a great POS system solution helps you reduce errors to maximize efficiency. A comprehensive, real-time reporting system can also help you gain actionable insights into trends and customer behavior data, allowing you to make data-driven decisions and enhance operations.
In this section, you'll want to talk about what location directly corresponds with your target market. While you may not have a particular venue in mind, identifying potential neighborhoods may be ideal. Explain these areas in detail, along with who works or lives in them, in case investors are unfamiliar.
If you are still looking for a site, use this section to discuss the ideal square footage, parking situation, outdoor seating, freeway accessibility, and foot traffic. You may also need to consider how your menu items will affect your success in a particular location. For example, fast food restaurants may perform better in commercial areas because the menu items are quick and easy to prepare during lunch hours.
Your hours and days of operation play a vital role in your operations plan. Depending on your menu items, there will be certain times of the day when your products are more popular. It's important to frame your restaurant's work hours around those peak business hours. You might even offer different menus for the different peak times, such as breakfast, lunch, and dinner.
Keep in mind that staying open for too long might cost you more. For example, when you stay open while most target customers are away, you'll need to pay staff for hours the restaurant is empty.
Make Restaurant Operations Easier With PourMyBeer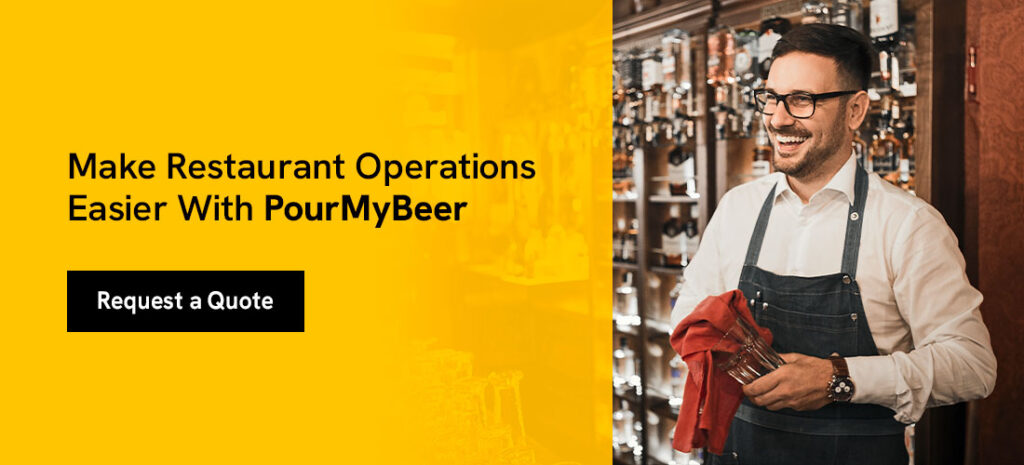 Creating an operational plan for your restaurant can be exciting when you know what you want and how to attract investors. If you're looking for an effective way to improve operations and impress investors, make your operations easier with PourMyBeer. PourMyBeer sells self-serve beverage systems for an easy point-of-sales process for a variety of beverages, from beers, wines, and cocktails to cold brew coffee and sparkling drinks.
Our beverage systems allow customers to pour their own drinks and pay by the ounce. This reduces the need for serving staff, helps you waste less than 3%, and boosts sales by 50%. For quality self-pour technology, we welcome you to request a quote from PourMyBeer today!