GoTab & PourMyBeer Integration
Gone are the days of long lines and wait times at the bar! With the PourMyBeer and GoTab Point-of-Sale (POS) integration, guests can now open a "pour card" to order and pay for their drinks in the blink of an eye. Imagine stepping into a bustling bar, scanning your card, and helping yourself to a refreshing pint. No wait, no fuss, just an unforgettable experience.
Thanks to the integration of PourMyBeer's self-serve beverage technology and GoTab's comprehensive POS solution, transactions are quicker, service is improved, and the guest experience is heightened. PourMyBeer partners with leading point-of-sale providers, integrating seamlessly to optimize operations in your establishment. This freedom allows operators to choose the POS system that best suits their needs and saves the hassle and costs of switching from a previous system.
GoTab's POS system is a comprehensive solution for hospitality operators, enabling them to switch service models on the fly, increase kitchen communication, and access key insights on product or item sales on the go. In the face of challenges such as staffing shortages and high food costs, GoTab's POS system shines, creating efficient, streamlined experiences for staff and guests alike.
With the GoTab POS and PourMyBeer integration, you get the best of both worlds – top-tier POS services and the market's finest self-pour technology. Now, let's delve deeper into the intricacies and benefits of this integration.
How Does the Integration Work?
Ever wondered how seamless it is to merge top-tier POS services and self-pour technology? Well, it's as easy as pouring a pint of your favorite beer! The process of checking in and out with GoTab integration is incredibly straightforward.
Here's how it works:
Servers open a tab on the POS, pre-authorize the credit card, and select "add pass."

The server then taps "pour card" to assign it to the open tab. Here's the beauty: you can add any number of pour cards to a single tab.

Customers can now engage with the PourMyBeer technology.

A simple tap of their "pour card" to the reader, and they're ready to pour their choice of drink and enjoy.

Each pour isn't just a delightful experience for the customer. As they pour their drink, GoTab simultaneously adds the item and amount in real time to the open tab.

As long as the customer's tab is open, the customer can continue pouring from the PourMyBeer technology. If it's closed, the screen notifies the customer to open a tab with GoTab.

Once the fun part concludes, servers can manually close the tab and charge the credit card on file. They can split payments if multiple "pour cards" are assigned to a tab or leave it as is, and GoTab will automatically close the tab.
PourMyBeer Tip: Given that guests don't need to return to the front desk/check-in station to close their tabs, we highly recommend implementing an express check-out station. Here, guests can simply drop their "pour card" in a box for the tip amount they wish to leave. Visibility is key, so make sure it's easily seen by your departing guests.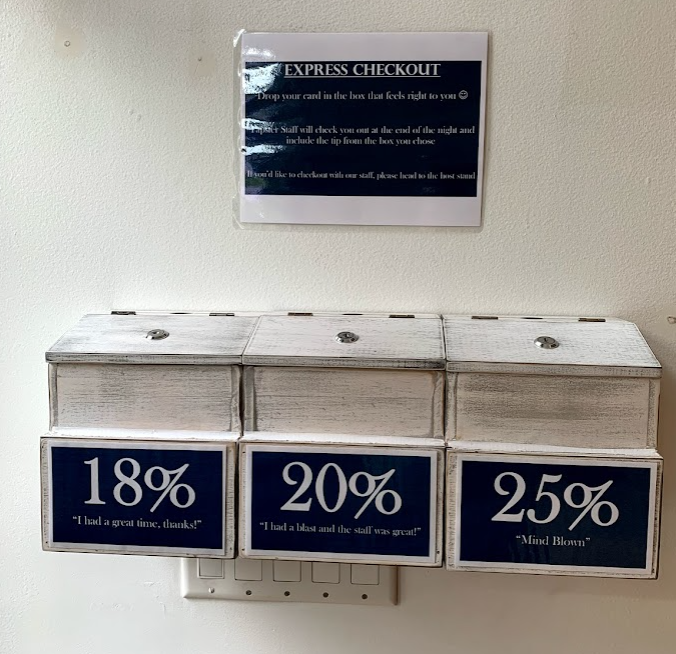 Reaping the Rewards: Core Benefits of Our Integration
The PourMyBeer and GoTab POS integration eliminates the need for a separate check-in station to activate pour cards. GoTab POS activates the pour card, opens a tab, and securely stores the credit card on a tab. One of the biggest benefits for operators is that you can add any number of pour cards to a single tab.
Staff no longer needs to close the pour card at the PourMyBeer check-in station, as you can do this on GoTab POS. Either the operator or the guest can close the tab and disassociate the pour card from the tab.
Together, PourMyBeer and GoTab simplify the experience for both guests and operators by activating and associating pour cards to tabs, all through one integrated system.
Breakdown of Benefits for the Operator
For owners, this integration represents an unprecedented enhancement to the economics of selling drinks. With shorter wait times, guests pour and spend more, and PourMyBeer accurately tracks and accounts for every ounce poured. The result is higher profits and payroll savings as staff requirements decrease, a crucial advantage amidst the current staffing crisis.
Staff Reduction

: Your labor needs automatically decrease with self-pour technology as customers serve themselves. The fast check-in & check-out processes via our GoTab integration mean you can reduce the number of staff needed even further.

Increased Efficiency

: Servers gain more time to focus on improving the guest experience and minimizing errors by giving guests the freedom to self-serve their drinks.

Increased Average Tab Size

: Without long lines for ordering, guests can continue to serve themselves at their convenience, leading to higher spending.

Easier Maintenance

: Operators do not need to manage products in two places. Instead, the beverage wall products are handled in PourMyBeer and automatically transferred to GoTab.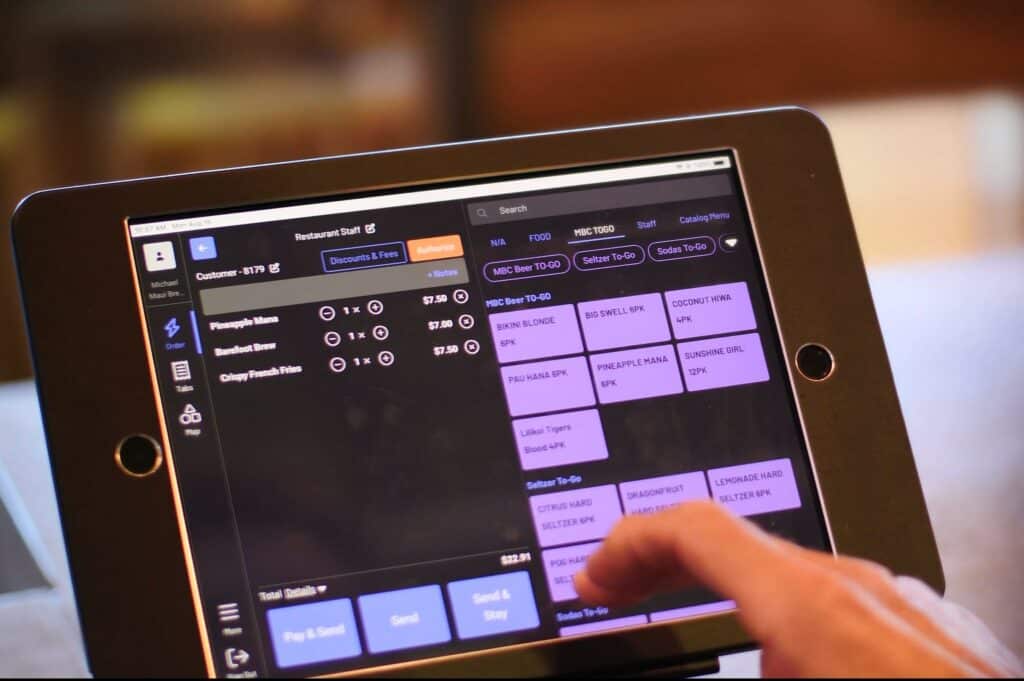 Breakdown of Benefits for the Customer
For patrons, the PourMyBeer system creates an engaging, unique drink experience, granting them full control over their pours.
Eliminate Guest Checkout Lines and Wait Time

:

Imagine cutting your check-in/-out time in half compared to other POS systems. With GoTab, you can improve guest satisfaction by letting them spend less time in line and more time pouring drinks!

Opportunity to Sample

: With PourMyBeer, guests can try any alcoholic or non-alcoholic drink by the ounce and pay for exactly what they pour. This freedom allows them to experiment with new flavors and discover their favorites.

Itemized Products on Guest Receipts

: On each receipt, guests will see the name of each beverage they poured and how much it cost rather than just seeing one item named "beer wall," as it displays with some other point-of-sale systems.

Fun Experience

: Patrons relish being their own bartenders, enjoying a convivial experience at the beverage wall with their friends or coworkers, and sharing advice on which sample to pour next!
The GoTab POS system is ideally suited for high-volume breweries, restaurants, and entertainment spaces with large indoor and outdoor areas, enhancing operational efficiency and guest satisfaction alike.
Ono Brewing Company in Chantilly, Virginia, a beloved local craft brewery, is a fantastic example of the success achieved through this integration.
Ono Brewing was already a bustling hub in the community, famous for its tropical-themed tasting room and self-serve beer wall. However, they were looking to streamline operations and enhance the customer experience further. The integration of PourMyBeer and GoTab was a game-changer for them. It made the self-pour process even more seamless, enhanced customer service, and improved their ability to track and manage their inventory.
Interested in understanding the tangible benefits of this integration? Discover how Ono Brewing dramatically improved its operations by reading GoTab's Case Study here.
Is your venue ready for a superior service model that wows customers, increases efficiency, and enhances your bottom line? We invite you to take the next step forward. Learn more about the different POS systems that PourMyBeer integrates with and discover how this technology can transform your business by visiting our POS integration page below. Don't just dream about a more efficient, profitable, and customer-pleasing future. Make it happen!