Many of us celebrate the world's largest beer holiday and take part in festivities across the world, but what's the entire story behind the celebration? We're here to walk you through everything Oktoberfest, from annual traditions to lederhosen and the top Oktoberfest beers of the season, so that you can learn all there is to know about the festival where beer consumption exceeds 2 million gallons every year.
So what is Oktoberfest, and How Did it Begin?
It actually began as a wedding celebration. Yup, you heard that right! On October 12, 1810, Prince Ludwig (who would later become King Louis I) married Princess Therese in Bavaria, Germany. At the time, Europe was facing strife due to the French military leader and emperor, Napoleon Bonaparte. Napoleon crowned himself emperor in 1804 and went to war with most of Europe until 1815. Thanks to Napoleon's desire to rule all of Europe, many Europeans faced tough times and didn't have much to celebrate… until the wedding on October 12, 1810.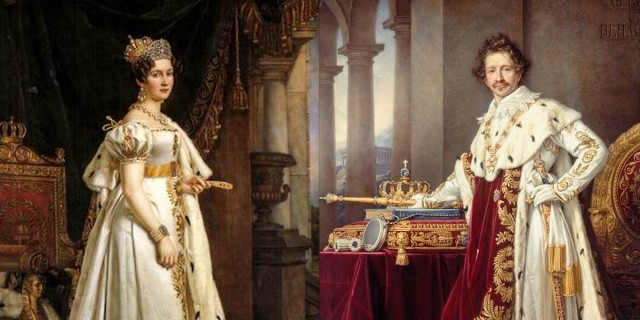 The royal family was so thrilled to celebrate the love between the Prince and Princess that they extended the festivities for five days. During those five days, 40,000 Germans joined in on the party and enjoyed food and drinks for free. On the fifth and final day, they held a horse race above the meadow, which would later be named "Theresienwiese" to honor the new bride, to close out the celebrations.
Everyone had such a great time during the initial celebration that they decided it would become an annual tradition! Munich city officials started running the festival and began to offer food, beer, and games. Today, many refer to Oktoberfest as "Wiesn" (short for "Theresienwiese") as the festival is still held at the same meadow as the original wedding. While Oktoberfest has been an annual tradition since its start in 1810, it has been canceled 25 times due to diseases, wars, and inflation. Most recently, Munich city officials canceled the festival in 2020 and 2021 because of COVID-19. But let's dive into everything that puts this festival on many people's bucket lists so you can prepare for when the time comes.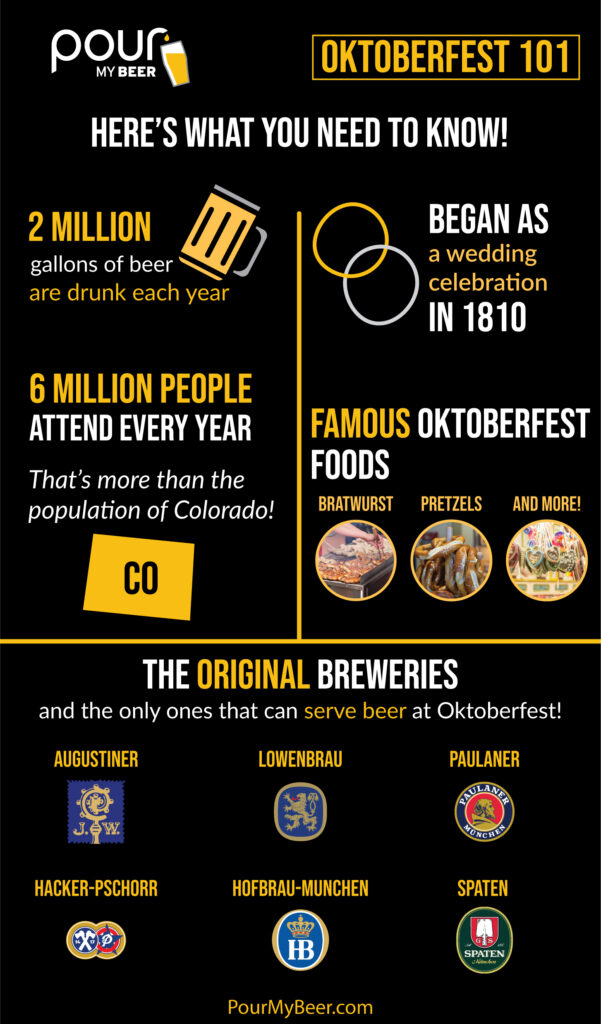 What Does Today's Oktoberfest Entail?
While Oktoberfest is heavily associated with beer, the festival traditions go well beyond that.
But what exactly does Oktoberfest entail, and what can you expect during the festivities? Well, while the original celebrations only lasted five days, today, you can expect to celebrate for a full sixteen (or even eighteen) days, with the final day being the first Sunday in October. If the first Sunday falls before October 3, German Unity Day, a national holiday, the event gets extended to the 3rd. Basically, you should prepare your liver ahead of time to ensure you can handle the two-week-long celebration!
Now, we know you may be wondering… why is it called Oktoberfest if it ends in early October? At some point, the festival dates changed so that the weather would be more pleasant for those attending, and it seemed to stick.
Okay, now that we've covered the history, let's get into the fun part!
What Breweries Serve Beer at Oktoberfest?
There are several rules when it comes to what beer can be served at Oktoberfest. In fact, these six original Munich Breweries still provide the beer that festivalgoers drink today.
Augustiner
Hacker-Pschorr
Hofbrau-Munchen
Lowenbrau
Paulaner
Spaten
These breweries all stick to Germany's beer purity law, Reiheitsgebot, which states that only water, malt, and hops can be used to produce beer. This law, put in place back in 1516, ensures the same quality of all beer.
Each year, all six breweries put up tents that hold 6,000 people and play traditional Bavarian music. In total, you can find 36 beer tents around the festival and drink enough beer to be called a "Bierleichen" or "beer corpse." But be careful because a liter of beer costs around $13, making it easy to spend a pretty penny on your beer consumption! However, this doesn't seem to stop people from drinking because Oktoberfest breaks records every year with the amount of beer drank!
Once all of the beer tents are set up, the festival is ready to begin. The mayor taps the first keg and yells, "O' zapft is!" meaning, "It's tapped!"
What are the Different Types of Oktoberfest Beers?
Just like how there are rules with who can serve beer at the festival, there are rules when it comes to who can label beer "Oktoberfest." The European Union only allows the original six Munich breweries to label their beer "Oktoberfest." So, The Brewers Association separated the style into two categories: German-style Oktoberfest and American-style Märzen/Oktoberfest.
While the beer consumed at the early festivals was a traditional German-style Oktoberfest, it transitioned throughout the years to accommodate the extended celebrations. In the 1870s, two brewers at Spaten created an amber lager that was toasty and malty. The beer came to be known as Märzenbier because it was brewed in the Spring, and März in German means March.
However, in the 1970s, Paulaner created a new style known as Festbier. It quickly became the official beer style at Oktoberfest. All the other 5 breweries began to adopt the Festbier. Festbiers have a more mild malt flavor, a slight spiciness, and are less filling than the Märzen-style.
Today, in the US, many Oktoberfest-style beers are most similar to the Márzen-style beer as they are more amber in color with heavier notes of malt and caramel.
After all that drinking, you're sure to work up an appetite. Each tent has its own menu featuring an array of German delights! From bratwurst and sauerkraut to pretzels and more, there's something for everyone, even vegetarians and vegans!
If you're looking for something on the sweeter side, there's one tradition that still takes place today that you'll enjoy! Each year, German bakeries make gingerbread cookies, called Lebkuchen, in the shapes of hearts. The cookies are iced with cute messages and have ribbons so you can put them around your significant other's neck! And if you're single, you can still take part in the fun as many women wear gingerbread hearts with messages saying they're single!
In 1887, Munich named Lederhosen and Dirndl the official attire of Oktoberfest. So if you're planning on heading to Oktoberfest, you'll need to dress in traditional garb to fit in with the crowd! Men dress in Lederhosen and women wear Dirndl. While Lederhosen is worn today for fun, it was originally created out of necessity to meet the needs of poor laborers. Dirndl was created for maids and house workers. While both pieces of clothing served a purpose back in the day, after the 1880s, these outfits became associated with celebrations and are no longer commonly worn.
How Can You Celebrate Without Going to Germany?
If you want to celebrate, but can't make it to Germany, don't worry! There are plenty of ways you can take part in the fun! Many US cities hold their own version of Oktoberfest, including lots of beer and German food like you'd find at the festival. Most bars and restaurants even adjust their menus during September and October, and many breweries brew their own Oktoberfest-style beer!
If you're feeling extra festive, you can order an official Oktoberfest mug. Every year since 1978, a new Oktoberfest mug has been released to bring some excitement for next year's celebrations. If you'd like to drink out of a true Oktoberfest mug, you can purchase this year's version here.
Top Oktoberfest Beers of 2021
Are you in the Oktoberfest spirit yet? We are, so we checked out the top-rated US Oktoberfest beers of the season from our friends at Untappd! Here are the top 4 Oktoberfest-style beers of this year.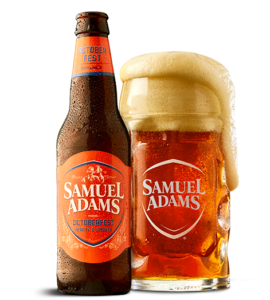 Sam Adams OctoberFest – Boston Beer Company
"This rich, hearty, and smooth Märzen is the perfect beer for cooler weather and bigger feasts!"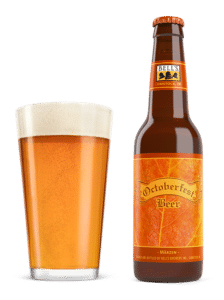 "This balanced amber lager focuses on lightly toasted malt that lends body without too much sweetness."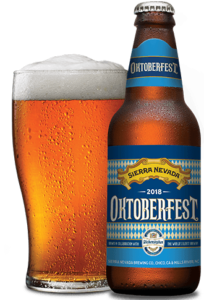 Oktoberfest – Sierra Nevada Brewing
"This rich Märzen features German malts for inviting aromas of honey, biscuity bread, flavors of caramel and graham cracker, and visions of sprawling beer tents."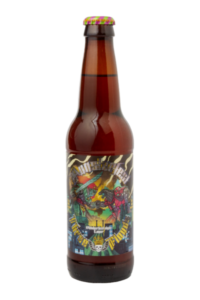 Munsterfest – 3 Floyds Brewing Company
"A Märzen-style Fest Bier brewed with the finest German malted barley, aromatic Bavarian noble hops, and traditional lager yeast."
We highly suggest heading over to your local bar or liquor store to taste these before they're gone for the season! If Oktoberfest beers aren't your thing, but you'd still like to try the top beers of the season, check out this post with the 15 best beers to taste this fall!
Prost! You're now an Oktoberfest expert, so sip on some beer, put your lederhosen on, and book that ticket to Germany. We'll see you at Oktoberfest 2022…
Sign up for our newsletter!
Your monthly guide to the latest self-pour resources and events.