Clever and Funny Bar Signs to Attract more business
Attracting new traffic to your restaurant or bar is important in ensuring you have a constant flow of income. While you'll be doing some traditional marketing through digital or physical advertising, taking some creative routes will help you stand out from the crowd.
Customers have many options to choose from when deciding what bar or restaurant they want to go to, so it is crucial to find a way to set yourself apart from the competition. One of the easiest ways to do this is to be creative with your sign usage. Use humor to make your establishment memorable and keep customers coming back.
Whether you hang up signs around your establishment or put a foldable chalk sign out front, amusing pub decor signage can entice potential customers to come in and grab a drink.
We put together this list of 99 clever, witty sign ideas to help you boost your sales! We encourage you to take a look, pick some signs that fit the personality of your establishment, and try them out! They are sure to generate some buzz! They'll catch your customer's attention, and if you do it right, even get you some additional exposure on social media.
Read the full article or jump to a specific section:
Check out some signs our PourMyBeer Family Members displayed near their self-pour beverage walls for inspiration in your establishment!
Sign up for our newsletter to receive more content like this!
Your monthly guide to the latest self-pour resources and events.
Life Advice For Your Loyal Patrons
Show your customers that you care for them and give them some great pieces of advice! Again, be creative with the execution of these signs. Put them up around your bar or even above your self-pour wall. Your customers will find them funny and might even want to take pictures with them!
1. There are better things in the world than alcohol. But alcohol sort of compensates for not getting them.
2. Just because it's a bad idea doesn't mean it won't be a good time.
4. The hangover only lasts a day, but the memories last a lifetime
5. I only drink a little, but when I do, I turn into another person, and that person drinks a lot.
6. Life happens. Beer helps.
7. Alcohol: because no good story ever started with a salad
8. Sorry! No Wi-Fi. Talk to each other and get drunk
9. "Trust me. You can dance." – Beer
10. This wine is making me awesome
11. Drinking responsibly means not spilling it
12. Drink responsibly: take practice shots before pouring a real drink
13. Beer is made of hops. Hops is a plant. Beer = Salad.
14. If you told yourself you should stop drinking, our advice is to stop listening to a drunk that talks to themself.
15. When the therapist tells you not to keep things bottled up, remember that beer comes in a bottle.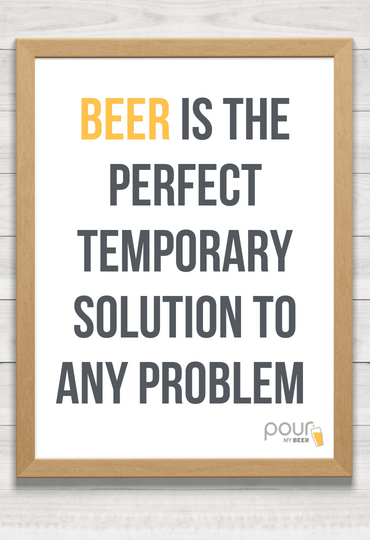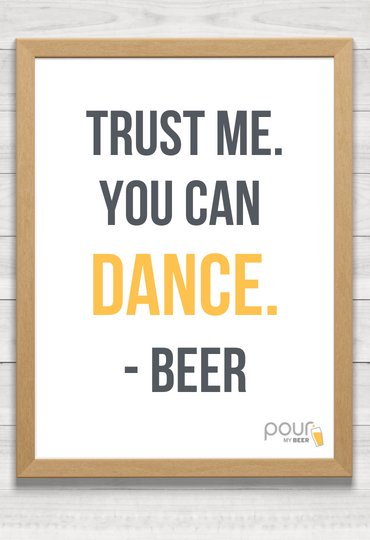 It's More Fun With Drinks
If you need to convince customers to get another drink, these are some fun signs to have. Everything is more fun when you add your favorite beverage, so put these signs up as a subtle (
or not-so-subtle
) reminder for your customers!
16. In alcohol's defense, you have done some pretty dumb stuff sober too.
17. Do you know what's fun about being sober? NOTHING.
18. You're making too many sober decisions…
19. Are you suffering from painful sobriety? Let us help you.
21. Hangovers are temporary. Drunk stories are forever.
The Best Time to Drink a Beer is All The Time
Many things in life are not up to us, so when your customers come into your bar, they deserve no judgment. Place some of these signs near your entrance to show that all drinkers are welcome!
22. I only drink on days that start with "T": Tuesday, Thursday, Today, Tomorrow, Thaturday, Thunday
23. Whiskey Wednesday: It's like Taco Tuesday but for Badasses
24. Thirsty Thursday, It's like Friday for Overachievers
26. You can't fix the weather, but I can fix a drink
27. This alcohol tastes like I'll be texting you later
Drinks and Friends
These are great to have at seating areas and tables. Print them on table tents or stands. Your patrons are guaranteed to get a chuckle out of these while drinking with their friends.
28. If you have to ask if it's too early to drink beer, you're an amateur, and we can't be friends.
30. Friends bring happiness to your life, but best friends bring beer.
Alcohol with Classic Quotes
These are also great for almost anywhere around the establishment. Some would even be great outside your building, pointing towards the entrance. It's a great way to attract more traffic in an easy and funny way.
31. Drinkology: sometimes you just have to drink about it
32. You say alcoholism. I say liver Crossfit.
33. You are the hops to my barley
34. Sorry you didn't get an iPad for Christmas, we've got IPAs, but it's up to you to figure out the D
35. My doctor says I need glasses; I assumed he meant glasses of beer
36. Sip me baby one more time
37. Sip happens. It's ok to wine
38. Twinkle twinkle little star, point me to the nearest bar
39. Roses are red, beer is great, poems are hard… BEER!
40. I will never drink again (image of Dory from "Finding Nemo"), oh look! Fireball!
41. Alcohol is not in my Vodkabulary. However, I looked it up on Whiskeypedia and learned if you drink too much of it, it's likely tequilya
42. In hops we trust
44. To beer or not to beer, that is a silly question
45. I finally stopped drinking for good. Now I drink for evil
46. Today's offer: Buy any 2 drinks & pay for both of them
47. Believe in second chances. If the first drink doesn't get you drunk, the second will.
Alcohol vs. Water
These are great for around the bar, and if you have a self-pour setup with a dedicated tap for water, these are great signs to put directly above.
48. Save water, drink beer
49. Alcohol may not solve your problems, but neither will water.
51. Vodka is just fun water
52. In wine, there is truth. In beer, there is strength. In water, there are bacteria.
Truth
Drop some truth bombs about beer on your loyal customers with these. They'll be best around the bar or above your
tap wall
.
53. I hope those mosquitoes are enjoying my blood alcohol level as much as I am
55. Stop trying to make everyone happy. You're not beer
56. Beer is not the answer. Beer is the question. Yes is the Answer
57. There are two kinds of people: those who enjoy beer and the rest of you poor bastards
58. Why limit "happy" to an hour?
59. 24 hours in a day, 24 beers in a case. Coincidence? I think not.
60. Beauty is in the eye of the beer holder
61. Good people drink good beer
62. The best type of beer is an open one
63. Life and beer are very similar; keep it chill for best results
64. Beer will change the world, I don't know how, but it will
65. Everyone needs…something to believe in. I believe…that I'll have another beer.
66. Life is too short to drink cheap beer
67. Yes! Beer runs do count as exercise.
68. I am… (empty box) Republican, (empty box) Democrat, (checked box) having a glass of wine
69. I just rescued some wine. It was trapped in a bottle
70. Not to get technical… but according to chemistry, alcohol is a solution
72. Sure, I can multitask. I can drink beer and watch the game!
73. Why overthink when you can overdrink? Please drink responsibly.
74. It's no coincidence that beer rhymes with cheer
75. The couple that drinks together stays together
76. Education is important, but beer is more importanter
77. Of course, size matters. No one wants a small glass of wine
78. The only run you should be going on is a beer run
80. Drink until your date is attractive
81. Abs are cool and all, but have you tried craft beer?
82. Drinking every night makes you an alcoholic, so drink during the day
83. We're here for when the spouse says, "No more drinking in front of the kids."
84. Save the earth. It's the only planet that has beer.
86. Occasionally, you will meet people that make your life better. Those people are called bartenders.
We Couldn't Find a Category for These, So We're Just Going to Drink Beer Instead
87. Menu:
Soup of the day: beer
Starter: beer
Entree: beer
Dessert: beer
88. We have beers as cold as your ex's heart 89. Free beer! Topless bartenders and false advertising 90. I'm a wine enthusiast. The more wine I drink, the more enthusiastic I become! 91. Innocent grapes died for you 92. Do not read the next sentence…. You little rebel, I like you…. Join me for a drink! 93. A friend says: "Going to take a walk to look for the meaning of life…"
Me: "Sounds good. I'll have a beer, too!"
94. Soup of the Day: It comes in a glass. It's called BEER. 95.
WANTED: CUSTOMERS.
No experience required. Full training will be given. Please apply at the bar. Sense of humor & love of beer is essential…
Holiday Signage
96. It's the most wonderful time for a beer.
97. Hoppy Easter
98. As long as you have wine, the holidays will be fine.
99. Drink green beer until you are Irish
Create Your Own DIY Bar Sign
Now that you know what to write on your sign, it's time to bring your vision to life. Rather than paying a company to manufacture one, you can DIY a sign to stand out and add your personal flair. Designing your own sign is a great way to explore your creative side, especially if you already have some experience with arts and crafts. Plus, it's cost-effective!
If you decide to DIY your sign, you should first choose where you want to put it. Many bars hang a sign above their entrance or on an A-frame stand on the sidewalk. If you want to do something more unconventional, you can paint your message on the side of your building! Either way, once you choose where it's going, you'll have a better idea of what materials you'll need for your bar sign.
Chalkboards and whiteboards are convenient options that allow you to routinely switch things up when advertising deals, new items, and holidays. However, there's something special about a wooden, hand-crafted sign hanging above your bar. Unfinished pine project board is a strong and durable material that will work perfectly if you want to create a painted sign. Investing in external lighting to shine on your sign is also helpful, so it can be seen at all times.
Sign Materials and Process
Some of the equipment and materials commonly used for bar signs include:
Vinyl paint
Computer software and printer
Paint brushes
Paper stencils
Sander
Woodworking equipment
Wood sealer
Wooden letters
After gathering your materials, you can print out your design and get to work. We recommend tracing your design onto the material you choose so that you can paint confidently. If you like a challenge, you can try your hand at a 3D design, which you can achieve by gluing wooden letters to your board. A successful DIY bar sign design will:
Promote your brand.
Include simple and easy-to-read text.
Have 10 words or less.
Contain your logo.
Match your aesthetic.
Remember that a handmade sign could take a little trial and error to get just right. You should play around with the colors, spacing, and illustrations to find the perfect balance of visual appeal, concision, and charm. When you're happy with the result, cover your sign with several coats of clear finish for protection from the weather, and you'll be ready to start attracting more patrons.
While signs are one way to get more attention, allure new customers in, or encourage your customers to take pictures in your establishment, a more sophisticated way to bring customers in is by installing self-pour technology. Self-pour beverage walls are overtaking the U.S. market and now spreading to markets in Europe and Asia!
Many bars and restaurants found a great way to differentiate themselves by bringing the self-pour revolution to their neighborhoods and towns. Besides providing a unique experience, self-pour taps bring many benefits to operators and customers.
If you would like to learn more about how self-pour could help you and your business thrive, contact us at cheers@pourmybeer or fill out a form below, and someone from our team will be in touch shortly.
Share these signs with your network!