Pizza & Beer: A Match Made in Heaven
It's not a secret that pizza and beer are a match made in heaven! There's no better way to enjoy a slice than with a cold, crisp brewski on the side. With self-pour technology, pizza lovers waiting for their favorite pie to arrive can sample any beverage by the ounce without realizing they're waiting for their food. This is a win-win for both the customers and the owners!
While the guests are having a blast at the beverage wall, the pizzeria owners see a significant increase in sales and reduced staff expenditures.
PourMyBeer has been able to delight various pizzerias across the country by allowing owners to bring something new, different, and innovative to their towns and neighborhoods. Self-serve beverage walls provide patrons with a unique spin on the classic drinking experience.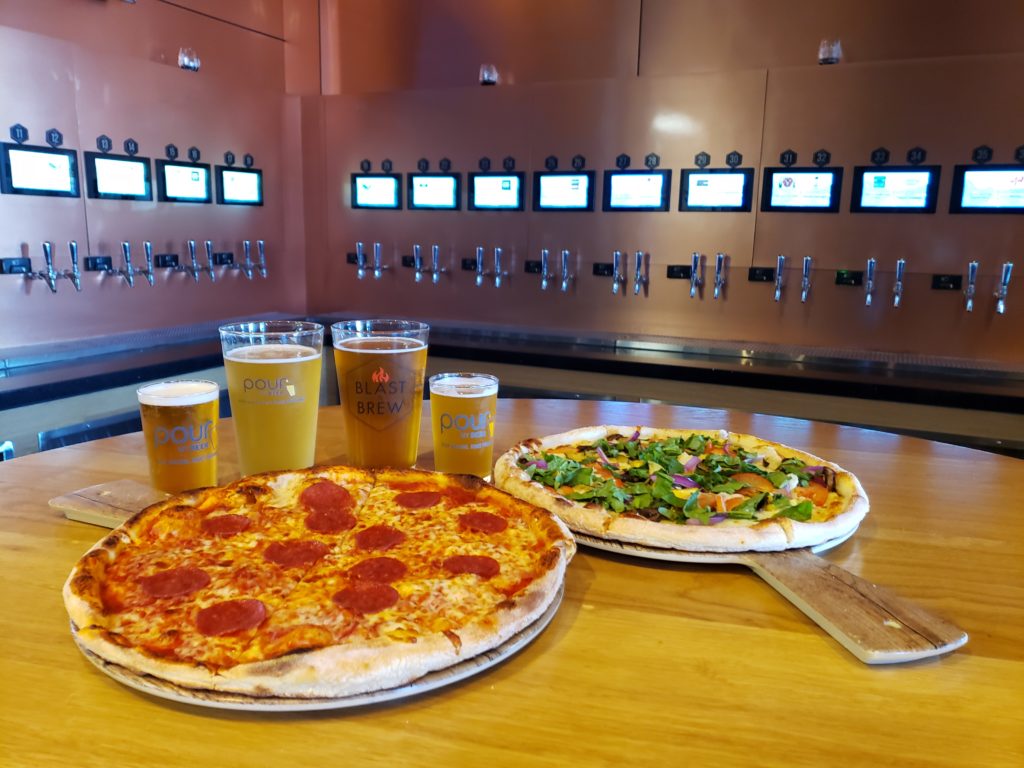 From Rosati's, Me-n-Ed's Pizza, Firestorm Pizza, and Greeley Pizza CO to smaller family operations like Flying Pie or HopTown Pizza in Washington State, pizzerias all over the U.S. are benefiting from bringing the self-pour fun to their communities!
What a Self-Serve Beverage Wall Brings to Your Pizzeria
Unique Selling Point – Differentiates your pizzeria from others in the area.
Increased Operational Efficiency – Staff can focus their attention on serving food, checking on diners, and cleaning efforts.
Increased Speed of Service – Customers never have to wait for a busy bartender or waitress to bring over their next round as they are in charge of their entire drinking experience.
Increased Beverage Sales – Guests love samples. More often than not, they'll pour several samples before committing to their favorite. This leads to increased profits in your pocket since every ounce is accounted for!
Reduce Beverage Waste – Traditional beverage dispense methods can create up to 30% of waste due to spillage, free samples, and human error. However, self-serve beverage walls reduce waste to less than 3%.
Simplify Your Inventory – Self-pour technology makes your inventory more eco-friendly by reducing wastage, particularly if your establishment offers wine in bottles.
Make your establishment stand out among the rest. A self-pour beverage wall is the perfect addition to any pizzeria, as everyone knows pizza pairs best with a glass of cold, refreshing beer. Keep your customers talking with this innovative feature. Give them a reason to come back time after time. They'll bring their friends and family along to show off this technology and share in the enjoyment of self-pour fun!
Increase Operational Efficiency
Self-pour technology allows your restaurant staff to focus on increasing efficiency. And, self-pour provides diners with complete freedom over their drinking experience. Guests can say goodbye to the days of flagging down their servers and waiting for their drinks to arrive. With this freedom, waiters and waitresses can serve food more efficiently and quickly to guests. They will not get distracted by repetitive drink orders, or worse, giving out free samples from the owner's pocket.
Increased Speed of Service
This increase in operational efficiency also brings an increase in the speed of service. Since customers can approach the wall and pour whatever suits them, your staff can focus on serving dishes faster due to less juggling of drink and meal orders. This increased speed of service will allow waiters and waitresses to rotate through more customers throughout their shifts, thus increasing both customer flow and revenue.
The sales from your self-pour system will be a new stream of revenue. It will also reduce the amount of beverage waste that is not accounted for when using a traditional system. The PourMyBeer system is a considerable way to generate sales for your pizzeria due to its unique selling point and extreme efficiency. Our system has proven to increase profits by 45% or more for our customers, giving them security and maximizing customer flows as well as overall beverage sales.
Hear what an experienced self-pour operator has to say about PourMyBeer's technology in their pizzeria!
Reduced Beverage Waste and Simplified Inventory
With customers in control of their drinking experience, there is a reduction in waste. Customers know what they want to pour. If they don't, they can sample various beverages before deciding, eliminating incorrect drink orders. Accounting for every ounce poured, over-pouring is impossible with self-pour. Yes, even samples get accounted for!
To learn more about how to make your pizzeria eco-friendly, click here.
What Self-Pour Brings to Your Pizza Fans
Having a self-pour beverage wall brings a new element to any restaurant or pizzeria – taking an otherwise average experience and turning it into something unforgettable. Self-pour allows you to set your establishment apart from the rest and give customers a novelty dining experience.
Self-pour technology is enjoyable for all different types of customers – whether they are adults or parents dining out with family, college students, or young professionals. People are always looking for different dining experiences, and this is one way to get them into your doors. With all the foot traffic coming through your doors, word of mouth about your awesome addition is sure to spread fast!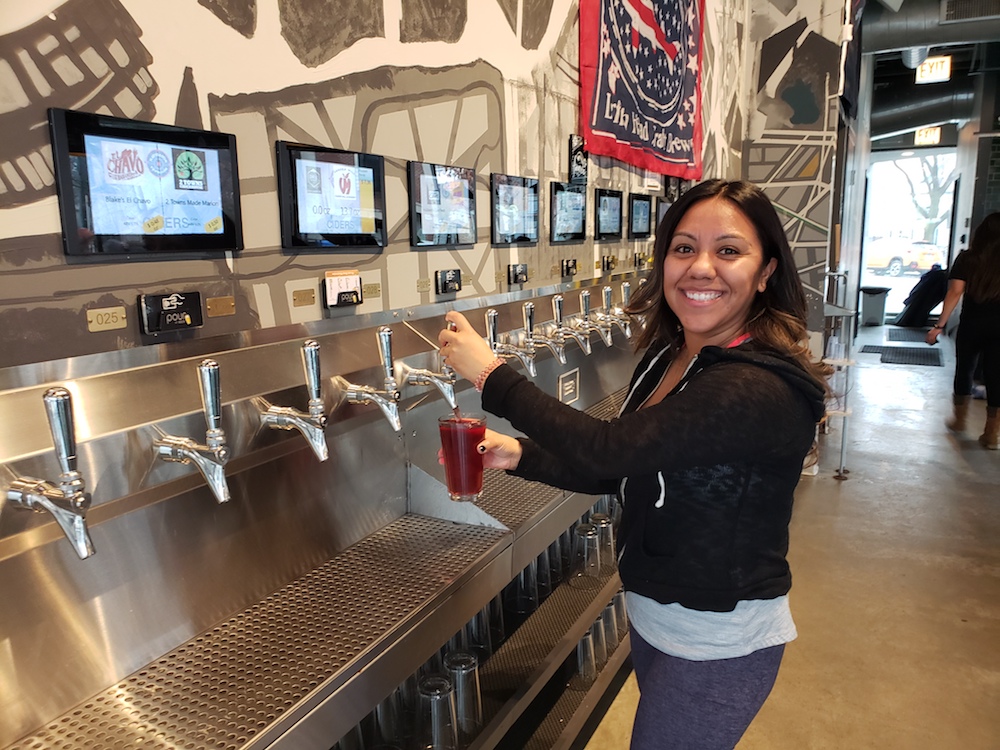 At a traditional bar, customers can usually get to sample a couple of beers for free (at the owner's expense), but that is where the sampling fun ends. With PourMyBeer technology, customers can sample every single beverage from the self-serve wall in whichever quantity they want. This is a strong selling point in itself as customers love to discover and try new things. With self-serve technology, the guests don't have to awkwardly ask for those free samples anymore. If customers want to taste something that's on the beverage menu, they can go up to the wall and pour it themselves, this brings us to the final benefit…
Yep, there is a reason why our tagline says Stop Waiting, Start Pouring! Why should someone in your pizzeria sit with an empty glass? That is a lost opportunity to make more $$ right there. The patrons LOVE the ability to pour whatever they want whenever they want without having to wait for a busy staff member to arrive.
Check out Pizza Artista's awesome self-pour setup! Located in Greenville, NC, Pizza Artista is taking advantage of all the benefits that come with adding self-pour technology to a pizzeria. And, if you'd like to hear what the operators of this pizzeria have to say about self-pour, check out this article!
Ready to tap into the profits?