As the world becomes increasingly connected through technology, brick-and-mortar casinos face new challenges to remain competitive and relevant. For example, the online gambling industry's global market was worth $61.5 billion in 2021 and is expected to increase to $114.4 billion by 2028 — a staggering increase of over 86%! Casinos must adapt to changing consumer preferences and expectations to provide a fun and unique guest experience to stay competitive and bring in a profit.
This post will examine the latest trends in casino technology and safety procedures. Join us as we explore the future of the casino industry and the impact of technology on the guest experience.
Virtual reality (VR) is revolutionizing how we experience entertainment, and the casino industry is no exception. VR technology allows casinos to create immersive experiences for their guests that go beyond what was previously possible. Casinos can utilize this technology to offer:
A casino in your living room:

Brick-and-mortar casinos can compete with online gambling by creating fully-realized environments that let guests feel like they are in a physical casino. Players can interact with the virtual world and other players to experience the thrill of playing in a casino from their homes.

Unlimited floor space:

One of the biggest advantages of VR is that it enables casinos to offer games that may not be available in a physical casino due to space or equipment limitations. For example, a VR casino can provide an unlimited number of slot machines or table games without the need for additional floor space.

A game for everyone:

VR allows unique game variations and customization options, making the experience more engaging for players.
While the potential of VR technology in the casino industry is still being explored, it can transform how we think about gaming and entertainment. VR is quickly becoming a valuable tool for casinos to stay competitive and provide a more engaging and immersive experience for their guests.
As casino gaming technology advances, mobile apps have become an increasingly popular tool for casinos to enhance their guest experience. Mobile apps provide a convenient and accessible way for guests to engage with a casino's offerings, including:
Online gambling:

Mobile apps have also become a popular way for casinos to offer online gambling. With the rise of mobile gaming, casinos have developed mobile apps that allow players to play their favorite casino games anytime and anywhere. These apps also allow players to easily manage their accounts and make deposits and withdrawals.

Check-in:

Checking in is one of the most common uses for mobile apps in the casino industry. Guests can use the app to check in to their hotel rooms, make restaurant reservations, and even order room service from their mobile devices. This convenience saves guests time and provides a seamless experience.

Promotions:

Mobile apps for casinos can provide valuable data about their guests. Casinos can use this data to personalize their marketing efforts and create targeted offers and promotions for specific guests.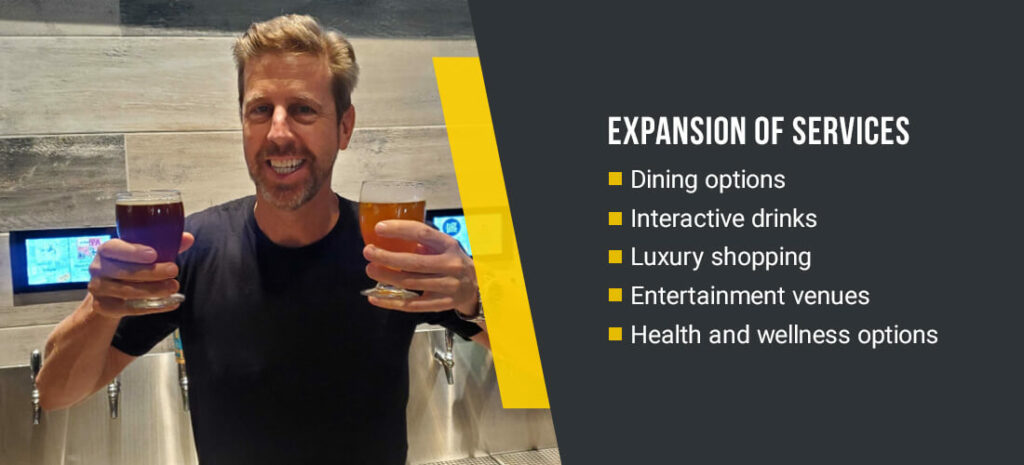 Many casinos are expanding their offerings with various services to appeal to a broader range of guests. This expansion of services lets them appeal to different demographics and provides a more well-rounded and enjoyable guest experience. Some of the ways casinos are expanding include:
Dining options:

High-quality dining options are one of the most common ways casinos expand their services. Many casinos now feature world-class restaurants and celebrity chef eateries, providing guests with a range of dining experiences. From casual cafes to fine dining restaurants, there is something to suit every taste and budget.

Interactive drinks:

Casinos can provide self-pour technology

, allowing guests to pour their own drinks from a tap. Self-pour technology provides guests with a unique and interactive experience. They can select from a list of beverage options or experiment with different combinations to create their own custom drinks.

Luxury shopping:

Many casinos now feature high-end retail stores, from luxury fashion brands to specialty boutiques. These spaces provide a quieter area for guests to take a break from the gaming floor and shop for unique items.

Entertainment venues:

Something is always happening at a casino, from concerts and shows to nightclubs and bars. Many casinos now feature live entertainment every night, providing guests a lively and energetic atmosphere.

Health and wellness options:

Wellness is becoming an increasingly important area of focus for casinos. Many casinos now feature spas and fitness centers, allowing guests to relax and rejuvenate after a long day of gaming. This wellness focus particularly appeals to younger demographics, who are more health-conscious and value experiences that promote their overall well-being.
Improved Safety Procedures
Guests' and employees' safety has always been a top priority for casinos. However, there has been an increased focus on improving safety procedures in recent years to ensure everyone who enters the casino feels safe and secure.
Casinos take a multi-pronged approach to safety, incorporating human resources and casino security technology to create a safe environment for all:
Security guards:

Casinos are upping their safety measures by using security guards to monitor the casino floor for suspicious activity. They also receive training in conflict resolution, helping them quickly and effectively de-escalate any situation.

Alcohol guidelines:

Many casinos are now introducing tighter guidelines on alcohol consumption to ensure that guests who drink are doing so responsibly. They may limit the number of drinks a guest can have in a certain period or cut off service to those who appear to be intoxicated.

Technology:

Many casinos have started using facial recognition technology to identify known criminals or problem gamblers who may be on their premises. They're also investing in advanced camera systems that can monitor the casino floor 24/7, providing a higher level of surveillance and deterrence against criminal activity.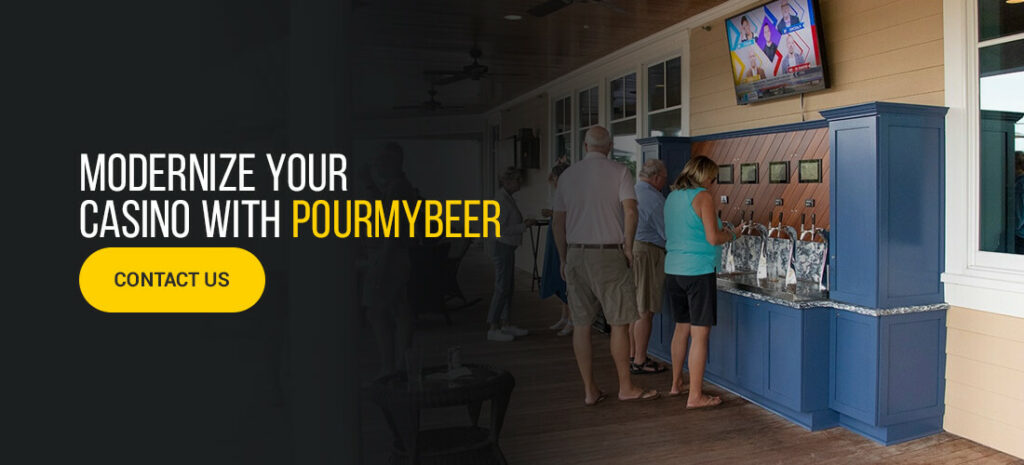 Modernize Your Casino With PourMyBeer
The future of the casino industry is closely tied to the impact of technology on the guest experience. Ultimately, all these updates are about making the guest experience more convenient and enjoyable. Mobile apps let guests easily check in, play games, and access promotions. VR allows guests to immerse themselves in a world of gaming and entertainment. With expanded services like dining, shopping, and wellness, guests can enjoy a more well-rounded and satisfying experience.
Now self-pour technology is emerging as the next innovation to automate another experience. Self-pour technology allows guests to pour their own beer or wine, making service faster and more convenient for guests and staff. This technology can help casinos provide a more streamlined and efficient experience that frees staff to focus on more complex guest needs.
PourMyBeer has installed numerous self-pour solutions in various industries, and we're looking forward to starting on yours. Contact us today for more information!